When it comes to shooting practice, there are two options: an indoor or an outdoor range.
Some shooters consider that the only real option is to shoot on an outdoor range, just as you would when hunting in the great outdoors.
The reality is that they both have their pros and cons. For, others, the convenience of an indoor range can't be beat.
In this article, we compare the indoor vs outdoor shooting ranges to allow you to make the best decision.
We'll consider the following categories as we weigh up the options:
Location
Versatility
Amenities
Safety
Cost
Location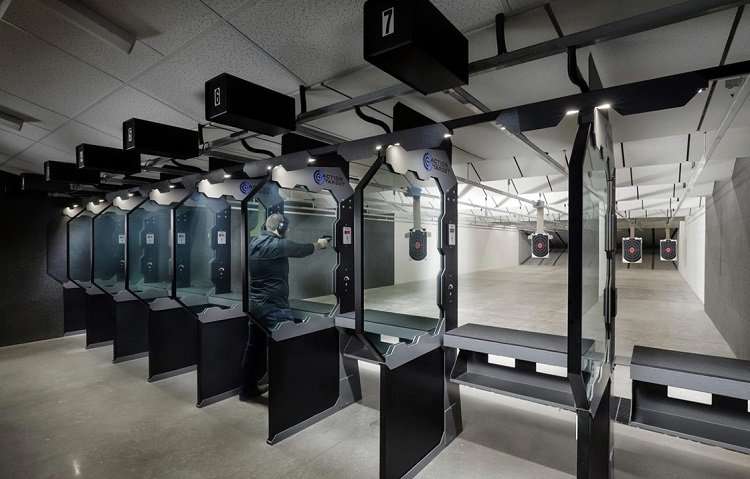 For people who live in an urban area, an indoor shooting range is going to be closer to home and easier to access.
Outdoor ranges, on the other hand, are likely to be at least an hour's drive away.
This gives the indoor range a huge advantage in terms of practicality.
It allows you to get in an hour at the range after work or whenever you have some time up your sleeve.
On the other hand, outdoor ranges provide more of an experience. They get you out of the rat-race and back to the great outdoors.
This is great for a planned weekend activity, but probably not so practical during the working week.
Of course, outdoor ranges are weather dependant.
Inclement weather will see them closed, so your rainy day options will be limited to indoor ranges only.
However, such winter conditions as snow and dew that do not impair safety will see an outdoor range remaining open.
This can provide hunters with a more realistic training environment than anything that you will experience in an indoor shooting range.
Many gun retailers will have an indoor shooting range attached.
This allows you to test fire your weapon before purchase, which is a major benefit.
An indoor range that is free of wind or light variance, is the best place to assess the accuracy of a weapon.
At an indoor range, your every action will probably be under greater scrutiny than you would at an outdoor facility.
Versatility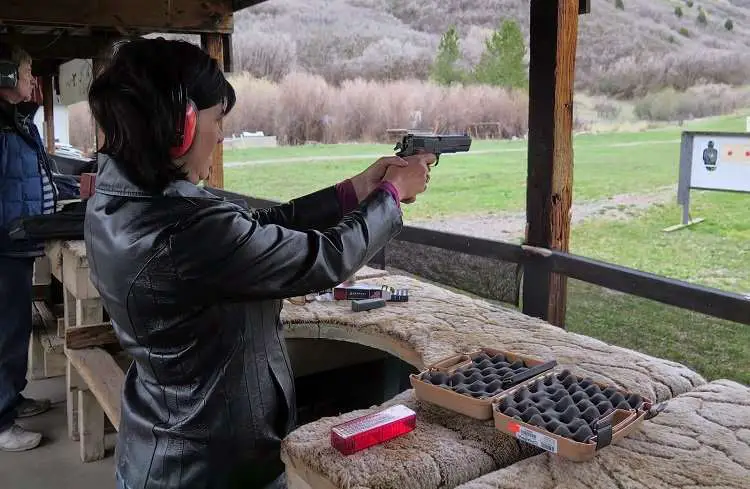 Traditionally, indoor shooting ranges were designed for handgun use only.
More recently this has changed, but many indoor ranges still limit the caliber of the weapons and bullet types that can be used for safety reasons.
Modern indoor shooting ranges will usually allow for the use of handguns up to .45 caliber and rifles up to 30-06.
An outdoor range will be more versatile. The greater open space usually places no restrictions on pistols and rifles.
You will also generally find a far greater variety in terms of target types in the outdoors, providing you with a more realistic hunting practice experience.
Reactive targets will provide you with a more realistic experience than a stationary paper target.
When you shoot at an indoor range you will most probably be limited to shooting directly in front of you.
However, when you head out to an outdoor range, you will be able to shoot from angles as much as 180 degrees.
This offers more realistic shooting opportunities. Some outdoor facilities include such cool facilities as multiple firing stations, vehicle scenarios, and terrain-based simulations.
However, technological improvements have made it possible for indoor ranges to offer more tactical shooting opportunities.
If you are a current or budding competitive shooter, an outdoor range will more perfectly simulate the type of environment you will find in actual competition.
Amenities
You will always find better amenities at an indoor as opposed to an outdoor shooting range.
For a start, there will usually be a pro shop where you can rent or buy gear.
Indoor ranges will often offer training classes, group events, large gun vaults, food kiosks, a relaxation area, hygienic bathrooms, and climate-controlled shooting lanes.
Outdoor ranges are often far more spartan than their indoor counterparts. Many of them will not offer a rental facility or have dining areas.
The quality of the restrooms will be a toss-up and you will be at the mercy of mother nature in terms of climate and the presence of insects, and bugs.
Many outdoor ranges, however, will offer more dynamic and active training programs than you will find at an indoor facility.
These are able to provide instruction on how to deal with extreme weather conditions or moving targets.
Outdoor shooting ranges will vary far more widely than what you would experience at an indoor facility.
Unless you do your research first, you really don't know what you will be turning up to.
There's no fun driving for a couple of hours only to find a backward hovel on the side of a hill.
Safety
When it comes to shooting range safety, the more controlled environment of an indoor range gives you an element of advantage.
You are not having to deal with wind variance or the possibility of an animal wandering into view beyond your target.
However, there is the danger of ricochet bullets going wild.
Outdoor ranges are generally safe, so long as you follow the following four basic rules of all shooting ranges:
Always treat a gun as if it is loaded
Never point a gun at anything you do not intend to shoot at
Only put your finger on the trigger when you intend to fire
Always have an awareness of what is in front and behind you
Outdoor shooting ranges, however, often do not have a range officer, whereas indoor facilities will.
This makes an indoor facility a safer place to shoot.
Summary
When it comes to choosing between an indoor or an outdoor shooting range, it really depends on your shooting purpose and situation.
If you are wanting to get in for an hour's shooting during a busy weekday, then an indoor range is your best bet.
However, for a Saturday experience at the range, an outdoor facility is probably better suited to your needs.
Just be sure to check the facility out online before heading out.