Model
Mens Large 22″ Inch Tan Duffle
GunMate 1919687 Range Bag
US PeaceKeeper Products Patrol Bag
East West U.S.A Tactical Multi Pockets Heavy Duty Duffel Bag
Size
22"(Width) x 12"(Height) x 10"(Depth)
17″ x 14″ x 8″, Main Compartment Dimensions: 12″ x 8″ x 8″
Material
Heavy Duty 600 Denier Polyester Fabric
Heavy Duty 600 Denier Polyester Weather Resistant Fabric
600D high density polyester
600D high density polyester
Model
Mens Large 22″ Inch Tan Duffle
Size
22"(Width) x 12"(Height) x 10"(Depth)
Material
Heavy Duty 600 Denier Polyester Fabric
Size
17″ x 14″ x 8″, Main Compartment Dimensions: 12″ x 8″ x 8″
Material
Heavy Duty 600 Denier Polyester Weather Resistant Fabric
Model
GunMate 1919687 Range Bag
Model
US PeaceKeeper Products Patrol Bag
Material
600D high density polyester
Model
East West U.S.A Tactical Multi Pockets Heavy Duty Duffel Bag
Material
600D high density polyester
Last update on 2021-12-24 / Images from Amazon Product Advertising API
When you head off to the gun range, you've got quite a load of accessories to pack.
In addition to your weapon and ammo, the smart shooter will also carry his gun cleaning kit, safety glasses, hearing protection, a water bottle, and some snacks to get him through the day.
To keep everything safe, secure and organized you need to keep it all in a quality gun range bag.
In this article, we review the five best gun range bags on the current market to help you identify the best gun range bag to suit your needs.
We also provide you with a comprehensive FAQ to help you get the most out of your gun range experience.
Our Reviews Best Gun Range Bag
#1
Nexpak

Men's Military Tactical Duffel Bag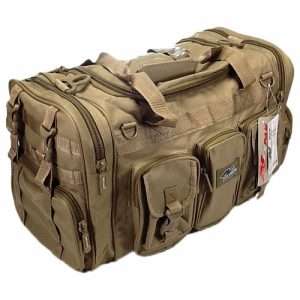 The Nexpak Men's military tactical duffel bag is an extremely compact, well-designed solution for all of your gun range accessory storage requirements.
It has three zippered side pockets on either side to hold the smaller items that you want to get easy access to.
These pockets also have zippered tabs and are lockable.
Although the Nexpak Men's military tactical duffel bag is true to its 22-inch length, this is only the case when you put your hands inside the bag and stretch it out.
The bag is also a little bit narrow. This may make it a bit of a tight fit if you are wanting to carry your laptop in it.
The strap buckles on this bag are made of plastic which may not provide the durability that you need.
Also, the strap spring may fall out, rendering the strap useless.
The Nexpak Men's military tactical duffel bag is a very generously sized gun rifle bag that provides you with a 2600 cubic inch capacity.
It provides you with plenty of pockets, both inside and out, as well as padding for extra protection.
This is a multi-use bag that is both well priced and built to last.
Nexpak Men's military tactical duffel bag is the best that we could find on the current market. It's the perfect carry-on bag for almost any outdoor activity. Strongly recommended!
The Exos Range Bag is  a well designed bag that allows you to carry all of your essential gun range gear while also being compact enough to double as a go bag.
It is made from heavy-duty 600 denier polyester to provide a very rugged product. It comes with a comfortable shoulder strap which can be quickly detached.
The Exos Range gun range bag has internal dividers but, unlike some of the other bags in this review, they are not removable.
This limits the functionality of the bag if you are planning to use it for other applications than heading down to the gun range.
Also, there is no specific gun holder compartment in this bag.
The Exos Range Bag comes fitted with a generous amount of MOLLE webbing to securely hold your bits and pieces.
You can also easily attach additional accessories to the bag as required.
It comes with an interior divider which will allow you to hold up to five magazines.
You get four external pockets with this gun range bag, along with a front internal elastic net pocket.
The two side pockets which are designed for your smaller items feature Velcro patch panels on each side.
The zippers on the Exos Range Bag are made from durable nylon cord with ergonomically designed flexible pulls.
This allows you to use them even when you are wearing gloves.
The Exos Range bag is a well designed,heavy duty gun range bag that is rugged and functional.
It does not come with a specific gun compartment, which may be a game changer for some people.
Overall, however, we found the Exos Range bag to be a quality, practical solution to your gun range accessory carrying needs.
#3 GunMate 1919687 Range Bag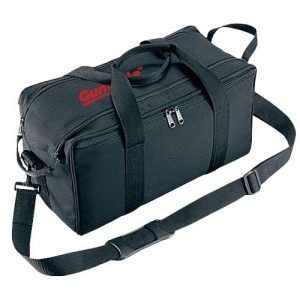 The GunMate 1919687 range bag is an extremely functional, if not overly attractive bag.
It is big enough to fit plenty of gun range gear, including two handguns.
The design of this bag is simple and easy to use.
There is an impressive level of padding built into this bag in order to keep your gear safe and secure.
The GunMate 1919687 range bag is not as visually appealing as some of the other reviewed bags on this page.
This bag comes with a shoulder strap but it is not very comfortable on the shoulder or adjustable.
The GunMate 1919687 range bag provides you with movable compartments so that you configure it to suit your individual needs.
You also get large zippered side compartments. The zippers are high quality, reducing the likelihood that they will malfunction on you.
The zipper tabs contain eye-lits for both the side and main compartments so that you can lock these parts of the bag to keep your gear thief-proof.
This bag combines two features that you don't often see in this market – durability, and affordability.
The strength of the bag means that it will retain its shape for years to come.
The GunMate 1919687 range bag is a well, priced, rugged bag that has a simple but highly functional design.
It has inner sections that can be moved to suit your needs.
While not as stylish as some other bags on this page, it will do the job well without blowing out your budget.
#4 East West U.S.A Tactical Outdoor Multi Pockets Heavy Duty Duffel Bag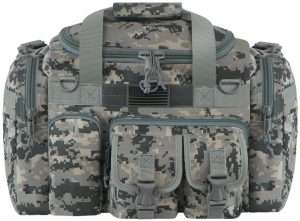 The East West U.S.A Tactical Outdoor Multi Pockets Heavy Duty 18″ Duffel Bag is first equal with our favorite gun range bag in terms of length.
This provides you with plenty of room to house all of your gun range accessories.
It is built from 600D high-density polyester to deliver a very rugged exterior.
The East West U.S.A Tactical Outdoor Multi Pockets Heavy Duty 18″ Duffel Bag provides you with several exterior pockets on all sides. These pockets can be locked for added security.
The shoulder strap attachment points have a strap sewn into the end of the main compartment that goes all the way to the bottom of the bag, rather than being simply sewn into the top seam as is the case on many other bags.
This reduces the stress on the top seam. Another nice feature on the strap is that each of the buckles swivel, preventing them from getting twisted.
The Velcro on the handle on the East West U.S.A Tactical Duffel Bag is not of very high quality and has been known to come off after a relatively short period of use.
The East West U.S.A Tactical Duffel Bag is a competitively priced gun range bag that provides you with a generous carrying capacity.
However, it does not provide you with a separate compartment specifically to hold your firearm and some components are lacking a little in quality standards.
The bag does provide versatility for a number of applications.
#5 US PeaceKeeper  Patrol Bag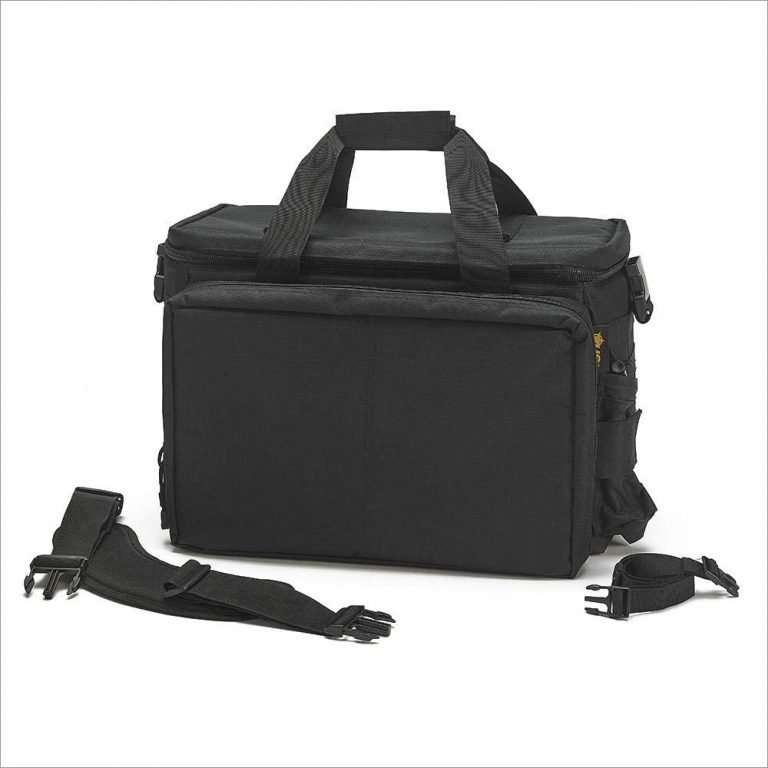 The US Peacekeeper Patrol Bag is a very high spec carry bag that is brought to you by one of the most respected manufacturers in the gun accessory industry.
It comes in at a sharp price point and even provides you with an unbeatable lifetime warranty.
The shoulder straps couldn't handle a lot of weight.
The US Peacekeeper Patrol Bag is equipped with a three-sided zipper opening that allows easy access.
It has an organizational panel for your phone, keys, pens, and additional gear. It also has a collapsible water bottle pocket and an ID window.
The bag is constructed from heavy-duty denier material that is waterproof.
The heavy-duty construction will keep your gear safe whether you are at the gun range or out in the bush.
Heavy-duty self-repairing double zippers allow you to lock different pockets in order to secure your gear.
It also provides you with wrap around handles to make it easier to carry the bag around.
The internal pockets of this bag are also lined for added protection.
The US Peacekeeper patrol bag also comes with a shoulder strap, complete with padding, for ease of carriage.
The US Peacekeeper Patrol Bag is a well constructed, heavy duty bag that is affordable and practical.
We like that it has lockable double zippered pockets and convenient carry handles.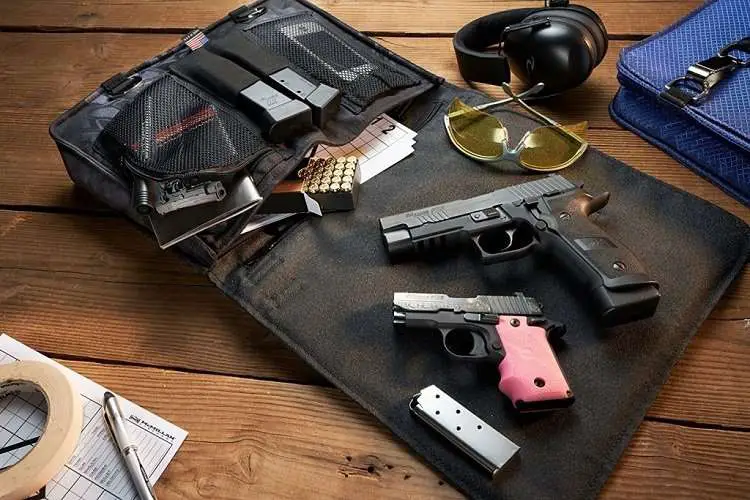 Yes, you will need a range bag when you head down to the shooting range.
Nearly all shooting ranges require you to conceal your weapon in a bag or case when you are on the range rather than carrying it openly.
A bag will also allow you to keep all of your gun accessories safely together and keep everything safe and clean.
In terms of organization on the range, a good gun bag that provides you with a range of different sized pockets will prove itself to be an invaluable accessory.
What Is A Good Range Bag?
A good range bag will provide you with plenty of pockets of various sizes to hold all of your gear.
If the bag has too few pockets, you will have to mix up your gear, which will become very annoying very fast.
A quality range bag should also be very durable with heavy-duty double stitching.
Heavy-duty construction materials should be used along with high spec zippers.
The bottom and seams should be doubly reinforced.
The best gun range bags will provide you with a combination of soft lined bags for accessories and hard-lined pockets for ammunition.
They may also have a dedicated water bottle and a pocket for your valuables.
However, if you are a person who prefers to see everything in the bag at a glance, you may prefer a bag that provides you with just one or two main pockets with a number of compartments where you can securely slot in your various pieces of gear.
Before choosing your gun range bag, think about what you will be putting into the bag.
If the bag is going to house absolutely everything you take to the range, including your ammo, sunglasses, and car keys, then you will need a lot of pockets.
It will also need to be durable enough to handle a decent amount of weight.
Don't forget about the strap of the gun range bag. It needs to be secure enough to handle the weight of the contents.
It should also have padding over the shoulder for comfort.
If you will be carrying your gun in one bag, your ammo in another bag and your gear in a third, then you won't need such a heavy-duty bag.
Look for a lightweight bag that is easy to carry, smaller and cheaper.
A good range bag should be able to hold two pistols, plenty of ammo, hearing protection, protective eyewear, bug spray and, perhaps, some snacks.
How To Secure Your Gun/Rifle In Your Bag?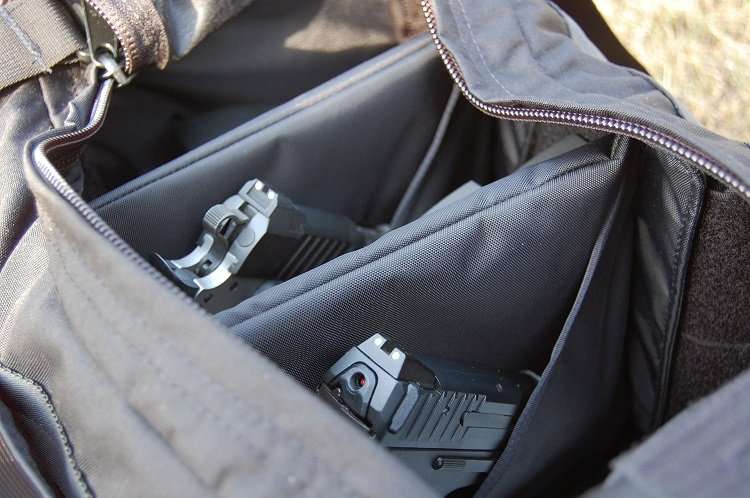 Most gun range bags will provide you with velcro straps that allow you to securely hold your gun in the bag.
For handguns, the bag may also have a dedicated zippable compartment that will securely house the gun.
What Do I Bring To The Range?
The first thing that you need is, naturally your gun range bag.
You should also have safety glasses and hearing protection.
You will also need a pen to record your shooting progress, a camera to preserve your experiences and some tape to secure the targets in place. 
You should also take a gun cleaning kit with you to the shooting range.
Finally, you should wear appropriate clothing for the occasion.
Make sure that you're wearing close-toed shoes, long pants and a comfortable shirt that isn't so loose that it will interfere with your shooting action.
Have You Got Any Tips To Make My Shooting Range Experience Successful?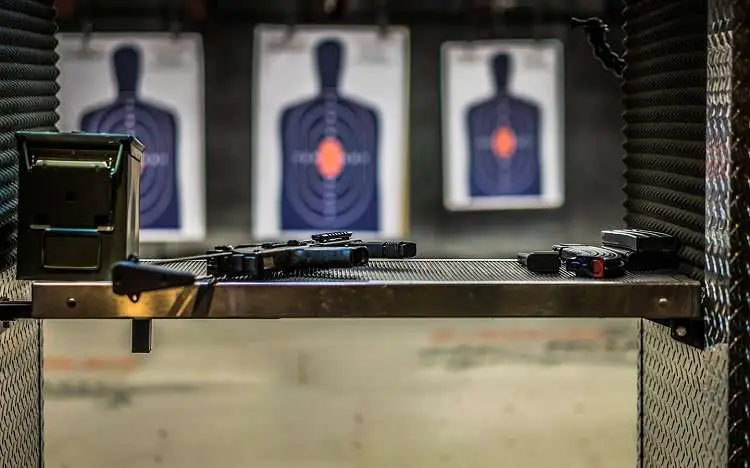 The first thing you should do is to check the rules and procedures of the shooting range.
They will all stress that you should always treat a gun as loaded, even when you know that it isn't.
To that end, you must always carry your guns in their bags or cases right up until you get to the firing line.
Your gun should never be loaded until you are ready to shoot.
When you have completed shooting for the day, the gun needs to be unloaded, securely put back in your gun range bag and returned to a trigger lock position.
When you are at the shooting bench, keep your fingers away from the trigger until you are ready to shoot.
If you are at an outdoor range, be aware of your surroundings, especially beyond the target.
Though unlikely, it is always possible that an animal might wander into view.
In terms of safety, you should wear eye protection at all times.
This is the case whether you will be actively shooting or not.
This will prevent you from blowback exposure. You should also wear hearing protection.
What Are Some Common Gun Range Rules 
A

nd Regulations?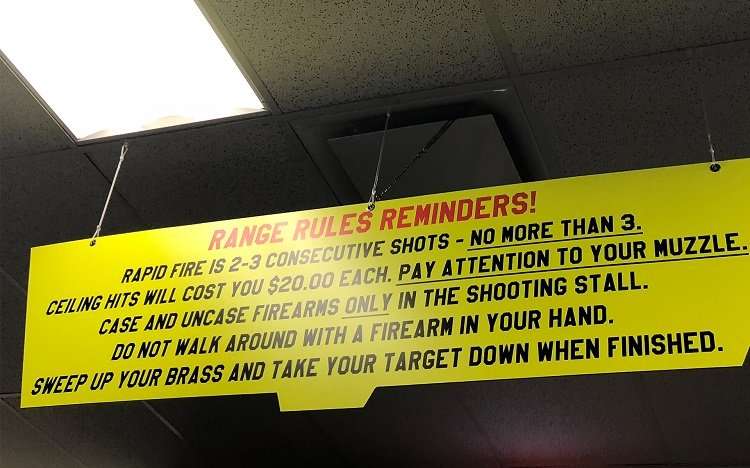 Every range that you visit will probably have some difference in the rules and regulations they operate under.
Make sure that you are fully aware of them to stay onside with the staff. 
Many have a requirement that any uncased gun  (guns may only be uncased on the firing line), which are not in the act of being shot must have an open bolt indicator (OBI) in them.
This could be something as  simple as a pipe cleaner or a 12 inch piece of highly colored "weed whacker" line  which is inserted into the chamber end of the barrel and is visible to other shooters  on the range.
Also before anyone goes down range to change targets, all uncased  firearms must have an OBI inserted in them.
This allows everyone to see that the barrel is clear and no ammunition is loaded into the firearm/barrel. 
Many ranges also require that all magazines be removed, and cylinders be open  on revolvers prior to anyone going down range.
What Sort Of Clothing Should I Wear To The Shooting Range?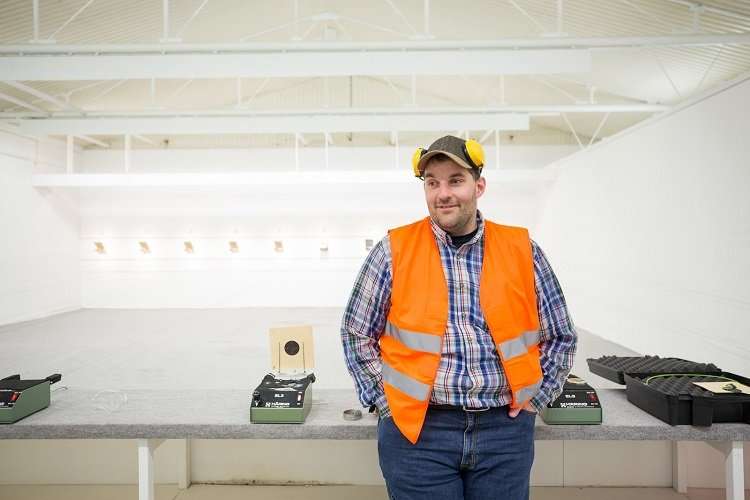 Clothing which is low cut in the front can be very  hazardous.
If you are shooting a semi-automatic pistol, and the gun ejects a hot shell case after firing, you don't want it to go down the front your shirt. 
This can cause a real safety issue as people respond to pain (such as a hot shell casing on their skin) without a lot of thought to the loaded firearm in their hands.
Make sure that  your clothing has a closed neck.
Also exceptionally loose or baggy clothing (or jewelry for that matter)  is not something that is ever a good idea on the shooting range.
A quality gun range bag is an essential requirement for anyone heading to the shooting range.
In this article, we have identified the best overall gun range bag on the 2020 market as the Nexpak Men's Military Tactical Duffel Bag.
Our runner up best pistol range bag is the Exos Range Bag.
Rounding out our top three gun range bags is the GunMate 1919687 Range Bag.