Our Top Picks
Best Overall
Dillon Precision RL550C Progressive Reloading Machine
This reloading press is the definition of speed, accuracy, and versatility.
Check Price
Best Progressive Reloaders for Precision Rifle Shooters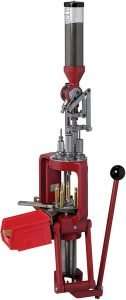 Hornady Lock n Load AP
This reloading press will exponentially speed up your production rate.
Check Price
Best Progressive Reloader for Shotgun Shells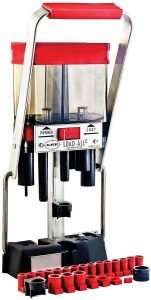 LEE PRECISION II Shotshell Reloading Press
This reloading press is made specifically to produce shotgun rounds. It's also the most budget-friendly choice.
Check Price
Best Progressive Reloader for Handgun Ammo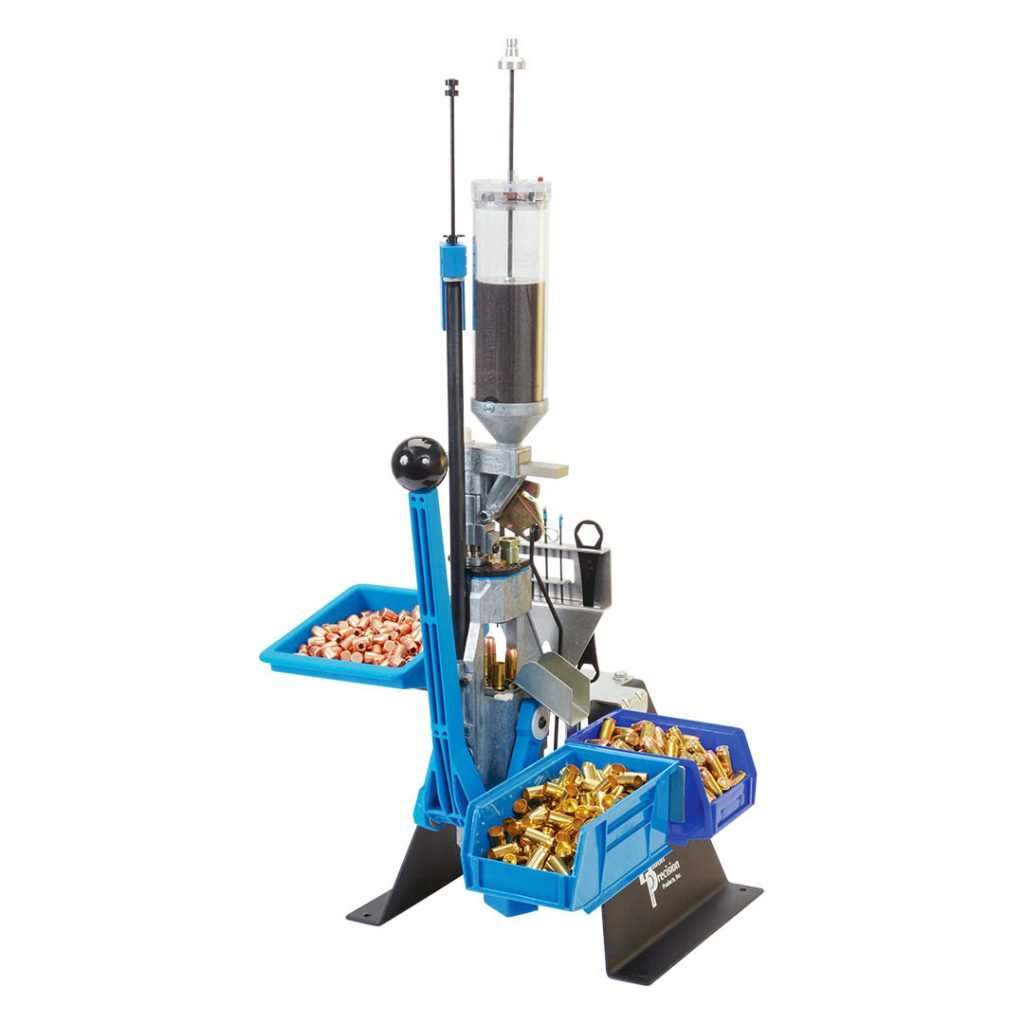 Dillon Square Deal B
This reloading press lets you produce handgun ammo easily and quickly.
Check Price
So you've figured everything about reloading and realized your single-stage reloader is just too slow for you. You came to the right place! In this article, we'll help you look for the best progressive reloading presses on the market.
A Quick Comparison of the Top 5 Best Progressive Reloading Press
What is a progressive reloading press?
A progressive reloading press is a piece of equipment used to assemble ammo. Unlike single-stage reloaders, it enables you to insert brass casings progressively.
How does a progressive reloading press work?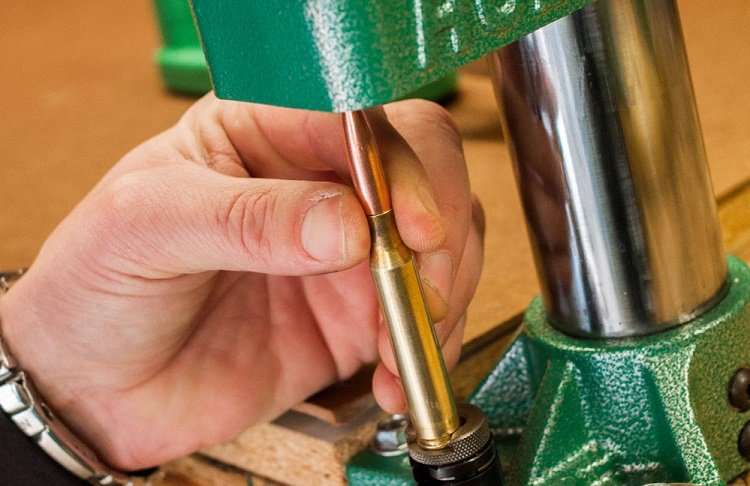 As you may already know, to create ammunition, you'll be needing the actual bullet, a brass casing, a primer, and gunpowder. These materials are compacted by cranking the handle of the reloading press.
Unlike single-stage reloaders, most progressive reloading presses come with powder measuring functions so you won't have to worry about putting too much powder.
A progressive reloading press allows you to install different kinds of dies at once and produce complete rounds of ammo continuously. However, you still need to regularly check your dies if they remain properly set.
With one pull of the lever, you'll be able to do these things simultaneously:
Remove the primer from the inserted used brass casing
Resize the casing based on the caliber you are loading
Place a new primer into the brass
Put powder into a casing
Flare the casing to allow bullet placement
Push the bullet into the casing to achieve the correct length of the finished cartridge
Crimp the casing edges to hold the cartridge together
Because of these optimizations, you can produce 300 to 600 rounds an hour using a progressive press, depending on your speed.
Things to consider before buying a progressive reloading press
Spending money on a progressive reloading press and its parts is no joke. So, here's what to look for:
Quality
Quality is the first thing that we look into whenever we want to buy something. And when it comes to progressive reloading presses, it's not enough to check the material used. You also need to ensure that every moving part and joint works smoothly, is not prone to malfunctions, and can survive heavy usage for a long time. The accuracy and repeatability of the process are critical, particularly for precision shooters.
Completed Round Production Rate
The next thing that you need to check is the completed round production. Consider how much you'd want to produce per day and check which brand or model matches your preference.
If you have a preferred brand but its production rate doesn't fit your needs, you may want to consider adding automation. But, that comes with a price.
Optional Accessories
Most progressive reloader brands also allow the installation of optional accessories, such as component feeders. These accessories can definitely make ammo production easier and faster. But keep in mind that it's up to you to purchase them. If it's out of your budget, you can still reload ammo, just not as quickly.
Ammunition Type
If you plan on making different types of ammo, you need to purchase a progressive reloading press that can cater to all of your cartridge types.
Cost
Aside from the press itself, you'd need to buy "dies" for every caliber type that you'll be loading. That, plus additional accessories if you plan on upgrading your reloading press. All of these can really add up. So, be sure to look at the total cost of the system you would eventually like to have, even if you can't buy it all at once.
Ease of Use
It's true that progressive reloading presses speed up your ammo production, but it's also true that this reloader type is the most complicated and the most difficult to assemble. So when choosing one, be sure to check if it's user-friendly and has plenty of resources to help you get started.
Reloading Speed
As we've mentioned before, you have to know your preferred speed. This way you can narrow down your options into those that fit your preference. Once you've purchased a machine and you want to upgrade its reloading speed, you may add automation to your press, but that would cost more.
Best Overall: Dillon Precision RL550C Progressive Reloading Machine
Our recommended best overall progressive reloader is the Dillon Precision RL550C. That's because of its unparalleled precision and ease of use.
The RL550C is also tagged as the most versatile among the Dillon Precision products as it can handle most cartridge types.
Dillon Precision Machines are also known for their high production rates. Not only that, but their dies are also made to promote increased productivity.
There are scores of positive customer reviews saying the RL550C made their ammo production hassle-free.
The RL550C also comes with a lifetime warranty that covers manufacturing defects as well as damage from everyday use.
One downside is that the Dillon Precision RL550C costs a little more compared to other reloader brands. But if you'd ask us, it's an investment that's worth every penny.
Pros
Can handle most cartridge types.
High production rate
Lifetime warranty
Cons
Costs more compared to other brands.
What Customers Say
"The Dillon 550 C is a heavy-duty press. Runs smooth with very little problems. All of which have been operator error. You can't go wrong with the Dillon press."
"Dillon quality is phenomenal. The warranty is the best in the industry. This is my third Dillon for those reasons. Highly recommend their products."
Best Progressive Reloaders for Precision Rifle Shooters: Hornady Lock n Load AP
If you want quick and easy reloading, the Hornady Lock n Load Auto Progressive Reloading Press is what you need.
It's equipped with a Universal Case Retainer Spring that lets you easily insert or pull-out a case at any point in the loading process
This reliable press lets you switch dies with just a quick twist, thanks to its 5-station Quick Change Bushing System. You won't even have to change the entire tool head upon switching. That means you can change from 223 to 45 in just a few minutes! We also love how the dies remain locked and perfectly aligned throughout the process. Here's what Seth from Hornady had to say about their reloader:
The Hornady Lock-N-Load AP is a must have for the high-volume reloader.  This machine is incredibly well built right here in the USA.  By using the Quick Change Lock-N-Load Bushing System, the reloader can do complete caliber change-overs in less than 5 minutes.  The Lock-N-Load AP truly delivers progressive reloading that is smooth, fast and precise.
Hornady also takes pride in its EZject system which features reliable cartridge ejection every time, with zero adjustments guaranteed.
Its Powder Drop feature is also equipped with a sensor that only dispenses powder when a case is detected.
We've seen some users that have had problems with the powder dispenser supplying powder less than the set charge weight. Aside from this minor drawback, we'd say that the Hornady Lock n Load is an outstanding reloading press.
Pros
Case Activated Powder Drop
Universal Case Retainer Spring
Automatic Indexing
Cons
Inaccurate powder amount dispensed at times
What Customers Say
"The quality and features of this press for the price are on par with other presses costing 2x-3x more. Changeovers are quick and easy. 1 screw to change the shell plate and the Lock-N-Load bushings make die changes a snap. The powder drop is accurate."
" Fit and finish wise, it's perfect. Everything works, it comes pre-lubricated, and it comes with very clear setup instructions. What's even better than the instructions are the myriad of videos and how-to documents on the web that go into very good detail on getting it dialed in."
Best Progressive Reloader for Shotgun Shells: LEE PRECISION II Shotshell Reloading Press
The Lee Precision Shotshell Reloading Press offers almost the same performance as its competitors, but for less. So if you're on a budget, you might want to look into this reloading machine.
What we love most about this Shotshell Reloading Press is its very economical gauge conversion. It also has a built-in primer catcher that's also extremely easy to clean.
Some users also commented on how easy it was to set the machine up. Once you load your first shell, everything is a breeze. Shell Positioning is also easy, thanks to the recesses at every station.
The Lee Precision II is also capable of reloading 200 shells an hour. That's a pretty high production rate given its price, in our opinion.
Pros
Cons
High production rate
Affordable
Easy to use
It's made of plastic.
It can be a little flimsy.
What Customers Say
"I purchased this Lee Load All to learn how to reload shotgun shells. The machine works great and with a little bit of rhythm, you can start cranking out some nicely crimped 12GA rounds. Set up is pretty easy."
"The Lee Precision II is an inexpensive way to give it a go. With the low cost of this unit compared to some other loaders, I'm already saving money. If I find reloading is not something to continue, there's not a lot of money invested."
Best Progressive Reloader for Handgun Ammo: Dillon Square Deal B
If you only own handguns, we recommend the Dillon Square Deal B for you. This progressive reloading machine has adequate speed that's perfect for beginners.
And because of Dillon's reputation for manufacturing top-notch products, you can be sure that this compact reloading press is capable of producing high-quality ammo.
We love how the Square Deal B is equipped with an auto-indexing shell plate. It advances with every pull of the handle.
Another notable feature is the Square Deal B's removable tool head. Thanks to this innovation, you can easily change calibers without having to screw your dies in and out. They remain perfectly aligned while you change.
The dies are also already included in the package and are pre-adjusted to save you time on setting up.
The Square Deal B also comes with a lifetime warranty that covers normal wear and tear and factory defects.
Pros
Cons
Lifetime Warranty
Very easy to use
It can only produce pistol rounds.
What Customers Say
"This is a great machine for rookies or veteran reloaders. I have this machine with many different caliber conversions. Set up is very easy when changing calibers. You don't need all the bells and whistles that are offered to get going with this machine."
"Not at the prices being asked here…search for Brian Enos or Dillon Precision…
Dillon reloading equipment is top-notch…the best IMHO."
Best Progressive Reloader for Beginners: Lee Cast Aluminum Pro 1000 Reloading Kit
We recommend the Lee Cast Aluminum Pro 1000 Reloading Kit to those who are just learning to reload. That's because this machine is fully automatic and very easy to operate.
You can start very slow, and once you get your rhythm, producing ammo becomes a piece of cake.
We love how the Lee Pro 1000 only dispenses primers and powder if a case is present. This is a nice safety feature for beginners and veterans alike.
This versatile reloading press also allows you to switch into an alternate loading sequence that allows you to load one case at a time.
You might want to speed up your production rate in the future. Thanks to Lee Pro 1000's room for upgrades, you won't have to buy another machine to increase your productivity!
The only downside is that this machine only works with CCI or Remington primers. It doesn't work safely with other primers, so take note of that!
Pro
Cons
Fully Automatic
Case-activated powder dispenser
It only works on Remington or CCI primers.
It's a little expensive.
What Customers Say
"I got what I expected, and the press has worked great to date.
A complete press/setup at the cost of the caliber change-over "kit" for other progressives."
"My first press was a single stage, then I moved to a turret press and now this. All products were lee. And that experience with those other products made this one a breeze to set up. Very highly recommended!"
Are progressive reloading presses accurate?
Not only are progressive reloading presses accurate, but they're also fast and convenient to use.
Types of reloading press
We've dissected the differences between the three types of reloading presses so you can decide which suits you best.
Single-Stage Press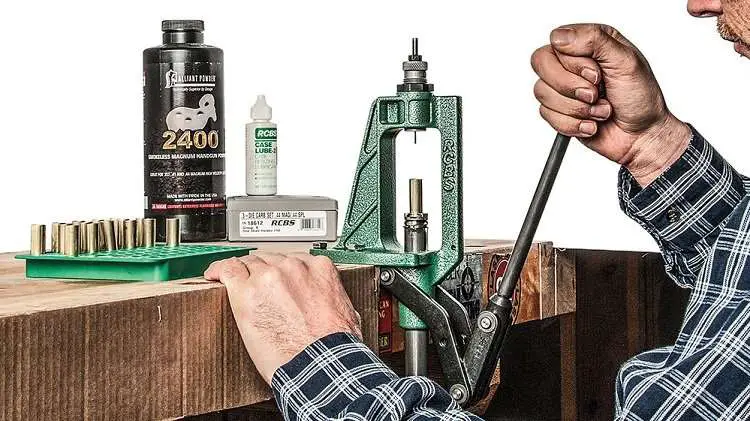 The single-stage press is the most basic type. It allows you to process one cartridge at a time. Single-stage presses are great for beginners. Its production rate is 100 rounds per hour.
Turret Press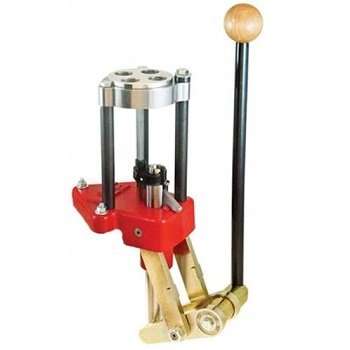 The Turret Press is an upgraded version of the single-stage press. They also process one cartridge at a time, but they have 4 to 5 die stations. As the name implies, this kind of press has a revolving turret that allows the processing of more than one "die" at a time.
Progressive Reloading Press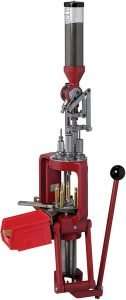 As the most advanced of the three reloader types, the progressive reloading press allows you to install and process different types of cartridges at a time.
Conclusion
If speed in reloading is what you want, a progressive reloading press is a way to go. However, if you're still a beginner, be sure to get a machine that's user-friendly. Then start slow, one round at a time, then speed up from there.
If you're new to reloading, you may check our article on How to reload your own ammo to learn more.
Last update on 2023-09-26 / Images from Amazon Product API