Summary:
The manufacturer's description and specs, the average user rating, and pricing info for the Les Baer 25th Anniversary 1911 pistol.
Manufacturer's Description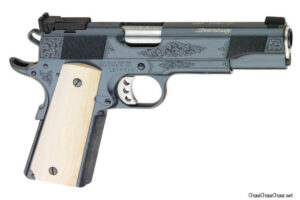 In honor of its 25 years in business, Les Baer Custom announced this 25th Anniversary Model 1911 is a testament to our standing as the world leader in the production of custom 1911 pistols. Like our special Presentation Grade Model, this new commemorative model starts life as a fully equipped and fully functional Baer Premier II pistol, the flagship of our 1911 product line. Then, to make it extra special and extra beautiful, we have enhanced it with these unique features that help guarantee its strong visual appeal and its continued collectibility for years to come:
Exquisitely crafted hand engraving on both sides of the slide and frame;
Les Baer's actual signature and the legend "25th Anniversary" have been engraved, then inlaid with white gold on the top of the slide;
All the flat metal surfaces have been hand prepared with ultra-fine 1200-grit material, then the entire pistol has been finished with a deep, rich Charcoal Bluing;
Each pistol comes with real ivory grips, an absolutely stunning contrast to the deep blue finish; and
A special presentation box.
MSRP: $6,995