Editor's Rating: 8.5/10
Users' Rating (Click a star to rate this gun.)
Summary: Chris Boyd's review of and rating for the Kel-Tec P-3AT pistol, including a photo, specs, MSRP, pros and cons, and user ratings.
Editor's Review
In April 2007, I attended a motor competition in Tucson, Ariz. I saw several motor officers carrying what I thought were folding knives tucked in their motor boots. Upon closer inspection, I realized they were actually carrying ultra-slim .380 ACP semi-auto pistols, which were held in place inside their boots by a metal clip.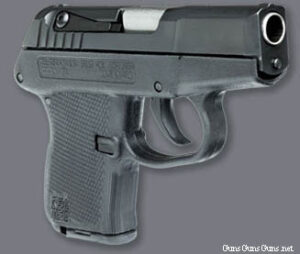 It was the Kel-Tec P-3AT pistol. As an avid gun collector, I had to add this handgun to my arsenal and promptly ordered one when I got back home.
After receiving the gun, I first attached the accessory belt clip that some officers use to secure the gun inside a motor boot. I then headed to the indoor range to practice with my new gun. After firing approximately 200 rounds of a variety of .380 ACP ammunition (including both jacketed hollow-point and full-metal jacket in both 90 grains and 95 grains) without a single malfunction, I gained confidence in the gun's reliability and accuracy.
The P-3AT is remarkably small, especially when you consider it has a magazine capacity of six rounds. Its unloaded weight is a mere 8.3 oz. It's 5.2″ in length, 3.5″ in height and only .7″ in width. This unbelievably thin design allows for deep, comfortable concealment in the waistband, leg holster, vest holster or in almost any jacket or pants pocket.
The weapon functions as a DAO (double-action only) and has a hammer block that holds the hammer away from the firing pin, which provides an internal mechanical safety. The hammer block can only be disengaged by deliberately pulling the trigger. It's impossible for a direct blow to the hammer (e.g., the dropped weapon landing on its hammer) to discharge this gun due to its enclosed slide and grip.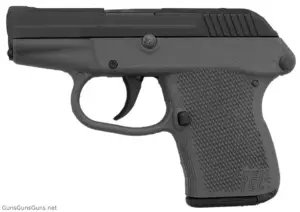 Although crude by comparison to most other designs, the fixed sights machined into the slide assembly were functional. By virtue of its diminutive size, combat accuracy (rather than match-grade accuracy) is what this self-defense pistol is designed for.
The nicely checkered grip assembly, with serrations in the front and back straps, allow for a solid grip. Recoil is definitely commensurate with the short barrel and lightweight design, but it's certainly manageable. Those with small hands will only be able to place their middle and ring fingers around the front strap; those with exceptionally large hands may only be able to wrap their middle finger around the front strap below the trigger guard. Shooting with gloves is almost impossible because there isn't enough room inside the trigger guard.
Unlike the .32 ACP version (P32), the P-3AT doesn't have a slide-release/hold-open lever. This means that the slide won't lock to the rear when the last round is fired.The reality: This isn't the type of weapon that one would necessarily speed reload. The greater disadvantage, in my opinion, is that the slide must be held to the rear by hand to inspect the chamber for a live round. This aspect is somewhat negated by the "visible chamber loaded indicator" required by many states to sell semi-auto handguns. This is a very small gap between the breech face in the slide and the rear portion of the barrel chamber that presumably allows the shooter to see the rim portion of the shell casing if there's a round in the chamber.
Another minor shortcoming of the pistol is the greater degree of difficulty in the disassembly and reassembly of this weapon compared to most others. Although it's not too tedious, some less-motivated individuals may not be willing to clean and lube the gun on a regular basis. Because the pistol is designed for everyday concealed carry, attention to regular maintenance, such as wiping down the innards with a q-tip and applying a small amount of lubricant bi-weekly, is mandatory for continued reliability.
Based on my experience with this gun, I would give it an exceptional rating as a safe, reliable, accurate and highly concealable piece.
Chris Boyd is a 22- year veteran of the Carlsbad (Calif.) Police Dept. He has worked patrol, K-9 and vice/narcotics. Boyd is a certified Taser, MP5, NFDD and firearms instructor, and is currently assigned as a patrol sergeant. He's also an entry-team leader on his department's SWAT team.
The Specs
| | | | | | | |
| --- | --- | --- | --- | --- | --- | --- |
| Caliber | Capacity | BBL | OAL | Height | Width | Weight |
| .380 ACP | 6+1 | 2.7″ | 5.2″ | 3.5″ | .77″ | 8.3 oz., unloaded |
Pricing
MSRP: $318–$377
Pros & Cons
| | |
| --- | --- |
| Pros | Reliable |
| | Ultra-concealable |
| | Reasonably priced |
| | Lifetime warranty |
| Cons | No slide-stop lever |
| | Somewhat difficult to disassemble/reassemble |