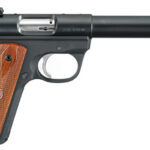 Editor's Rating: 8.0/10
Users' Rating (Click a star to rate this gun.)
Summary: Walt Rauch's review of and rating for the Ruger 22/45 RP pistol, including a range report, photos, pricing, specs, user ratings and user comments. (Click here to see all of Rauch's handgun reviews.)
Editor's Review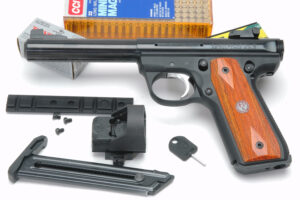 The Ruger 22/45 RP chambered in .22 LR is a welcome addition to the Mark II 22/45 series, what with its new changeable grip panels that, not incidentally, match up with those made for the 1911. For 1911 devotees, having a stand-alone .22 LR rimfire pistol mimicking the big guy's grip angle and controls is nice for training purposes—it cost much less to punch paper with .22 LR than .45 ACP!
I got my hands on one of these Rugers, and it's the subject of this gun review.
The Details
Top to bottom, the pistol has a nice, deep blue finish to its metal parts, and the polymer frame is colored black. The prominent post front sight has a rear face angled to minimize glare while providing a sharp outline. The windage and elevation-adjustable rear sight is the same one long found on Ruger Target models, as my T&E sample is designated. (Indeed, the rear sight blade has the rectangular outline that's normally white, but here, as befits a target pistol, it's blacked out.)
The 5.5″ heavyweight bull barrel on my gun is rounded at its front and has a rifling twist of one turn in 16 inches (you can also get it with a 4″ barrel). The top of the tubular receiver is drilled and tapped for the install of the supplied Weaver-dimensioned accessory rail. (Slotted screws are provided for mounting the rail after three blind allen screws have been removed from the barrel.) The barrel and receiver technically constitute the firearm, and as such are serial numbered, leaving the one-piece grip frame as a more easily replaced "part."
The ejection port is large and tapered on its circumference such that live rounds and empty cases easily exit when clearing the chamber or firing. The extractor is ample in size and empty cases are ejected up and to the right rear of the shooter. The bolt is very manipulable thanks to two large, grooved projections located on its rear in the 3 o'clock and 9 o'clock positions, and the receiver is dished out, allowing a deep grip.
The frame wears molded checkering on both frontstrap and backstrap, while the manual thumb safety/gun lock, magazine release and slide stop are located on the left side of the frame in positions that mimic those of the Government Model 1911 pistol. Its grip angle also mirrors that of a 1911.
The circular trigger is grooved and is protected by the also-rounded trigger guard. Because the gun is single action, the trigger can be (and is) located sufficiently rearward within this guard to allow a lightly-gloved finger enough room to manipulate the trigger.
The trigger-pull weight on this sample measured a clean-breaking 5.25 lbs., well within an acceptable range of trigger pull weights for a personal defense or hunting handgun. For me, it's not what I want and need in a target handgun, but in fairness to Ruger, this trigger-pull weight does allow the company to defend against those bringing frivolous lawsuits that are ongoing against gun makers. The solution: Seek the services of a pistolsmith knowledgeable in lightening and smoothing this trigger.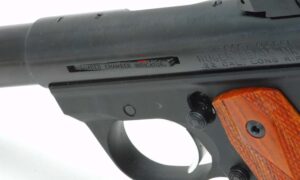 The previously-mentioned grip panels are made of Cocobolo wood and are well checkered, with a medallion of the Ruger logo at the top center of both panels. The panels attach with allen screws, two to a side. Don't over-tighten the screws because doing so can pull them out of the matching supports in the polymer frame or at the least somewhat distort the frame, creating malfunctions.
The round slide stop, manual safety and magazine catch are domed, with circular grooving to add purchase on them. The gun lock and its key-hole access is located just below the manual safety, which must be in the up or on-safe position for the key to go into this lock. The pistol must be cocked to apply the manual safety. Two keys are supplied.
The 10-round magazine (two come with the gun) has a metal body and a polymer follower and base plate. Loading is convenient because the follower has a large-head button you use to hold the follower down as you load the magazine.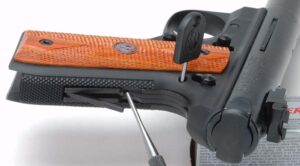 The 22/45 has a magazine disconnect safety and a chamber status indicator (both mandated by law in a few states). The disconnector prevents firing if the magazine is not sufficiently inserted into the frame. However, the magazine does drop freely but does so only if you take care that your hand is not pressing against the magazine base plate because this part extends front and rear into the frame.
The indicator is labeled a Loaded Chamber Indicator, but I think it's better seen as a status indicator because it only tells you there's something in the chamber and not whether this is caused by a live or empty round or debris. This nit aside, the indicator lies along the left side of the receiver. You can determine chamber status by feel or sight because the indicator protrudes when the chamber is occupied and a red warning mark appears on its top-forward face. It neither adds nor detracts from the gun's functioning, but it shouldn't be the only means you use to determine if the gun is empty. Nothing replaces visual and physical inspection; look and feel, and do it twice.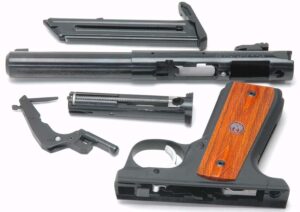 One more external control: the mainspring housing latch. This lever is within the mainspring housing assembly at the lower rear of the frame, and moving this is the first step in disassembling the 22/45 RP into its four primary component sections. (Disassembly and reassembly has long been the bane of many Ruger pistol owners. As a friend of mine observed, he has simply lost count of how many new Ruger owners have appeared on his doorstep with a box or bag in which are parts and pieces of a Ruger .22 LR pistol, asking for help!)
There is one answer: Read the manual and take particular care to follow the instructions word for word. And note that you must use a verified empty magazine as part of the process. If you find that a visual aid is a better or a good supplemental learning method, Ruger has a how-to video on its website. Of course, once you do this take-down and assembly a few times, the process gets easy.
Accessorizing
Your first kitchen table gunsmithing project may well be grip panel replacement because the one-size grip doesn't fit all. Back in the day, creating custom grips often involved no more than tape and bondo. While effective, the result sure is ugly. Now, what with all the grips available for the 1911, why not have grips that are attractive as well as functional?
Grip panel removal is easy. The problem? I couldn't find a pair of 1911 grips I could simply slap on and go. The left replacement grip panel must be trimmed back at its upper left side by removing enough material at its top so that the panel doesn't interfere with operating the slide stop and magazine catch. I tried three brands of grip panels and all would need this trimming. Results may well vary with other brands. Of course, the Ruger panel can be used as a template for such whittling.
Next up: installing the supplied accessory rail. The supplied manual includes the how-to. I attached an ITI MRDS (Mini Red Dot Sight) to the rail.
Range Report
We shot indoors at 20 yards seated using a gun bag rest. Here are our five-shot groups with three ammo types: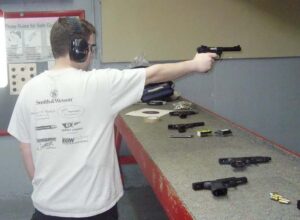 Remington Standard Velocity Target 40-grain: 1.375″ group
Winchester Super-X HV CPRN 40-grain: 1.5″ group
CCI Mini-Mag HV LRN 40-grain: 1.44″ group
The MRDS worked quite well. Its dot settings allowed me to tailor dot size to target size, which greatly helped me shoot those tight groups.
I experienced two malfunctions in 200 rounds of fire, and both happened during the first 20 rounds. After this, I had none with the ammunition listed above.
Note: Choosing .22 ammo is often wrongly determined solely by price. Loss leader ammo from a big box store is not what you want to shoot in most any semi-auto firearm—I've found such ammo quality to be suspect. In addition, many times, despite all modern manufacturing controls and inspections, two seemingly identical guns will not shoot equally well with one ammo type. If you want to get the most out of a .22, try different brands and bullet weights to find the one that shoots the best in your gun.
Final Thoughts
The 22/45 RP is a good choice for many activities. For handgun aficionados of a certain age, we recall (sort of) those halcyon days of actively shooting bullseye handgun competition, and the Ruger remains good for this (with some trigger work to be done as your learning curve increases, to be sure).
Now, though, there are other more active and faster shooting sports that focus on rimfire-only competitive Action Shooting. Beginner through Master Class shooters are quite welcome in the Steel Challenge Shooting Association in its .22RF division, and the Ruger Rimfire Shooting Competitions. Of course, classic bullseye shooting is still popular, with competitions sponsored by the National Rifle Association.
Also, if you can find a place to do so, just shooting stuff such as dissolvable wafers and frangible clay bird targets (and small food cans, too, if you pick them up when you're done) is just plain fun.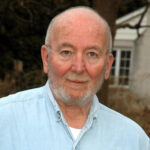 Walt Rauch received a BS degree from Carnegie Tech and completed service as a Special Agent in U.S. Army Intelligence. Rauch was a U.S. Secret Service Special Agent and a Philadelphia, Pa., Warrant Unit Investigator. He now operates a consulting company for defense-weapon and tactical training. Rauch & Company services include expert witness testimony on firearms use and tactics.
Rauch is also a writer and lecturer in the firearms field. He's published in national and international publications including InterMedia's Handguns, several Harris Publications specialty magazines, Police and Security News and Cibles (France). He is the author of a book on self-defense, Real-World Survival! What Has Worked For Me, as well as Practically Speaking, a comprehensive guide to IDPA defensive pistol shooting.
The Specs
| | | | | | | |
| --- | --- | --- | --- | --- | --- | --- |
| Caliber | Capacity | BBL | OAL | Height | Width | Weight |
| .22 LR | 10+1 | 5.5″ | 9.5″ | 5.35″ | 1″ | 32 oz. |
| .22 LR | 10+1 | 4″ | 8″ | 5.35″ | 1″ | 31 oz. |
More Reading
Here are Ruger's other 22/45 models:
22/45 Threaded Barrel
22/45 Slab-Side
22/45 Hunter
22/45 Bull Barrel
Pricing
MSRP: $359