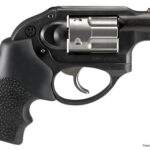 Editor's Rating: 7.5/10
Users' Rating (Click a star to rate this gun.)
Summary: Dave Spaulding's review of and rating for Ruger's LCR revolvers, including pros & cons, a range report, specs, photo, pricing, user ratings and user comments. (Click here to see all of Spaulding's handgun reviews.)
Editor's Review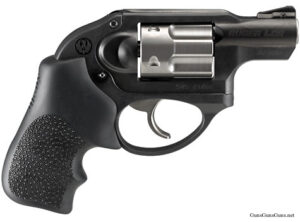 The snub-nosed revolver is alive and well. Many street-savvy police officers understand the importance of carrying a backup gun for those times when their primary weapon fails. Many fine compact pistols exist, but the snub revolver is less susceptible to fouling from dirt, dust, pocket lint or a naturally occurring substance than the finely tuned semi-auto.
Because the snubby is enjoying increased popularity, it isn't surprising that Ruger has introduced a space-age, high-tech snubby hybrid: the LCR (Lightweight Compact Revolver). This 13.5 oz., small frame, five-shot, .38 Special revolver represents one of the most significant revolver design evolutions in a hundred years.
The LCR's .38 Special frame is an aerospace grade, 7000-series aluminum forging treated with a black synergistic hard coat that's applied once it's machined (the .357 Magnum and 9mm models are built on stainless steel frames). It was tested with more than 30 different chemicals and exceeded mil-spec salt spray tests while offering performance greater than hard-coat anodizing. This monolithic frame provides sturdy support for the cylinder and barrel. The 2″ barrel has a 1:16 twist and is made of 17-4 PH aerospace grade stainless steel.
When this article first appeared, the LCR was available only in .38 Special +P. It's now also available chambered in .357 Magnum, 9mm, .22 WMR and .22 LR.
The LCR's lightweight, polymer trigger housing contains the entire fire control assembly, which offers a higher level of functional reliability. The trigger assembly is put together with no hand-fitting, resulting in a highly consistent product at an affordable price. This also makes in-agency repair easier.
The fiberglass-filled polymer frame provides a reduction in felt recoil. The frame's grip peg allows for a variety of grips to be installed, and the LCR's standard Hogue Tamer grip with a Sorbothane insert reduces perceived recoil even further. It's small enough to hide in a coat pocket or an ankle holster but offers a full-hand grip for fast-action shooting. The result of a joint effort with Hogue, the LCR's standard grip was designed using U.S. military ergonomic data on hand shape and size, so the LCR can be comfortably held by a wide range of hand sizes. An available Crimson Trace LaserGrip offers the advantages of a laser sighting system.
Pros
Strong, stable barrel;
lightweight polymer trigger; and
frame proves reduction in felt recoil.
Cons
Slight glitch midway through trigger stroke.[/callout]
The aggressively fluted 400-series stainless-steel cylinder is lightweight and compact, measuring 1.283 inches in diameter at the chamber area. Treated with an advanced form of Ruger's Target Grey finish, this stainless steel cylinder is strong, durable and designed to handle  full-power .38 Special +P loads. The Ruger LCR's patent-pending  front-latching system uses titanium components, optimized spring tension and enhanced lockup geometry to ensure the cylinder stays locked in place during firing. (Note: The 9mm model comes with three moon clips.)
On the Range
Pulling together a number of street-proven loads, I headed to the range to test the snubby. I found the trigger action reasonably smooth with only a slight glitch midway through the trigger stroke. Although it would probably bother someone trying to get the tightest group possible, in rapid fire—the scenario in which the gun is likely to be used—it wouldn't be noticed.
Speaking of groups, I used two street-proven loads—bench-rested at 50 feet—to see just how tight a group the LCR could shoot. Each group is five rounds measured at its widest point. Velocity was measured with a Shooting Chrony chronograph placed 15 feet from the muzzle. The results:
(Note: Federal, Remington and Corbon all make a similar load with similar performance capability.)
Conclusion
The Ruger LCR is one of the best .38 snubbies available—it's as simple as that.

Dave Spaulding is a 28-year law-enforcement veteran, retiring at the rank of lieutenant. He's worked in all facets of law enforcement—corrections, communications, patrol, evidence collection, investigations, undercover operations, training and SWAT. He currently operates Handgun Combatives, a handgun-combat training program, and he's authored more than 800 articles for various firearm and law enforcement periodicals. In 2010 Spaulding received the Law Officer Trainer of the Year award, and he's also the author of the best-selling books Defensive Living and Handgun Combatives.
The Specs
| | | | | | | |
| --- | --- | --- | --- | --- | --- | --- |
| Caliber | Capacity | BBL | OAL | Height | Width | Weight |
| .38 Special | 5 | 1.875″ | 6.5″ | 4.5″ | 1.28″ | 13.5 oz. |
| .357 Magnum | 5 | 1.875″ | 6.5″ | 4.5″ | 1.28″ | 17.1 oz. |
| 9mm | 5 | 1.875″ | 6.5″ | 4.5″ | 1.28″ | 17.2 oz. |
| .22 LR | 8 | 1.875″ | 6.5″ | 4.5″ | 1.28″ | 14.9 oz. |
| .22 WMR | 6 | 1.875″ | 6.5″ | 4.5″ | 1.28″ | 16.6 oz. |
More Versions
Ruger and Talo have developed two limited edition LCR that feature five engraved and satin filled Ruger logos and either a 24KT gold band on the cylinder, or a silver band. And Ruger now offers the LCRx, which features an exposed hammer.
LCR Pricing & Shopping
MSRP: $529–$879
MSRP: $596 (the Talo model with the gold band)
MSRP: $570 (the Talo model with the silver band)
---
Retail: $429 (.22 LR model) @ Brownells—


Retail: $529 (.357 Magnum model) @ Brownells—


Retail: $449 (.38 Special model) @ Brownells—

More LCR Photos