Editor's Rating: 8.0/10
Users' Rating (Click a star to rate this gun.)
Summary: Dave Spaulding's review and rating of SIG Sauer's Traditional Compact pistol, including a photos, range report, pricing and user ratings. (Click here to see all Spaulding's pistol reviews.)
Editor's Review
SIG Sauer has introduced a series of 1911 pistols it calls Traditional, and from what I can see, SIG understands the concept. Although SIG did make these pistols from stainless steel (some upgrades are worthwhile!), the company has worked hard to deliver a pistol even the most hardcore fan of John Browning's masterpiece could enjoy.
I chose to review the 1911 Traditional Compact model in this article because I think it's a nice compromise between a carry/duty pistol and a gun you can carry concealed. The Compact uses the short officer's grip frame and combines it with the short slide of a commander, resulting in a gun that is big enough but small enough for most combative applications.
The Details
The SIG Traditional series comprises four models that all feature the recognizable round-top 1911 slide profile, forward cocking serrations and a lightweight, three-hole adjustable trigger. Standard on all models are a match-grade barrel, a flat, checkered mainspring housing and a speed-bump grip safety. This last feature is more important than many realize. During the pandemonium and stress of armed conflict, a perfect grip is oftentimes lacking when deploying a fighting pistol. The high shoulder of the speed bump on the bottom of the grip safety helps keep the gun in the fight even if a perfect grip is not achieved.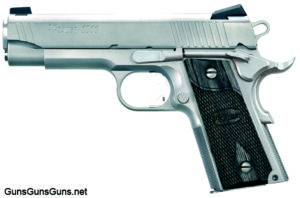 The frontstraps feature 25 LPI checking, and the mainspring housing sports 20 LPI checkering for optimum grip and user comfort.
Other Traditional series features include a standard 1911 barrel bushing, a short recoil guide rod and an oblong commander-style hammer. To many 1911 traditionalists, a full-length guide rod is heresy; statements such as "If John Browning had wanted the gun to have a full-length guide rod, he would've given it on" are common. Personally, I just want the gun to run, so I don't care which it has. For those that do, this will make them happy.
Another Traditional feature: the single-side safety lever, which is fine if you happen to be right-handed. If not, the SIG Compact will accept aftermarket ambidextrous levers. Traditionalists will disagree with the external extractor, however—it certainly wasn't part of Browning's original design. That said, I've had several engineers in the firearms industry tell me that external extractors are more reliable and don't require the bending that's common with internal versions. In the end, the choice is up to you.
My Traditional Compact of course included the features listed above, but it also sported a matte stainless finish on the slide and frame, and natural matte control levers, custom wood checkered grips and low-profile, SIGLITE night sights (all standard).
The checkered wood grip, frontstrap and mainspring housing offer a superb grip even when wearing gloves. The grip checkering is in a diamond configuration with the SIG logo etched in each panel. SIG has achieved the right combination–a grip design aggressive enough to provide a positive grip, but no so sharp that it abrades the hand.
The SIGLITE sights offer three bold white dots that are easy to see and align in all levels of light due to the tritium inserts.
The magazine well has a nice bevel that helps reloading, but like all 1911 pistols without a magazine funnel, the fit is tight, so the magazine insertion must be pretty precise. If you struggle with this, try laying the magazine's side on the mag well's side before pushing it in. Some find this easier to accomplish.
As previously stated, SIG opted to use stainless steel on all the Traditional guns due to its corrosion resistance. I happen to like this because I'm one of those who sweat readily, so I can make a blue carbon-steel gun look like a 20-year veteral fairly quickly. Stainless steel is just a good choice for any gun that'll see use on the street, field or competition range.
Forward cocking serrations remain controversial, but I like them. To me, seeing is believing, and I like to know my gun is loaded before I hit the street. Once I chamber a round, I like to rock the slide back a bit to see a loaded chamber or feel it in low light. The ability to use the forward end of the slide for added leverage makes the task a bit easier. Yes, it's true you can use the rear cocking serrations for a chamber check, but my hands seem to get in each other's way when I attempt this. In reality, the chamber check is something you shouldn't hurry, so there's no reason to place your hand forward of the muzzle. Any time the gun is in your hand, it should be your primary focus, so take your time. All that said, I do wish SIG had located the serrations on this pistol a bit further back on the slide.
One reason the 1911 remains so popular is John Browning's keen understanding of anatomy and how the hand/fingers fold around a pistol's grip. If you take a moment and watch your hand open and close, you can't help but not how this conforms to a 1911's controls. Example: Browning's masterpiece is the only current handgun with a sliding instead of pivoting trigger, which is how the trigger finger wraps around and moves straight to the rear. The slightly larger thumb safety and speed-bump grip safety work well with the human hand. The thumb safety travels up and down, matching the thumb's movement, while the grip safety is depressed as the hand tightens around the grip.
SIG's Traditional Compact embraces these design features, and even offers a bonus: The slide-stop lever is nicely checkered with a dished-out shelf for added leverage. Small features like this make this gun stand out.
Range Report
If a combat handgun won't run, it's of no use, so seeing how well the SIG 1911 Traditional Compact worked was of great importance. I started my evaluation by testing the gun for combat accuracy. I know many people want to know how accurate a gun is while bench rested at 25 yards, but that's not what this gun is about. This SIG is for fighting, so I decided to keep that in mind as I worked with it.
I tested the gun for accuracy by shooting five-round groups off-hand at 50 feet (just over 16 yards), keeping both speed and precision in mind. In a nutshell, I shot the gun as fast as I could reset the trigger and center the front sight in the rear window, which was not too incredibly fast considering my old eyes. Just out of curiosity, I also ran five rounds of each ammo type across my Shooting Chrony chronograph to see how fast it could push some popular loads. Here are my results:
Corbon 185 DPX: 1,018 fps, 3″ group
Winchester 185 FMJ: 779 fps, 3.5″ group
Hornady 230 XTP: 813 fps, 2.75″ group
Winchester 230 Bonded PDX: 819 fps, 3.75″ group
Federal 230 HST: 778 fps, 3.5″ group
These aren't the tight groups you normally see with a bench-rest test, but they illustrate this pistol can provide excellent combat accuracy regardless of the load used.
The nice thing about .45 ACP? Load selection isn't nearly as critical as it is with 9mm. An already slow-moving bullet is more likely to slow/stop in the body and deliver energy to surrounding tissues, which is why many knowledgeable shooters prefer .45 ACP. The downside: The heavy bullets are harder to control in rapid fire than lighter-faster rounds, which is likely in armed conflict. .45 ACP is therefore not for everyone. I believe two solid hits are better than a hit and miss (certainly better than two misses!), so which caliber you use is critical and a choice only you can make.
Not wanting to waste range time, I completed my evaluation with a number of preferred range drills, including the traditional El Presidente, the Hackathorn combat modified El Presidente, Bill Drills, draw and shoots, speed and tactical reloads, grounded and seated shooting, and some good, old fashioned trigger-control drills. The Traditional Compact has a very noticeable reset point that made trigger control easy. The short trigger stroke was very smooth and weighed right at 5 lbs., which I think is perfect for a combat handgun.
Because the gun is a traditional 1911, it'll fit any holster made for a full-size 1911 or commander model. I used a Comp-Tac Kydex scabbard made for a full-size 1911 with great success. Of course, the 1911 magazines slid right into several different magazine pouches I had on hand.
The Compact came with two flat-floorplate, seven-round magazines that functioned flawlessly and made the gun concealable. At the same time, they were more difficult to seat when performing a speed reload. However, considering SIG has incorporated a short officer-style grip into the design, it would seem silly to add length to the magazines. Like everything in life, there is always bitter and sweet; each of us must decide what features are important.
Final Thoughts
Few guns match the human hand's ergonomics like the 1911, and the SIG Traditional is an excellent rendition. And if you consider yourself a 1911 purist, you should take a look at this gun.
But is the SIG Traditional Compact a good choice for tactical use? You bet! SIG has taken the best of the 1911 design and made it easy to carry, conceal and shoot accurately. As I noted at the outset, this pistol is big enough but small enough for most combative applications. The Compact would be right at home in the thigh holster of a SWAT cop or the concealed scabbard of a detective.

Dave Spaulding is a 28-year law-enforcement veteran, retiring at the rank of lieutenant. He's worked in all facets of law enforcement—corrections, communications, patrol, evidence collection, investigations, undercover operations, training and SWAT. He currently operates Handgun Combatives, a handgun-combat training program, and he's authored more than 800 articles for various firearm and law enforcement periodicals. In 2010 Spaulding received the Law Officer Trainer of the Year award, and he's also the author of the best-selling books Defensive Living and Handgun Combatives.
The Specs
| | | | | | | |
| --- | --- | --- | --- | --- | --- | --- |
| Caliber | Capacity | BBL | OAL | Width | Height | Weight |
| .45 ACP | 7+1 | 4.2″ | 7.7″ | 1.4″ | 4.8″ | 35.5 oz. |
Pricing
MSRP: $1,099