Editor's Rating: 8.0/10
Users' Rating (Click a star to rate this gun.)
Summary:
Dave Spaulding's review of and rating for the Smith & Wesson (S&W's) M&P40 pistol, including a range report, pros and cons, S&W's MSRP, specs and photo, and user ratings and comments. (Click 
here
 to see all Spaulding's gun reviews.)
Editor's Review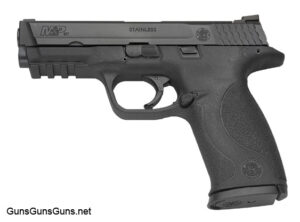 Smith & Wesson has decided to try and retake the American law enforcement market it dominated during the revolver days by introducing its new Military & Police (M&P) semi-automatic pistol. The M&P40 is a polymer-frame, striker-fired pistol that measures 7.375″ long, 5.25″ tall and 1.25″ wide, and weighs 28 oz. The stainless-steel slide is coated with black Melonite to offer the highest possible level of corrosion resistance. The polymer/Zytel frame is molded with a picatinny- style equipment rail in the dust cover, and the frame also includes a solid-steel insert or chassis that encloses all of the internal components. There are only 38 parts in the gun's design, including the interchangeable backstraps. The molded frame incorporates a beavertail grip for those with meaty hands—something many custom gunsmiths have had to add to other polymer pistols.
The grip angle measures 18 degrees, making it feel similar to a 1911-style pistol. The interchangeable back straps not only change the sizes of the grip and length of trigger reach but also offer different size palm swells. The magazine-release button is totally reversible; you can change it in about 30 seconds using a ballpoint pen. The trigger is the same trigger as used on the Sigma, which requires you to place your index finger squarely on it to move it to the rear. Like the S&W Sigma, the M&P40 trigger has a smooth face, though it is slightly narrower with a greater radius on the edges.
The magazine well has no molding steps or ledges to hinder smooth magazine insertion, and the pin that locks the backstraps in place offers a nice shelf to start the magazine into place. The slide-stop/release levers are located on both sides of the frame, and while they are not in the center of the gun, they are farther forward than those found on Glock or SIG Sauer pistols. Two versions of the lever will be made available: one flat to the frame, and one with a useable thumb shelf.
To field-strip the gun for cleaning, you must lock the gun open and push a lever down from inside before you can remove the slide. This feature was incorporated due to the request of a large number of police agencies that did not want a gun that required pressing the trigger for disassembly, which has led to a number of unintentional discharges. Pushing down the internal lever requires an unloaded gun. Not a bad feature for folks who are not really into guns.
[adrotate banner="200″]
Once this is accomplished, you rotate a lever located on the left side of the frame downward (similar to a SIG or Beretta) to remove the slide assembly. Then you can remove the barrel, recoil-guide rod and spring (a one piece unit). The gun has three safety systems: a trigger-travel safety, a striker-block safety and a magazine-disconnect safety. An internal frame-locking device also comes with the gun, except on those sold to police agencies, unless requested by the agency.
Shooting the M&P40
S&W Project Manager Joe Bergeron and I took the guns over to the S&W Academy range where we spent most of the day shooting the preproduction prototypes. We used a wide range of ammo styles, including Winchester 180- and 165-grain SXT, Speer/CCI 180- and 165-grain Gold Dot, Federal 180-grain Hydra-Shok, Remington 155-grain JHP, Mag-Tech 180-grain FMJ and CorBon 155 grain JHP. After shooting most of the day and falling just shy of 1,000 rounds, we experienced one failure-to-fire, apparently due to a hard primer in a reload Bergeron had loaded into the gun. Everything else fired reliably and shot right to the point-of-aim regardless of manufacturer, style or weight. Bergeron told me just one week prior, world-champion shooter Doug Koenig shot the same guns we were currently shooting. At 10 yards, Koenig shot a 15-round group into one jagged hole, something I attempted but did not even come close to accomplishing. I guess that's why he's Doug Koenig and I'm not! Just a bit of difference there.
I was able to keep all of my shots inside a 3″ circle at 10 yards, so I was quite happy with the combat accuracy of the M&P40. The trigger of the test guns offered a smooth 6-lb. first trigger with no stack and a reset that felt to be about .125″ long. The trigger-over-travel-stop built into the trigger and frame really helped when shooting fast. S&W says the specifications for the trigger are 6.5–7 lbs. with a length of travel of .3″ and a reset of plus or minus .135″. Trust me on this: It's a fast trigger action that's easy to control.
Shooting the polymer frame M&P40 did not feel like shooting other polymer pistols. It felt more like shooting a metal gun due to the steel chassis that houses all of the internal parts. There's no flex in the frame like other polymer guns, so muzzle flip was noticeably reduced.
That said, the palm swell grips stood out most for me. Due to my small hands, I started out using the smallest backstrap insert. About halfway through, I decided to change to the medium insert and see how it felt. As soon as I fired my first round, I noticed a big change for the better in the muzzle flip due to the palm swells and their placement in my hand.
The only problem I had during the two days was seeing the gun's sights. The M&P40 will come standard with Novak sights, which are an excellent choice (note: tritium sights, a Crimson Trace Lasergrip laser sight and a built-in green Crimson Trace Laserguard laser sight are now optional—ed.). It's just that the test gun's sights were well worn and had lost their white dots after 20,000 rounds of shooting. When combined with my 50-year-old eyes and the inconsistent light of an indoor range, the sights just disappeared.
Bergeron had the same problem, and I told him this was the very reason the gun needed a high-visibility, contrasting orange front sight like that found on a S&W revolver. Joe and Paul Pluff (S&W's marketing director) both agreed, and we discussed a number of possible options. Personally, I'd love to see the orange front dovetail sight found on the Performance Center 1.5″ snubby .357 revolver with a wide-window, flat-black Novak rear. That would be a sight system you could see in a fast, constantly moving, pandemonium filled gunfight! We shall see what the final sight configuration will be, but you can rest assured Novak's famous sights will be involved.
Conclusion
S&W went to great lengths to make sure the M&P pistol is everything an American police officer or agency could want in a service handgun. Would I carry an M&P pistol? You bet! I think it may be one of the best law enforcement guns ever produced.


Dave Spaulding is a 28-year law-enforcement veteran, retiring at the rank of lieutenant. He's worked in all facets of law enforcement—corrections, communications, patrol, evidence collection, investigations, undercover operations, training and SWAT. He currently operates Handgun Combatives, a handgun-combat training program, and he's authored more than 800 articles for various firearm and law enforcement periodicals. In 2010 Spaulding received the Law Officer Trainer of the Year award, and he's also the author of the best-selling books Defensive Living and Handgun Combatives.
The Specs
| | | | | | | |
| --- | --- | --- | --- | --- | --- | --- |
| Caliber | Capacity | OAL | BBL | Height | Width | Weight |
| .40 SW | 15+1, 10+1 | 7.5 | 4.25″ | 5.5″ | 1.2″ | 24.25 oz unloaded |
Pricing
MSRP: $719
MSRP: $988 w/Crimson Trace Lasergrip
Pros & Cons
| | |
| --- | --- |
| Pros | Easy to train folks who aren't gun enthusiasts. |
| | Easy to field strip and maintain. |
| | Small number of parts help eliminate malfunctions/problems. |
| | Can fit right- or left-handed shooters equally well. |
| | Can fit small- or large-handed shooters. |
| Cons | The slide-stop has been moved forward, but it's still close enough to the shooting hand to be engaged accidentally by the thumb. |
Update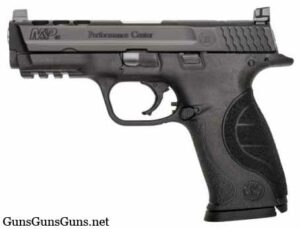 Smith & Wesson's Performance Center now offer ported M&P40 pistols (see photo).
More Reading
To see a listing of all Smith & Wesson's  M&Ps, click here. To read an in-depth review of the S&W M&P45 Mid-Size, click here.