Editor's Rating: 9.0/10
Users' Rating (Click a star to rate this gun.)
Summary: Nick Jacobellis' review and rating of the Smith & Wesson M&P45 Mid-Size, plus pricing, photos, specs and user ratings.
Editor's Review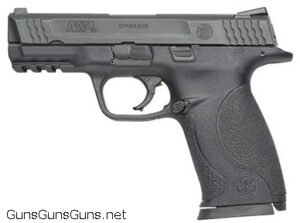 The Smith & Wesson (S&W) M&P45 Mid-Size is a semiauto pistol chambered in .45 ACP that falls in between S&W's full-size M&P45 and its M&P45c, the compact version. The M&P45 Mid-Size is built on the full-size frame, but like the M&P45c, it features a 4″ barrel instead of the 4.5″ barrel found on the full-size model.
The Details
The M&P pistol embodies the modern technology you expect from a 21st century service pistol. For starters, the M&P features a Melonite blackened stainless steel barrel and slide assembly, a rugged polymer frame, a striker-fired double-action-only trigger system, a high-capacity magazine, an ambidextrous magazine release, an ambidextrous slide release, an internal locking mechanism, three-dot Novak Lo Mount steel sights, a loaded chamber indicator and a 1913 Picatinny accessory rail I can use with my SureFire tactical light.
M&P pistols are also available with a magazine disconnect, a slide-mounted, thumb-activated safety lever, and Trijicon three-dot night sights. M&Ps provide extra corrosive resistance because they do not have exposed steel screws and are coated with Melonite.
When chambered in .45 ACP, both the full-size M&P45 and the M&P45 Mid-Size hold 10 rounds in the magazine (the M&P45c holds eight in the mag).
Backstraps & Disassembly
All M&Ps incorporate three interchangeable backstrap or grip inserts into the grip design. This feature enables any operator to quickly install a small, medium or large backstrap insert into the rear-grip portion of the frame to accommodate any hand size and thereby improve their pistol's ergonomics. Small, medium and large palm swells or backstrap inserts are provided at no extra charge with every M&P pistol.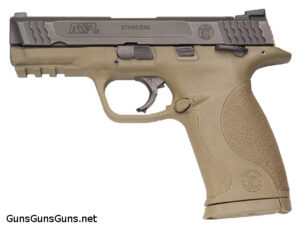 To change the backstraps the operator must remove the security pin/disassembly tool that holds the grip assembly together. (Note: This pin must be rotated before you remove it from the bottom of the grip portion of the frame.) Once this pin is removed, you can change backstraps until you find the grip insert that fits your hand size the best. Then simply reinsert the security pin into the frame before you operate your M&P.
My preference: To date I've test fired every size and caliber M&P with all three grip inserts and have found I'm most comfortable using the medium and small backstrap inserts.
To disassemble any M&P, you rack the slide to the rear and use a thin screwdriver or the long pin that secures the interchangeable grip inserts to the frame to move the sear deactivation lever away from the frame. Once this deactivation lever is moved away from the frame to the open position, you can disassemble your M&P for cleaning and lubrication without having to pull the trigger to remove the slide from the frame.
On the Range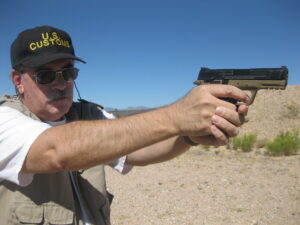 The first Mid-Size I tested was all black, but for this test I asked S&W to send me a dark-earth colored Mid Size. S&W does an excellent job manufacturing dark-earth colored pistols, and that makes them especially attractive for those who operate or spend time in a desert or sandy environment. Unfortunately, night sights were not available when I requested a dark-earth colored M&P45 Mid-Size test pistol.
The first time I tested the M&P45 Mid-Size, I hated the optional slide-mounted, thumb-activated safety lever, but once I spent some time placing the lever on and off, I ended up liking this safety so much I requested that my next M&P test pistol carry the same device. If you work around prisoners or have children, it makes a great deal of sense to use an M&P because this safety lever can prevent the pistol from firing once the lever is locked into the raised position. Should any unauthorized person attempt to discharge your M&P when this safety lever is raised, they won't be able to do so until they manually lower the lever to the off position.
The M&P Mid Size 45 is especially user friendly because it features excellent weight and balance, and is chambered in a hard-hitting caliber that's not much more expensive to train with than 9mm. It's also easy to carry concealed because it's compact and lightweight even when fully loaded with 11 rounds of 230-grain .45 ACP.
When it comes to concealed carry, a lot depends on the holsters you use and your method of carry. I tend to carry short-grip pistols cross draw in an inside-the-pants holster. When I carry a compact pistol with a full-size grip (e.g., the M&P45 Mid-Size), I use an inside-the-pants Uncle Mikes or a De Santis holster on my right hip. When I use a belt holster, I tend to prefer a De Santis rig that I wear on my right hip.
In the field, I carry the Mid-Size in a black nylon cross-the-chest shoulder holster or in a coyote-tan colored, nylon Blackhawk Special Operations holster.
Accuracy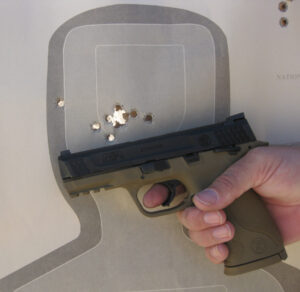 While field testing the Mid-Size from an unsupported standing position 21 feet from the target, I produced impressive groups in rapid-fire drills. I also had absolutely no problem emptying the contents of an entire 10-round magazine at a fairly quick rate of fire into the head of a man-size TQ 19 Police Firearms Qualification Target at normal gunfighting distances.
Recoil
When I field-tested an M&P45 Mid-Size for the first time, I realized that at least in my hands, the Mid-Size was softer-shooting than the full-size M&P45. And it was also soft-shooting than the M&P45c, which occasionally gave my arthritic hands problems.
Three factors that contribute to the controlability of any handgun. One is ergonomics: The more comfortable a handgun is hold onto, the more comfortable it will be to shoot. The ammunition you use is another factor that can make a pistol more or less comfortable to shoot. Some people believe in using +P rated ammunition, but I never use anything other than standard velocity ammunition. With the M&P45 Mid-Size, I find that any 230-grain FMJ or hollow-point bullet is very soft shooting.
Finally, we have the issue of barrel length and slide mass to consider. I'm no expert in physics, but according to an article written by Massad Ayoob in the 2007 Complete Book of Handguns Magazine, a senior SIG Sauer engineer by the name of Joe Kiessel "suspects that the shorter slide on a SIG 220 Carry model creates less momentum during the recoil cycle." This statement offers a reasonable scientific explanation why the SIG 220 Carry shoots softer than the full-size SIG 220.
I suspect the same concept applies to all compact pistols, including the M&P45 Mid-Size. Of course certain ammunition, especially +P ammunition, is the wild card.
Conclusion
Field testing this particular firearm not once but twice served to reassure me that my original observations were correct. Based on my evaluation, I think the S&W M&P45 Mid-Size is user friendly, ergonomic, incredibly accurate, soft shooting and easy to carry concealed.
In fact, after field testing and evaluating every M&P pistol in every caliber, my personal favorite is the M&P45 Mid-Size.

Nick Jacobellis is a medically retired U.S. Customs Agent and former police officer who was physically disabled in the line of duty while working as an undercover federal agent.
The Specs
| | | | | | | |
| --- | --- | --- | --- | --- | --- | --- |
| Caliber | Capacity | BBL | OAL | Height | Width | Weight |
| .45 ACP | 10+1 | 4″ | 7.55″ | 5.5″ | 1.2″ | 27.07 oz. |
Pricing
MSRP: $790
More Reading
To see a listing of all Smith & Wesson's  M&Ps, click here. To read an in-depth review of the S&W M&P40, click here.