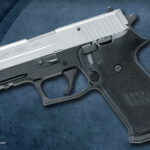 Editor's Rating: 10.0/10
Users' Rating (Click a star to rate this gun.)
Summary: Nick Jacobellis' review and rating of the SIG Sauer P220 Carry pistol, including photos, SIG's pricing and specs, and user ratings and comments.
Editor's Review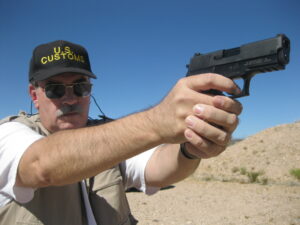 In the past 25 or so years, I've had the opportunity to field test every pistol in SIG Sauer's classic line, in every caliber with every possible trigger option.
This includes classic SIGs with and without night sights and accessory rails, such as the 9mm SIG P225, the 9mm P228, the 9mm P226, the P229 in .40 SW and .357 SIG, the P239 in 9mm, .40 S&W and .357 SIG, and the .45 ACP P220, P220 Carry and P220 Compact.
In this test and evaluation, I examine the P220 Carry.
The Details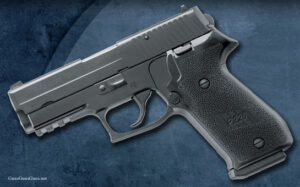 The SIG Sauer P220 Carry is chambered in .45 ACP and has the same grip size as the full-size P220, but it carries a 3.9″ barrel instead of the 4.4″ barrel found on the full-size model. Like the full-size model, the P220 Carry weighs roughly 30 oz. unloaded. All of the new Classic series SIG Sauer Pistols including the new P220 variants are constructed with a Nitron (blackened) stainless steel slide and an alloy frame. In addition to the standard six-round magazine, seven, eight and 10 round magazines work in all P220-series pistols, and I've found them all to function reliably. Seven and eight round magazines fit flush.
This pistol is also available with a picatinny accessory rail and either post-and-dot contrast sights, or three-dot SIGLITE night sights. Some of the single-action-only (SAO) P220 Carry models feature an extended beavertail.
Trigger Talk
Over the past year or so, I've had the opportunity to extensively field-test six different P220 Carrys with all the available trigger systems, including SAO, double-action/single-action (DA/SA) and double-action-only (DAO). I found the P220 Carry equipped with a DAO trigger very user friendly. In fact, of all the SIGs with a DAO trigger, the P220 Carry version proved the easiest to shoot with tremendous precision. My only complaint: This trigger system can feel a bit different on different SIG pistols. I suspect the reason for this is due to the fact that different SIGs have different ergonomics that change your reach to the trigger.
I had an interesting experience with the SAO model. I prefer to carry my handguns concealed inside the waistband of my pants, usually in a De Santis or Uncle Mikes inside-the-pants holster. I carried the SAO P220 this way, and on one occasion I discovered the safety lever was disengaged with the hammer cocked.
Even after SIG sent me several new replacement springs that made the thumb-activated safety lever harder to be accidentally disengage, I spent half my day checking the safety lever to ensure it was working properly. Ultimately, I concluded the SAO model did not work for my concealed carry needs, and even though I really liked my pair of SAO P220 Carrys, I had no choice but to sell them at my local police supply store in order to gain peace of mind.
DA0 trigger: 7.5 lbs.
DA/SA trigger: 10 lbs. & 4.4 lbs.
SAO trigger: 5 lbs.
Had SIG designed the SAO P220 Carry with a grip safety, I would've felt better about carrying these pistols cocked and locked. I do have a friend who carries his SAO P220 Carry and considers it one of his favorite and most accurate .45 ACP pistols. Bottom line: As long as you're comfortable carrying the SAO P220 Carry in an appropriate holster with the hammer cocked and locked like a 1911, this pistol can be an excellent choice for a concealed carry pistol, especially if you like shooting pistols with an SAO trigger system. It just didn't work out for me.
Of all the SIG Sauer trigger systems, my personal favorite is the standard DA/SA trigger. I prefer the DA/SA SIGs because SIG has perfected their DA/SA triggers over the years to the point where they are generally smooth and crisp out of the box. Should you get one that's not smooth, crisp and short in throw, you can have a spring kit installed,  or a trigger job completed at the SIG factory. Or you can simply shoot your pistol because I've found that even the roughest DA/SA SIG triggers improve with use.
When considering any DA/SA pistol, look for a first-shot double-action trigger pull that allows you to consistently hit a man-size target from the 25 yard line. If you can, you will usually have no problem keeping all of your follow-up, single-action shots on target as well. And remember: When you operate any DA/SA pistol, make sure you manually lower or decock the hammer using the docking lever when you are finished firing to avoid accidentally holstering a pistol with the hammer cocked and ready to fire.
Shots Fired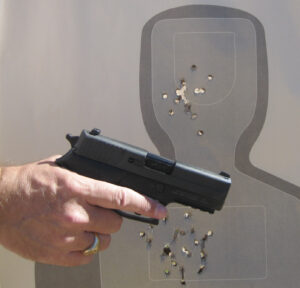 As far as accuracy is concerned, the P220 Carry is capable of delivering the most precise shot placement imaginable as long as you hold up your end as the operator. In my case, I prefer the P220 Compact, a pistol that I used to score a 250 out of 250 points when I qualified this year on a POST Certified Police Firearms Qualification timed course of fire.
However, the P220 Carry performed just as well, and you can easily use it to qualify with on any law enforcement firearms qualification course of fire. While testing and training with P220 Carry, I've been able to deliver connect-the-dots accurate shot placement at close-quarter-battle and beyond as long as I held up my end as the operator.
I also found the P220 Carry and even the P220 Compact to be a bit softer shooting than the full-size P220. I'm no expert in physics, but according to an article written by Massad Ayoob in the 2007 Complete Book of Handguns Magazine, a senior SIG Sauer engineer by the name of Joe Kiessel "suspects that the shorter slide on a SIG 220 Carry model creates less momentum during the recoil cycle." This statement offers a reasonable scientific explanation why the SIG 220 Carry shoots softer than the full-size SIG 220.
I suspect the same concept applies to all compact pistols. Of course certain ammunition, especially +P ammunition, is the wild card.
Conclusion
If you prefer the feel of a full-size service pistol I recommend the P220 Carry. If you prefer or need a .45 ACP pistol that's a tad easier to carry concealed, go with a P220 Compact. The good news? You can't go wrong with either.
All three models have something to offer. With the full-size model, you get closer to maximizing the performance of .45 ACP ammunition, especially if you use standard velocity ammunition. The Carry is easier to carry concealed, especially if you carry a pistol in-an-inside the pants holster. The Compact has the shortest grip and has the same barrel length as the Carry Model. The Compact works best for me now that I'm retired, and I own a pair of them.
I give the SIG 220 Carry and Compact models 10 out of 10 stars. In my book, these pistols are as close to perfect as any handgun can possibly be.

Nick Jacobellis is a medically retired U.S. Customs Agent and former police officer who was physically disabled in the line of duty while working as an undercover federal agent.
The Specs
| | | | | | | |
| --- | --- | --- | --- | --- | --- | --- |
| Caliber | Capacity | BBL | OAL | Height | Width | Weight |
| .45 ACP | 6+1, 7+1, 8+1, 10+1 | 3.9″ | 7.1″ | 5.5″ | 1.5″ | 30.4 oz. |
P220 Carry Pricing & Shopping
MSRP: $1,029 (black)
MSRP: $1,086 (two tone)
SIG's Other P220s
SIG Sauer P220 Carry Elite Dark
SIG Sauer P220 Carry SAS Gen 2
SIG Sauer P220 Carry Elite SAO
SIG Sauer P220 Carry Elite Stainless
SIG Sauer P220 Carry Elite
SIG Sauer P220 Carry Equinox
SIG Sauer P220 Carry SAO
SIG Sauer P220 Carry DAK
SIG Sauer P220 X-Six
SIG Sauer P220 SAS Gen 2
SIG Sauer P220R Compact
SIG Sauer P220 DAK
SIG Sauer P220 SAO
SIG Sauer P220 Elite Dark
SIG Sauer P220 Classic 22
SIG Sauer P220 Elite Stainless
SIG Sauer P220 Elite
SIG Sauer P220 Combat
SIG Sauer P220 Equinox
SIG Sauer P220 Platinum Elite