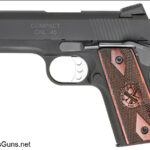 Editor's Rating: 8.0/10
Users' Rating (Click a star to rate this gun.)
Summary: Walt Rauch's review of and rating for the Springfield Armory Range Officer Compact pistol, including a range report, photos, pricing, specs, user ratings and user comments. (Click here to see all of Rauch's handgun reviews.)
Editor's Review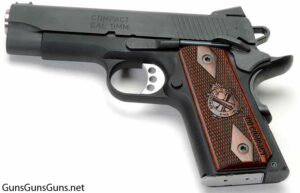 Roughly five years ago, Springfield Armory rolled out a new full size 1911-style pistol called the Range Officer, and it ultimately proved quite popular. Several years later Springfield followed up with a lighter, downsized version it calls the Range Officer Compact (ROC), which features a shortened slide/barrel and a shortened grip, and an aluminum alloy frame.
Springfield offers the ROC chambered in 9mm or .45 ACP. I obtained a 9mm version from Springfield, and my review follows.
The Details
With an empty eight-round magazine inserted (two came with my gun), the ROC weighs 29.5 oz. and stands 5″ tall. It measures 7.6″ long and sports a 4″ stainless steel, match-grade bull barrel with no bushing. The barrel is ramped with a fully-supported chamber for positive feeding and cartridge case support. With no barrel bushing, barrel and slide lock-up depend on how well (or not) the front of the barrel is fitted into the slide's muzzle.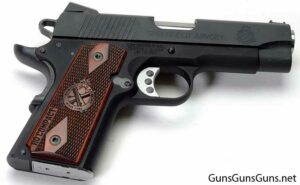 Springfield constructs the slide from forged carbon steel, and it features a lowered, flared and enlarged ejection port. The slide is parkerized, and the ROC employs a full-length guide rod with captive dual springs (more on this below). The slide moves on the full-length rails of the forged aluminum-alloy frame. The frame is colored black, hard coated and anodized.
The slide features a rounded top, with a red fiber optic front sight and low-profile combat rear sight with two white dots on either side of its sight notch. Both sights are mounted in dovetail cuts so you can adjust them for windage or replacement if needed. Spare fiber optic inserts (orange and yellow) come with the gun; the owner's manual contains instructions for changing it.
The slide also features 10 forward-slanting grasping grooves at the rear. The slide's markings include "COMPACT CAL 9MM" on the left, and "SPRINGFIELD ARMORY" with the Springfield logo on the right.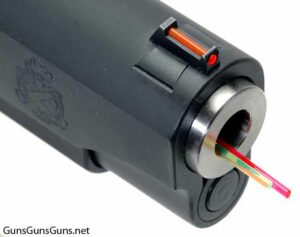 The slightly taller and grooved magazine catch is at the lower rear of the familiarly-shaped trigger guard. The horizontally-grooved slide stop is in its familiar place above the front of the left grip panel and the rear of the curved trigger guard.
The lightweight trigger's pull weight measured an even 5 lbs., and it broke cleanly with little take-up and a short reset. Trigger over-travel was minimal, and you can further adjust it via an allen screw in the trigger face. There's no accessory rail, and the rounded front strap is smooth-faced.
The ROC wears thin, double-diamond rosewood grips, which are attractive and offer a good grip. The grips attach via allen screws, and the gun ships with allen wrenches for both the grip and the trigger over-travel screws.
Safeties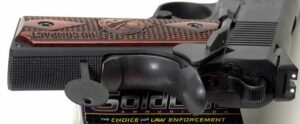 The ROC includes a number of safeties. First, you'll find an elongated, enlarged and grooved thumb safely on the frame's upper left. The thumb safety's ledge is lengthened, widened and then curved downward. In addition to its curve better fitting your thumb's arc, it also minimizes the front end of the safety catching on your clothing or stabbing your thumb when you manipulate the slide. This safety moves on and off with a satisfying click.
Springfield's answer to a drop safety is employing a heavy firing pin spring and a light-weight firing pin. And, the ROC also includes a "Safety Stop" on the hammer, which is explained on p. 11 of the owners manual as follows:
"The Safety Stop is a flat, shelf-like surface on the hammer which functions automatically. It will engage the sear in the unlikely event of primary sear notch failure. This will prevent the hammer from falling fully forward unintentionally and will ensure against uncontrolled automatic fire. It also prevents the hammer from striking the firing pin should your hand slip from the slide or the hammer while cocking the pistol…."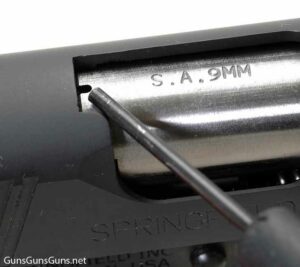 Of particular note, the manual also points out, "The Safety Stop is not a manual safety and should not be engaged by hand."
Finally, the frame features a well-fitted beavertail grip safety, and Springfield cut a notch into the chamber hood to serve as a loaded chamber indicator.
Magazines
In the eight-round magazines, a modified follower allows the magazine to hold the extra (eighth) round. Because the 9mm round is shorter than a .45 ACP round, 9mm rounds do shift and can cause problems during feeding if their size remains unaddressed. The historical fix involves inserting a full-length metal spacer to the inside rear of the magazine body, which then holds the rounds forward. In these magazines, Check-Mate (the manufacturer) not only included the spacer, it also added two longitudinal grooves on either side of the magazine body to help position the rounds.
The magazines feature six cartridge witness holes on either side of the body. The base plate almost fits flush to the magazine well except for a very small lip on the base plate, which is a good thing; otherwise, it would prove all too easy to over-insert the magazine, especially during vigorous reloads.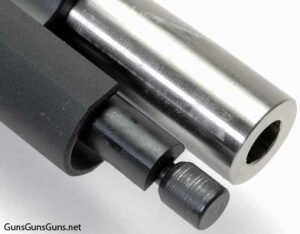 The base plate is shortened, probably because given the short officer-size grip, the extended portion would dig into your gripping-hand fingers or simply interfere with obtaining a good grip on the pistol. One downside: This shortening potentially makes removing a jammed magazine difficult because you have almost no exposed part on which to pull.
Alternatively, you could trim down a standard-sized base plate bumper and attach it. Conveniently, here the base plate is drilled and tapped to aid in such an attachment. Doing so would give you something to tug on in the event a magazine does stick in the gun.
I don't care much for extra-round magazines for my defensive use, although I regularly use them in most any shooting competition. (After all, it's only a game!) At this point in time, I freely admit my dislike is more prejudiced than reasoned. I tried these magazines when they were first introduced, and I saw—and personally suffered—too many malfunctions attributed to them. Truth be told, though, later it was found that poor reloads, lack of gun cleaning, poor factory ammo and pistol modifications bore responsibility for many malfunctions, which held back full acceptance of these magazines. Eventually they were accepted, but I stuck with standard magazines, either OEM or from known and respected manufacturers.
Disassembly & Reassembly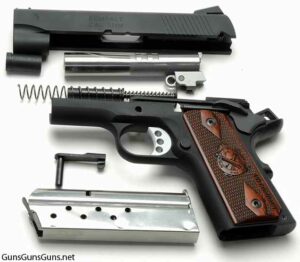 To disassemble and reassemble the ROC, I recommend following the instructions found in the owner's manual on p. 45. In short, because the ROC uses a dual captive recoil spring system on a telescoping guide rod, Springfield supplies a disassembly aid, which is a half-round piece of plastic the size of the forward part of the guide rod. To use it, after ensuring you have a safe and empty gun, lock the slide back and snap the disassembly piece on the front-most portion of the now-exposed guide rod. Then, after you remove the slide, you can remove the guide rod, compressing it slightly so that the rod drops down and out, as does the barrel.
Alternatively, you can remove the entire slide assembly, then manually push the guide rod forward enough to attach the tool. I found that although this latter course does work, it also demostrates the dual springs are quite strong!
You reassemble the gun in reverse order.
Finally, while the owner's manual provides no indication of when you should change out the unit due to extensive shooting, my best guess is replacement should occur around every 3,000 rounds. Or, of course, when function problems begin to show themselves.
Range Report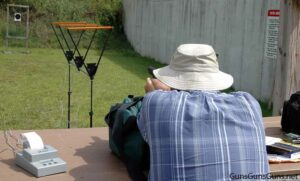 At the range, Irv Gill and I set up at 25 yards to chronograph and see what we could get out of the ROC. We mostly fired 50-grain Liberty Civil Defense (a copper fragmenting round), 115-grain CorBon DPX and 115-grain Magtech JRN ammo, although we began with some loose yellow box Remington 115-grain JRN rounds for familiarization.
Gill shot the best five-shot group at 25 yards, which measured 2.25″. My efforts were not as good, measuring 3.5″ and 3.75″. No fault of the ROC; just poor shooting on my part that particular day.
Here are the results of five-shot strings fired over an Oehler chronograph at 25 yards. We were 300 feet above sea level with an ambient temperature of 70 degrees Fahrenheit:
Liberty Civil Defense 50-grain HP: 1,926 fps, 3.75″ group
CorBon 115-grain +P DPX: 1,249 fps, 2.25″ group
In short, the ROC shot quite well and without malfunction. After a long run of reviewing small polymer pistols, it was nice that I didn't have to curl a finger under the grip, and the full-sized sights simply made for good shooting.
Regarding holsters, the padded and lockable traveling and storage gun case from Springfield contained a polymer belt slide and a dual magazine carrier. I also tried the pistol in a few commander- (4.25″) and full-sized (5″) 1911 holsters from DeSantis, Milt Sparks, Galco, Alessi and DelFatti, and the ROC's fit in each proved acceptable.
Final Thoughts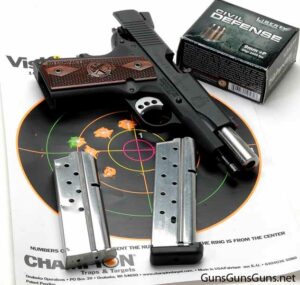 After handling and shooting the 9mm-chambered Range Officer Compact, I felt it was a just-right gun for self defense, and also for some action shooting sports events; i.e., the ROC is neither too small nor too large for both. For defensive use, the ROC has features I want and a few I can do without. It's just compact enough to afford good concealment, yet remains large enough to be a competitive gun to run with the full-sized guns.
I liked the gun and was seriously tempted to buy it. However, I already own three commanders-size 1911s, which, by the way, measure only .25″ longer and .5″ taller than the ROC.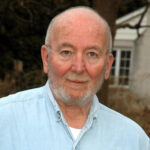 Walt Rauch received a BS degree from Carnegie Tech and completed service as a Special Agent in U.S. Army Intelligence. Rauch was a U.S. Secret Service Special Agent and a Philadelphia, Pa., Warrant Unit Investigator. He now operates a consulting company for defense-weapon and tactical training. Rauch & Company services include expert witness testimony on firearms use and tactics.
Rauch is also a writer and lecturer in the firearms field. He's published in national and international publications including InterMedia's Handguns, several Harris Publications specialty magazines, Police and Security News and Cibles (France). He is the author of a book on self-defense, Real-World Survival! What Has Worked For Me, as well as Practically Speaking, a comprehensive guide to IDPA defensive pistol shooting.
The Specs
| | | | | | |
| --- | --- | --- | --- | --- | --- |
| Caliber | Capacity | BBL | OAL | Height | Weight |
| .45 ACP | 6+1 | 4″ | 7.6″ | 5″ | 28.5 oz. with empty magazine |
| 9mm | 8+1 | 4″ | 7.6″ | 5″ | 29.5 oz. with empty magazine |
Pricing & Shopping
MSRP: $869.99
Retail: $739 (.45 ACP model) @ Brownells—