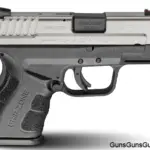 Users' Rating (Click a star to rate this gun.)
Summary:
The description, specs, photos, pricing and user ratings for the Springfield Armory XD Mod.2 Sub-Compact pistol.
Manufacturer's Description
Springfield Armory's XD Mod.2 Sub-Compact is a semi-auto pistol built on a polymer frame with a stainless steel slide, and chambered in .45 ACP, .40 SW or 9mm. This pistol succeeds Springfield's original XD Sub-Compact with a number of new features (see below).
Standard features found on XD Sub-Compacts include:
a striker status indicator;
a grip safety;
an accessory rail;
the Ultra Safety Assurance (USA) trigger system;
an ambidextrous magazine release;
a hammer-forged barrel;
no-tool disassembly;
one compact, flush-fit magazine, and one extended-grip magazine; and
point-and-shoot ergonomics.
New Mod.2 features include:
A slimmed, contoured frame;
a slimmer slide;
a slimmed, contoured disassembly lever;
a high-hand beavertail;
a high-hand relief cut behind the trigger guard;
more pronounced rear slide serrations;
a three-zone grip texturing pattern with moderate texturing on the frontstrap and backstrap, aggressive texturing on the grip's corners and light texturing on the grip's sides (and the rest of the frame);
a fiber-optic front sight; and
a low-profile, extended rear sight.
You can get the XD Mod.2 Sub-Compact with either a black melonite finish on the slide, or a satin stainless finish. And Springfield offers the frame in either black or flat dark earth.
Note: High-capacity magazines may not be available in some states.
The Specs
| | | | | | |
| --- | --- | --- | --- | --- | --- |
| Caliber | Capacity | BBL | OAL | Height | Weight |
| .40 SW | 9+1 | 3″ | 6.25″ | 4.75″ | 26 oz. w/empty mag |
| .40 SW | 12+1 | 3″ | 6.25″ | 5.5″ | 27 oz. w/empty mag |
| 9mm | 13+1, 10+1 | 3″ | 6.25″ | 4.75″ | 26 oz. w/empty mag |
| 9mm | 16+1 | 3″ | 6.25″ | 5.5″ | 27 oz. w/empty mag |
| .45 ACP | 9+1 | 3.3″ | n/a | n/a | n/a |
| .45 ACP | 13+1 | 3.3″ | n/a | n/a | n/a |
MSRP: $565 (black)
MSRP: $599 (satin stainless)