Editor's Rating: 8.0/10
Users' Rating (Click a star to rate this gun.)
Summary: Mike Boyle's review of and rating for the STI Perfect 10 pistol, including a range report, STI's photos, MSRP and specs, and user ratings. (Click here to see all of Boyle's gun reviews.)
Editor's Review
The new STI Perfect 10 is a double stack, long-slide pistol chambered for the hard-hitting 10mm cartridge. I realize the 10mm never really captured the hearts and minds of American shooters, and that's probably too bad. However, it remains the most powerful cartridge you can wrap a service-size pistol around, and I was intrigued. Besides, it's always more fun to take the path less traveled.
Well, I finally got around to getting a sample Perfect 10 to put through the paces, and I can report that this bad boy rocks. If a high performance, easy-to-shoot pistol floats your boat, the Perfect 10 may be the gun for you.
Pistol Particulars
The Perfect 10 is a large frame, service-size pistol, based on STI's patented 2011 technology. With its longer slide, 6″ barrel and accessory rail, external geometry is somewhat different than other STI offerings designed for competition and personal defense. This high performance pistol is ideally suited for the tactical specialist in need of a hard hitting pistol outfitted with a rail for the mounting of white lights or lasers.
In building the Perfect 10, STI went with its innovative modular frame. The upper sub-frame is crafted from steel while the trigger guard and grip frame are made of high impact, weight-saving polymer. The hybrid frame allows STI to build a high-capacity, extended-slide pistol that weighs only about 3 oz. more than a standard 1911.
An integral rail is milled right into the extended dust cover of the Perfect 10. The rail itself extends for 6″ and allows for the mounting of the widest possible range of illuminators and laser aimers. My sample Perfect 10 accommodated white lights from SureFire and Insight Tech Gear as well as a Uni-Green laser aimer from LaserMax.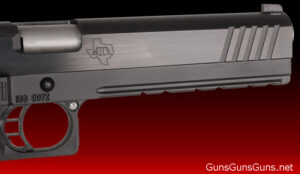 Both the front strap and flat mainspring housing are checkered 30 LPI for a positive hold. An STI High Ride Beavertail Safety, with a palm swell, guarantees positive operation and prevents hammer bite. This southpaw was happy to see that the Perfect 10 sported an ambidextrous frame mounted safety for easy operation with either hand.
The Perfect 10 is equipped with an STI Long Curved Trigger. On the sample pistol, the trigger was crisp and clean and broke at about 4.5 lbs. Personally, I wouldn't care for anything much lighter on a self-defense pistol.
To facilitate the fastest possible reload, STI incorporated an aluminum magazine well into the Perfect 10. This cavernous opening literally gobbles up the fresh magazine during the reloading process and proved much faster than my single stack 1911's. Non-slip black nylon grip panels complete the lower half of the gun.
The 6″ ramped bull barrel is fully supported, which is a nice touch when firing full house 10mm loads. As expected, the longer barrel yields muzzle velocities that are more than a few strides faster than other 10mm pistols. A two-piece guide rod, along with the bushing-less barrel, represent a departure from traditional 1911 technology.
Sighting equipment includes a black competition front and adjustable rear. The front sight is dovetailed into the slide and should stay put through a lifetime of hard use. In view of the wide range of performance characteristics associated with the 10mm cartridge, adjustable sights make a lot of sense.
The slide has cocking serrations both fore and aft. Metal surfaces are blued with the sides of the slide polished.
As indicated earlier, the Perfect 10 is not a small gun and measures 9.5″ in length. Total weight is 41.5 oz. This is beyond the limit for practical concealed carry, but not at all problematic for the SWAT cop with the proper holster.
Along with my T&E Perfect 10, STI provided me with a pair of 10-round magazines. Ordinarily, the Perfect 10 comes with a 14-round magazine. For shooters who can't get enough of a good thing, extended length 175mm magazines with a 17-round capacity are also available.
Range Report
The Perfect 10 had all the makings of a winner, and I was very eager to put it through the paces. Although I had a modest supply of 10mm ammunition on hand, much of it was nearly 20 years old. Unfortunately, ammunition availability has been a real issue of late, and several of my otherwise dependable sources were not able to come through. On the upside, the 10mm is an easy cartridge to reload for. I was able to cook up a fair quantity of factory equivalent loads using Remington 180 grain JHPs and Hodgdon HS-6 powder.
Once broken in, the Perfect 10mm ran like a top. I did experience a few failures to go completely to battery in the first 50 rounds, but that issue worked itself out. This may have just been some new pistol teething problems or the reduced impulse of some mid-range FBI loads. As with any pistol carried for self-defense, a break-in period of several hundred rounds is advised before carrying it in the field.
Here are my velocity and accuracy results:
Ammo
Avg. Muzzle Velocity

Avg. Group Size
(from 25 yards)

CCI-Blazer
200 gr TMJ
1,110 fps
2.125″
CorBon Pow'R Ball
135 gr PB
1,428 fps
2.625″
CorBon
150 gr JHP
1,381 fps
2.25″
Federal XM10001
180 gr JHP
1,050 fps
3.125″
Winchester Silvertip
175 gr JHP
1,279 fps
2.625″
With full-house 10mm loads, you certainly know when the Perfect 10 goes off, but the polymer grip frame transmits very little felt recoil to the hand. Muzzle rise is a little more pronounced with the high-test ammo, but certainly no more than a .45 ACP +P.
From an improvised rest on a table, 25 yard groups averaged under 3″ with all loads tested. Sub-2″ groups were recorded with CorBon 150 grain JHP, CC1-Blazer 200 grain TMJ, and Federal FBI-spec 180 grain JHPs. The 200 grain Blazer load took top honors with an average spread of 2.125″, followed closely by the CorBon 150 grain offering.
As expected, the long 6″ barrel really lights the fuse on the 10mm. CorBon's 135 grain Pow'R Ball load exceeded 1,400 fps. Winchester's 175 grain Silvertip, a long time 10mm favorite, averaged 1,279 fps. That, team, compares favorably with the .41 Magnum.
Much to my chagrin, I found CorBon's 155 grain DPX load would not cycle from the STI magazines. At first, I thought that they might have exceeded the maximum overall length for the 10mm cartridge, but a quick measurement illustrated that was not the case and the DPX was the exact same length as the Silvertip. For whatever reason, the DPX load would hang up in the magazine. Better to find out in the sterile environment of the range!
Despite the fact that the Perfect 10 was larger and heavier than my everyday pistol, handling qualities were still very good. Manipulating the controls was second nature and the magazine well made reloads a piece of cake.
The Turbo Diesel of Autopistols
As fond as I am of the Perfect 10, I recognize it's not for everyone and remains a somewhat specialized tool. For a general use, self-defense gun, most of us would probably be better served by one of the other 1911s from the extensive STI line. But, if the full-house 10mm is your cartridge of choice, the "Turbo Diesel" Perfect 10 is the way to go. Fans of the 10mm Lite should seek out a .40 S&W pistol.
I found very little to take issue with on this hard-hitting STI pistol. Considering its intended role, some sort of high-visibility front sight with a tritium insert would be the way to go. Black-on-black sights work great against buff colored targets on the range, but are too slow to pick up in fast breaking situations or poor light. Used in conjunction with a light or laser mounted to the rail of the Perfect 10, a contrasting front sight would give the user a means of obtaining a reliable index on a threat in any light condition.
The STI Perfect 10 packs all the fun you can possibly handle in a service-size auto pistol. It successfully merges the power of a magnum revolver with the high capacity of a contemporary self-loading pistol in an accurate, easy-to-shoot delivery system.

Mike Boyle served as a captain with the New Jersey Division of Fish & Wildlife Bureau of Law Enforcement and recently retired after 27 years of service. Mike remains active, teaching recruit, in-service and instructor level classes at the police academy. He's also on the board of directors of the International Association of Law Enforcement Firearms Instructors.
The Specs
| | | | | |
| --- | --- | --- | --- | --- |
| Caliber | Capacity | BBL | OAL | Weight |
| 10mm | 10+1, 14+1, 17+1 | 6″ | 9.5″ | 41.5 oz. |
Pricing
MSRP: $2,458.25