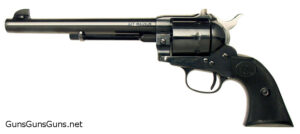 Users' Rating (Click a star to rate this gun.)
Summary:
The description, specs, photos, pricing and user ratings of the USFA Sparrowhawk revolver.
Manufacturer's Description
The USFA Sparrowhawk is a single-action revolver chambered in .327 Federal Magnum. Features include:
A beefed-up frame specifically made for the .32 cartridge;
a removable firing pin;
a knurled cylinder pin for easy grip;
a base pin captured by the ejector rod head when in the forward position so you never loose your base pin;
a large-loop trigger guard for gloved hands and extra room around the trigger for Magnum recoil;
a self-contained, fully adjustable rear sight for both windage and elevation. The rear sight runs in a double C channel and features hash marks for easy adjustment;
a blue finish;
hard-rubber grips; and
a front blade sight.
The Specs
| | | | | |
| --- | --- | --- | --- | --- |
| Caliber | Capacity | BBL | OAL | Weight |
| .327 Federal Magnum | 8 | 7.5″ | n/a | n/a |
MSRP: $1,495