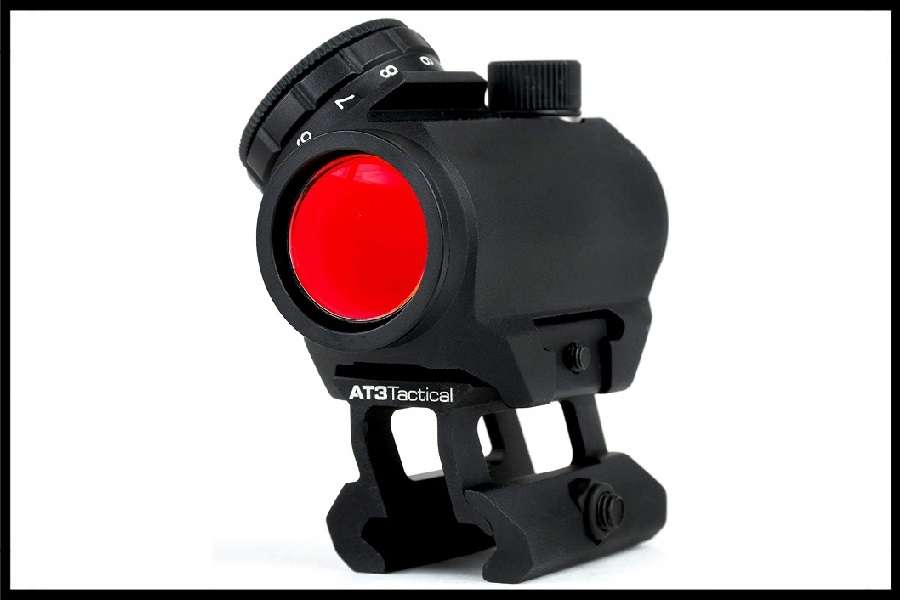 click here to buy AT3 Tactical RD-50 today!

A red dot sight is great for improving your shooting skills in fast-paced scenarios. Having the best available can greatly enhance your accuracy and precision.
Once you try one, it will be difficult to go back!
The AT3 Tactical RD-50 Red Dot Sight is a solid choice under $100.  Its waterproof and shockproof design, multi-coated lens system, adjustable brightness, and aluminum frame make it a great choice for shooters on a budget.
AT3 Tactical RD-50 Technical Specifications
Power/Obj. Lens: 1x25mm
Reticle: 2 MOA Red Dot
Weight: 3.6 oz
Lens Coating: Multi-coated
Mounting Length: 1.1 inch / 28 mm
Total Length: 2.4 in / 61.8 mm
Exit Pupil: 22mm
Windage/Elevation Click Value: 1 MOA per click
Battery type: CR2032
Battery life: roughly 5,000 hours with typical use
Optical Performance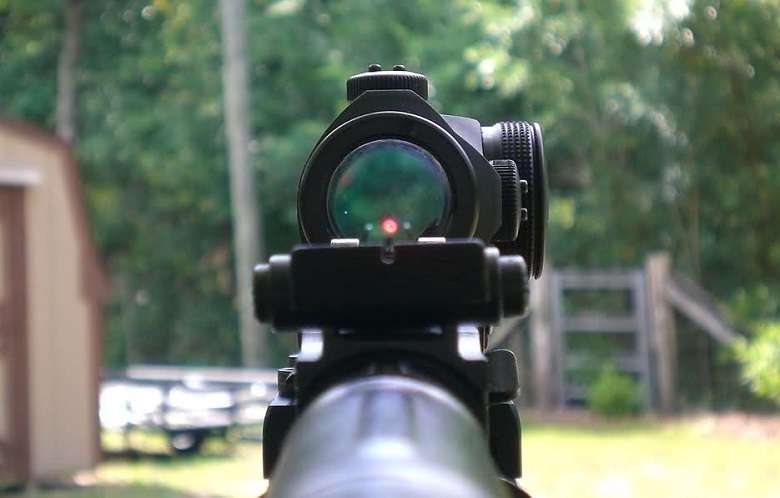 Essentially, one of the most important aspects when shopping for a red dot sight is its optical performance.
We are very impressed with the optical performance of this device. It is equipped with high-quality, multi-coated, and scratch-resistant lenses.
Through these, you can enjoy a clear view of the target, as well as the aiming reticle – which is just as critical.
The sight also allows both-eyes-open shooting. This way, you can properly focus on the target and its environment.
Design And Construction
This red dot sight is lightweight and durable. It has a sturdy tube made of aircraft-grade aluminum filled with nitrogen.
It only weighs 6.3 oz. and is 2.4 inches long, and how it works is pretty standard for these types of sights.
These dimensions make the Tactical RD-50 Red Dot Sight versatile as it can be used on hunting rifles, handguns, and shotguns.
The red dot marks are clear, and the clicks for adjustments are inaudible yet solid.
In addition, the size of the knob on the side is a bit larger than the unit itself, allowing easy light adjustment whenever you want.
The device is also completely waterproof and shockproof, making it suitable for extreme weather conditions and durable despite rough handling. There is even a lifetime warranty for manufacturing defects to cover the cost of the repair.  (I take that to mean there may still be shipping and handling charges.)
Thanks to its matte black finish, this red dot sight is also scratch-resistant.
Accessories And Mounting
Several accessories are included with the purchase. These accessories are; the Renata CR2032 battery, a rubber cover, and a lens cleaning cloth.
One of the best things about this sight is its excellent battery life. On the lowest brightness setting, you can use it for at least 50,000 hours – that's equivalent to several years! 
In terms of mounting, you can mount it in three ways – low, medium, and high.
The ideal mounting position varies for every scenario. So it's up to you to assess your needs and choose accordingly.
The UTG Hi-Profile Compact Riser Mount, for instance, is 1'' high and is really easy to install.
It's suitable for a wide range of optics applications, so this riser mount is available in three different sizes and mounting lengths.
UTG riser mounts are made with precision and attention to detail.
They are surprisingly durable as well, due to their aircraft-grade construction. 
Another option worth noting is the UTG Med-pro Compact Riser Mount. Its price is reasonable, and it works as well as the first one.
Just make sure to assess your platform and preferences before choosing your mount. Then, be sure to read our guide on how to sight in a red dot sight before you head out to the range!
Adjustability
Adjustability is critical for accuracy in a variety of situations. Regardless of how well the red dot sight works, its windage and elevation should be fully adjustable for absolute accuracy.
For the RD-50, the adjustability range is +/- 35 MOA, while the total adjustment range is 70 MOA. This should give you plenty to work with.
Red Dot Brightness Level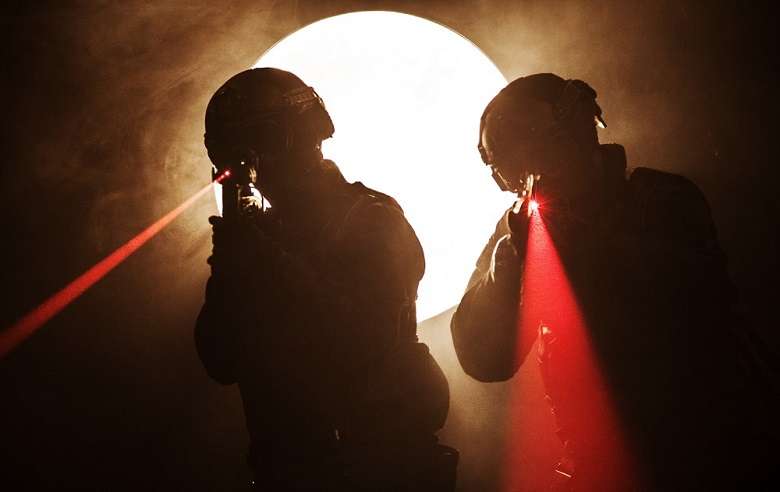 We all have specific preferences when it comes to shooting. In other words, not everyone likes the same level of brightness.
Some perform better with a higher brightness level, while others prefer a lower brightness level.
Also, the required brightness depends on the shooting environment and it can vary on several factors. So it is better to have more brightness levels to use.
The RD-50 has 11 different brightness level settings. This enables the unit to provide excellent visibility in both light and dark lighting conditions.
However, it's not compatible with night vision.
What's The Best Use Of It?
To conclude, if you're looking for a red dot at a decent price, this one is definitely our top pick.
The best thing about it is that its cost-effectiveness doesn't impair its performance in any way. In fact, you don't even have to look for the AT3 Tactical RD-50 for sale, since it's priced very competitively already.

click here to buy AT3 Tactical RD-50 today!

AT3 Tactical Red Dot Sight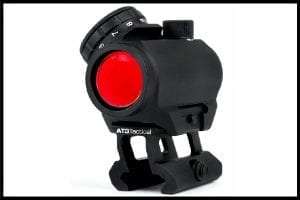 Shopping for a durable red dot with clear glass and quick target acquisition? Our AT3 Tactical RD-50 review looks at the pros and cons.
Product Brand: AT3 Tactical
Product In-Stock: InStock