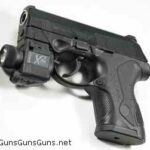 Editor's Rating: 8.0/10
Users' Rating (Click a star to rate this gun.)
Summary:
Mike Boyle's review and rating of the Beretta PX4 Storm Sub-Compact pistol, Beretta's MSRP and photos, and user ratings and comments. (Click 
here
 to see all of Boyle's gun reviews.)
Editor's Review
A few years back, Beretta introduced the revolutionary PX4 Storm, then took a wait-and-see approach to assess the full-size Storm's reception in a very competitive market. (To read Dave Spaulding's review of the full-size PX4 Storm, click here; to read his review of the PX4 Storm Compact, click here.) When it grew clear they had a winner on their hands, Beretta began breaking out smaller versions of the PX4 Storm, starting with the PX4 Storm Sub-Compact.  The "Baby Storm" shares many of the same qualities of the parent pistol, although there are a few major differences.
The Details
My sample PX4 Sub-Compact was chambered for the world standard 9mm and was set up with Beretta's Type F trigger action.  Type F pistols are traditional double-action pistols with a long, relatively heavy stroke for the first shot and a short, light stroke for subsequent shots.  Once the pistol trips to single action, the hammer can be lowered to the frame by sweeping the slide mounted, ambidextrous safety lever down.  With the lever in the on-safe or down position, the pistol can't be fired.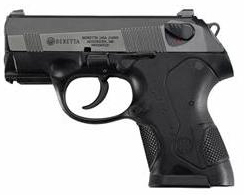 Some experts feel that in the event of a disarm, the on-safe pistol may buy just enough time for the legitimate user to employ other force options or regain control.  With practice, the safety can be snicked off and returned to the fire position as the gun is drawn from the holster and brought up on target.  It has been my observation, however, that most users carry this type of pistol with the safety in the fire mode.  Either way, Type F gives you a choice. Eventually, the PX4 Sub-Compact family will include all the Beretta trigger/safety combinations, including decocker only and double-action-only.
To build the PX4 Sub-Compact, Beretta mated a techno-polymer frame to a steel slide and barrel.  The 3″ long barrel is rendered from stainless steel and has a recessed crown to protect the muzzle from damage.  Its slide rides on a pair of steel rails that look extremely robust.  Fore and aft cocking serrations are milled into the slide, and a non-reflective black Bruriton coating is applied for protection against the elements.
External dimensions approximate those of my old Smith & Wesson M12 .38 Special snub.  Overall length measures 6.2″, and new subcompact stands 4.8″ tall.  Overall width is 1.4″.  The lightweight polymer frame keeps weight of the unloaded pistol down to 26.1 oz.
Special Features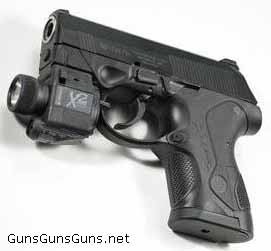 So what makes the Baby Storm special?  A stumbling block for many contemporary pistols is grip circumference.  Consumers demand high capacity, but that comes at a price, which means a good-size handle.  This isn't a problem for many shooters, but small-handed users are often challenged.
To solve this dilemma, Beretta has equipped the Storm Sub-Compact with two interchangeable backstraps. The smaller of the two is just the ticket for users with small hands.  With the aid of a flat screwdriver, you can easily swap out the backstraps to optimize hand fit.
The magazine release is reversible, and a larger copy is optional. A smaller, lower profile slide catch is also available.  Magazine capacity is 13 rounds, which gives the Storm an edge over like-size competitive pistols.  Higher capacity full size Storm magazines will also work in the PX4 Sub-Compact.
For sighting equipment, Beretta has gone with the ever popular three-dot combat pattern.  In my test pistol, the fixed sights shot to point of aim with most loads, and many users will find this setup entirely satisfactory. An accessory rail has been molded into the frame for the mounting of a small tactical light or laser.
A major deviation from the full size Storm is the way the barrel locks up. The original Storm uses a unique rotating barrel which has proven very accurate and reliable.  When I first picked up the Baby Storm and racked the slide, I was surprised to see the new pistol did not use the rotating barrel system.
A quick breakdown revealed a traditional Browning-style tilting barrel.  When I queried Beretta on this, a spokesman advised that they simply couldn't incorporate the rotating barrel system of the original Storm into the shortened slide and frame of the subcompact version.  If my sample is any indicator, the PX4 Sub-Compact, with the more traditional locking system, won't miss a beat.
Shots Fired
To get a handle on the PX4 Storm Sub-Compact's combat potential, I gathered up the pistol and a representative sample of popular 9mm loads and set out to the range.  Ammunition included jacketed hollowpoints, ball and lead-free frangibles.  True to the Beretta tradition, the Baby Storm proved 100% reliable and I noted no malfunctions.
Ammo
Avg. Muzzle Velocity

Group Size
(5 shots in 5 sec.
@ 7 yards)
Black Hills
124 gr JHP
1,102 fps
3.5″
CorBon
125 gr +P JHP
1,209 fps
2.5″
Federal Hydra Shok
124 JHP
1,005 fps
2.5″
Speer
124 gr TMJ
929 fps
4.25″
Winchester Silvertip
147 gr JHP
1,015 fps
3.625″
Predictably, short barrels launch bullets at lower velocities than service-size pistols with longer tubes.  Would the abbreviated 3″ barrel of this subcompact pistol drop muzzle velocity and terminal performance down to .380 ACP levels?  In order to find out, I broke out my Oehler 35P chronograph and ran a few different 9mm loads over the screens.  When the smoke had cleared, muzzle velocities were indeed lower, but nothing to get excited about.  With the right load, you really aren't giving up much at all.
CorBon's 125 grain +P JHP posted the highest muzzle velocity, averaging 1,209 fps.  This is faster than most loads fired from a full-size service pistol.  Another solid performer: Black Hills' 124 grain standard pressure JHP, which hit 1,102 fps.
With medium bore handguns such as the .38 Special and 9mm, I tend to favor the hotter +P and +P+ loads for self defense.  Beretta advises, however, that while the Storm can safely handle these high-pressure loads, extended use will accelerate wear.  I would simply practice with standard pressure ball and save the high-test for social work.
When testing service-size pistols, I like to assess accuracy potential by firing groups off a rest at a target set 25 yards distant.  Quite frankly, I don't see the point of doing the same thing with small pistols and revolvers utilized as hideouts.  Instead, I evaluate combat accuracy potential in a way more consistent with the gun's intended role.
I place a series of Visi-Color targets with 5″ circles 7 yards away.  On signal, I came up from a ready position and triggered off five shots in 5 seconds.  I fired from a standing, unsupported position utilizing a two-hand hold.
This little test did, in fact, bruise my ego–my first few attempts could be categorized as mediocre.  Five shot clusters weren't all that bad, but I wasn't able to place them all in the circle.  However, once I got familiar with point of aim, point of impact with the three-dot sight system, things began to go my way.  Average size of my five shot knots ran from 2.5″ inches to a little over 4″.  My best results were achieved with Federal 124 grain Hydra-Shok JHP and CorBon 125 grain JHP.
Rest assured the Storm Sub-Compact can get the job done at longer distance.  From a distance of 25 yards, I was able to reliably tag a steel headplate using both ball and lead-free frangible ammo. Sure, that short sighting plane does cause you to slow down, but I doubt intrinsic accuracy is all that much different than the full-size Storm.
Final Thoughts
The PX4 Sub-Compact offers a number of features not found in simarly sized pistols.  Gripping properties are very good, and the fact you can swap out the backstrap to better fit the hand is a big plus in my book.  I also like the fact that the PX4 Sub-Compact has a round trigger guard.  It may not appear to be a big deal, but the ability to quickly secure the concealed carry pistol in the holster with one hand is another big advantage.  I'm not exactly sold on the accessory rail for concealed carry, but for home defense, the ability to mount a laser or small illuminator is yet another desirable feature.
There really wasn't much to take issue with on this particular pistol.  I tested it in early spring, and I found pushing the safety back up to the fire mode required more effort than Beretta's M92.  Levers are somewhat flatter in profile to aid concealment, and when combined with cold fingers, the outcome is predictable.  Sweeping the lever down to decock, however, was not an issue.  In a discreet-carry double-action pistol, I would just carry it with the safety off.
Once again, it looks like Beretta has a winner on their hands.  If you're shopping about for a small DA pistol, the Beretta PX4 is worth a hard look.

Mike Boyle served as a captain with the New Jersey Division of Fish & Wildlife Bureau of Law Enforcement and recently retired after 27 years of service. Mike remains active, teaching recruit, in-service and instructor level classes at the police academy. He's also on the board of directors of the International Association of Law Enforcement Firearms Instructors.
The Specs
| | | | | | | |
| --- | --- | --- | --- | --- | --- | --- |
| Caliber | Capacity | OAL | BBL | Height | Width | Weight |
| .9mm, .40 SW | 13+1, 10+1 | 6.2″ | 3″ | 4.8″ | 1.4″ | 26.1 oz., unloaded |
Pricing
MSRP: $550