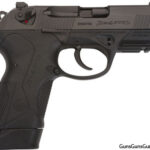 Editor's Rating: 8.5/10
Users' Rating (Click a star to rate this gun.)
Summary:
Dave Spaulding's review and rating of Beretta's PX4 Storm Compact pistol, pricing, photos, user ratings and user comments. (Click 
here
 to see all Spaulding's gun reviews.)
Editor's Review
I admit to being a fan of mid-size semi-auto pistols regardless of brand. To me, the perfect carry gun will still fill my hand, but is no larger than necessary. I know, I know, this is easier said than done, but I've had a number of such pistols over the years, all of which have met my individual need(s).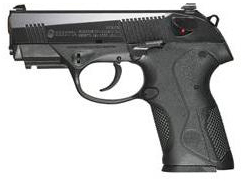 The first: the Smith & Wesson Model 6906. This double-stack but compact 9mm was easy to hide when working plainclothes, but was still large enough to use for uniform duty, which may very well be the standard I'm seeking. Other guns I've carried in this genre have included the SIG P225 and P228, the Heckler and Koch USP Compact and my current carry gun, the Glock 19. All have been big enough yet small enough for what I view to be the perfect combative carry gun.
While walking the aisles of the 2010 NRA Show in Charlotte, I happened into the Beretta booth. While not as large as it is at the SHOT Show, it was still substantial, so I needed to be careful or I would miss something. I moved into a corner where they had their PX4 Storm pistol line displayed and, one of the display models caught my eye. It was a PX4 all right, but it was not the blunt looking subcompact or the full-size service pistol. It was a mid-size I hadn't seen before and interestingly, no one was paying any attention to it.
I picked it up and immediately liked both the contour and feel of the gun. It filled my had without excess material hanging from under my grip, it was not overly tall in my hand, it was compact enough to easily carry concealed but would also look right at home in a police duty holster. As soon as I got home, I made contact with the folks at Beretta and was told the PX4 Storm Compact would be introduced in the fall of 2010. I placed my order for a test gun chambered in 9mm (the Compact is also chambered in .40 SW) and sat back to wait.
The Details
With an overall length of 6.8″ and height right at 5″, the PX4 Compact is sleek and symmetrical, and at just over 27 oz. is not overly heavy for its size. At the same time, the PX4 series is one of the most advanced semi-auto firearms lines currently available. Built as a modular platform so the pistol can be adapted to a wide range of shooters, the PX4 uses an innovative locked breech system built around a rotating barrel that  keeps the barrel constantly locked in position even as the slide reciprocates.
The steel slide assembly is mounted on top of a frame made from fiberglass reinforced techno-polymer that features an interchangeable backstrap system. The ability to re-size the grip is an important feature these days as government entities look to equip their personnel with a service pistol they are able to adapt to fit a diverse work force. The individual who is concerned with their personal security will also find such a feature beneficial.
The slide is contoured and resists snagging when worn concealed, and the forward and rear cocking serrations offer several options to manipulate the slide. I know many reading this consider forward serrations a waste because using them to chamber check the pistol is viewed as dangerous. I disagree with this assertion because I think the chamber-check process must not be hurried or performed when not paying attention. If you don't like the forward serration, don't use them, but I think options are always beneficial.
Like most modern pistols, the PX4 Compact has an accessory rail molded into the dust cover, but the rail is short due to the pistol's compact profile, so you'll need a special light or laser. Fortunately, most of the major light and laser manufacturers make compact units just for this reason.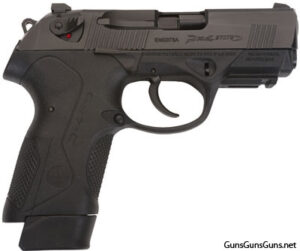 The ambidextrous safety lever, which is located at the rear of the slide, is easy to manipulate with the thumb of either hand and will either lock or unlock the gun's action. It also acts as a decocking lever for the exposed loop, commander-style hammer, dropping it safely when engaged. The lever offers a tapered shelf with deep serrations that is easy to manipulate even when wearing gloves.
The PX4 Storm Compact also introduces a new ambidextrous slide lock that's actually large enough to use as a slide release if the end user cares to do so. (Yes, using the lever as a release remains controversial, but it seems that most anything can be made into a controversy if people choose to do so, and the firearms community is no exception.) The slide-lock lever also offers a reasonable size shelf with serrations that's easy to use and is accessible to the thumb of either hand.
I was taught years ago (decades ago, actually) to insert a magazine into the gun, seat it solidly and then rotate the support-hand thumb up onto the slide release to load the chamber. I perform this action in one smooth motion without conscious thought due to many, many repetitions. Truthfully, it's just what I do, and I don't plan to change at this stage of my life. If you want to work the slide manually, do so! But again, I like options, and the ambidextrous slide release lever on the PX4 Compact gives them to me. The magazine-release button is not ambidextrous, but it is reversible so you can set it up for left-hand thumb manipulation—a worthwhile feature, most certainly!
The no-glare Bruniton finish has been around for quite some time and works very well in keeping corrosion from the steel components, even in the harshest environments. The barrel locking system not only helps lock the barrel in place even as the slide moves, it also dissipates recoil energy, which helps reduce muzzle rise and thus, felt recoil. Fast shot-to-shot capability is always a welcome feature in a combative pistol, and though proper grip and body position are the primary means of taming recoil, a bit of advanced technology never hurts.
The barrel is chrome lined to provide corrosion resistance and ease cleaning. The PX4 barrels also features a deeply recessed crown to protect the rifling from harsh field use, such as getting dropped, thrown or—heaven forbid—used as a last ditch impact weapon! Hey, to my way of thinking, whatever works for the good guys and gals to prevail.
Like all PX4 pistols, the Compact comes with a set of three-dot sights dovetailed into the slide. While the rear is a Novak-like ramp style, it has a flat front so you can use it to work the slide in the event you must perform a one-hand manipulation.
Each PX4 Compact comes with two 15-round magazines and will accept the full-size 17-round versions as well.
Range Report
While the PX4 Storm Compact has all of the right features needed on a combat handgun, only a trip to the range will tell the whole story. As a user of mostly striker-fired pistols these days, I was a bit concerned about having to re-educate my finger to manipulate the double action/single action (DA/SA) hammer-fired trigger system, and my first attempt to group the gun displayed this. Yep, my first shot went low left (7 o'clock), but once in the SA mode, I cruised right along.
Checking the trigger with a custom set of precision weights made for me by a friend, I discovered the DA trigger pull measures 10 lbs. and the SA 5 lbs. To be fair, the DA trigger was actually reasonably smooth, while the SA was about .5″ long, though a bit of over-travel was evident. Often such over-travel is built into a gun's design to ensure reliable function with even the worst quality ammo, but the longer the trigger and its subsequent reset, the harder it is to separate the index finger from the rest of your hand. Fortunately, in my experience the more you shoot a modern DA/SA pistol, the better the action gets. Practice really does improve performance, regardless of the gun used.
I opted to test the PX4 Compact by shooting five-round groups from a bench rest at 25 yards using the excellent Giles Bags from The Wilderness. These bags vary in shape and size, can be stacked for individual use and are easy to keep in your range bag.
I placed my Shooting Chrony chronograph 15 feet from the muzzle of the PX4 Compact and also fired five rounds to obtain average velocity. I opted to use several street proven loads for this testing (why would you use anything else?). The results:
Corbon 100-grain Powerball: 1,339 fps, 3.5″ group*
Federal 115 grain 9BP HP: 1,142 fps, 2.5″ group
Speer Gold 124 grain HST +P Short Barrel: 1,209 fps, 2.25″ group
Winchester 127 grain SXT +P+: 1,247 fps, 1.25″ group
Federal 147 grain HST +P: 1,010 fps, 2.5″ group
*Note: I believe a short explanation is due here. I stated earlier that when I first stared shooting I pulled one of my first DA shots low left due unfamiliarity with the long trigger stroke. That was the case when grouping the Corbon Powerball load. If I'd thrown out this round, the Powerball would have grouped at 2.25″.
As you can plainly see, any of the loads listed would make a good choice for the PX4 Compact. Considering the gun is equipped with a 3.2″ barrel, the velocity readings were most encouraging.
Like I do with all guns I evaluate, I completed a combative pistol practice session with the Compact to finish the reliability portion of the test. I could've just target shot with the remaining 300-plus rounds I had on hand, that just seems like a waste of time to me because I consider a handgun a piece of personal security equipment. The way I see it, testing it combatively is the only way to go.
I didn't have a holster for the PX4 Compact, so I enlisted the help of the Blackhawk Ambidextrous Flat Belt Holster that I keep on hand for just this type of situation. The Ambidextrous Flat Belt is designed to work on any belt up to 2″ wide and fits most small to medium frame automatics and revolvers. It has an adjustable thumb break, which is fully ambidextrous and is made of ballistic 1000 denier nylon. This isn't the optimal holster for concealed carry, but it does keep the gun from falling on the floor, and while it's not as fast as a kydex scabbard, it's very usable with just a bit of practice and quite concealable due to its flat design. Most any double-stack magazine pouch will work with the PX4 magazines, so I had a useful practice carry rig.
I completed my testing with a series of El Presidente' Drills (including Ken Hackathorn's more realistic moving, slide-lock version), Bill Drills, supine and seated shooting, concealed draws and reloads, and some shooting-on-the-move box drills.
When it came to speed reloads, the PX4 Compact has a nicely beveled magazine well that allowed for snag free reloads. The flat magazine floor plates helped to solidly lock the magazines in place, but did not hinder concealment.
In all, I shot 350 rounds with no hiccups. I like the Compact's size, weight, feel and point-ability, as well as how nicely it came from concealment and on target without snagging. I also appreciated how accurate the little gun proved to be, no doubt due to the advanced rotating barrel design.
Final Thoughts
Would I change anything? Not much. I would probably have a gunsmith install an over-travel stop to shorten the reset and would look into having the safety lever turned into a de-cock only mode (spring loaded to always return to the up position) but these are small things and would not stop me from buying it.
As a matter of fact, I think I will.

Dave Spaulding is a 28-year law-enforcement veteran, retiring at the rank of lieutenant. He's worked in all facets of law enforcement—corrections, communications, patrol, evidence collection, investigations, undercover operations, training and SWAT. He currently operates Handgun Combatives, a handgun-combat training program, and he's authored more than 800 articles for various firearm and law enforcement periodicals. In 2010 Spaulding received the Law Officer Trainer of the Year award, and he's also the author of the best-selling books Defensive Living and Handgun Combatives.
The Specs
| | | | | | | |
| --- | --- | --- | --- | --- | --- | --- |
| Caliber | Capacity | BBL | OAL | Width | Height | Weight |
| 9mm | 15+1, 10+1 | 3.2″ | 6.8″ | 1.4″ | 4.8″ | 27.3 oz., unloaded |
| .40 SW | 12+1, 10+1 | 3.2″ | 6.8″ | 1.4″ | 4.8″ | 27.3 oz., unloaded |
PX4 Storm Compact Pricing & Shopping
MSRP: $550
Related Articles
To read Spaulding's review of the full-size PX4 Storm, click here.
To read Mike Boyle's review of the PX4 Storm Sub-Compact, click here.