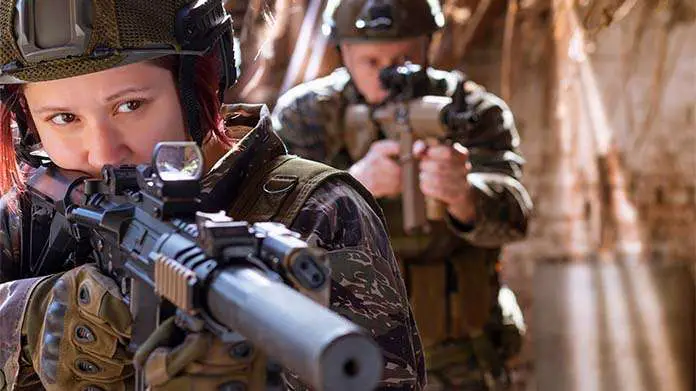 Whether you're a veteran or just getting into Airsoft, it's important to train with an airsoft gun that replicates the weight and the feel of the real weapon. This will help you practice safely and improve your tactical skills at the same time! With that said, let's get into the best airsoft brands this year!
How To Choose The Best Airsoft Brands
Material Quality and Construction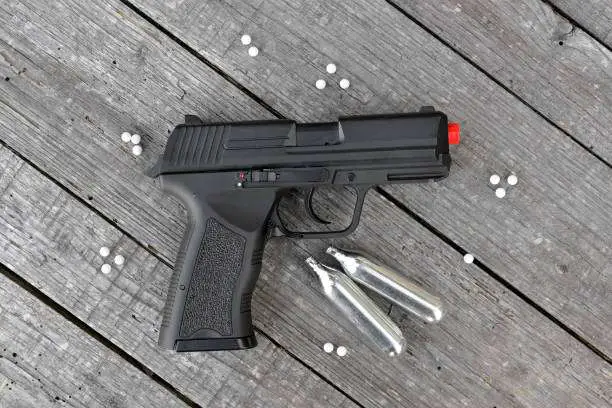 Quality is always a priority no matter what product you're buying. Airsoft guns aren't always exact replicas of real guns, but with our picks below, you won't feel the difference.
Weight, Size, and Realism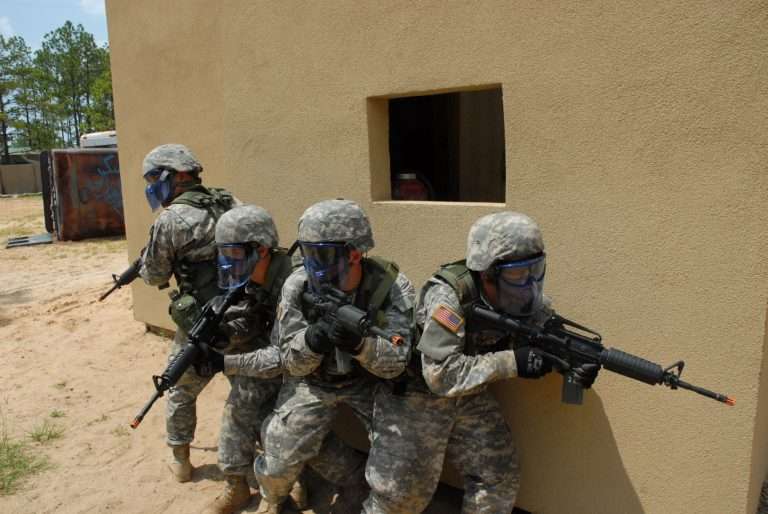 Like we said earlier, the weight, size, and feel of the gun have to be realistic, else you're not getting the most out of the practice. When we say it has to feel reel, we mean your airsoft gun should have every single detail of the real gun, including the front and rear sights, optics, etc.
If you only want to play airsoft for fun, then you can go with lighter, less realistic brands. Check out our list below and we're sure you'll find one that suits you!
Price
Airsoft guns are way cheaper than the real thing, including the pellets. However, the more realistic brands cost more than others. So have your wallet ready!
5 Best Airsoft Brands
Best Overall: Krytac
Krytac is known for setting the standards on how automatic electric guns (AEGs) should be. Their guns are definitely not cheap, but for good reason. All their guns have internal electronics and technical specs that outdo most airsoft guns manufacturers, even those that have been in the industry way longer than them.
It also produces some of the fastest guns on the market, shooting at 340 to 400 FPS. Krytac has proven that it can go head-to-head with the veterans even if it's the newest kid on the block.
Pros
Most guns feature integrated MOSFET systems for a more stable rate of fire
Products are designed with players' needs in mind
Durable and high-quality products
Products have a great fit and finish
Cons
Expensive products
Limited product range
Best for Beginners: Lancer Tactical
If you're just getting into the sport, we recommend a mid-range gun from Lancer Tactical. Lancer Tactical manufactures products based on famous real rifles such as the M4.
Their AEGs and tactical gear are of good quality but are very affordable, making them a great choice for teenagers who want to try the sport but don't have a large budget. Thanks to Lancer Tactical's affordable guns, more and more people from all economic statuses and age groups get into airsoft.
Pros
Affordable products
Great for beginners and kids
Cons
Products not as durable as high-end manufacturers
Best Premium: Tokyo Marui
Tokyo Marui has been in the industry for more than two decades. It's famous for producing consistent products including parts for upgrades. The overall quality of their products sets them apart from most brands.
They've also pioneered the Tokyo Marui Version 2 gearbox design that revolutionized the airsoft industry. It's also known for having a wide range of products for beginners and experienced players alike. One downside is that they still use ABS plastic for their products making them easy to break.
Pros
Consistent manufacturing of products and parts
Wide platform options
Cons
Their products need upgrades to deal with prolonged green gas usage
Lower out-of-the-box FPS than most brands
Guay & Guay (G&G)
Guay & Guay began as a Tokyo Marui distributor and eventually produced their own line of high-quality airsoft guns and parts at affordable prices.
Now, G&G is one of the most sought-after brands by those looking for entry-level options with great value for money. G&G's Combat Machine 16 Raider delivers power at 300 FPS out of the box, durability, and versatility, that's why it's one of the most popular airsoft models today.
Pros
New models come with tight bore barrels and performance V2 gearboxes
Lots of opportunities for modification and upgrades
Cons
Not as durable as other brands
Low-quality internals
Umarex
Umarex takes pride in its German-made and high-quality airsoft guns and accessories such as tactical lasers and CO2 canisters. They also produce the most successful line of licensed Glocks in the airsoft market.
Umarex is also famous for its readily available parts and realistic airsoft replicas of guns from Colt, Browning, and Ruger Smith & Wesson.
Pros
Licensed products
Real steel replicas
Works with any real steel accessories
Cons
Limited production of rifles and SMGs
FAQs
What is the best airsoft brand 2021?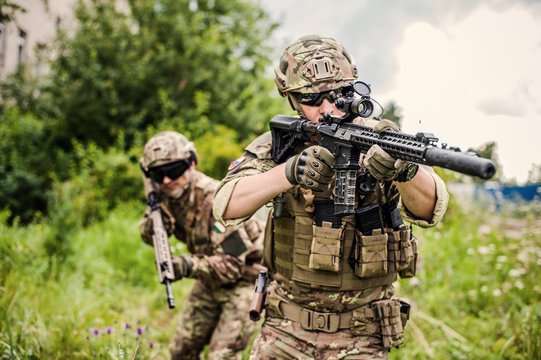 Without a doubt, the best airsoft brand this year is Krytac. It offers top-of-the-line products in terms of performance and durability. Read our full review above, plus other airsoft brands that are as reliable and offer value for money.
Which airsoft gun is the best?
Any airsoft gun from our listed brands above is a great choice. The best really depends on your objectives to train with a gun similar to your personal guns or if you're just playing for fun.
Bottomline
The great thing about airsoft guns is that you can practice shooting whenever you want (as long as it's legal) and as much as you want (as long as no one gets hurt)! So now that you've chosen an airsoft brand, make the most out of these advantages and feel the improvement once you shoot with the real thing. Train safely and enjoy!
Last update on 2023-11-06 / Images from Amazon Product API