Best Overall
Stag 15 5.56 16in Tactical Nitride Upper Receiver
Best all-around upper receiver for left-handed shooters.
Best Value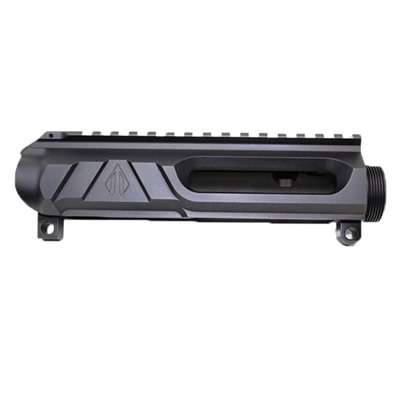 Gibbz Arms – AR-15/M16 G4 Side Charging Upper Receiver
Offers excellent performance at a lower price.
Best for Hunting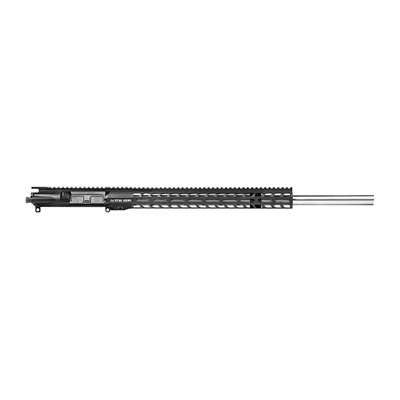 Stag 15 223 Varminter Upper Receiver
Every left-handed hunter's friend.
Best for 3 Gun Competitions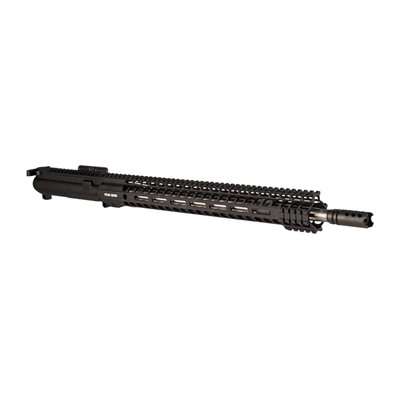 Stag 15 5.56 18in 3gun Elite Upper Receiver
A premium upper suited for all kinds of shooting matches.
Lefties, rejoice! The most complete guide containing the best left-handed AR-15 uppers is finally here! From the most cost-effective to the most highly functional brand, this article has got it all. Let's get right to it!
Features to Consider
Barrel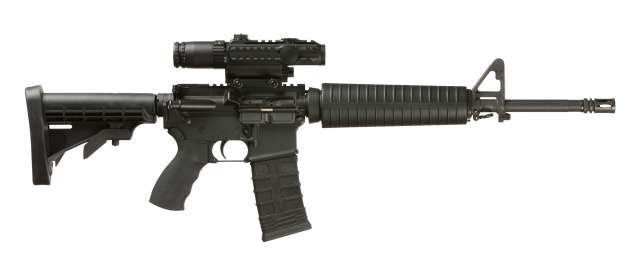 The barrel plays a major role in your rifle's shooting performance, so choosing a reliable manufacturer and a twist rate to fit your shooting is critical. Your barrel's twist rate should be able to stabilize your bullets at all of the ranges you expect to engage targets.
The twist rate indicates how much a bullet will spin for every full rifling rotation. If you're shooting 70-grain 5.56 bullets, getting a 1:8 twist rate barrel is best. While 1:10 twist rate is better for shorter and heavier bullets.
Another big contributor to your rifle's performance is the barrel length. Longer barrels are more accurate and have greater bullet velocity. But a longer barrel means you'd have difficulty maneuvering your rifle due to extra length and weight, especially if you have short arms or while hunting under tight conditions.
Gas System
The gas system runs across most of the upper receiver, so it's also crucial to choose the correct length. Generally, a longer system means less felt recoil, smoother cycling, and easier follow-up shots. That's because a short gas system generates greater pressure, wearing down the rifle's components and creating a sharper recoil.
Gas tubes in rifle-length gas systems are almost 13 inches in length. Rifle-length gas systems function best when installed on rifles with barrels that are at least 20 inches. While the more common carbine length gas system is more suited on rifles with barrels that are 10 to 18 inches long. 
Material and Durability
Durability and material quality are top priorities in every product. After all, it's only right to get what you pay for, so we picked only the best and most durable uppers in this article.
The most durable upper receivers are constructed from aircraft-grade aluminum or stainless steel. We also suggest getting one that's coated in a hard-coat anodized finish or Cerakote for protection against corrosion.
Handguard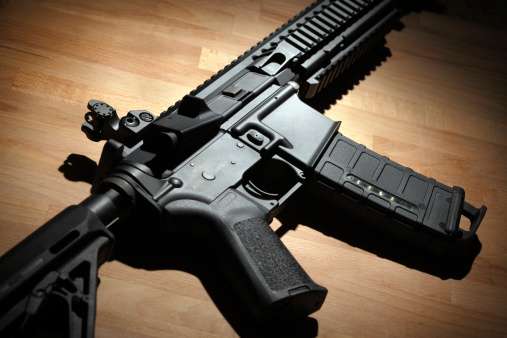 There are two types of handguards – the free-floating handguard and the drop-in handguard. Like most shooting enthusiasts, we prefer the former. That's because it offers increased accuracy since pressure on the handguard is less likely to impact the point of aim for the barrel. 
Price
Whether you're buying a low-cost upper or a premium one, getting your money's worth is important. So we suggest picking one from our options below to avoid headaches and disappointments in the future.
5 Best Left-Handed AR-15 Uppers
Best Overall: Stag 15 5.56 16in Tactical Nitride Upper Receiver
Our best overall pick features a 16-inch barrel chambered in 5.56x45mm NATO.
Aside from being very accommodating to left-handed shooters, this Stag 15 Upper Receiver guarantees pinpoint accuracy. It's built to stabilize heavy bullets and has a twist ratio of 1:7. The Stag 15 5.56 Tactical upper receiver is also known for its durability because it's made from 4150 steel.
The Stag 15 features a mid-length gas system that slows the wear of internal components. It also includes a free-floating Stag Arms M-LOK handguard, adding to its accuracy. The standard A2 birdcage flash hider is included.
Not only is this Stag 15 upper receiver reliable and accurate, but it also promotes flexibility in terms of mounting accessories and optics, as it's equipped with a full-length Picatinny rail.
Pros
High-quality parts and accessories
Reduced recoil and muzzle jump
Cons
Adding the bolt-carrier group and charging handle can be expensive
What Customers Say
"Well made, great quality. The downside is with the M-LOK I will need new mounting accessories for my rifle. Really appreciate the flat top rail makes sighting in extremely easy. Another downside was the wait time for the order to be fulfilled, from time order was placed until it was in my hand was 3 months."

Vinny
"Upper works great. Nice for a lefty to have proper brass ejection!"

Daniel B.
Best Value: Gibbz Arms AR-15/M16 G4 Side Charging Upper Receiver
The Gibbz Arms Side Charging Upper Receiver is both affordable and highly functional. 
Side-charging uppers are great because you get to keep your shooting position while fixing a technical problem or without moving your head while charging your rifle. It also features a more accessible bolt carrier door in the rear for easier gas-in during operation.
However, some customers complained about how some minor modifications need to be done for the upper to fit properly. That's probably not an issue if you get a paired lower, but it's worth considering.
Pros
Affordable
Side-charging handle
Comes with a full 15 slot Picatinny rail
Cons
It's heavier than other models
Minor modifications are required when installing
What Customers Say
"I love these receivers! I am now up to 5 of them. As the headline says, these are the best side cockers I have ever used. They are the non-reciprocating lever type which in my opinion is much better than the reciprocating type. Yes, they are normally about twice the cost of a standard receiver but consider that you do not need to add a standard cocking handle, so that offsets the price some. They are great! Try one, and you will probably want at least one more!!"

b1buddy
"If anyone is wondering about Fightlite SCR comparability, yes it functions well. However there is an aesthetic issue in that about 2mm of material must be rounded off the back of the upper in order fit flush. The color of the finish does not match either and ended up cerakoting it."

Kyle
Best for Hunting: Stag 15 223 Varminter Upper Receiver
If you want every hunt to be successful, you definitely need to equip your rifle with the best parts and components. Thankfully, Stag Arms built an upper receiver that's designed especially for hunting enthusiasts such as yourself!
Chambered in 5.56 NATO, this upper receiver features an enhanced 24-inch barrel design that guarantees optimal hunting performance and accuracy. The Stag 15 223 Varminter's barrel is made with 416R stainless steel and is rifled with a 1:8 twist ratio.
Like the Stag 15 Tactical, this upper receiver comes with an M-LOK SL free-floated handguard for a comfortable grip and accessory flexibility.
Pros
Rust and corrosion-resistant
Designed especially for hunting
Cons
It's longer than other models
What Customers Say
"I have been wanting a L/H rifle all my life being left-handed everything about this was great from ordering to receiving it thank you"

Gary
Best for 3 Gun Competitions: Stag 15 5.56 18in 3gun Elite Upper Receivers
Our next pick is coated with Type 3 hard coat anodizing that helps prevent moisture and rust from seeping into your upper.
Like the Varminter, the 3Gun Elite's barrel also comes in a 1:8 twist button rifling and is also constructed from 416R stainless steel, so its durability and solid performance are guaranteed.
The Stag 15 3Gun Elite also features a rifle-length gas system with a low-profile gas block and a 16.5 M-LOK SL handguard, giving you added advantage during competitions.
Pros
Easy to install
Moisture and rust-resistant
Cons
No charging handle and bolt-carrier group included
What Customers Say
"On exam of the upper, all machined points are sharply finished, Barrel is fluted, with cleanly polished feed ramp. Receiver and barrel are true. Flash suppressor is not too long thus not front heavy. Function and head space cannot be complete at this time. Waiting on those non-included parts. Will gladly give update when range trial complete."

Tac Driver
Cross Machine Tool UPUR-1LH Left Hand Eject Billet Upper Receiver
Our last pick is one of the most affordable left-handed upper receivers out there. Yes, it's affordable, but that doesn't mean it's low-quality. Like every Cross Machine Tool product, this upper is built with customer satisfaction in mind. That's why we read only good things about it.
The CMT UPUR-1LH upper receiver offers excellent fitting without any wobbling or wiggling to worry about. It can also accommodate standard LH parts with no problem.
Pros
Affordable
Great fit
Easy to install
Cons
Limited availability of parts
What Customers Say
"Can't say enough nice things about these (or CMT in general) – everything I build starts with CMT uppers and lowers. Like everyone else, my only complaint is availability :) I've got a couple (of) barrels sitting around that need a good home!"

Mirko
"I bought 2 with 2 ambi lowers as soon as they came out. I collect and build left-hand AR15 type rifles. I own a lefty AR or lefty upper for a build from every manufacture who makes or made left-hand upper. CMT is the best. Wish they came with a ejection dust cover. No need for one though. I love my uppers and lowers. I now need 2 Mod 1,15″ hand guards to replace the ones I have on my CMT builds. That will be soon. Keep up the great work CMT."

Eric Jarvis
Frequently Asked Questions
What are the components of an AR-15 Upper?

An AR-15's upper receiver is composed of the barrel, the handguard, the bolt carrier group, and the charging handle.
Who makes left-handed AR uppers?
A lot of manufacturers these days have produced their version of left-handed AR uppers, but only the ones we've listed above are the most reliable for south-pawed shooters, most particularly those upper receivers from Stag Arms.
Can you make an AR-15 left-handed?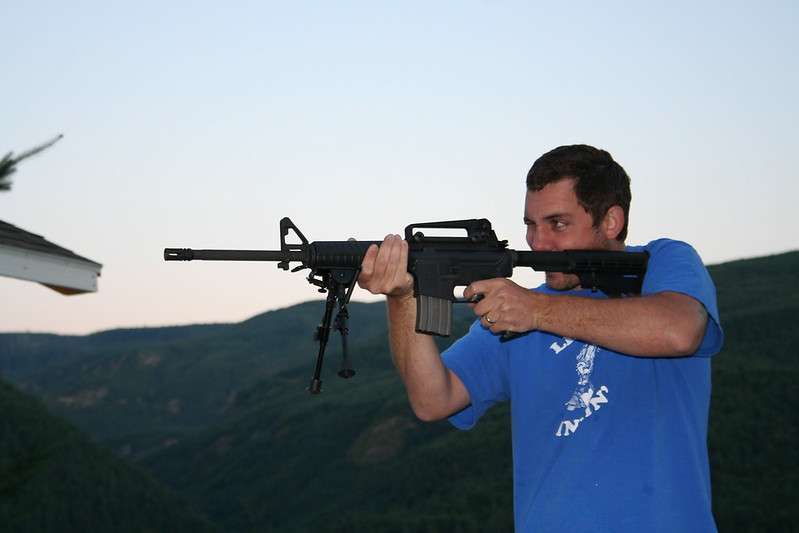 Yes, all you need is to do is build your AR-15 using left-handed parts such as our handpicked uppers above.
Is an AR-15 ambidextrous?
Yes, the AR-15 can be customized to accommodate ambidextrous shooters. It involves building your rifle using parts that are compatible with left and right-handed shooters.
Should I get a left-handed AR-15?
If you're a leftie, then getting a left-handed AR-15 would be more convenient for you and will give you more shooting accuracy.
Conclusion
If you're planning to build an AR-15 or looking to customize an old one, it's best to start with our picks above. Be sure to pair it with the best AR lower for best results!
New to all this? Our beginner's guide to collecting guns and our ultimate guide on guns and shooting have everything you need to know!