Best Overall
Last update on 2020-07-14 / Images from Amazon Product Advertising API
UPDATE: don't forget that keeping your guns safe is also very important. We have just released a new review of all the best gun safes on the market. In case you are looking for a new gun safe, be sure to check out our selected options.
You can probably relate to having an intensified desire to acquire more guns after getting your first one. 
Much like tattoos, collecting guns can be addicting. 
Having one satiates your obsessive habit only for a time until you want to get another.
Stocking up on ammunition quickly ensues – a follow-up addiction that you might not be ready for. 
Keeping a collection of guns is much easier with different storage options like gun cabinets or gun cases.
Whether you handload ammo with a reloading press or take no part in the loading process, have a secure place to store your ammo is important! 
Keeping ammo requires care and precision; otherwise, the consequences can be dire.
 If not losing it completely to rust, your ammo's accuracy can be compromised, rendering it close to unusable and dangerous.
The two main things you need to regulate to prevent that from happening are keeping your ammo dry and keeping the air around your it to room temperature, not more or less.
The two biggest enemies of ammo are humidity and extreme temperatures. 
Keeping them away from places prone to these factors and preventing exposure to UV light are almost surefire ways to extend their shelf life.
You can resort to finding the best spot in your house that satisfies all those arrangements but nothing can quite do it like ammo storage containers. 
Made specifically for ammo's sensitivities, these containers are dead set on keeping them fully functional as if brand new for years and decades to come.
We've compiled five ammo containers you can pick for any variety of ammo types and sizes.
In case you are in a hurry, there is a list of our favorite ammo containers. For more options, just scroll down.
Our Reviews Of The Best Ammo Storage Containers & Cans
#1 MTM AC4C Ammo Crate (4-Can)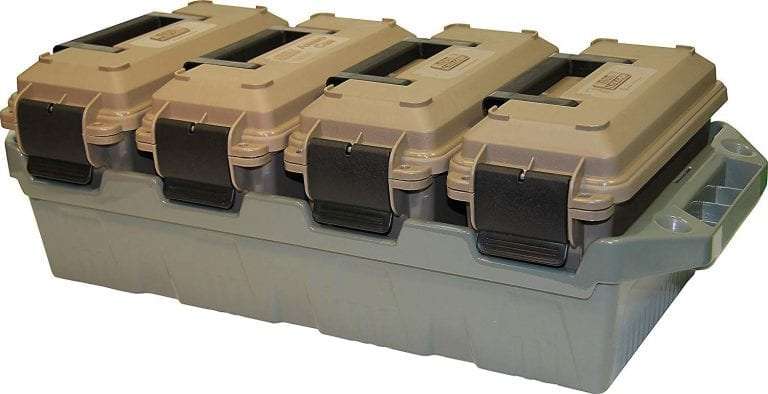 If you've been building up a massive ammo collection over a number of years, the MTM AC4C Ammo Crate provides more storage space than you can probably fill up. 
Not to mention it's a storage container and organizer in one.
The ammo crate carries four 30 caliber cans through a secure and high-quality latching mechanism. 
That's 4 separate places where you can divide up each type of ammo you have.
Non-amateur gun and ammo collectors who've been at it for quite some time will have great use of the division for their large quantities of ammo. 
Just make sure to label them up to keep from reopening the cans just to check what's inside.
The cans itself have the capacity to hold 15 pounds worth of ammo. 30 caliber is a good standard for the size of a container as it can fit multiple types of ammo, including bulky ones.
This also has a depth of 5.5 in from the rim to the bottom. 
If you don't have that much loose ammo, we're still quite confident that a few packaged or boxed ammo can fit into the cans, depending on the bulkiness of the packaging.
They're sealed with an O ring fastening and has a double padlock, resisting external factors like humidity from creeping into the interior of the cans.
If you look closely, the top cover of the cans are lined with a rubber gasket on the edges. 
This is one of the most important features that make the container an air-tight one, ensuring regulated humidity, temperature, and moisture inside.
Compared to larger-sized cans, the size of the MTM AC4C Ammo cans makes them easier to tip over without much force. 
That's where the crate comes in handy.
The crate actually serves a number of other purposes. 
Holding the cans upright is just one of them. Mostly, the biggest advantage of the crate is its mobility.
A handle on either side of the crate makes it easy to carry around. 
If you're someone who frequently uses their ammo and guns, the MTM AC4C Ammo Crate is so easy to transport from its usual spot in your house to the range.
The rugged polypropylene material of the cans and crate are shaped so that they can be stacked securely on top of one another. 
Whether they're on top of a tall cabinet or in the compartment of a moving vehicle, there's little risk of the stacked crates falling over.
As a bonus, it provides even more storage while occupying very little and maximizing vertical space in your house.
If you're interested in more adventurous ways of practicing your shooting skills, you can easily bring four different cases of ammo through bumpy roads and hard-to-reach places. There are four tie-down spots that attaches to ATVs, if you ever feel the urge to make the top of a hill your open shooting range.
Without putting the cans out of the crate, you can open them up and have the ammo ready for quick-and-easy reloading. To say the least, the MTM AC4C Ammo Crate is efficient for storage, organization, transport, and use of different types of ammo.
#2. MTM 50 Caliber Ammo Storage Can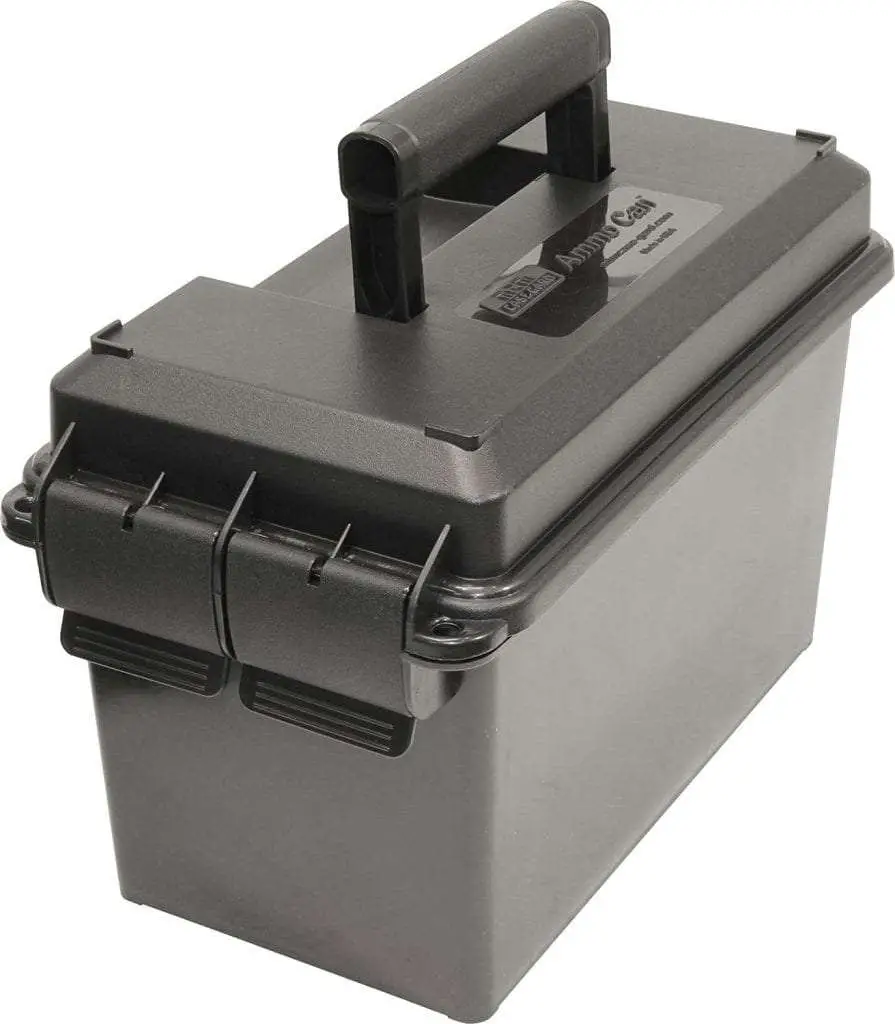 The MTM 50 Caliber Ammo Storage Can is, in essence, like the MTM AC4C Ammo cans without the crate. This can comes individually, so it's a better option for beginners who don't have much ammo to store yet.
Between this one and the last, there are a lot of visual similarities. The cans look almost identical in terms of overall appearance.
This can have the same rectangular shape, handles, double padlock tabs, an O-ring water-resistance seal, stacking ridges, rugged polypropylene material, double latching system, and two padlock tabs for extra security.
The MTM 50 Caliber Ammo Can can also be comparable to the MTM AC4C Ammo Can in terms of function.
Both cans are able to keep ammo in a dark and dry place with their O-ring rubber seal around the rim which resists external UV light and air moisture from reaching their interiors.
The latch system of the MTM AC4C is actually just a wider single latch that looks double. It's less secure in contrast to the separate double latch system of the MTM 50 caliber can, which requires you to unlatch it two times before it fully opens. The latter requires extra effort on your part to open it but reduces the risk of accidental drops.
The handles make carrying the cans easy. However, their similarities may only go as far as exterior looks and water-resistant features. The MTM 50 Caliber is good for storing, bringing it to the range, or transporting it from one place to the other.
This one is not so reliable to bring in the field for outdoor shooting use because its all-plastic composition may easily disintegrate in rough and rugged places, especially when dropped from a high place, say from your car compartment to the ground.
While the previous ammo can is capable of transport through ATVs, the one thing the MTM 50 caliber ammo cans are known for is storage in basements, garages, and tool sheds.
This is only one of the aspects that the MTM 50 caliber ammo storage differs from the MTM AC4C Ammo Cans.
Even though these airtight containers can generally survive harsh environments, the garage or the tool shed may not be as safe of a place during months of extreme summer or winter temperatures.
Constant switching between the two extreme kinds of weather can reduce the shelf life of your ammo and even reshape this plastic ammo can.
MTM 50 caliber ammo cans were designed military-style. One variation of it even copies the army green color of the original. However, it's important to note that they're only likened to the military ammo cans. It doesn't have all the specs of the original steel models, so there's still a limit to its durability.
From the name though, this 50 caliber can conveniently carry as much amount of ammo as the original military versions. You can fit bulk ammo or a few boxed ones when you arrange them like a Tetris into the rectangular can.
#3. MTM 380/9MM Cal 100 Round Flip-Top Ammo Box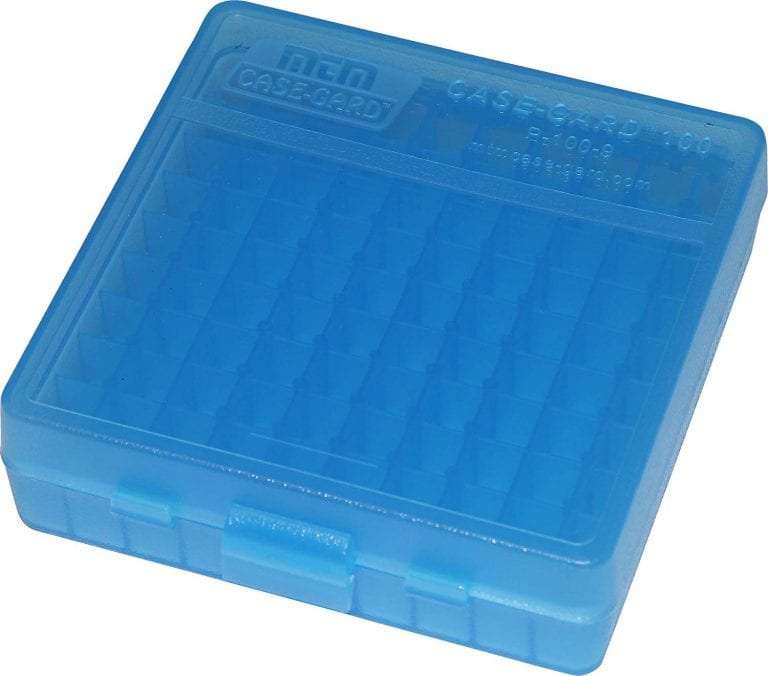 Seeing as MTM ammo containers are getting rave reviews from actual customers, it's safe to say that the brand is a reliable producer in this particular aspect. 
From crates to cans to boxes, versatility is obviously something they're well-versed in.
The MTM 100 Round Flip-Top Ammo Box is a lot different from what we've already seen in the AC4C Ammo Crate and the 50 Caliber Ammo Storage Can.
The square box is an organizer equipped with dividers for 9mm and 380 caliber ammunition. It's useful specifically for the following: 9mm Luger, 380 ACP, 30 Luger, 32 S&W, and 9mm Makarov.
The size is approximately 5 inches on all sides with a depth of 1.22 inches. This can work with both kinds of ammo it claims to cater to.
In the case of 380 caliber, the cartridges might be too deep for the ammo to be easily reachable, especially since the opening that the dividers provide don't make much leeway.
The key is to position the ammo with the base side up so you have something to hold on to when grabbing them out of the cartridge.
If we're going to judge based on the same factors that we tested the other two containers before it, the MTM Flip-Top Ammo Box doesn't have much say on the storage front.
As we've established, storing ammo requires some kind of extra security like water and moisture resistance, regulated temperature, and not a bit of exposure to UV light.
This box, however, doesn't have any mechanism that prevents any one of those. Aside from the snap-lock latch, there's no rubber gasket around the rim that could prevent outside elements from reaching inside and affecting its contents.
When closed, it can be water resistant to a certain extent but still highly risky in humid environments and near bodies of water.
Aside from the solid green variation, the other available styles are either fully translucent or have translucent covers. 
It doesn't prevent UV light from penetrating through to the ammo, which can be harmful.
Considering these features, this box is most suitable for people who make a habit of practicing their shooting often. 
These people include law enforcement, competitive shooters, and hunters.
This is good for when you need a large number of ammo for long hours of shooting activities. Quick access to ammo makes reloads much faster.
Each box holds 50 and they're stackable so it's easy to bring huge amounts in the range with you. The boxes also come with labels already spelled onto the box to be easily distinguished.
Though these boxes are not designed to be dropped, they can still survive a harsh and unintentional fall while staying shut. 
This can be attributed to the strong latch and the mechanical hinge on its opposite side.
The textured exterior also prevents scuffs and scratches from penetrating the plastic surface.
Unlike the other containers whose durability is not clear, this box promises a 25-year guarantee. 
However, it's function and uses in the range is stronger than its capacity to store your ammo for long periods of time.
#4. Solid Tactical 50 Cal Ammo Can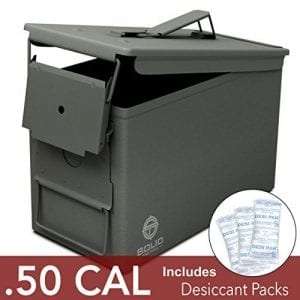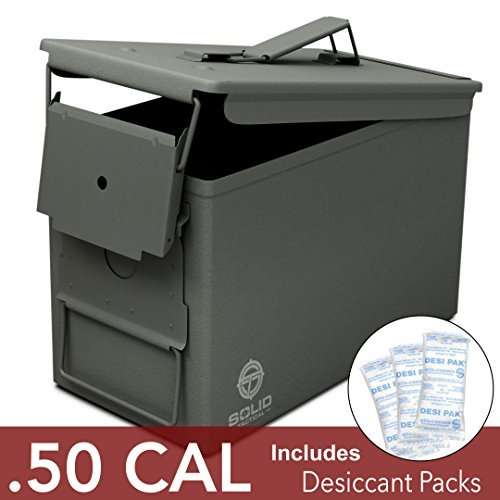 Military ammo cans can be considered the highest standard of its kind. For something that is used by soldiers who are professionals in their own right, the quality of any of their gear can't possibly be of less quality than commercial ones.
That's why ammo cans are modeled after them and called military-style. However, some cans are made just with plastic instead of the original's steel, like you've seen in the MTM 50 Caliber Ammo Storage Can.
Out of all the others in this selection, the Solid Tactical 50 Cal Ammo Can come closest to the military ammo cans in terms of quality, function, and construction.
The first distinguishable similar feature is its steel construction. From the material alone, plastic can't compete with steel on equal terms. The latter will be stronger and tougher.
Aside from the material's strong durable properties, Solid Tactical promises their cans to be built solely of it to be long-lasting. Your ammo's staying power and extended shelf life up until generations after you seems almost possible.
The second thing Solid Tactical takes pride in this ammo can is its airtight and waterproof qualities. Each individual can is tested for these features to ensure a foolproof performance.
Lo and behold, even customers who've tested it out for themselves say no drop of water gets into the safe ammo can even if it's deeply submerged underwater.
The airtight quality doesn't only keep moisture and humidity from affecting what's inside, it also keeps dirt, dust, and debris from settling through the cracks of the opening. This is largely due to the top-quality rubber gasket seal that takes no compromise.
The removable lid is secured with a sturdy latch. Even without the stacking ridges commonly molded onto plastic ammo cans, the innate heavy weight of the steel makes it safe to be stacked without easy risk of being knocked down.
The generous length, width, and depth of the can allow for the storage of most kinds of ammunition, whether they come in bulk or packaged in a box. It's the same as MTM 50 Caliber Ammo Storage Can's capacity.
As if its top-notch features don't already make it worthy of its good reviews, the product itself also comes with desiccant packs. If you've ever heard or read about other tips for storing ammo, you'd be familiar with desiccant packs and their ability to suck in and hold moisture.
As it comes free with this Solid Tactical Ammo Box, placing it beside each other eliminates almost all possible damaging factors that can affect your ammo.
It seems that the only imperfections this can have, which Solid Tactical admits to, are possible scratches and uneven paint on the exterior.
In retrospect, they're canceled out by the good quality that can be comparable to actual ammo cans the military uses. Sans the "Made in the USA" stamp, this is claimed to come from the same manufacturer that supplies the military. We can't think of anything that will be better than this for a gun and ammo collector.
#5. Plano Tactical Custom Ammo Box
Equipped with a unique combination of features from the last four ammo storage containers, the Plano Tactical Custom Ammo Box is not completely alike or unlike only one or two of them. Rather, it brings together different aspects that make it a one-of-a-kind option, staying true to what custom means in its name.
Quite ironically, it's most similar in nature with the ammo cans than the MTM ammo box even though it's called the same as the latter. The military-style construction duplicates the appearance of the original military cans as do the other three cans.
For a measure of its abilities and quality, Plano Tactical's box offers more than the first two MTM cans but less than the Solid Tactical steel ammo can. Let us explain why.
In terms of external properties, Plano Tactical's box uses plastic similar to MTM's cans. It has a heavy-duty handle, o-ring seal, mechanical hinges on one side, stacking ridges molded on top and bottom, and a padlock tab.
The latch, though similar, goes beyond as to imitate that of the latch in military cans. It's made with more durable plastic and secured with a brass bail latch.
With interior dimensions of 9.5 in length, 4.25 in width, and 6 in height, its size is equivalent to that of the MTM 50 Caliber Ammo Storage Can. Meanwhile, it has the same 30 caliber capacity of the cans in the MTM AC4C Ammo Crate.
For a more accurate estimate, it claims to be able to fit a range of 6 to 8 boxes of ammunition.
The feature that brings it closer to the quality of Solid Tactical's ammo can more than the other two is its watertight seal. Some reviewers have also tested this themselves.
They claim to have submerged their own loaded boxes underwater overnight and woke up to a completely secure set of ammo still dry and safe.
The watertight seal and more durable plastic material make it long-lasting, whether you intend for it to be simply for storage or for use in the range.
The only thing that seems to be a major issue is it can't be completely locked. There's a hole that enables you to insert a small padlock, but once you open the latch, the cover still opens enough on the other side to be able to reach inside.
It's not the most kid-friendly storage box, but all things considered, it's easy to stack these up on top of your furniture without much damage to the contents inside.
With different combinations of features, this Plano Tactical custom ammo box proves to be a versatile one that works for both long-term storage and constant transport and use.
If these containers are to be ranked, this one sits right in the middle. Its features and quality are compliant of almost all requirements of good ammo storage, yet it doesn't go all-out for those who can't commit to a full-blown steel military ammo can. 
It means it's suitable for amateurs as well as experts or long-time gun and ammo owners and collectors.
Home Ammunition Storage Guidelines
Storing your ammo correctly is the secret to its durability.
While it is true that ammunition is built with durability in mind, being made to resist most types of environments, this doesn't mean you should leave this aspect to chance.
That's because the correct ammunition storage practices are important for safety reasons, as well. With that mind, we find that there are three primary principles that should influence your decisions.
1. Keep your ammunition dry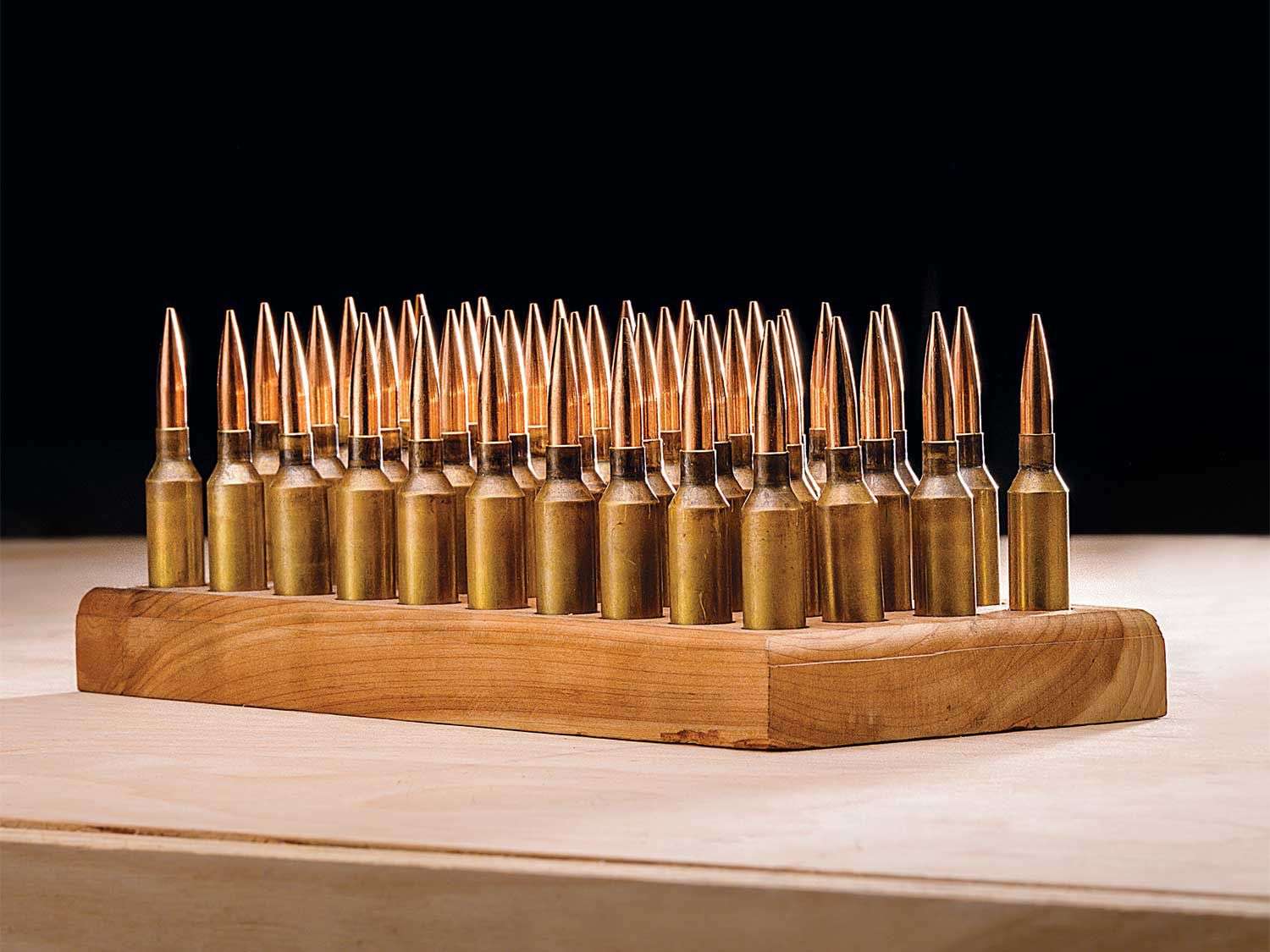 First things first, it's worth pointing out that extremes are likely to harm your ammo.
To that end, keeping your ammunition dry is essential.
That's because moisture – specifically extreme levels of moisture, will most likely damage your ammo.
If you are living somewhere in the Southeastern United States, then you should be doubly concerned about this, as the humidity levels there tend to skyrocket.
In essence, the biggest problem with moisture is that it could result in corrosion. If your ammo is kept in a humid environment for a prolonged time, then the casing will most likely become corroded and catch a green hue.
This will make it unsafe for you to use it for shooting.
With that in mind, if you are storing ammo in the basement and the humidity levels are quite high there, perhaps you should come up with an alternative solution.
Storing ammo in the garage might be another option, granted that humidity isn't an issue there. It's critical for the area to have an adequate ventilation system.
2. Tag and rotate your ammo
If you're passionate about guns, then the odds are that you are continually making investments in this area. And this is self-explanatory.
Nonetheless, with each new purchase, you will lose track of your ammo, forgetting every little detail about it. This is why the sensible approach to this would be tagging the ammo you purchase.
As a rule of thumb, you should store the new ammo in the back and the old ammo in the front, so that you can use it accordingly.
For example, ammo storage cases are more than handy in this case, allowing you to effectively organize your ammunition depending on your individual preferences.
The same could be said about the best ammo can. An ammo can is a type of container that is notably larger, allowing you to keep your ammo separately, for a better and more efficient organizational system.
3. Extreme heat – your enemy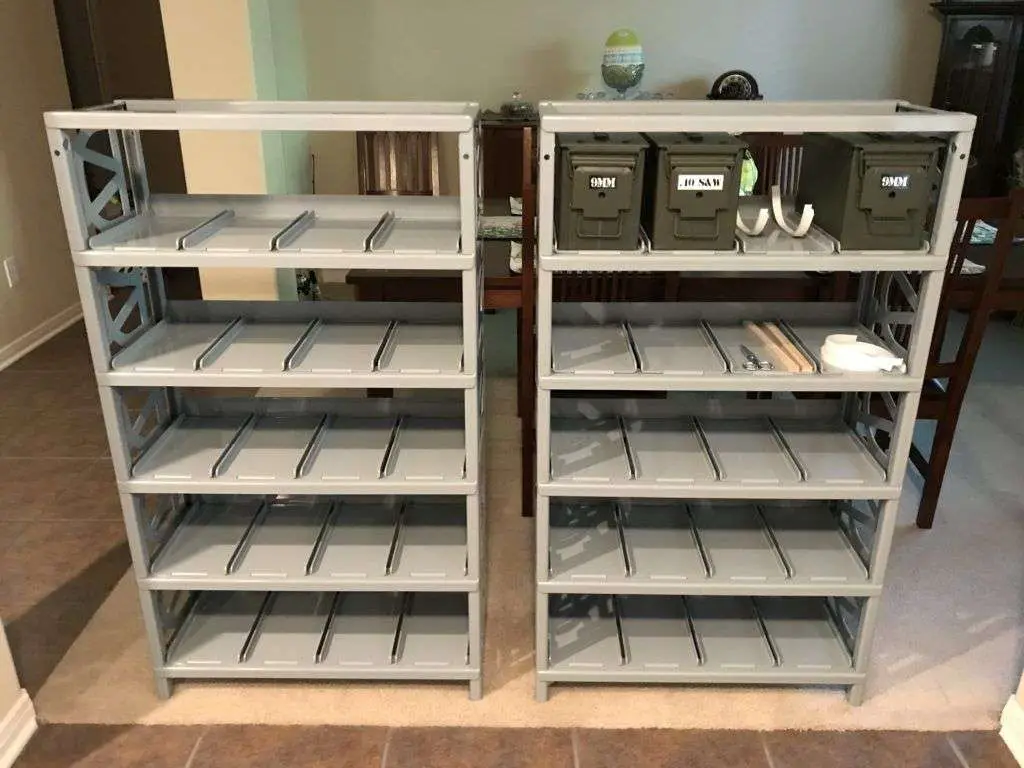 You will hear a lot of talk about the ideal ammo storage temperature. But one thing is for sure – extreme heat is your number one enemy.
Even if ammunition is resistant to extreme temperature, as it is made to withstand even the most severe types of environments, this doesn't mean you should leave this to chance.
To that end, when the temperature reaches 150 degrees Fahrenheit, then the quality of the ammo is likely to be affected.
This is definitely an issue for people that have the habit of storing their ammunition in the trunk of the car because this is convenient and effortless.
In this case, you can be 100% confident that your ammunition is exposed to extreme temperatures – possibly even higher than 150 degrees Fahrenheit.
Not only that this will weaken your ammunition, but it might also neuter it all together.
This is why you should be sensible when it comes to storing your ammo, especially during the summertime.
The same could be said if you're into the habit of storing the ammo in boxes in the attic or garage. If those spaces are exposed to direct sunlight, the temperature can easily go up without you noticing it and your ammunition will suffer the consequences.
Ammo Storage Solutions
Now we'd like to move our focus to a few useful ammo storage solutions that are worthy of your attention.
Will a safe do the trick?
A safe is actually a very decent, if not recommendable investment for gun lovers. Hence, if you don't own one already, perhaps you should consider taking the leap.
For one thing, a safe is created expressly to meet the storage specifications of your ammunition, thus giving you peace of mind.
It might be a good idea to get a unit that is medium-sized so that your ammo and other gadgets would easily fit in there.
To that end, a safe will keep your ammo away from moisture while preventing children or pets from getting in contact with your stuff. It goes without saying that you should get a unit that is fireproof.
Can you store ammo in the garage?
Is the garage a legit option for storing your ammo? Yes, granted that you factor in the guidelines we included beforehand, your garage might be a good storage option.
You might even consider placing your gun safe in the garage, in case you have the space to spare.
Still, if humidity is an issue in your garage, perhaps it might make sense to invest in a dehumidifier, to address this issue.
Investing in a suitable ammo storage box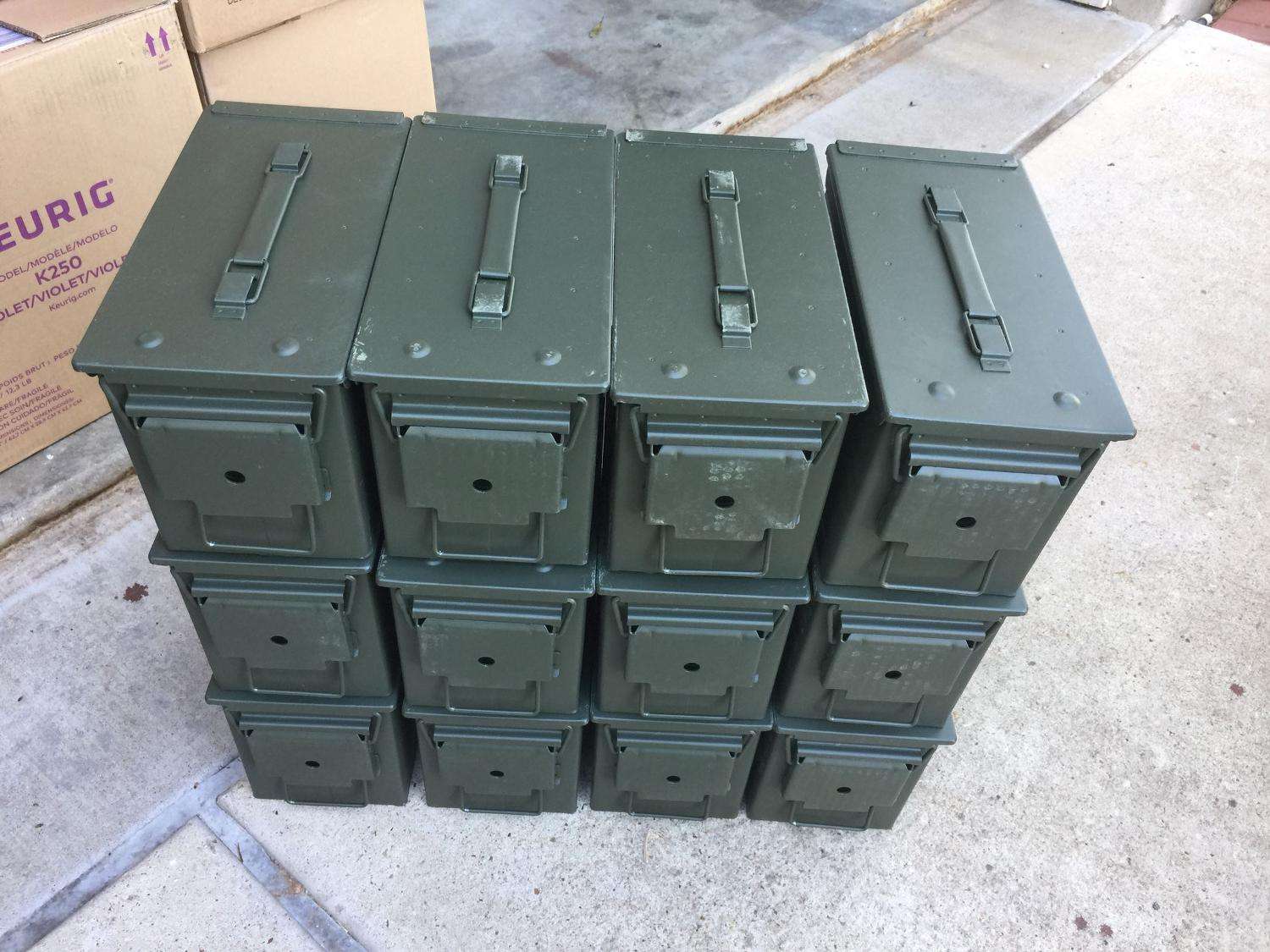 Another alternative would be getting an ammo storage box, as we've already mentioned above.
We'll also answer quite a trivial question:
How to store ammo in cans?
The U.S. military is actually renowned for storing ammo in standard .30 and .50 caliber ammo cans.
These cans are quite popular, as they have been around for a while, being reliable and efficient. So, if you're on the lookout for the best ammo can for 9mm, you can get it at Amazon for a very decent.
Once you get the ammo cans, you can position them on shelves in your designated space, and label them accordingly.
As a rule of thumb, we advise you to always check the condition of the rubber seal, at the top lid. This way, you can be 100 percent confident that the cans are airtight.
Of course, military cans aren't the only option; you can browse the market for the product that meets your needs. The key is to get something that is durable, efficient and safe.
FAQ
1. Is it safe to store ammo in a safe?
Yes, it is safe to store ammo in a safe. If you invest in a good safe, this will keep your ammo away from excessive moisture and heat.
Still, it is advisable to get a couple of desiccant packets in order to measure the humidity. Getting a fireproof safe is highly recommendable, as well.
2. How long can you safely store ammunition before it goes bad?
Does ammunition have a shelf life or not? This topic is quite relative; that is to say, under ideal storage conditions, ammunition can be kept for decades without going bad.
The things that limit ammo's shelf life are heat, sunlight, and moisture. This is what makes correct storage practices essential.
3. What temperature should ammunition be stored at?
The ideal storage temperature for ammunition ranges from 55 degrees Fahrenheit and 85 degrees Fahrenheit.
In accordance with SAAMI (Sporting Arms and Ammunition Manufacturers' Institute) standards, it is critical to avoid extreme temperatures – namely over 150 Fahrenheit degrees. Extreme wings of temperatures should be avoided, as well.
4. Can you store guns and ammo together?
The principle of ammo and gun storage is safety. To that end, you can store your ammunition in the same locked compartment as your firearms.
In addition to that, it is critical to store the firearms and your ammunition in containers that are securely locked. Additionally, firearms should always be unloaded.
5. Does ammunition get too old?
Ammunition doesn't come with an expiration date. Nonetheless, the gunpowder is likely to lose its potency over the course of time.
The biggest risk when shooting with old ammunition is firing a shot that doesn't have momentum so that it actually gets out of the barrel.
In this case, the bullet will get stuck, preventing the next shot.
6. Can old bullets explode?
Over the course of time, old bullets are prone to change, especially if they aren't stored correctly.
Nonetheless, this doesn't make it hazardous or more dangerous, implying that there is the risk of unexpected explosion.
On a different note, gunpowder isn't the same as dynamite, from a technical point of view.
7. Can you store ammo loose?
You may store your ammo loose, but this isn't necessarily recommended for several reasons.
For one thing, storing ammo loose will make it difficult, if not impossible for you to identify and differentiate between batches – old vs. new ammo.
To that end, granted that you categorize your ammo and you factor in the general storage guidelines, you might keep your ammo loose.
8. Does cold weather affect ammunition?
It's worth outlining that extreme temperatures affect the velocity of the ammo.
That being said, cold temperatures might not necessarily affect the ammunition, as long as we're not talking about extreme temperatures as well as swings of heat and cold, which could cause condensation.
The key is to maintain a constant temperature.
9. Can ammo be stored in heat?
Obviously not: ammo mustn't be stored in heat, as it can lead to several issues.
This is definitely a no, especially if the heat is combined with high humidity.
These two will imminently lead to corrosion, shortening the lifespan of the ammunition.
10. Does ammunition expire?
Per se, ammunition doesn't come with an expiration date – this is something worth noting.
Even so, the gunpowder diminishes its potency with time, and this could lead to unwanted complications.
As pointed out by most manufacturers, ammunition should be good to use for roughly 10 years. In reality, though, it lasts longer than that.
Conclusion
Ammunitions nowadays have a shelf life that could span and exceed the collective lifetime of three generations.
With our advanced technology now, you can bet your ammo can still be passed on to your grandchildren and even great-grandchildren – if stored properly, that is.
If you're fortunate enough to not have had any "spoiled" ammo yet, you won't realize how fast it can be compromised even if you think you've done everything to prevent rust and other possible damages.
There are other ways to help the proper storage of ammo like silica gel desiccants, which reduce humidity, but without the right container – whether it's a box or can – you're still risking the life of your ammo.
Which Holster is Right for You? The type of container you get will depend on the budget you have, your priorities, and habits with how and when you use your ammo.
Discipline is another important characteristic to have.
If you take the time and effort to clean and put oil on your guns, the same care should be directed to the ammunition that ultimately is the only thing that completes the use of your guns.
Last Updated on