Best Overall
Model
MTM AC4C Ammo Crate (4-Can)
MTM 50 Caliber Ammo Storage Can
MTM 380/9MM Cal 100 Round Flip-Top Ammo Box
Solid Tactical 50 Cal Ammo Can
Plano Tactical Custom Ammo Box
Best Overall
Model
MTM AC4C Ammo Crate (4-Can)
Model
MTM 50 Caliber Ammo Storage Can
Model
MTM 380/9MM Cal 100 Round Flip-Top Ammo Box
Model
Solid Tactical 50 Cal Ammo Can
Model
Plano Tactical Custom Ammo Box
UPDATE: Keeping your guns and ammo in a safe place is very important. So we've released a review of the best ammo containers on the market. In case you are looking for a new one, be sure to check out our selection.
You can probably relate to having a strong desire to acquire more guns after getting your first one. And guns aren't very useful without a supply of ammunition!
Collecting guns can be addicting like getting tattoos.
You may be satisfied with just one for a while, but as time goes by, you definitely want to get another one. 
Like the song goes, "Once you pop, you can't stop!"
Buying them is one thing, but storing them is a different scenario. 
Gun storage requires our care and monitoring; otherwise, mistakes can be very costly.  And ammunition is no different, requiring careful storage to maintain its effectiveness over time.
Rust is one of the biggest complications in collecting firearms and can even be a problem when storing steel-cased ammunition. Once your ammo starts to rust, it can be less accurate or have problems cycling through your weapons if you try to use it.  Bottom line: rust can make it unusable and dangerous.
To prevent this, you need to store ammunition in a dry place at room temperature, avoiding UV light exposure.
Sure, you can find the best spots in your house to adhere to these guidelines, but nothing beats ammo storage containers.
These containers are manufactured specifically for ammunition storage. Using them extends your ammo's shelf life, keeping them functional for years, decades even!
So, to help you decide, we made a list of our favorite ammo containers for different gun types and sizes.
Our Reviews Of The Best Ammo Storage Containers & Cans
#1 MTM AC4C Ammo Crate (4-Can)
Sale
MTM AC4C 4- can Ammo Crate, 30 Caliber, Convenient size, Stackable,...
Use this crate for easier carry and transport of multi-caliber ammo storage
Includes Four, O-ring sealed 30 Caliber ammo cans (AC30T) for multi-caliber ammo storage
30 Caliber ammo cans are a convenient size to store all types of bulk ammo and will be impossible to tip over in the AC4C
If you already have a huge ammo reserve to go with your gun collection or are just starting one, you should know that the MTM AC4C Ammo Crate provides more storage space than you can fill up.
Well, you could if you tried…!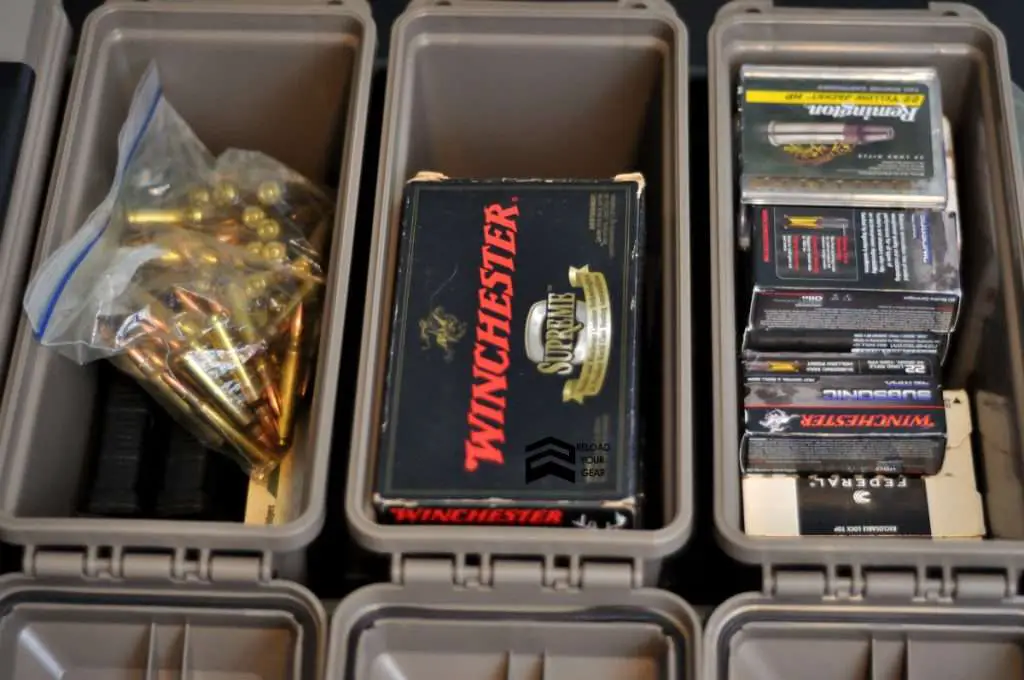 Not to mention it's a storage container and organizer in one.
The Ammo Crate has four separate cans secured with double padlocks and O-ring seals that keep the can interiors safe from any unwanted external elements.
That's four separate places for different types of ammo! 
Just a quick tip for newbies — label each division with a label or a Sharpie to avoid opening the wrong lid when getting ammo.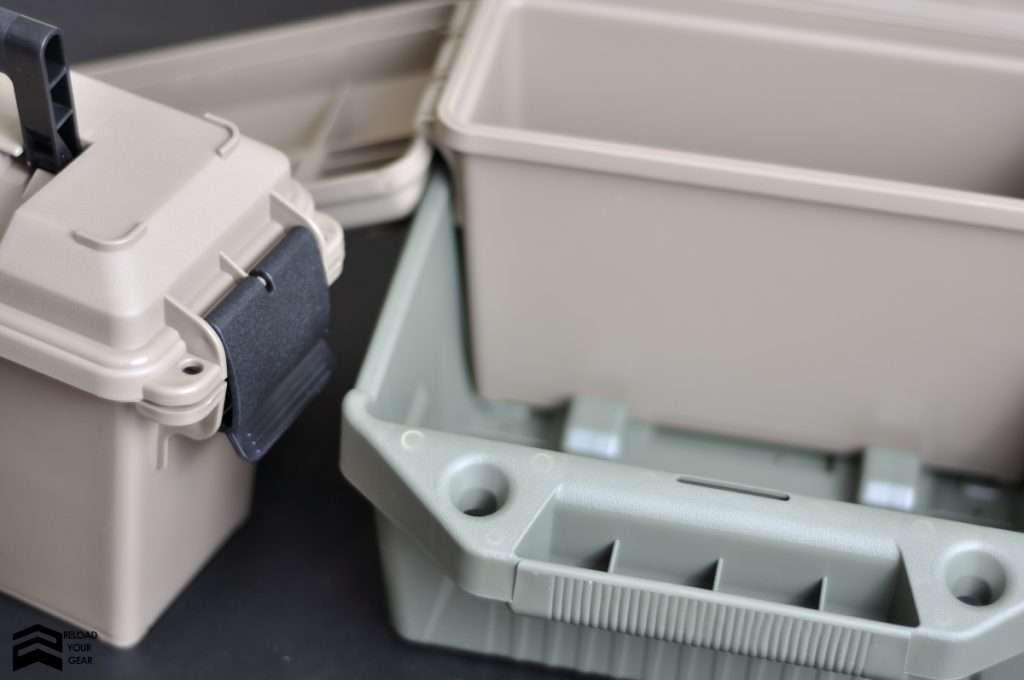 The Crate is also ideal for bulky ammo because of its 30 Caliber cans. It has a depth of 5.5 inches and a weight capacity of 15 pounds. But, they also make other sizes.
You can even fit in a few boxes of ammo into the cans, but it depends on how bulky they are. 
If you look closely, the cans' top covers are lined with a rubber gasket on the edges.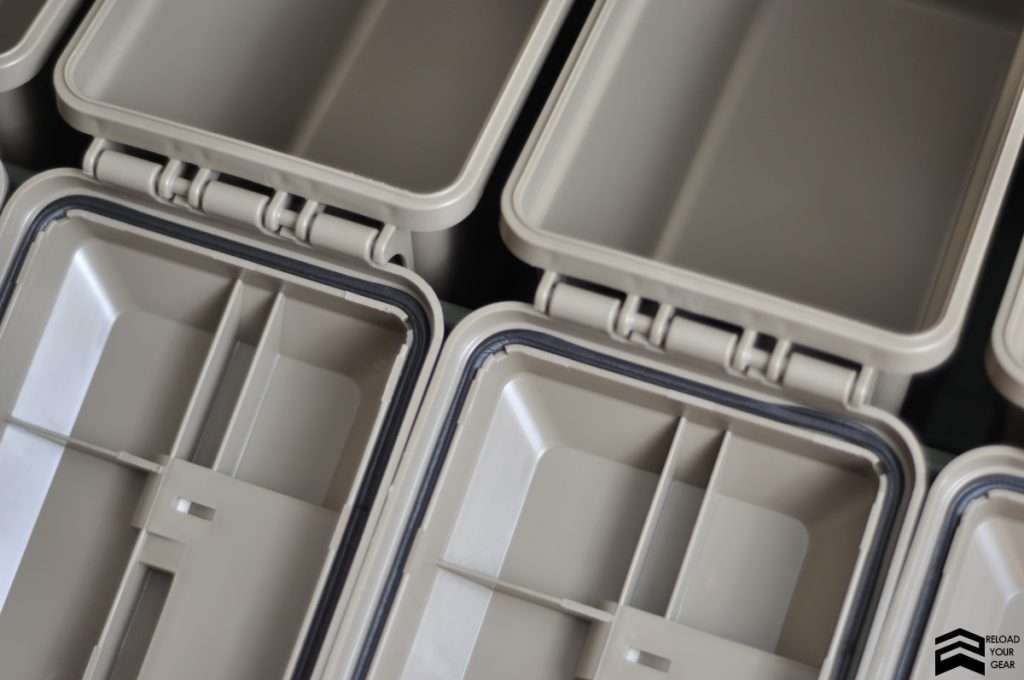 This is one of the features that make the container air-tight, ensuring regulated humidity, temperature, and moisture inside.
One downside of these MTM AC4C Ammo cans is that they can be easily knocked over when they're sitting out by themselves, unlike larger containers. 
That's where the crate comes in handy. 
The rugged polypropylene material of the cans and crate are shaped so that they can be stacked securely on top of one another. They have ridges on the top to make sure they don't slide around in the configuration too.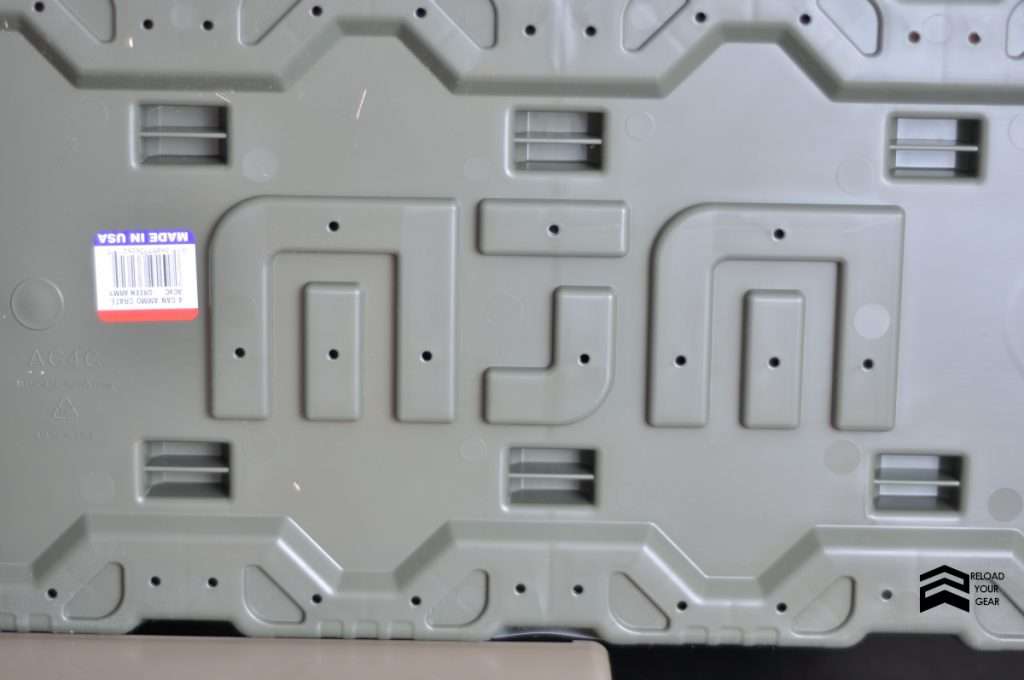 Whether they're on top of a tall cabinet or in the compartment of a moving vehicle, there's little risk of the stacked crates falling over.
As a bonus, it maximizes vertical space in your home while providing more storage by letting you stack crates on top of each other. 
Its unique design also allows you to swiftly reload ammo without pulling the cans out of the crate with access to the latches while they're in the carrying crate.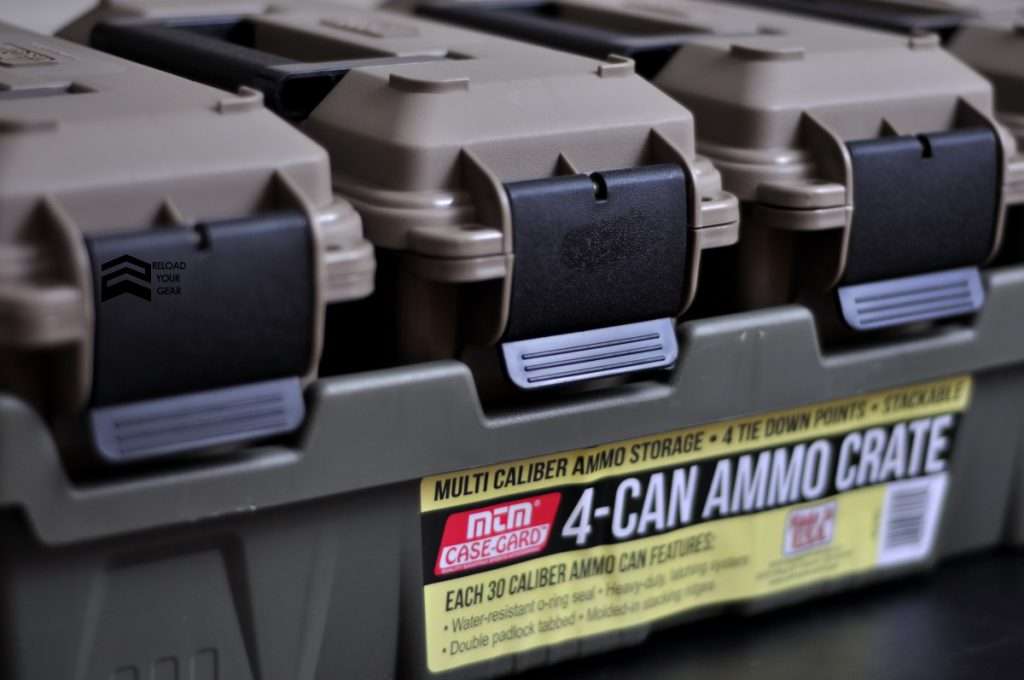 Finally, the crate allows for easier transport and mobility. It has a handle on both sides that makes it easy to carry around, in addition to the four tie-down spots that attach it to ATV's.
The Ammo Crate gives you a solid way to bring four different cases of ammo wherever you want to shoot.
#2. MTM 50 Caliber Ammo Storage Can
Sale
MTM Case-Gard 50 Cal Ammo Can, Black
Outside Dimensions: 7.4" (L) x 13.5" (W) x 8.5" (H); Inside Dimensions: 5.8" (L) x 11" (W) x 7.2" (H)
Made of rugged polypropylene plastic; Comfortable handles
Heavy-duty, dual latching system for a super water-resistant seal
The MTM 50 Caliber Ammo Storage Can is, in essence, like the MTM AC4C Ammo cans without the crate. This is because they have several features in common.
These features include; 
its rectangular shape,
handles for easy transport,
double padlock tabs,
an O-ring water-resistant seal; and,
stacking ridges.
Storage Cans are sold individually, making them ideal for beginners who don't have much ammo to store yet.
However, this model is not ideal for outdoor use.
Yes, it can handle a certain amount of force with getting deformed. But its plastic composition makes it susceptible to physical damage when exposed to extreme temperature or great pressure for a long time.
While the Ammo Crate is capable of transport on ATV's, the MTM 50 Caliber Ammo Can is more suitable for basement, garage, and tool shed storage.
These containers are designed after the Military Surplus Ammo Cans, from the shape to the color. However, they are not created from the same steel material and are more lightweight.
Nonetheless, these 50 Caliber Cans can carry as much bulky ammo as the military version.
#3. MTM 380/9MM Cal 100 Round Flip-Top Ammo Box
Sale
So far we've seen how versatile and durable MTM ammo containers are, may it be crates, cans, or boxes. 
In addition to this, they are getting rave reviews from actual customers. 
So for our third container, we recommend another reliable MTM product – the 100 Round Flip-Top Ammo Box.
This box is very different from the AC4C Ammo Crate and the 50 Caliber Ammo Storage Can.
It's an organizer equipped with dividers for 9mm and 380 Caliber ammunition. It's useful specifically for the following: 9mm Luger, 380 ACP, 30 Luger, 32 S&W, and 9mm Makarov.
The size is approximately 5 inches on all sides and the depth is 1.22 inches. 
In storing the 380 Caliber, however, the cartridges might be too deep for the ammo to be accessible, especially since the divider openings have much leeway.
The key is to position the ammo with the base side up so you have something to hold on to when grabbing them out of the container.
The MTM Flip-Top Ammo Box doesn't have much edge when it comes to storage, unlike the Ammo Crate and the Ammo Can.
It has no rubber gasket around the rim unlike the first two containers, and it can only be closed through a snap-lock latch.
It can be water-resistant to a certain extent when closed. But it's still risky when exposed to humidity and near bodies of water.
Also, most of the available styles are either fully translucent or have translucent covers, making it susceptible to UV light exposure. I mentioned before that it can be very harmful to your ammo, just think about what it can do to a car sitting out in the driveway!
Given these features, this box is suitable for people who use their firearms often, such as those from law enforcement, professional shooters, and hunters.  Or, if you store your ammo in a dark place anyway, you probably wouldn't mind that it was clear.
In fact, it makes it much easier to keep track of your supply!
The cases are easy to get into.  This is good for when you need plenty of ammo for long hours of shooting. Also, quick access to ammunition makes reloads faster.
Each box can hold up to 50 cartridges. They're also stackable so you can easily bring huge amounts to the range. The boxes also come with labels already spelled on the box for easy access.
These boxes are not designed for extreme impact, but they can handle hard unintentional falls while staying shut. 
This can be attributed to the strong latch and the mechanical hinge on both sides of the box.
The textured exterior also prevents scuffs and scratches from penetrating the plastic surface. This can has a 25-year guarantee.
#4. Solid Tactical 50 Cal Ammo Can
Sale
Solid Tactical Metal Ammo Can - New Military & Army Ammo Storage...
LOCK IT UP -- The only NEW 50 Cal Ammo box with welded lock kit on the market today. The high quality, powder coated matte finish is duable and resistant to the elements. In addition, the locking kit...
AIR and WATER TIGHT – Each can is individually tested for air & water tightness, making sure your valuables stay clean and dry. These ammo cans will give you peace of mind, knowing that your goods...
DESICCANT PACK & FOAM - We provide 1 desiccant pack to absorb any moisture that gets trapped in the airtight ammo can, so your belongings will stay nice and dry. We also provide customizable pick and...
Military Ammo Cans have the highest standards compared to other gun containers. 
These cans have superior quality to commercial ones, being used by soldiers and all. 
That's why most gun containers on the market are designed after them. 
Among these, the Solid Tactical 50 Cal Ammo Can comes closest to the military can in terms of quality, function, and construction.
The first distinguishable similar feature is its steel construction, making it more durable (obviously) than those made of plastic.
Aside from durability, Solid Tactical also guarantees extended shelf life for your ammo.
In addition, these cans are also waterproof and airtight. Each can is meticulously tested to ensure fool-proof performance. 
Customers have demonstrated that not a single drop of moisture can penetrate the container even after they submerged it underwater.
The airtight quality doesn't only keep moisture and humidity from affecting what's inside, it also keeps dirt, dust, and debris from settling through the cracks of the opening. This is because of the container's top-quality rubber gasket seal.
The removable lid is also secured with a sturdy latch. Even without the stacking ridges commonly molded onto plastic ammo cans, the innate weight of the steel makes it safe for stacking.
The Solid Tactical Can's generous dimensions also allow you to store different types of ammunition, even bulky ones. 
What's more noteworthy is that each container comes with free desiccant packs. With these packs, you can rest assured that the tiniest drop of moisture gets sucked in and the interior stays dry.
The only flaws for this model are possible scratches and uneven paint on the exterior.
Overall, we can't think of a better ammo storage container.
#5. Plano Tactical Custom Ammo Box
Plano Field Ammo Box, OD Green, Lockable Ammunition Storage Box with...
PLANO FIELD AMMO BOX: Ideal for properly storing and organizing .30 caliber ammo, this plastic ammo storage box keeps ammunition safe during transport and protected from the elements. Holds 6-8 boxes.
DURABLE CONSTRUCTION: These ammunition boxes are made from high-quality plastic and have a brass-bailed latch closure that provides reliable protection on the go or at home. Reusable storage that...
LOCKABLE WITH VERSATILE USE: Tough, snap-down latch secures the lid shut and the padlock tab provides maximum security. Perfect for storing ammo, hunting or shooting gear, small tools and other...
The Plano Tactical Custom Ammo Box is a unique combination of the previous storage containers.
This box is similar to military cans when it comes to appearance.
Plano Tactical's box uses plastic similar to MTM's cans. It also has a heavy-duty handle, an O-ring seal, mechanical hinges on one side, stacking ridges molded on top and bottom, and a padlock tab.
The latch is made from incredibly durable plastic and is secured with a brass bail latch.
This box has the same dimensions as the MTM 50 Caliber Ammo Storage Can and has 30 Caliber capacity like the MTM AC4C Ammo Crate. It can hold 6 to 8 boxes of ammunition.
This Custom Ammo Box is a lot similar to Solid Tactical's Ammo Can because it has the same waterproof seal.
Some reviewers testified to have submerged their loaded boxes underwater overnight and woke up to a completely dry and secure can. 
This box is also ideal for both storage and everyday use because of its watertight seal and its durable plastic exterior.
There's one major issue though, it only has a single padlock tab, making it easier to open unlike the containers mentioned above. So if you have kids at home, we don't recommend the Plano Tactical Custom Ammo Box.
Overall, we classify this ammo storage brand as average.
Home Ammunition Storage Guidelines
Storing your ammo properly is the secret to its durability.
It's true that ammunition is built to resist most types of environments. But we should also do our part and take good care of them.
By practicing proper ammo storage and handling, you can extend your gun's shelf life and ensure your loved ones' safety.
With that in mind, here are three basic guidelines for you to follow.
1. Keep your ammunition dry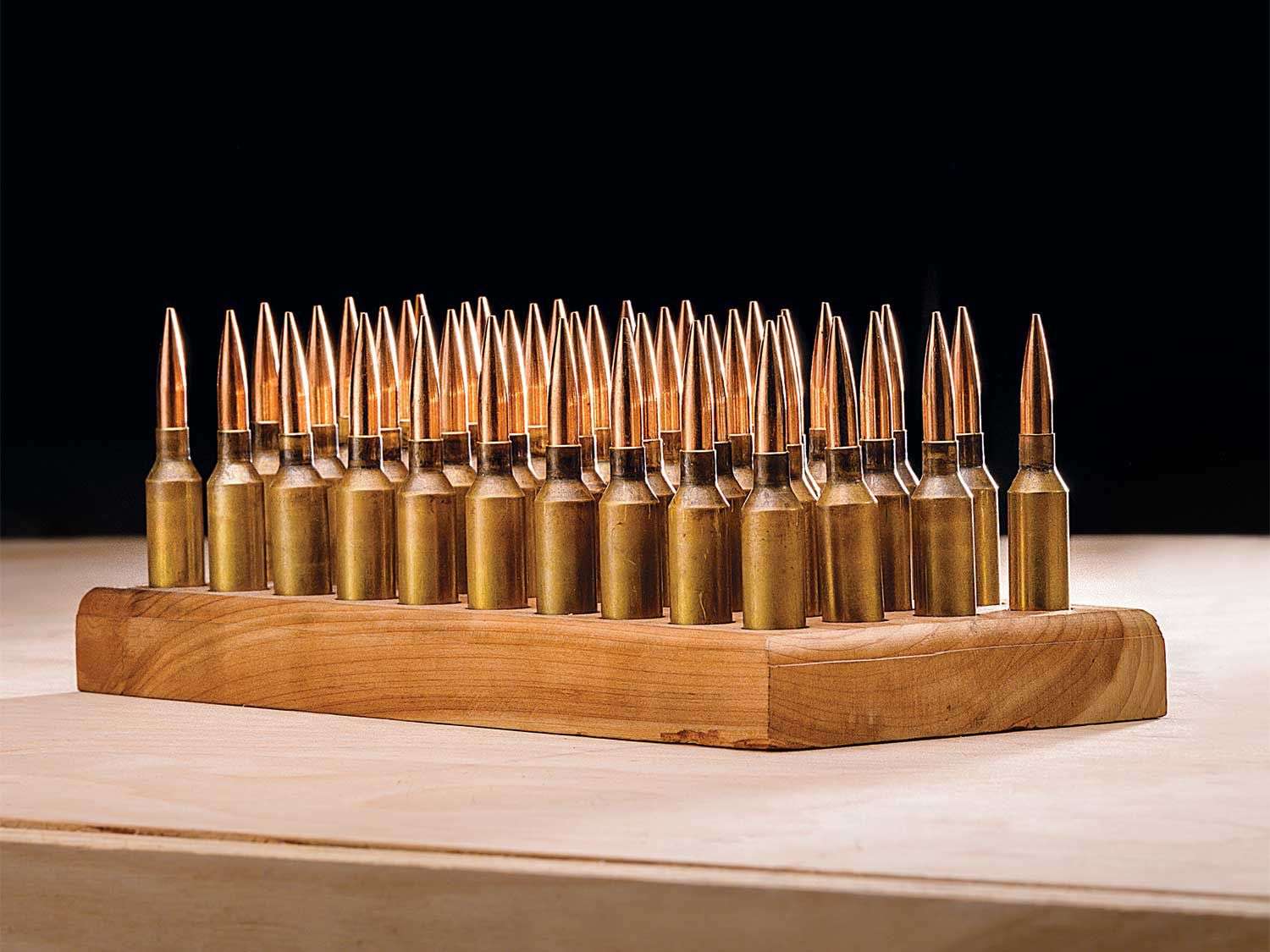 All types of metal corrode more quickly when exposed to extreme humidity for long periods of time.
Ammunition, being mostly composed of metal, usually become dangerously dysfunctional because of corrosion.
Thus, it is essential to keep your "powder" dry.
So if you're storing ammo in the basement where it can be very humid, you should come up with an alternative solution or a way to remove moisture reliably. Anywhere in your house is plausible as long as it's properly ventilated.
2. Tag and rotate your ammo
If you're passionate about guns, odds are that your collection is continually growing.
But with each new purchase, you will likely lose track of your ammo for each gun. So it's important to tag your ammo for easy tracking.
As a rule of thumb, you should store the new ammo in the back and the old ammo in the front.
It also helps to know which kind of ammo storage containers are more suitable for your collection as well as the available space in your home. This way you'll have an efficient organizational system.
3. Extreme heat – your enemy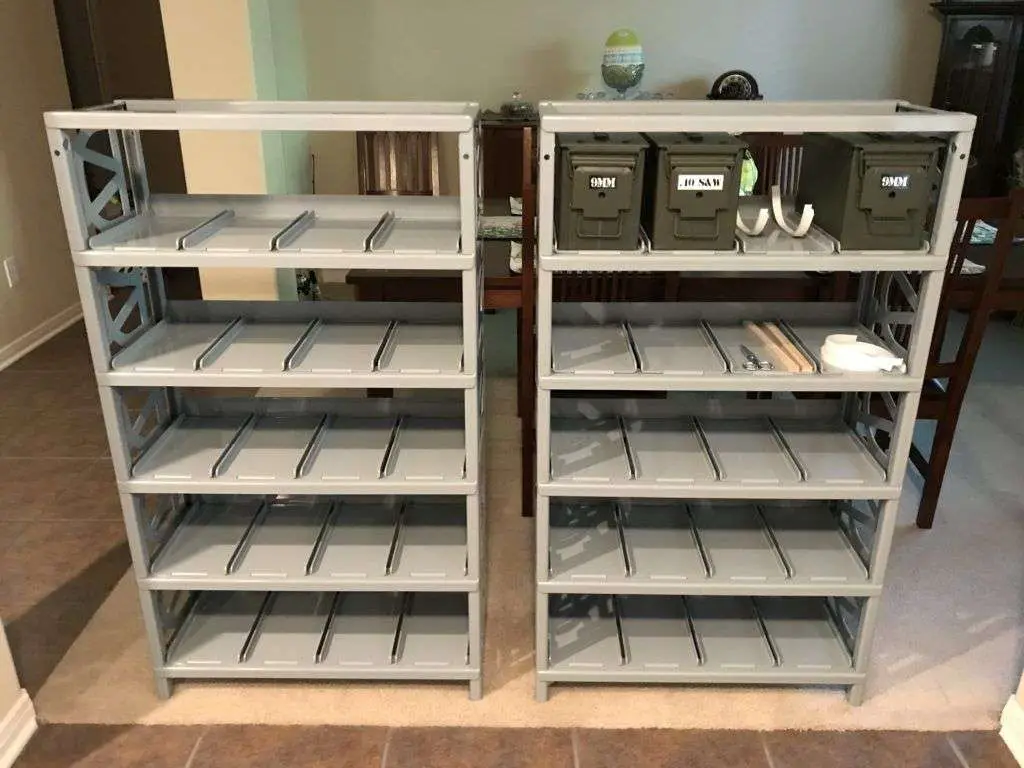 You will hear a lot of talk about the ideal ammo storage temperature. But one thing is for sure – extreme heat is your number one enemy.
Even if ammunition is resistant to extreme temperature, as it can withstand even the worst environment, this doesn't mean you should leave it to chance. The quality of the ammo is likely to be affected once the temperature reaches 150 degrees Fahrenheit. According to SAAMI (Sporting Arms and Ammunition Manufacturers' Institute) standards, extremely high temperatures (over 150° F) should be avoided.
This is definitely an issue for people who store their ammunition in the trunk of the car for convenience. This is why you should be careful when storing your ammo, especially during summertime.
It's the same case if you're into storing your ammo in boxes in the attic or the garage. If those spaces are exposed to direct sunlight, the temperature can easily go up without your noticing, and your ammunition will suffer the consequences.
But overall, it's pretty resilient!
Sale
Bestseller No. 1
HUMILABS Dehumidifiers for Large Room or Basements, 50 Pint for 4500...
【4,500 Sq. Ft Dehumidifier】Our 13.5 x 9.3 x 19.9 inches dehumidifier can remove up to 50 pints (under 95°F, 90%RH condition) of moisture every 24 hours, covers ups to 4,500 square feet and...
【1.05 Gallon Water Tank & Continuous Drain Hose】Super easy to use! Adjust to your ideal humidity setting, then let it run continuously for it's 24-hour cycle until the 1.05 gallon water tank is...
【Easy To Move & Portable】The HUMILABS dehumidifier is designed with a modern look. With 360° rotatable wheels and ergonomically designed hidden grip, you can move the basement dehumidifier from...
Bestseller No. 2
Dehumidifier,TABYIK 35 OZ Small Dehumidifiers for Room for Home, Quiet...
High Efficient Dehumidifiers for Home: Still annoyed about the muggy weather? Just Take it easy! have a try at TABYIK 35OZ Peltier dehumidifier, in a closed small room with humid environment of 86°F...
Small Dehumidifiers with Colorful Light: There is a separate light button, which can emit 7-color romantic atmosphere lights for you, and the ultra-quiet operation (28dB) creates a comfortable and...
35OZ Dehumidifiers for Bathroom: With 1000ml (35OZ) large transparent tank, you can see the water collection volume of the dehumidifier in real-time, and there is a groove design at the bottom of the...
Ammo Storage Solutions
Now we'd like to move our focus to a few useful ammo storage solutions that are worthy of your attention.
Will a safe do the trick?
A safe is actually a very decent, if not worthwhile investment for gun lovers. So, if you don't own one already, perhaps you should consider taking the leap.
A safe is created to meet the storage specifications of your ammunition, thus giving you peace of mind.
It might be a good idea to get a medium-sized unit so that your ammo and other weapons would easily fit in.
To summarize, a safe will keep your ammo away from moisture while preventing children or pets from having access. It also goes without saying that you should get a unit that is fireproof.
Can you store ammo in the garage?
Is the garage a suitable option for storing your ammo? Yes, granted that the above-mentioned guidelines are followed, your garage might be a good storage option.
However, if humidity is an issue in your garage, it might be a great idea to invest in a dehumidifier to address the issue.
Investing in a suitable ammo storage box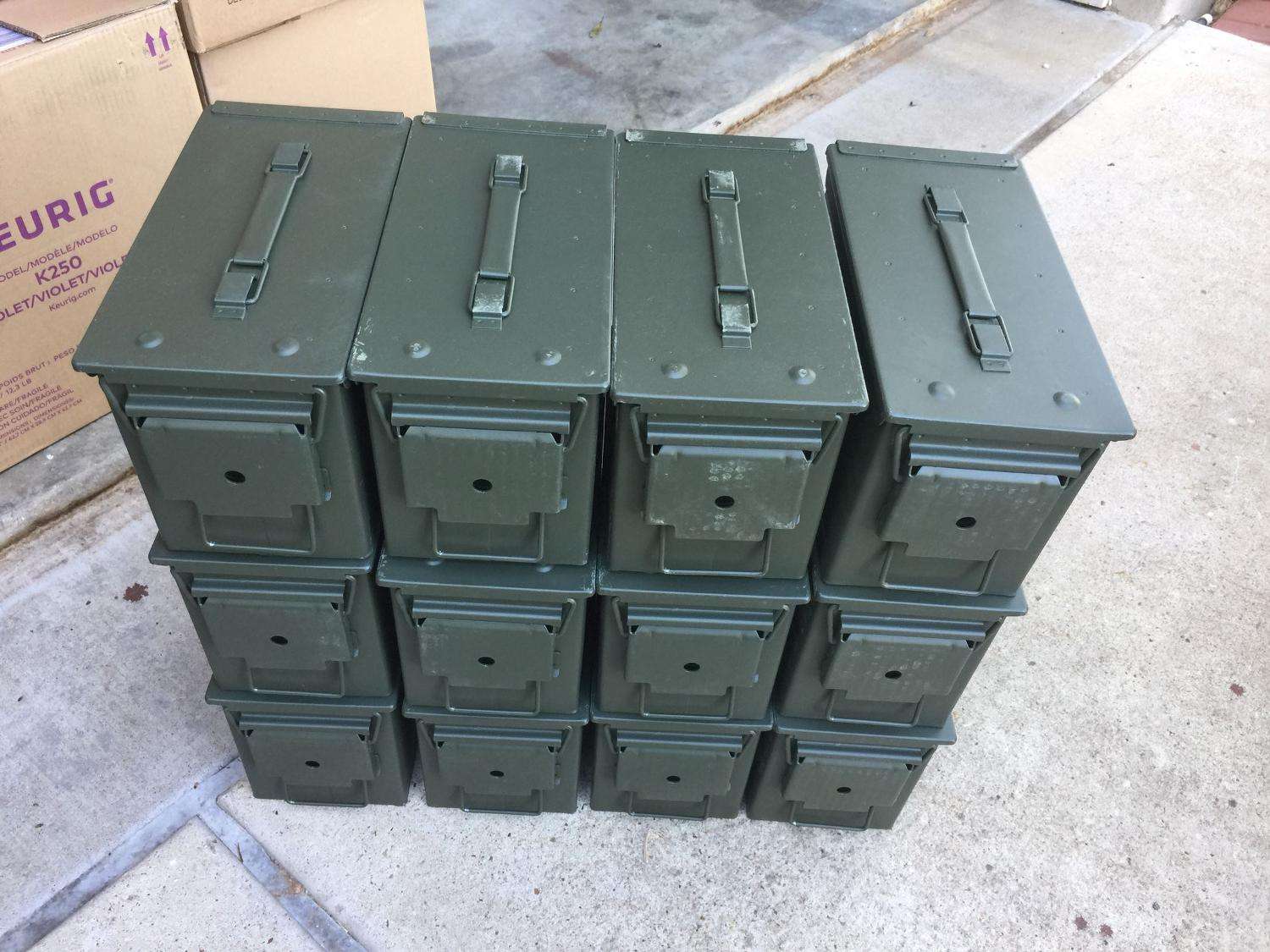 Another alternative would be getting an ammo storage box, as we've discussed above.  They can make storing ammo in less-than-ideal locations a feasible solution.
We'll also answer this trivial question – how to store ammo in cans?
The U.S. military is actually renowned for storing ammo in standard .30 and .50 Caliber cans.
These cans have been around for a while, and they're popular for being reliable and efficient. So, if you're on the lookout for the best ammo container for your 9mm, you can get it at Amazon for a very decent price as surplus.
Once you get the ammo cans, you can place them in your designated space, and label them accordingly.
As a rule of thumb, we advise you to always check the condition of the rubber seal, at the top lid. This way, you can be confident that the cans remain airtight.
Of course, military cans aren't the only option. You can always browse the market for the product that would fulfill your needs. The key is to get something durable, efficient, and safe.
FAQ's
1. Is it safe to store ammo in a safe?
Yes, it is safe to store ammo in a container. If you invest in a good can and put it in a good location, an ammo can will keep your cartridges away from excessive moisture, dirt, and corrosion.
It's also advisable to get a couple of desiccant packets to regulate humidity. Getting a fireproof safe is highly recommended, as well.
2. How long can you safely store ammunition before it goes bad?

Does ammunition have a shelf life or not? In ideal storage conditions, ammunition can be kept for decades without going bad.
The factors that limit ammo's shelf life are heat, sunlight, and moisture. Correct storage practices are essential.
3. What temperature should ammunition be stored at?
The ideal storage temperature for ammunition ranges from 55 degrees Fahrenheit to 85 degrees Fahrenheit.
In accordance with SAAMI (Sporting Arms and Ammunition Manufacturers' Institute) standards, it is critical to avoid extreme temperatures – over 150 Fahrenheit degrees. Extreme swings in temperatures should be avoided, as well.
4. Can you store guns and ammo together?
The principle of ammo and gun storage is safety. To that end, you can store your ammunition in the same locked compartment as your firearms.
In addition to that, it is critical to store both in containers that are securely locked. Moreover, firearms should always be unloaded.
If you want to store your guns separately, here are the best biometric gun safes that you can choose from.
5. Does ammunition get too old?
Ammunition doesn't have an expiration date. However, gunpowder is likely to lose its potency over the course of time.
The biggest risk when shooting with old ammunition is firing a shot that doesn't have the momentum needed to get the bullet out of the barrel. Consequently, the bullet will get stuck, preventing the next shot.
Or, if you don't realize what happened and don't clear the round, you may destroy your barrel and injure yourself.
6. Can old bullets explode?
Old bullets are prone to change over the course of time, especially if they aren't stored properly.
However, this doesn't make it hazardous or more dangerous. Even so, there is the risk of an unexpected explosion if there is very high pressure or temperatures.
From a technical point of view, however, gunpowder isn't the same as some explosives, and it's much more stable.
7. Can you store ammo loose?

You may store your ammo loose, but this isn't recommended for several reasons.
Doing so will make it difficult, if not impossible for you to identify and differentiate between batches – old vs. new ammo.
However, you can store them loose if you categorize your ammo properly and you comply with the basic storage guidelines.
8. Does cold weather affect ammunition?
It's worth outlining that extreme temperatures affect the velocity of the ammo.
That being said, cold temperatures might not necessarily affect ammunition, as long as we're not talking about extreme temperatures as well as swings of heat and cold, which can cause condensation.
The key is to maintain a steady temperature.
9. Can ammo be stored in heat-prone spaces?
No, ammo must not be stored in hot places, as it can lead to several issues.
This is definitely a no-no since heat is usually accompanied by humidity.
These two will lead to imminent corrosion, shortening your ammunition's lifespan.
We also put together an article about the best fireproof gun safes, so be sure to check them out.
10. Does ammunition expire?

As mentioned earlier, ammunition doesn't have an expiration date. But gunpowder loses its potency with time, and this could lead to complications.
As pointed out by most manufacturers, ammunition should be good to use for roughly 10 years. In reality, though, it lasts longer than that.
Conclusion
Ammunition nowadays has a shelf life of up to three generations.
Thanks to advanced technology, it's now possible for you to pass on your ammo to your great-grandchildren – if stored properly, that is.
You should keep in mind that an ammo's quality can be easily compromised, even after you've done everything to prevent rust and other damages.
One thing that can aid in proper ammo storage is silica gel desiccants, which reduce humidity. But without the right container, you're still risking your ammo's life.
Which ammo can is right for you? The type of container that suits you will depend on your budget and personal preferences.
Discipline is important.
If you take the time and effort to clean and put oil on your guns, you should provide the same level of care for your ammunition.
You Might Also Like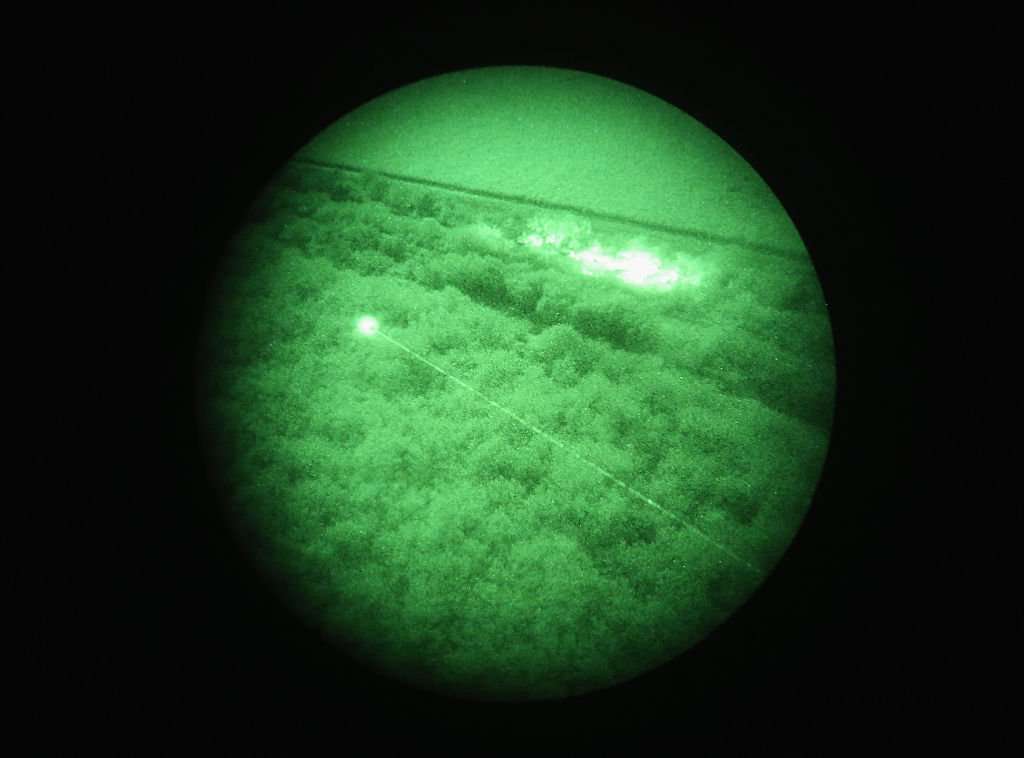 Last update on 2023-09-24 / Images from Amazon Product API