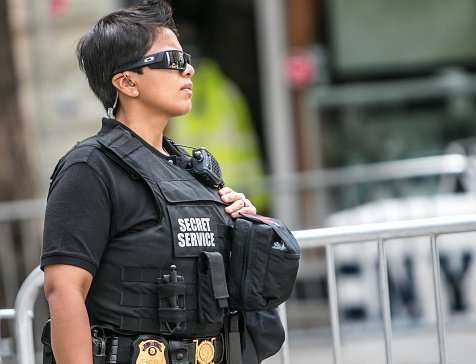 Protecting the highest political leaders in the US requires not only skills but also reliable firepower. Have you ever wondered what firearms the Secret Service uses and if you can also get one? We'll answer all those questions and more! In this article, we'll spill every detail about Secret Service weapons and if they're available for civilian use or not.
What weapons do the Secret Service Use?
Rifles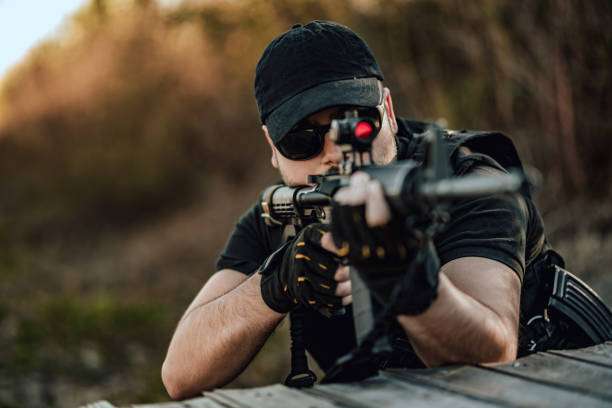 Normally, Secret Service details work in crowds and in close proximity to their protected asset. So, short-barreled rifles and pistols are most common. But, they also have overwatch and counter-sniper duties, and as such, need the greater range and accuracy of long guns too.
Accuracy International Remington 700 AX Chassis System (AXAICS)
The Secret Service counter-assault team has been known to use the AXAICS Rem 700. This innovative platform allows multiple calibers, action, and barrel combinations, so the agents can customize depending on their tasks. It also performs exceptionally and improves shooting accuracy exponentially.
The AXAICS Rem 700 has a forend with Picatinny rail and KeyMod accessory mounting system. These features allow full customization as well. This combat-proven sniper rifle is available to the public but is restricted to the US market.
Knight's Armament Company (KAC) SR-25/MK11 Mod 0 Semi-automatic Sniper Rifle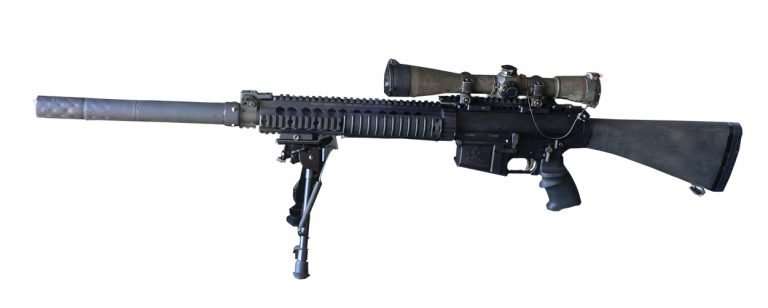 The KAC SR-25 uses the MK11 Mod 0 system that's chambered for the 7.62x51mm NATO.
Aside from the rifle, the system consists of 20-round box magazines, a quick-detachable suppressor and scope rings, Harris swivel-base bipod, and a Leupold Mark 4 riflescope. However, the Counter Sniper team also mounts the Trijicon 5.5× ACOG optic on this bad boy for some environments.
The SR-25/MK 11 also comes with a rail accessory system that for easier attachment or detachment of MIL-STD-1913 parts.
KAC manufactures a version for civilian shooters but it comes with a longer 24-inch match barrel.
SPECS:
Weight: Match Rifle 10.75 lb (4.88 kg), LwMatch 9.5 lb (4.3 kg), Carbine 7.5 lb (3.4 kg), Sporter 8.75 lb (3.97 kg)
Length: 44.0 in (1,118 mm)
Barrel Length: Match Rifle 24 in (610 mm) (also LwMatch & Sporter 20 in or 510 mm, Carbine 16 in or 410 mm)
Cartridge: 7.62x51mm NATO
Actions: Gas-operated, rotating bolt
Rate of Fire: Semi-automatic
Feed system: 10 and 20-round detachable box magazine
5.56mm KAC SR-16 CQB rifle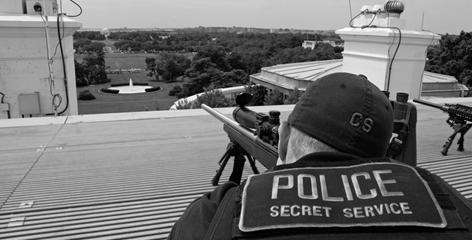 The Secret Service's latest rifle, the SR-16 E3 MOD 2, also comes from the Knight's Armament Company.
The 5.56mm NATO barrel in this assault rifle comes in a free-floating design. It's designed based on military standards, is housed inside a 10.75" URX 4 handguard, and is chrome-lined. It's equipped with a drop-in double-stage trigger for improved speed and precision.
The SR-16 E3 MOD 2 features an ambidextrous selector, magazine, and bolt release. It also comes in an E3 round-lug bolt design that guarantees increased bolt life and performance compared to other brands.
Submachine guns
FN P90 Submachine gun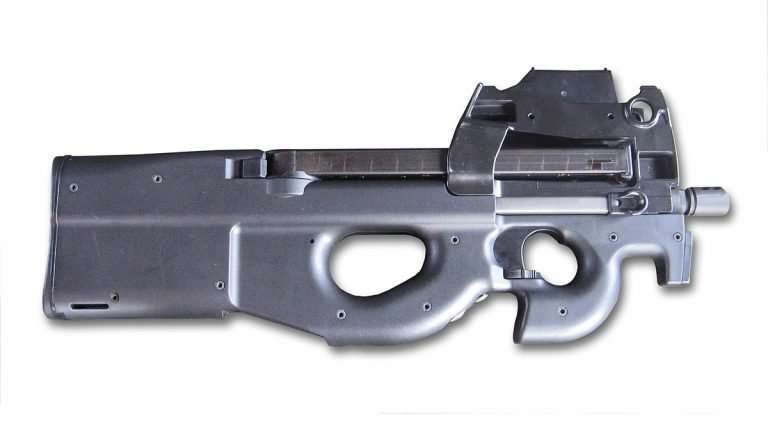 The FN P90 is designed for counter-terrorist groups and special forces. This bullpup firearm is fully ambidextrous and is equipped with its own reflex sight. Its top-mounted detachable magazine can accommodate up to 50 rounds. When chambered with the 5.7×28mm ammo, the P90 fires with incredible accuracy and velocity, so much so that it can penetrate body armor. The primary downside of the round is a lack of stopping power since it moves through a target so quickly without a lot of expansion.
The P90 is designed to be compact and easy to carry. It's also very easy to disassemble and clean. The FN P90 is restricted for military and law enforcement use, but there is a civilian version called the PS90 that features a 16" barrel to avoid the need to register a short-barreled rifle with the ATF.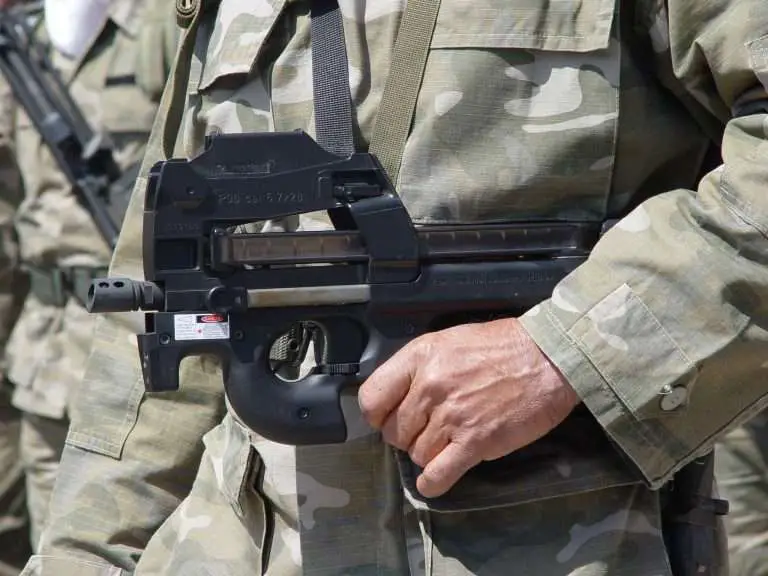 SPECS:
CALIBER: 5.7x28mm
OPERATION: Closed-bolt blowback
MAG CAPACITY: 50 Rd.
WEIGHT: 5.8 lb.
BARREL LENGTH: 10.39"
OVERALL LENGTH: 19.88"
TWIST RATE: 1:9″ RH
9mm Heckler & Koch MP5 submachine gun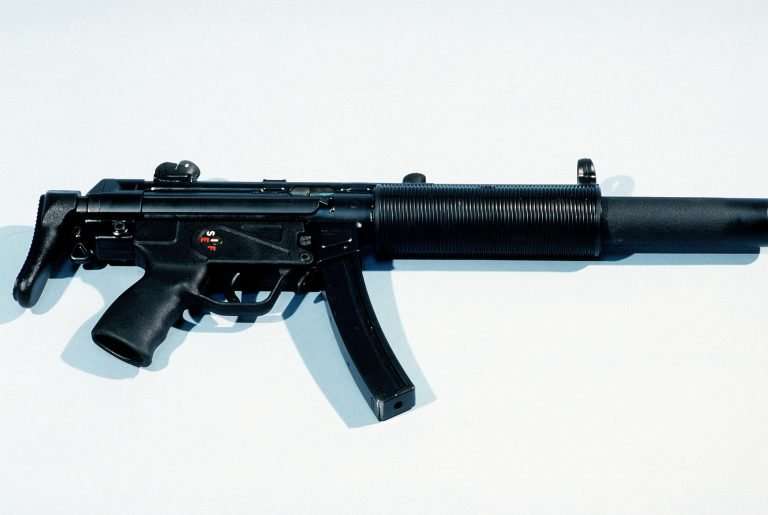 The MP5 has been a globally popular submachine gun since the 1960s. Not only is it used by the Secret Service, but it's also previously preferred by the SWAT in North America until it was replaced by the M16 in the early 2000s.
While most intelligence agencies already replaced the MP5 with assault rifles, the agency has just started to replace it with the 5.56mm SR-16 CQB rifle. And some Secret Service agents continue to depend on this high-powered weapon.
It's also legal to own in the United States but is highly regulated. You'll need an NFA approval to own a short-barreled rifle and additional paperwork for a fully automatic version.
The MP5 comes with slightly curved steel magazines with 15-round and 30-round capacities. It also features a hammer firing mechanism and is equipped with a manual safety toggle in the form of a fire mode selector.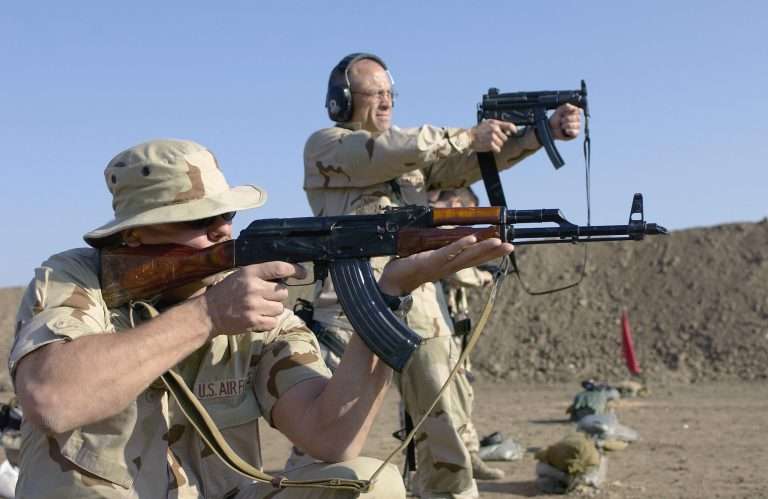 SPECS:
Caliber. 9 x 19 mm.
Length. 680 mm.
Weight (unloaded) 5.6 lbs.
Barrel length. 8.9 in.
Feed device: 15- or 30-round detachable box.
Operating system. Delayed roller-locked, selective fire.
Rate of fire. 800 rds/min.
Shotguns
12-gauge Remington 870 shotgun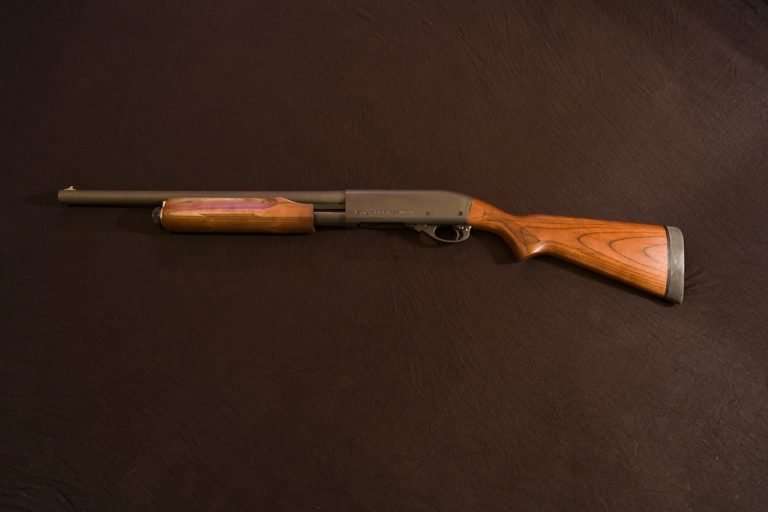 Another standard shoulder weapon used by the Secret Service is the Remington 870 shotgun. The Remington 870 features a pipe-like magazine located under the barrel. Its side ejecting receiver also loads at the bottom.
The Remington 870 is also widely used by the US Police Force as well as other law enforcement organizations in the country. This pump-action shotgun is available to the public and is used for migratory bird hunting, self-defense, and sport shooting.
SPECS:
Weight: 7.0 lb (3.2 kg) to 8.0 lb (3.6 kg)
Length: 26.3 in (670 mm) to 50.5 in (1,280 mm)
Barrel length: 14 in (360 mm) to 30 in (760 mm
Cartridge: 12 gauge (and others for sporting use)
Action: Pump-action
Feed system: 3+1, 4+1, 5+1, 6+1, or 7+1 round internal tube magazine, or an external 6+1 box magazine
Pistols
Glock 19 MOS Gen5 Pistol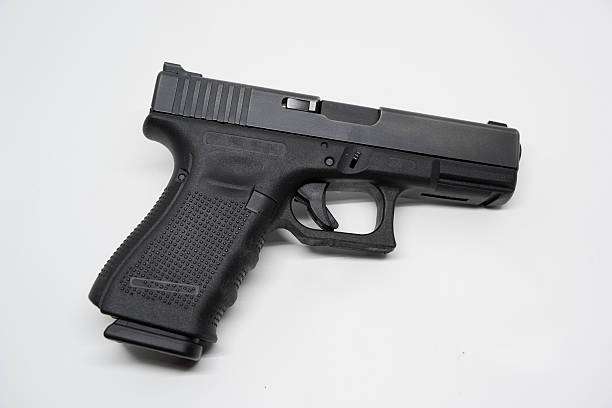 The US Secret Service's primary duty sidearm from 1999 to 2020 or so was the SIG Sauer P229 double-action/single-action pistol chambered in .357 SIG. Going forward, the US Secret Service's primary pistols are the Glock 19 Gen 5 MOS in 9 mm and the Glock 47.
Secret Service agents will have Glock's Modular Optical System that offers easy mounting of 3rd party optic sights without heavy slide modifications. The G19 Gen5 MOS features multiple multiple adapter plates for quick and easy mounting.
These new handgun options are more compact and lightweight than the .357 Sig but also deliver the same rugged reliability.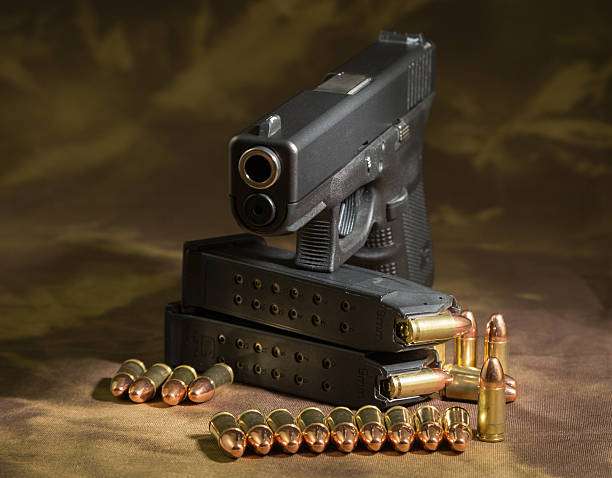 SPECS:
Caliber: 9x19mm
Barrel Length: 102 mm (4.02 inch)
Weight (with loaded magazine): 850g
Weight (with empty magazine): 675g
Weight (without magazine): 605g
System: Safe Action
Trigger Pull: 5.8 lbs
Magazine Capacity: 15 (Standard)
Glock 47 (G47)
The Glock 47 will be another replacement for the .357 Sig. It's not available for civilian consumers and was manufactured exclusively for the US Customs and Border Protection. The G47 integrates a full-sized slide into a G45 frame, which itself was based on the G17. The slide is compatible with sights and accessories built for the smaller G19 also. It uses a 4.5-inch barrel similar to the G17 and is compatible with G19X, G17, G34, and G45 magazines.
The G47 also comes with a match-grade Glock Marksman Barrel (GMB) for increased accuracy and a flared magazine well for quicker mag changes. It also has 100% parts compatibility with the G19 Gen 5 MOS pistol.
Glock 26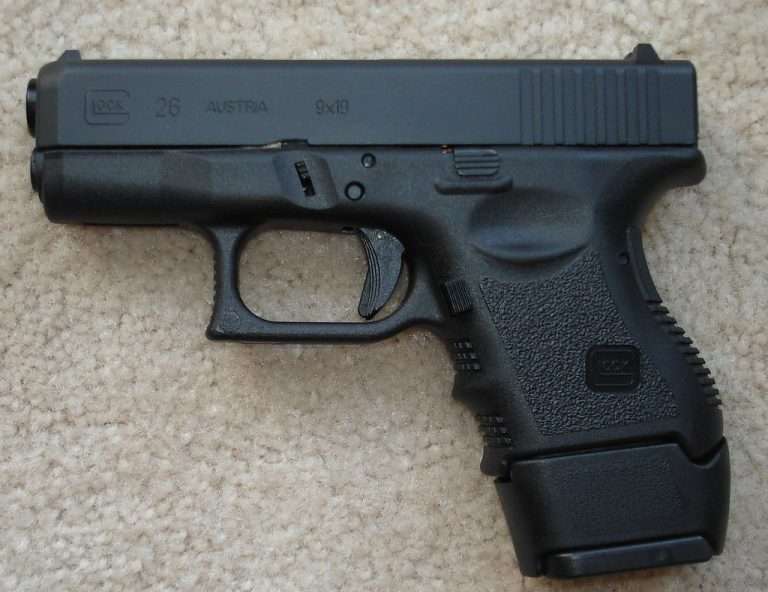 Last but not least is the commercially available G26 or the "Baby Glock." This semi-automatic pistol has a small frame and is derived from the Glock 19.
The G26 comes in a sub-compact design, that's why most gun owners choose it for concealed and backup carry. It also runs in a Safe Action operating system and features a "5.5-pound trigger pull with half-inch trigger travel" similar to the G17.
The G26 can also fire the 9mm Luger cartridge with less recoil and with the same accuracy and functionality.
Frequently Asked Questions
Do Secret Service agents carry guns?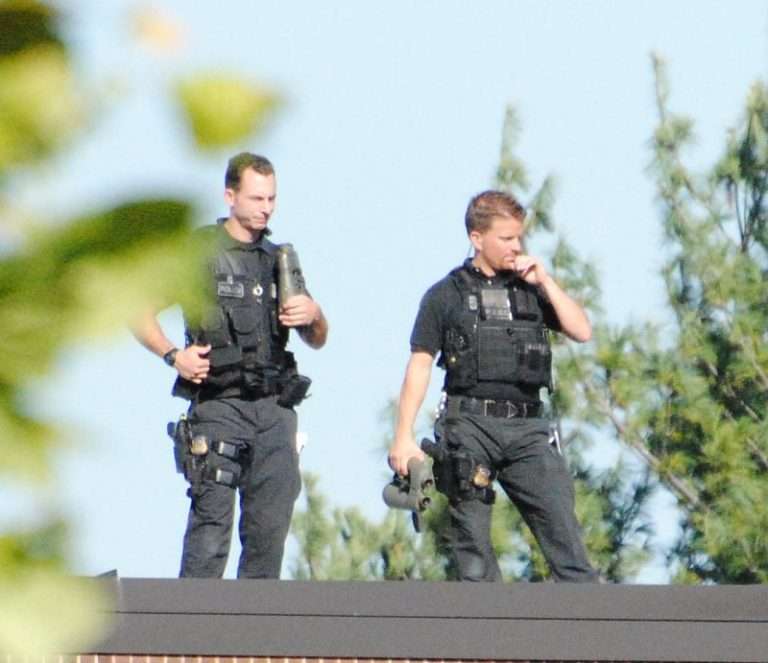 Yes, Secret Service agents carry their standard issue weapons to aid them in performing investigative and protective tasks. See the issued weapons in the list above.
Does Secret Service use HK MP7?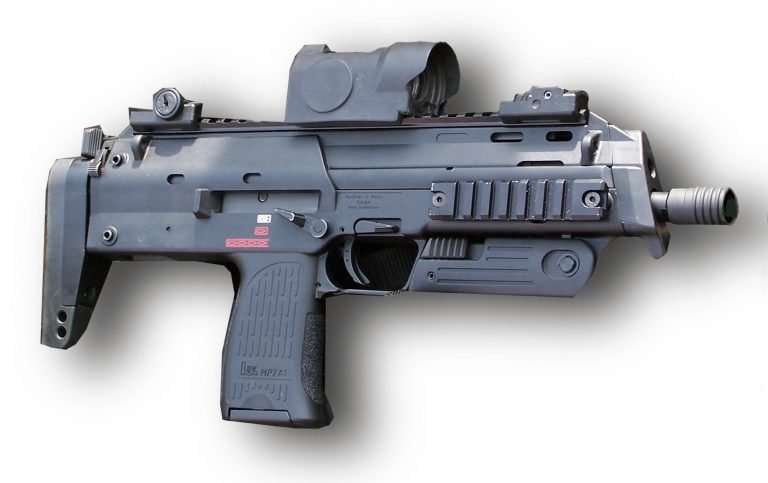 No, the Secret Service uses the HK MP5 which is a 9x19mm Parabellum submachine gun. It's the Navy SEALS that love to use the HK MP7 during their missions.
Conclusion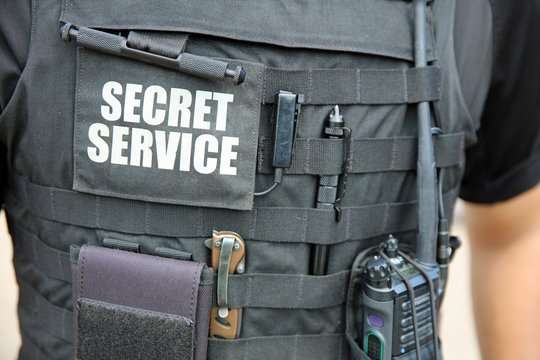 Whether you're here out of curiosity or if you're looking for a reliable gun for self-defense, we hope we satisfied your curiosity. Unfortunately, some of these weapons are restricted to the military, law enforcement, and special forces. So even if you want one badly, make sure to only buy legally allowed firearms from authorized dealers or make sure you have the right permits in place before purchasing.