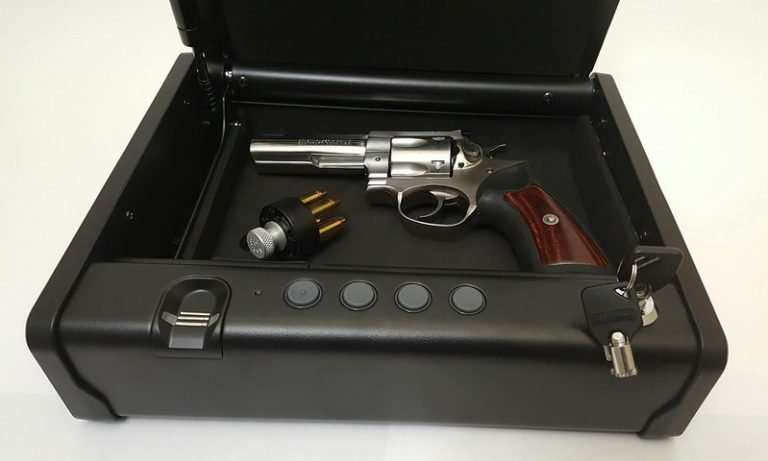 Our Top Picks
Best Overall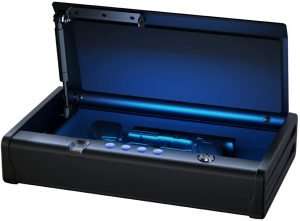 SentrySafe QAP2BEL Gun Safe with Biometric Lock
This biometric gun safe can accommodate multiple firearms.
Check Price
Best Value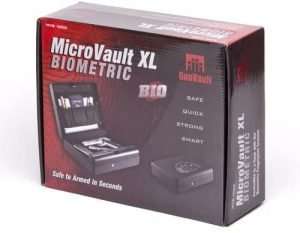 Gunvault MicroVault XL MVB1000 Gun Safe
This biometric gun safe is portable and budget-friendly.
Check Price
Best for Hand Guns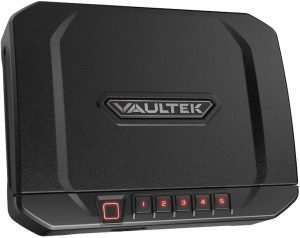 Vaultek VT20i Biometric Handgun Bluetooth Smart Safe
This biometric pistol safe is equipped with the latest technology.
Check Price
Best for Long Guns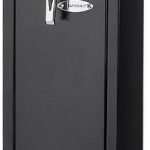 Barska Biometric Long Guns Safe
This biometric gun safe provides spacious and quick security solutions for your guns.
Check Price
There may be instances when we can't bring our guns with us. And there's nothing more reassuring than leaving your gun at home knowing that it's safe from possible burglars. We understand how important it is to keep your firearm secure, so we reviewed only the best biometric gun safes in this article.
Comparison of the Best Biometric Gun Safes
How We Choose + Our Must-Have Features
Capacity
If you own multiple firearms, think about how many of them you'd want to keep in the safe. From there, look into gun safes that can store at least that much.
Size and weight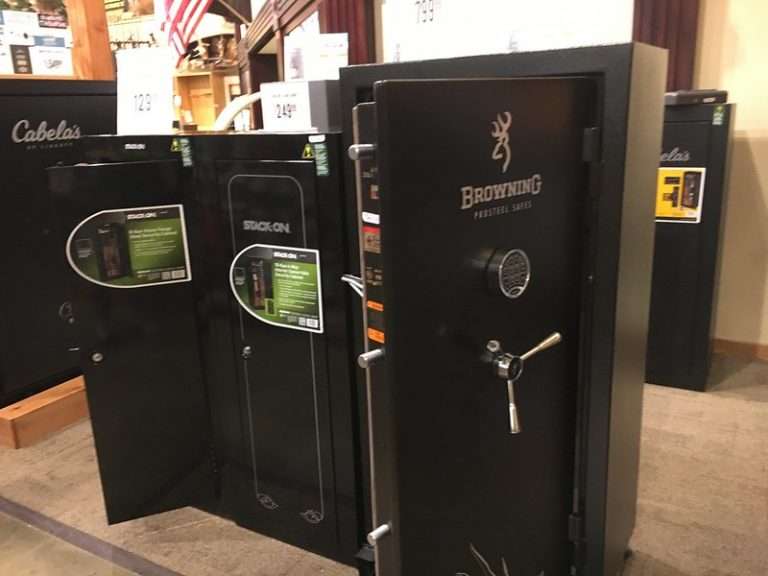 Aside from the safe's capacity, also consider if you have a space at home where you can get it mounted. Some gun owners prefer safes that are portable, while some prefer theirs mounted against the wall. You also need to consider the safe's weight if you plan on using it while traveling or if you want to bolt it inside your car's trunk.
Security Features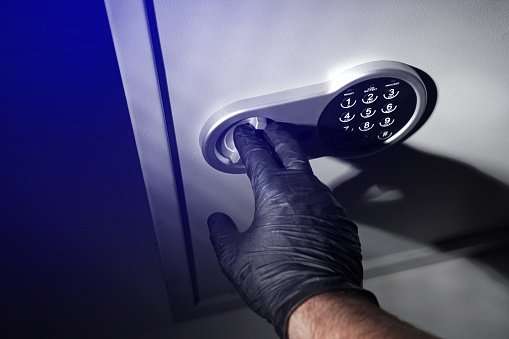 The most important factor to consider is a biometric safe's security features. After all, its main purpose is to secure your gun and provide access quickly. Aside from having a responsive fingerprint reader, make sure that the safe's build and construction are solid enough to withstand any tampering attempt. A sturdy security cable would also be excellent additional support. Of course most of the time a determined crook will succeed with tools. But at least give him a hard time, right?
Price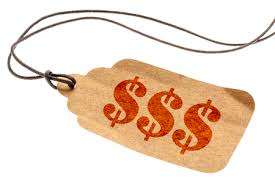 Most biometric gun safes are pretty expensive. But if you're willing to fork out the money, a high-quality safe can store and secure your gun and valuables for years and provide quick access. So if you'd ask us, a biometric gun safe is a really great investment if you need speedy access.
Power Source
The majority of fingerprint gun cases today need AA batteries for power. And we have options below that have low power consumption so you don't have to worry about fresh batteries constantly. 
5 Best Biometric Gun Safes
Best Overall: SentrySafe QAP2BEL Gun Safe with Biometric Lock
If you have more than one handgun, our top pick is perfect for you.
The SentrySafe QAP2BEL Gun Safe can accommodate 2 standard-sized handguns or 1 large pistol plus ammo. It's also equipped with interior lighting for increased visibility even in the dark.
This gun safe allows you to register 4 sets of fingerprints for multiple access, and you can also choose to add a security code. Quick and quiet access is also guaranteed with this gun safe, thanks to its gas strut feature. You can also mount SentrySafe easily on your wall using lag screws, and it's one of our picks for the best bedside gun safe.
This SentrySafe Gun Safe, however, can't be plugged directly into a power outlet and is only powered by four AA batteries.
Pros
Easy to set up
Solid construction
Bulletproof
Cons
What Customers Say
"This thing is perfect for mounting on the wall at the head of your bed. It reads my fingerprint just fine and the code pad responds instantly! The code pad needs one press to come out of sleep mode and will instantly be ready for your code entry. To help you be fast and smooth with your code dialing I suggest you act as if the first number is doubled. So if your code is "1212" you would want to tell yourself to dial "11212" then you won't miss a beat! The fingerprint recognition is high-quality and useful. It wakes up the second you touch it then you slide your finger towards yourself across the metal reader. Once you swipe your finger it takes about one full second for the safe to open."
"I've read some reviews about how someone could break into it. Well, maybe, but then look at its size. If you expect this to hold up to attack with big tools, perhaps you should look for another safe. In my case, this is used for my carry pistol. If I'm not home, neither is my gun. In fact, when the safe is empty, I leave the lid open. This safe was purchased to keep my children from getting hold of my gun. My six and four-year-olds will not defeat this safe. For my purpose, this safe is 100% effective. I use the fingerprint scanner as my only way in. The only times it has failed to open using the scanner, I knew it wouldn't open before I saw the flashing red light. I didn't have my finger lined up well at all. I "wake" it with the first code button, then scan. From the moment I press the button, I can scan, the lid opens, and I have made contact with my gun in 1.8 seconds. I love it and I'd buy it again."
Best Value: Gunvault MicroVault Gun Safe
It's true that quality deteriorates with price for most products, but not our best value pick! The Gunvault MicroVault gun safe will secure your gun for less than $200!
This safe comes with a sturdy security cable so it remains where you mount it. Its interior is also equipped with a soft foam lining so it won't be rattled while in transport. This makes it ideal for traveling or if you want your safe bolted inside your car's trunk.
You can also register multiple fingerprint angles so you can easily access your gun especially if you're in a hurry.
Pros
Affordable
Comes with a security cable
Comes with a limited warranty
Comes with backup keys
Cons
Limited battery life
No interior light
What Customers Say
"Spacious. Holds my M&P Shield, 3 magazines, flashlight, a box of 9mm(50 rounds), and a few small odds and ends. Wish the elastic pouches were better. Mounted easily using two screws."
"Have two units of different sizes. Once secured in the back of the SUV and the other to travel in luggage. Both work well and have performed reliably."
Best for Hand Guns: Vaultek VT20i Biometric Handgun Bluetooth Smart Safe
Our next pick is compact and easily transportable. Its long-lasting powder-coat finish not only guarantees protection from corrosion, but it's also an added barrier from external impact. That's why the Vaultek VT20i gun safe is perfect to carry inside your luggage or at the back of your car.
This state-of-the-art safe can also be connected to the Vaultek Bluetooth Smartphone App, so you can easily monitor your safe's contents, including its battery status, tamper detection, and interior LED adjustment. All that at the palm of your hand!
The Vaultek Smart Safe is equipped with anti-pry reinforcement bars and dual anti-impact latches for added security, so even the most determined thief can't open it easily.
Pros
Bluetooth-ready
Comes with anti-theft features
Comes with backup keys
Comes with a security cable
Cons
It's a little heavy
It can only store one handgun
What Customers Say
"Great safe and easy to set up. I like that it has a rechargeable battery (battery and cable included), long battery life (standby up to 6 months), easy setup, multiple ways to enter safe (should one method fail), BLUETOOTH (yeah, there's an App for that!), and updated safety features. Presentation/boxing alone was impressive and Vaultek customer service reached out to ensure my satisfaction a couple of days after I received it. Buying another for the upstairs!"
"Bought this safe so I can be ready quickly. It does not disappoint! Very easy to program a 4 to 8 digit code, keys open easily, only reason I gave it 4 stars for the lock feature is I have not yet figured out how to program more than one fingerprint. It says I can but perhaps I need to read the directions more. The fingerprint reader has read my fingerprint every time so far without a problem. Opens every time."
Best for Long Guns: Barska Biometric Long Guns Safe
The Barska Biometric Long Guns Safe offers high-level security and solid storage for your rifles and shotguns.
It can accommodate up to two rifles. Its steel walls are constructed with tamper-free inner edges and are equipped with anti-pry concealed door hinges. Barska's Biometrics is also accessible for as fast as 2.5 seconds! You can also choose the silent mode for more discreet access.
Unlike other safes, the Barska Long Guns safe has low-power consumption so its batteries can last for a year. It also features a backup battery pack and keys.
Pros
Low power consumption
Tamper-resistant
Very spacious
Cons
It's a little expensive
No interior lighting
What Customers Say
"Fast, quiet (once quiet mode is enabled) not too big, not too small. I have three rifles in it now and some ammo on the shelf. It bolts to a beam with mounting holes on the inside. I bought some magnetic, motion-activated lights. Really an ideal solution. Also, I'm tickled by the idea of getting a gun safe with free shipping."
"Excellent product. Just as described. Finger scanner works great! I programmed my thumb and index finger. also my wife's index finger. Arrived brand new in excellent condition. Needs to be bolted down due to being fairly lightweight. Seems to be made very well. I did not use the cheap batteries that were included and chose to use 4 brand new Duracell batteries. I also did not use the foam gun barrel holder that was included, and managed to squeeze in 5 long guns fairly easily….1.Brand new Ruger 10/22, 2 older bolt action 22 long rifles, 1 lever action 22 rifle, and an Antique 16 GA shotgun (H&R) Bay State Single shot, with a long barrel. had to wiggle that long barrel in there but it fits. Very happy with that. These are not necessarily the rifles I plan on storing in this safe, but they should give you a good idea of the size. in my opinion, it should be hidden. It's not the type of safe I would feel comfortable leaving out on the open with valuables."
Viking Security Wall Safe
Last but definitely not least is the Viking Security Wall Safe. We chose this brand it because it's easy to set up and mount, and it has adequate space to store one handgun. It's also constructed from heavy-duty materials so it's not easy to pry open or break into.
The Vikings Security Wall Safe can be opened in three ways; via key, via biometrics, and via passcode. It also guarantees quick finger reading in just a few seconds. It needs 6 AA batteries for power, but it doesn't consume much so it's very cost-effective.
Pros
Solid construction
Easy access
Cons
It's a bit expensive
It's a little heavy
What Customers Say
"I bought new lithium batteries for it before I installed it and haven't had any issues at all. Easy to train, and reads my fingerprint first time. It needs spacers for inside walls, but a 2×4 worked for me. It is a little heavy so I braced it from the bottom and used huge screws to secure it to the studs. If someone wants to try to pry it out of the wall, it will take them hours not minutes to get it out. If they can at all! I also put some silicone sealer all around the edges, so it looks like it was professionally installed. Great safe, perfect for what I needed."
"I purchased this safe 18 months ago and I am really happy with it. The fingerprint reader works well. The shelves are flimsy so heavy items will need to go on the bottom. All in all, I am really happy with this purchase. My wife and I are the only ones who can access our fingerprints. Keeps the kids safe from firearms which is the main purpose. Discrete and looks good flush-mounted on the wall."
FAQs
What is a biometric safe?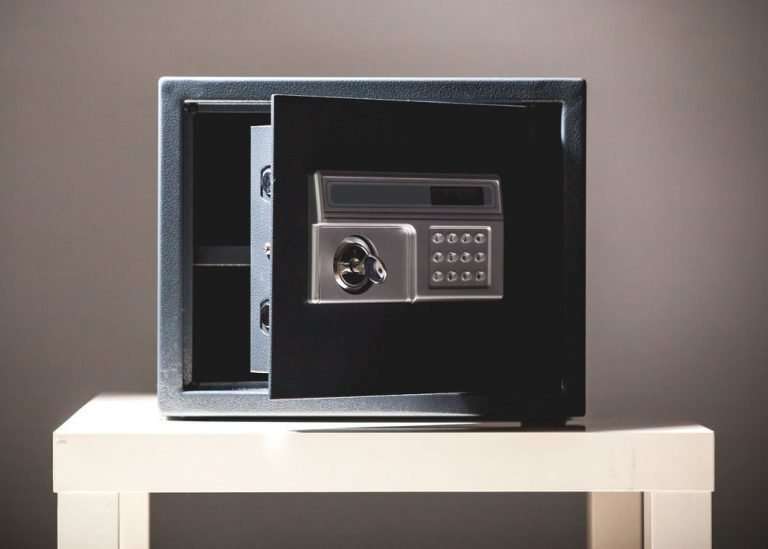 A biometric safe is a digital storage container that uses a fingerprint reader for access.
What is the best biometric gun safe?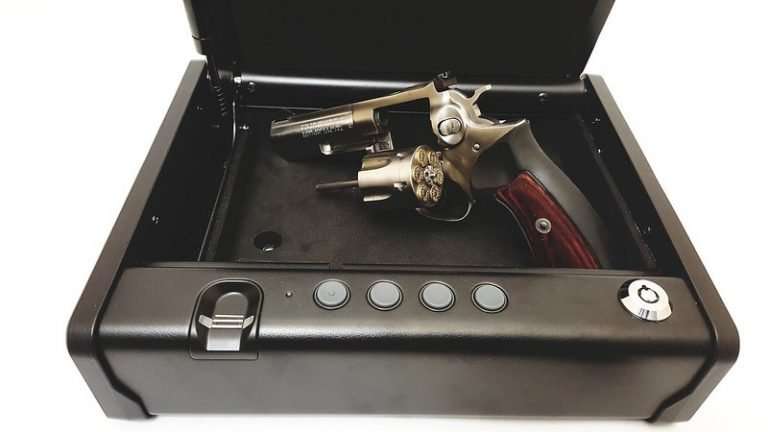 We recommend the SentrySafe QAP2BEL as the best biometric gun safe if you only own handguns. Aside from value for money, the SentrySafe guarantees top-of-the-line safekeeping for your gun. If you own long guns, however, the Barska Biometric Long Guns Safe can provide high-caliber storage for your firearms.
Are biometric safes good?
Yes, biometric safes are not only good, but they're also the most effective way to secure your firearms and other valuables that you need quick access to. Just be sure to pay for a good, reliable sensor.
How much is a biometric gun safe?
Biometric gun safes prices range from as low as $180 to $350 and even higher for a large safe.
What is the best gun safe to buy?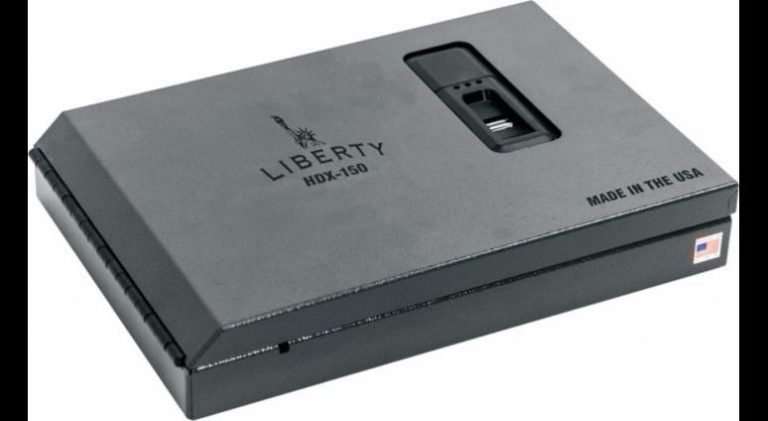 A biometric gun safe is one of the best types of safes to buy. But if you're not the techie type, these old-fashioned gun safes could be what you're looking for.
Final Thoughts
Biometric gun safes are the best and most secure way to store your firearms. They don't just protect your guns from unwanted access but also from moisture and other contaminants that may cause corrosion. Be sure to follow our buying guide above to get the brand that suits you best.
If you're planning to store bulk ammo, get the best ammo storage containers here.
Last update on 2023-09-05 / Images from Amazon Product API