Best Overall
Model
SentrySafe QAP1BE Gun Safe
Moutec Quick Access Fingerprint Long Gun Safe
Stealth Handgun Hanger Safe
Vaultek Essential Series Quick Access Handgun Safe
Best Overall
Model
SentrySafe QAP1BE Gun Safe
Model
Moutec Quick Access Fingerprint Long Gun Safe
Model
Stealth Handgun Hanger Safe
Model
Vaultek Essential Series Quick Access Handgun Safe
Guns are not something you should carelessly flaunt around.
They are items that can be extremely dangerous if they're not handled properly and if they're in the wrong hands.
Therefore, the main concern when purchasing a gun is safety. That's why a gun safe should a priority for you!
Gun safes may be a very costly investment, especially if you want one that is sure to keep your weapon away from unsafe hands.
Even so, it's important to shop around for a while until you find one that seems reliable and fits your budget – thus, money alone shouldn't be the decisive factor.
Finding the best gun safes might be a time-consuming and difficult task for you. So, we made sure to cover some product reviews and essential information for you.
We compiled a list of the best products in 2019 – both short and long gun safe reviews – to make your search easier.
By taking a look over this guide, finding the best suited gun safe for your needs will instantly become easier.
In case you are in a hurry, here we have selected our 3 top rated safes. For more in-depth reviews, please scroll down.
Our Reviews Of The Best Gun Safes
#1 SentrySafe QAP1BE Gun Safe
Our top choice is none other than the SentrySafe biometric gun safe. At first sight, it might seem too small to shelter your guns.
Basically, it's made to keep one gun, but in reality, two small handguns can fit inside.
Additionally, thanks to its small size, it's easy to store and you won't have to struggle until you find the perfect place.
It's around $200, so it's one of the most secure and best gun safes for the money. It has a biometric locking system that works by scanning your fingerprint before opening it.
Moreover, it runs on 4 AA batteries that can last from 8 to 10 years. All in all, it's certainly one of the best gun safes under $600 that you will find.
Key Features
Gas strut for silent door opening
Solid steel construction
Biometric safe
Single-handed access
Override key for backup entry
#2 Moutec Quick Access Fingerprint Long Gun Safe
With many positive reviews given by customers, the Moutec Quick Access Fingerprint Long Gun Safe is one of the best on the market.
With a capacity to keep a maximum of 6 long guns inside, this product is perfect for those who own multiple big weapons and need enough space to store them.
It also has a separate lockbox inside where you can store your smaller guns and other important stuff.
The Moutec Gun Safe constructed from steel, so its durability is guaranteed. It's also pry-proof and tamper-resistant.
The Moutec Gun Safe is equipped with Smart biometric technology so your guns are definitely secured.
You also have the option to create your own passcode through the electronic keypad or manually lock it with a key.
Finally, we love how Moutec placed 5 pre-punched mounting holes at the bottom and at the back of the safe. This way you can easily mount the safe wherever you want.
Key Features
Automatic LED Interior Lighting
Gear drive system to minimize the risk of forced opening
EPM Proof electric lock system with high security double sided bypass key lock
Can hold a maximum of 20 long guns
#3 Stealth Handgun Hanger Safe Quick Access Electronic Pistol Security Box
Handguns are amazing for self-defense, and if a thief has chosen your house to steal from, then you want to make sure you have the weapons at your service.
This product right here has the best price on gun safes for the quality it provides, which is why it's so high in our top.
That being said, if you were wondering about the best gun safe under $1500, you'll be convinced with this model.
With a maximum capacity of 5 handguns, this safe is sure to shelter your weapons and have them at the ready in case of a burglary.
Thanks to its optional silent mode, opening the door won't make too much noise, allowing you to arm yourself while staying undetected.
Key Features
Maximum capacity of 5 guns
Scratch resistant rods, high-density foam interior, and high strength security cable
Solid steel construction that protects the safe from potential damage
High strength locking latch
Override key for backup entry
#4 Fort Knox FTK-PB Pistol Box Handgun Safe
Fort Knox did a great job by delivering this gun safe, and it's easy to see this from the high percentage of good reviews.
It was created for handguns, and it's meant to allow you quick access to your gun when self-defense becomes necessary.
Basically, it can be mounted on your nightstand, or anywhere near you to prevent you from wasting additional minutes taking your weapon.
Thanks to its gas strut, you can open the door easily without any noise, being safer in case someone has invaded your home.
At the same time, it's a very heavy gun safe, but very resistant to potential damage.
The locking mechanism has Simplex buttons and works with a code. If you're looking for the best gun safe under $500, this is one of them.
Key Features
Gas strut for silent door opening
Quick and easy access to your handgun
Simplex locking mechanism
Lifetime warranty
#5 Vaultek Essential Series Quick Access Handgun Safe
If you fear for your safety and want to keep your pistol around just in case, you will need a gun safe of a much compact size that also allows you easy access.
This safe from Vaultek might be what you need.
It has a slim design that makes it easily mountable on your drawer or anywhere near you. It can also be taken with you on the way to work, or in a bag.
Since it is so lightweight, it won't be a burden to you. Aside from that, it has a fun locking mechanism, with a backlit keypad. It allows you to access your gun fast enough.
Key Features
Rechargeable lithium-ion battery
Lightweight
Backlit keypad with over 40,000 unique combinations
Small and portable
Responsive led lighting
#6 Stack-On GCB-908 Steel 8-Gun Security Cabinet
Our pick for the best long gun safe in 2019 is this Stack-On gun vault.
Long guns require bigger storage space, so the gun safe you need must be bigger. This stack-on safe will do the job for a fair price.
If you have guns that are up to 54" tall, they will successfully fit inside this cabinet. As such, 8 shotguns or rifles will fit inside this gun safe.
Additionally, it comes with a removable top shelf that allows additional storage.
To keep it away from the wrong hands, it was provided with a 3-point locking system, which has a key code and a double-bitted lock.
Therefore, you won't have to worry that someone will have easy access to your weapons.
Key Features
Fastening hardware and flush mount button
3 point locking system
Removable top shelf for extra storage
8 rifle capacity
Sturdy locking mechanism
#7 GunVault SV500 – SpeedVault Handgun Safe​
A hidden gun safe makes it easy for you to gain access to your gun. It was made to be mounted on various surfaces, such as your drawer, for instance.
It's not such a big gun safe, but it's very useful and can keep your weapons secure and ready for whatever use.
It can hold 12 million selected access codes, and it's made of 18-gauge steel.
What's nice about this model is the fact that it's more discreet, so it won't take too much space, but you can also keep it away from "predatory" eyes.
Some reviewers declared they encountered some problems with the product though, respectively with the locking mechanism.
Key Features
18-Gauge steel construction
1-9 V Battery usage
It has multiple mounting options
Comes with a backup override key
Can hold 12 million selected access codes
#8 V-Line Top Draw Locking Tactical Gun Storage Box
Going on a trip means you have to take the same safety precautions that you'd take at home – maybe even better.
Depending on the destination, a gun will be one of the items meant to protect you if danger occurs.
But you also need a gun safe for it, and this is one of the best gun safe in that regard.
It comes with a 5-button mechanical lock that ensures you will quickly be in control of your gun when you need it.
It also has a welded continuous hinge so nobody can remove the pin either.
For your car or when traveling, this is one durable and reliable gun safe, and probably one of the best small gun safes you'll find on Amazon.
Key Features
Welded continuous hinge
5-button mechanical lock
Stainless steel faceplate
High-density foam interior
#9 Barska Quick Access Biometric Rifle Safe AX11652
This is one of those that can do the job properly, and for a good price – it is one of the best gun safes under $1000.
Able to store up to 4 rifles, its security system is created with biometric technology, which makes it possible to retain 120 fingerprints.
However, when you encounter a problem with it, there will always be the backup access key to open it.
Key Features
Mountable and compact
Biometric technology locking system with the ability to retain 120 fingerprints
Backup access keyhole & key
Can hold 4 rifles
#10 Stack-On 18 Gun Convertible Cabinet
First of all, one of its best features is its capability to hold 18 rifles.
As long as they are up to 54" tall, they are going to fit inside. At the same time, you can also convert it to keep 9 guns with adjustable shelving.
It has a 3-point locking system that provides you with a safe double-bitted key-coded lock. Thanks to this, you won't have to worry that someone will get their hands on your weapons.
Key Features
Big removable steel top shelf
Capacity to hold up to 18 rifles
3-point locking system
Comes with a mounting hardware
#11 Vaultek Slider Series Rugged Bluetooth Smart Handgun Safe
Safely holding your pistols inside a gun safe has never been cooler. Ever since 2016, technology has evolved, making room for better gun vaults.
This product implemented modern technology within its design to improve its safety and make it easier to use overall.
Basically, it has Bluetooth, so you can control it from your smartphone.
The app that gives you access to it lets you see battery levels, as well as unlock the safe when you're in range and check for tampering.
It can be mounted on a nightstand or desk, or anywhere else where it can be easily available at all times.
You also don't have to worry about taking ages until you get to use the gun inside – thanks to its rapid deployment, you will gain quick access to the firearm.
For its advanced technology, it's certainly one of the best gun safes under $600.
Key Features
Smart safe technology
Rechargeable Lithium-Ion battery
Has a mounting plate
Three-point precision rail system for rapid deployment
Fingerprint reader
#12 SnapSafe Under Bed Safe 75400
Safety is your biggest concern, and it only makes sense that you want an easy to access place for your gun if someone enters your property with bad intentions.
It has traditional key entry, but digital access too. You can use a 3 to 8-digit access code when you have to unlock the door.
Not only that you can use it in your house, but also inside the vehicle when traveling or just going to work.
This makes it the best portable gun safe. It's not hard to install, and it's an amazing way to keep the dangerous handgun from your kids.
If you want to permanently install it somewhere, the gun safe is already provided with pre-drilled holes to ease your job.
Key Features
Easy to install
It can be used for firearms, documents, jewelry and many others
Digital and traditional security access
Made of 14-gauge heavy-duty steel
Can be used under furniture or in your car
Pre-drilled holes for permanent installation
Why Should You Own A Gun Safe?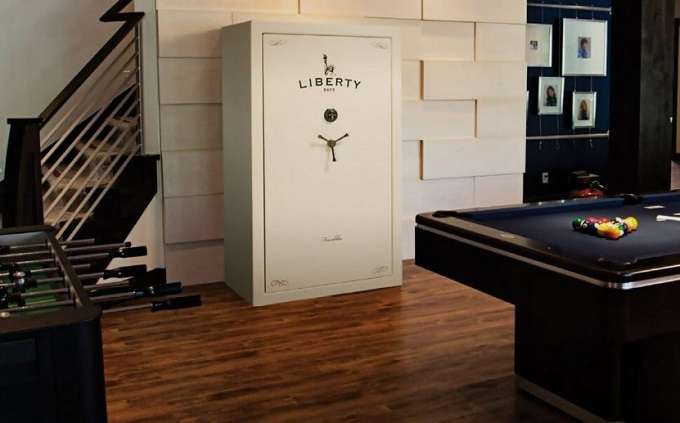 There are multiple reasons why you should purchase the best pistol gun safes or any other safe for that matter.
There are a few that stand above the others, though.
If you're a parent, for instance, you must know the curious nature of children. They will walk around, pick up everything they find, and start playing with the items.
Children are normally curious about everything, so even if you explain thedangers of guns to a very young kid, he/she will still want to take a closer look.
This is why there are so many cases where children are killed as a result.
When buying a safe, try to look for gun safes that are on sale. You will save some bucks and make sure your children and family are far from any danger.
They will prohibit your kids or other family members to gain access to the firearm, thus preventing a potential tragedy or defend your household from potential attacks or robberies.
NEVER COMPROMISE ON YOUR FAMILIES SAFETY IN ORDER TO SAFE FEW DOLLARS – WHEN IT COMES TO THIS, MAKE SURE YOU ARE BUYING QUALITY ITEMS, EVEN IF IT COST A LITTLE EXTRA.
Another reason why you should own a gun safe is to protect your weapons from being stolen.
Many times, when burglars enter a home and find a gun, they see it as an opportunity to protect themselves in case the house owner shows up.
Considering the gun should be used in your favor and not against you, it should be kept safely to prevent unscrupulous hands from reaching them.
Gun safes come with all kinds of locking systems that will offer access to one or a few
specific people only, thus preventing a bad scenario from occurring.
Also, let's not forget that water and fire damage to a house may end up destroying everything, and if you have no safe place for your firearm, it will be destroyed too.
So, make sure to get the best gun safes with a great fire rating. These can keep your weapons away from any fire damage.
In addition, don't forget to keep your ammo safe and organized. We have reviewed all the best ammo storage containers and cans.
Am I Legally Required To Lock My Guns Up?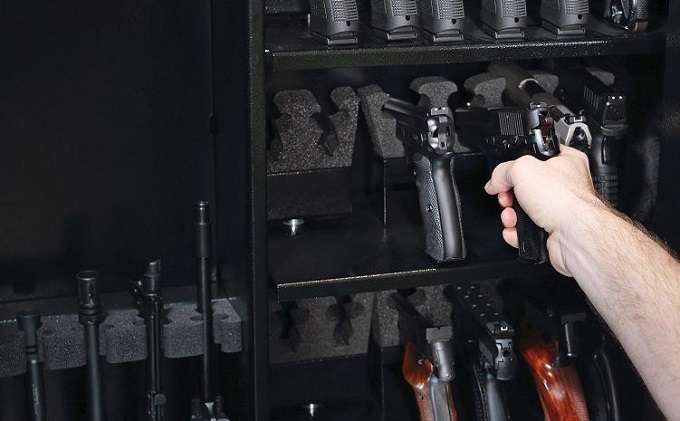 Whether you have to legally lock your guns up or not depends on the state you live in.
Not all states have this as a requirement, but apparently, a big percentage of houses with guns don't have them stored in safe, locked locations.
This might be dangerous for the house owner if the firearms end up in the wrong hands.
In Massachusetts, for example, you are required to keep your guns in a safe place inside the house, somewhere locked.
There are other states such as Connecticut and California that enforce this requirement in some cases.
Nevertheless, a lot of states don't necessarily require this.
Regardless of the law, it's wiser to lock up your guns so you can make sure they are safe, and everyone else in your household will be away from danger.
You can read more about the laws here.
How Much Should You Spend?
How much you should spend on a gun safe depends on your budget, but that doesn't mean you have to go with the cheapest one you find either.
Basically, when you buy a gun safe, you invest in your safety.
You should be willing to spend money to make sure your safety is always ensured, so expect to give away quite some cash, depending on how many guns you own.
Having said that, make sure you don't settle for the cheapest option on the market.
Many times, these are not sturdy enough to resist damage, and might not properly protect
your firearms from fire damage either.
Moreover, very cheap safes might have very low-quality locks, so your attempt to protect the gun will be in vain.
There are amazing gun safes that start from $200 and grow in price depending on the capacity, durability, technology, security lock, and size.
Ideally, you should refrain from going for the cheapest one, but there's no need to choose the priciest option on the market either.
Many expensive gun safes are often unable to offer the same quality as cheaper ones.
Choose one with a decent price and spend money according to your needs and the number of weapons in your possession.
You might be surprised when you see that the best gun safe under $500 could work better than a $1000 item.
What Are The Best Safes To Buy?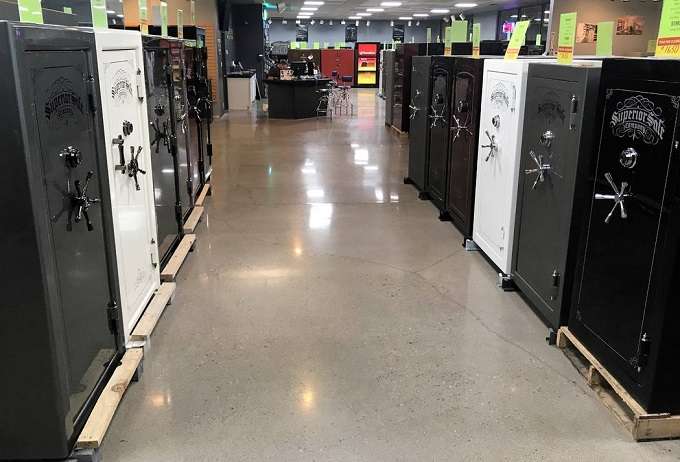 You must, of course, look for the best deals on gun safes so that you buy one with a decent price that represents the quality of the product.
The cheapest gun safes may offer little protection and are quick to be destroyed during a fire, so don't even consider them.
In addition, the best-rated gun safes are also the ones you should be looking towards.
Believe it or not, ratings can come in handy when you want to purchase something, so take a look over them before deciding on the right product.
Things To Consider
Size
The size of the gun safe should always be suited to your own personal needs and the guns that you own.
Whether you own a large number of guns or you have a nice collection of rifles, the safe should always have enough space for all the weapons in your possession.
Ideally, the gun safes for pistols should at least be able to shelter two firearms inside, so ammunition can be stored in the same place too.
Many gun safes have a special place for ammunition, but if they don't have that, then your safe should be decent-sized to fit everything you need.
Moreover, it shouldn't be too big if you need to store a handgun, as it will have to be
either mounted or kept close to you in the event a burglar enters your house.
If you own any rifles, then bigger gun safes are the way to go about it. Since they are usually
very long, they won't fit unless they have a space big enough to keep them.
Weight
The weight will depend on the thickness of the gun safe and the size.
As expected, if you have a large safe and the steel is very thick and sturdy, then you should expect it to be quite heavy.
Still, a lightweight product should be your choice if you need a portable gun safe to carry in your car or in your backpack.
So, if you're more likely to use it for the latter option, then choose one that is not too heavy.
Capacity
How many guns do you own?
How many more do you plan to buy in the near future?
These are the two questions you should ask yourself before you venture into the market.
You probably want to keep all of them in the same place so it's easier to find the one you need when the situation asks for it.
Therefore, ensure
that the one you will purchase has enough room to keep the number of firearms
in your possession.
Accessibility
Locking your gun away is the right thing you must do to protect it.
But if you hide it in such a way that you can't reach it in your moments of need, it's useless.
When someone breaks into your house, you must get in control of your weapon as soon as possible, or the tables might turn in your disadvantage.
What Is The Best Quick Access Pistol Safe?
A quick access gun safe should be easy to store. Also, it must be kept wherever you spend your time the most and should have a locking system that opens the door quickly.
We would recommend going for GunVault SV500.
Steel Gauging
Steel gauging represents the thickness of the gun safe.
While the lock has to do a great job at not allowing intruders to stick their nose inside, the material it's made of should be sturdy enough to resist any kind of damage.
If someone wants to steal your guns but they can't open the door, they may get to the next option – breaking the gun safe.
If you don't want your safe to be opened with a hammer, get one with thick and sturdy metal frames.
How Thick Should A Gun Safe Be?
Your acquisition should have a minimum of 10, but the perfect gauging should be between 8 and 6.
Safes with gauging between 16 and 20 are usually the easiest to break, so
they're a no-no.
Thick Door
The door should be thick enough to resist any kind of damage.
Moreover, it should lock the safe in such a way that fire won't get to what's inside, something which is hardly achievable if the door is too thin.
Just like the walls, it should have a minimum gauging of 10 and very solid inner and outer steel.
The Bolts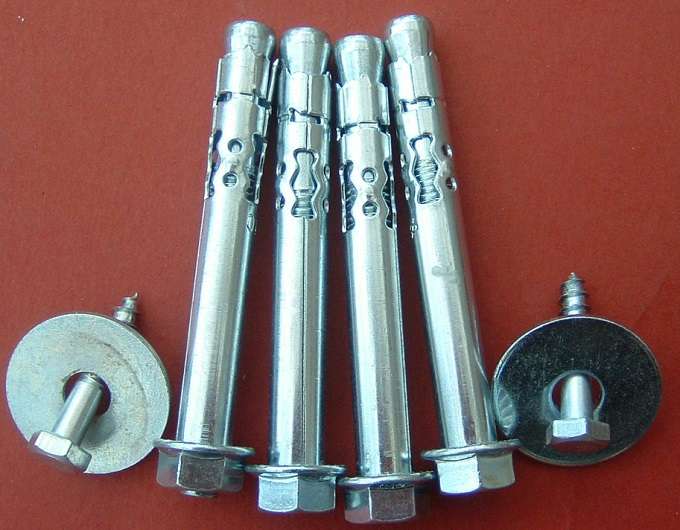 Bolts are what make the safe almost impossible to open, so it's recommended to look for a gun safe with a bigger number of bolts.
This will make your vault much safer, especially if the bolts are thick.
Locking Mechanism
Safety is the biggest quality of these items and the reason why you purchase them in the first place.
Because of that, you should pay attention to the locking mechanism.
It's important to have one that successfully keeps your children away from what's inside and is not easy to unlock by an unauthorized person.
You will find safes with many types of locks, varying from key codes to fingerprint
recognition or voice activation.
So, choose a gun safe that will only let itself opened by you or someone you trust.
Mounting And Anchors
Sometimes, safe manufacturers will offer a mounting kit with the unit, so you can bolt it to the floor if that's what you want.
Expanding anchor bolts should be included in the kit if you wish to mount it to a concrete floor.
Moreover, the gun vault should come with pre-drilled holes to ensure you are able to mount it.
Therefore, look for a gun safe that also includes a mounting kit. It will save you the trouble of having to purchase it separately.
Alarms
Do you want to add some extra security to your gun safe?
The measures already taken to keep your guns safe inside the cabinet might fail, so then you need something as a last resort.
Newer gun safes can come with an alarm that will send you a notification on your app if the gun safe is moved from its location or opened. It's a great feature for extra safety.
Failsafe Locking
Failsafe locking is a handy feature that will add an extra layer of protection in case a burglar will want to put his hands on your belongings.
If the wrong code is entered multiple times, the safe will fully lock up, giving the thief an even harder time.
Battery-Powered
The battery power is extremely important, especially if your gun safe is high-tech.
The more features it has, the more battery it might consume.
So, it should have a high-quality battery that is rechargeable and will last long enough to offer protection 24/7.
Maximum Protection
In essence, a gun safe must offer full protection against burglary and fire damage.
That being said, it needs to resist any kind of damage from outside, being able to protect what's inside no matter what. So, look for a strong gun safe which will never fail you.
The RSC Rating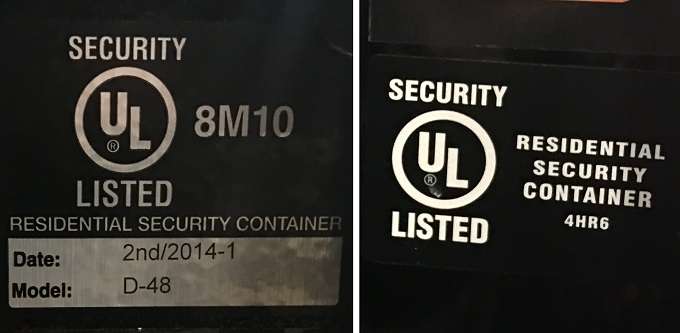 In some states, you should only own a gun safe that has the right RSC, or Residential Security Container Rating.
Basically, UL 1037 RSC is the standard rating for anti-theft gun safes. There are also the UL class 350 rates for ½ hour, 1 hour or 2 hours.
This means the device is protected against fire damage and can maintain a 350-degree temperature inside for ½ hour, 1 hour or 2 hours, depending on the rating.
Sadly, cheaper gun safes don't have the best RSC, which is one of the reasons why you should look into one with a more decent price and higher rating.
The price is a good indicator that the RSC is high, and the vault can withstand fire for longer periods.
What Is The Best Fireproof Gun Safe?
The gun safe must be able to maintain the temperature inside below 350 degrees for at least one hour.
It must have a thick and sturdy construction that doesn't allow the fire to take control. Gun vaults with good steel gauging and RSC rating are the best for resisting fire.
We recommend Amsec BF7240. It can withstand fire for 90 minutes.
What Are The Best Gun Safes On The Market?
It is usually the one with sturdy construction – it must be very thick and able to withstand high temperatures during a fire.
Usually, such safes also come with a big number of bolts, which go from the door towards the wall of the vault, keeping the door closed.
Furthermore, these gun safes have a reliable locking mechanism with alarms in case of intruders and failsafe locking in case someone is trying to guess the security code.
Usually, they also come from the best gun safe manufacturer, such as:
American Security
Stack-On
Fort Knox Inc.
Winchester Safes
Browning
Types Of Gun Safes
Gun safes are available in multiple types.
As someone who's in the possession of a dangerous item, it's your job to protect it, and the best way to do that is by purchasing the right type of container.
Here are the types to look for:
Long-Gun Safes
If you own one or more rifles, you need gun safes that have enough space to hold them.
Fortunately, there are vaults specially created for this purpose – they are tall and able to store more long guns.
Handgun Safes
Handguns are meant for protection for the most part, so they are rather small. As such, handgun safes are smaller too and can be stored much easier.
Some of them can also be taken in the car or in a backpack.
Multi-Use Gun Safes
Some gun safes can be used to store more than just the gun.
You can keep jewelry, money or important documents inside. In addition, they can differ in size and can be mounted in various places.
Should I Choose Electronic Or Mechanical Locks?
The type of lock you choose will depend on personal preference. Both of them are efficient in their own ways, so there's no wrong answer to this question at all.
Mechanical locks have been used for a very long time and work by dialing a code.
Electronic ones come with the option to enter your code through a keypad, and the door locks itself once you close it.
Both methods are very reliable, so it really comes down to your preference.
Gun Safe Laws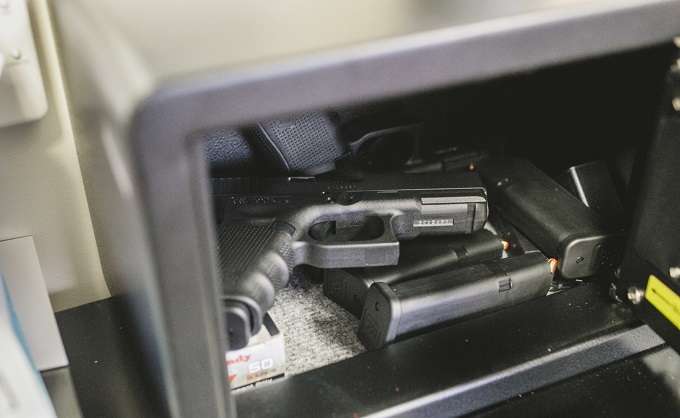 Before you purchase any American made the gun safe, make sure you know the laws you need to be aware of:
A gun safe must have at least three steel locking bolts with a thickness of at least
½-inch and must be secured by the lock and operated by a separate handle.
The locking system of a gun safe must have at least an electronic or mechanical
combination lock.
The available combinations for the lock should be in a number of at least 10,000.
There should be door hinges so the door cannot be removed.
Any gun safe should be certified to/listed as meeting the rating standards of
Underwriters Laboratories Residential Security Container by an NRTL.
Gun safes should be able to be used repeatedly.
FAQ
1. What Does The Fire Rating Mean?
If a gun safe has a fire rating, it means that it has been tested to see if it can keep your belongings safe in case of fire.
The rating is assigned based on how long a safe is able to resist. Usually, all tests try to keep the internal resistance temperature lower than 350 degrees.
2. Do Gun Safes Need Dehumidifiers?
A gun safe will need a dehumidifier if you don't use it too frequently.
In this case, if you live in a more humid area, not opening the vault might cause it to get humid and affect the contents.
On the other hand, if you open if frequently, the safe gets fresh air, so dehumidifiers may not be necessary.
3. What Is The Best Place To Place A Gun Safe?
The best place for a gun safe depends on your situation, as well as the size and weight of the
vault and the climate.
Normally, if you use it to store self-defense weaponry, then it should be placed in the room where you spend most of your time or your bedroom.
However, a gun safe that protects your long rifles should be kept inside a closet. You must also bolt it to the floor.
Another great place is the basement because it prevents your guns from being stolen.
4. How Do You Clean And Service Your Safe?
At least once a month, you should wipe the dust off the gun safe and use a soft cloth that
won't scratch it.
You should also consider lubricating the screw chrome with grease at least every year to prevent it from sticking.
Make sure you don't apply any moisture, though, because this could damage the contents in the long run. Purchase dehumidifiers in case you live in an area with a humid climate.
5. Can A Gun Safe Be Kept In The Garage?
A garage is not always the best place to store a gun safe because it's not only humid, but the
door can easily be broken by a thief.
Also, the tools inside the garage may be used to break the vault, so it's certainly a no-no.
6. What Is The Safest Gun Safe?
The safest gunmsafe is the one that has a thick steel construction that doesn't allow any hits
or other damage to break it.
Moreover, it must have a large number of thick bolts, an effective locking system, and an alarm that notifies you if someone moves it or opens it.
A good RSC rating is another characteristic because it shows the ability of the vault to resist fire.
7. Are Gun Safes Waterproof?
Not really. While many manufacturers claim that their products are waterproof, the components of the safes are mostly made to resist fire.
As such, a vault won't be fully safe from water unless you seal it completely yourself.
The Bottom Line
If you made it to the bottom of this article! Congratulations!
Now, you should be able to make a decision based on all the details and tips you've learned.
Here are our suggestions:
If you want to view more options, check out gun safes on Amazon
You Might Also Like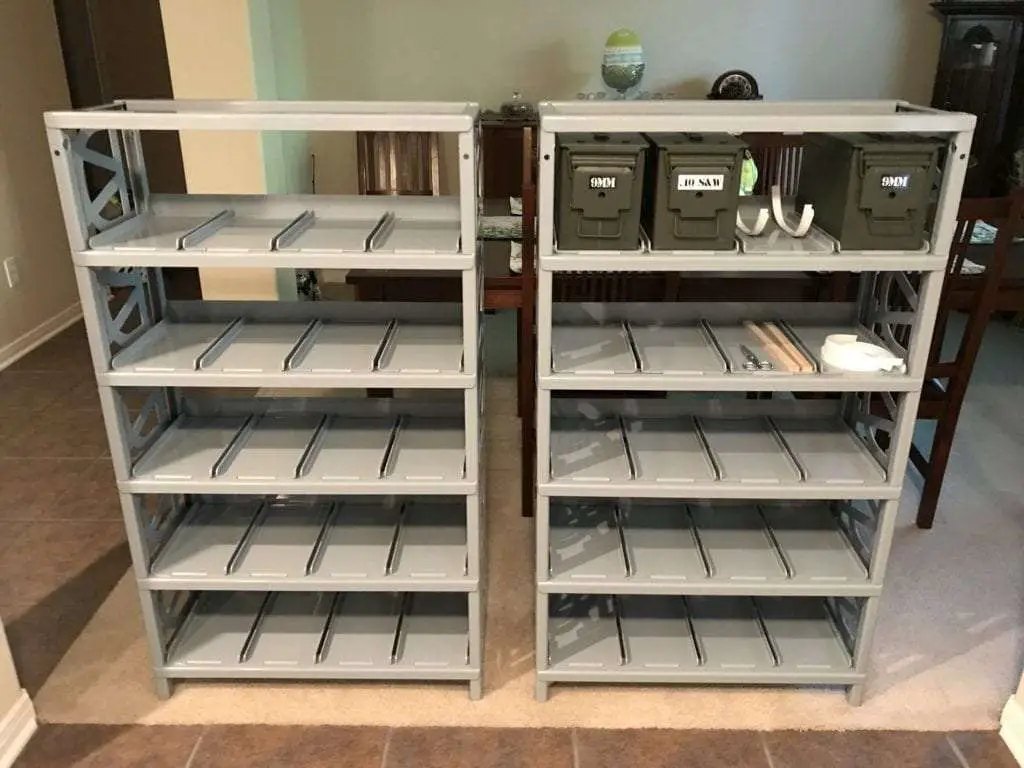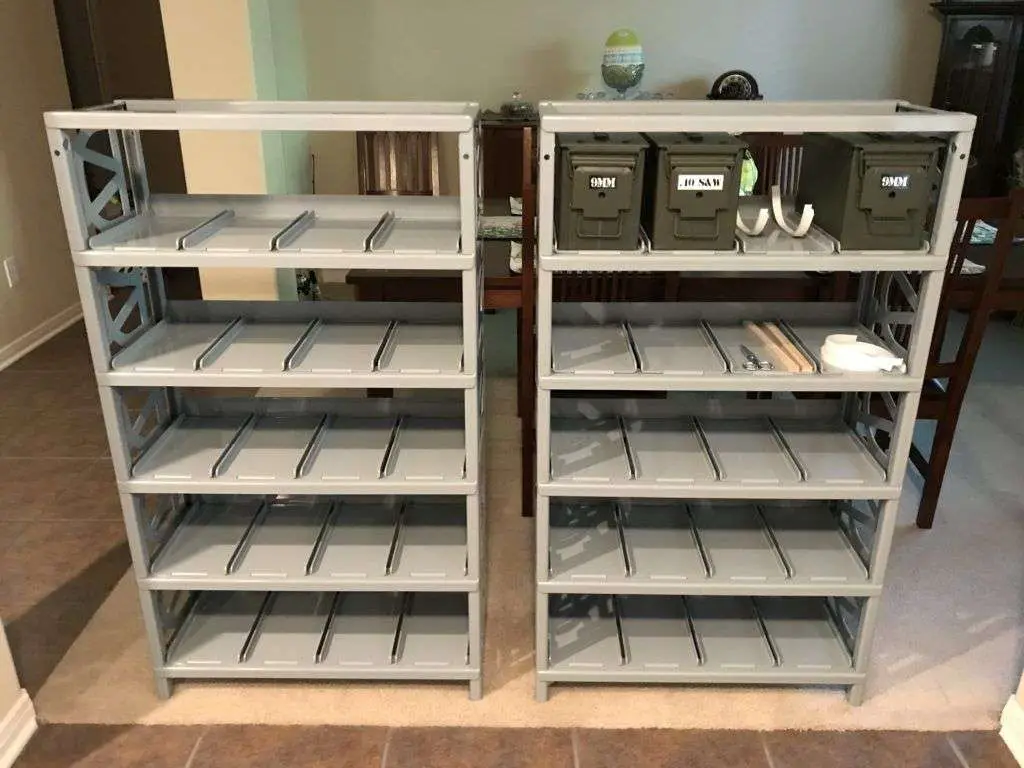 Last update on 2023-09-30 / Images from Amazon Product API