Best Overall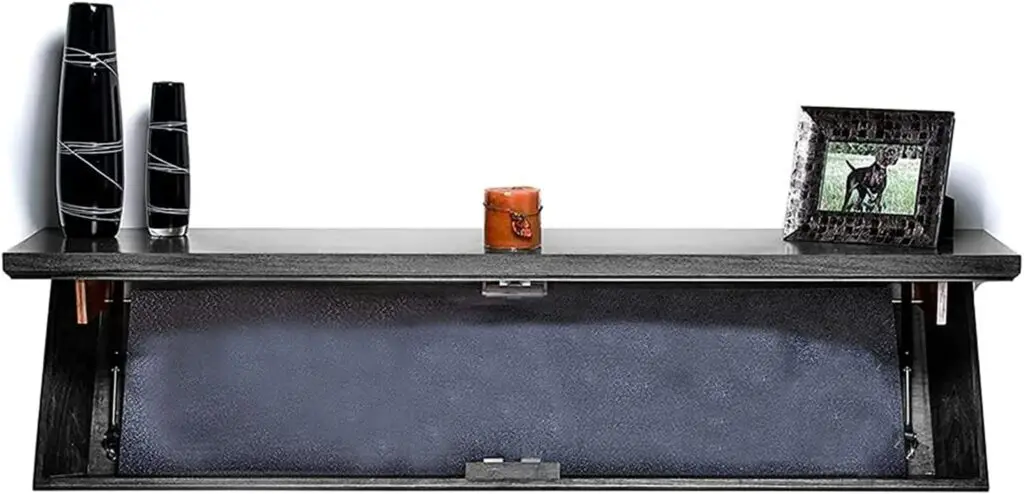 Tactical Traps Freedom 52R Concealment Shelf
Multi-functional shelf that comes in different finishes.
Value: 9/10
Performance: 9/10
Cost: 9/10
Check Price
Best Budget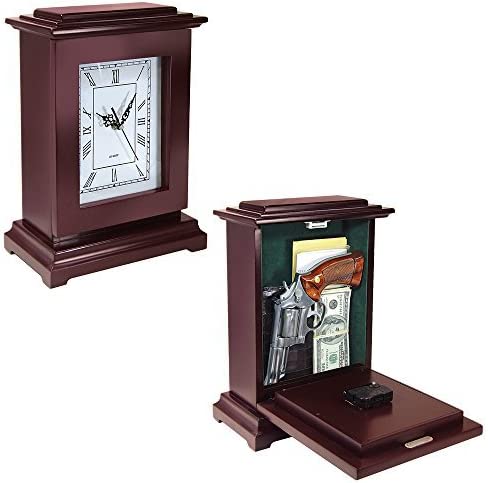 PeaceKeeper Tall Rectangular Working Clock Gun Concealment Diversion Safe
The most affordable hidden gun storage!
Value: 9.5/10
Performance: 8/10
Cost: 9.5/10
Check Price
Best In-Ground Safe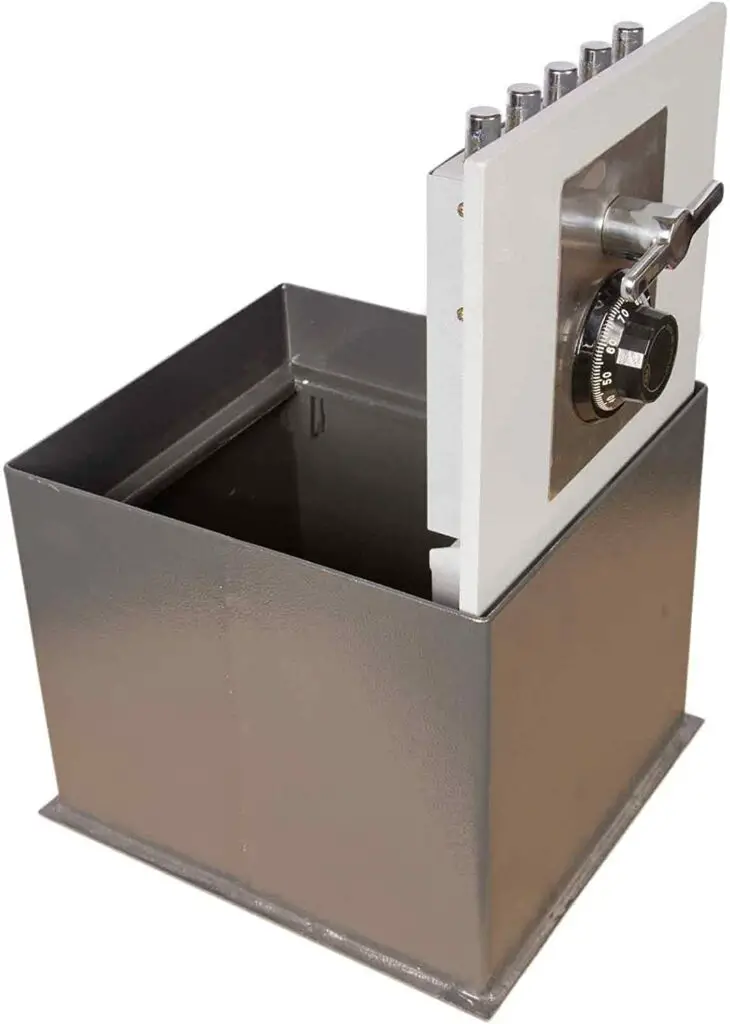 Hollon B1500 In-Floor Safe
This in-ground safe will outlive you!
Value: 8/10
Performance: 9/10
Cost: 7/10
Check Price
Want to go incognito with your gun safe? These hidden gun storage ideas will give you quick access to your firearm while hiding them in plain sight! 
And if you're looking for DIY options, be sure to scroll all the way down to our suggestions for homemade storage.
Table of Contents
But first we'll show you how we came up with our picks for the coolest (and the most effective) secret gun storage concepts. 
Concealment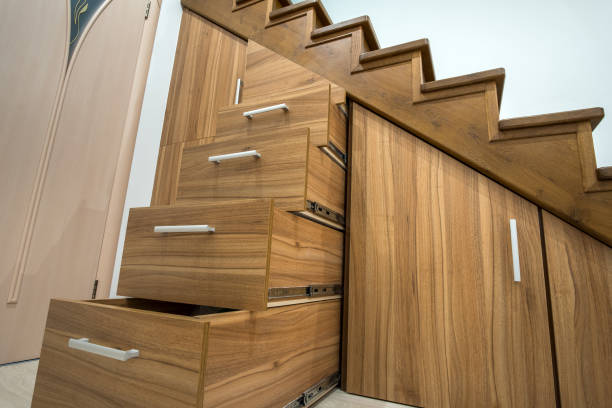 The main purpose of having a secret hidden gun storage is, well, hiding it. To achieve that, store your gun somewhere that crooks will least suspect, such as a concealment shelf or pieces of furniture with hidden compartments.
Material Quality
Even if your gun safe is in the best hiding place, it still needs to be well-built and impact-resistant to hold up to years of use. Choose a safe that's not only well-hidden but can also stand the test of time.
Size and Capacity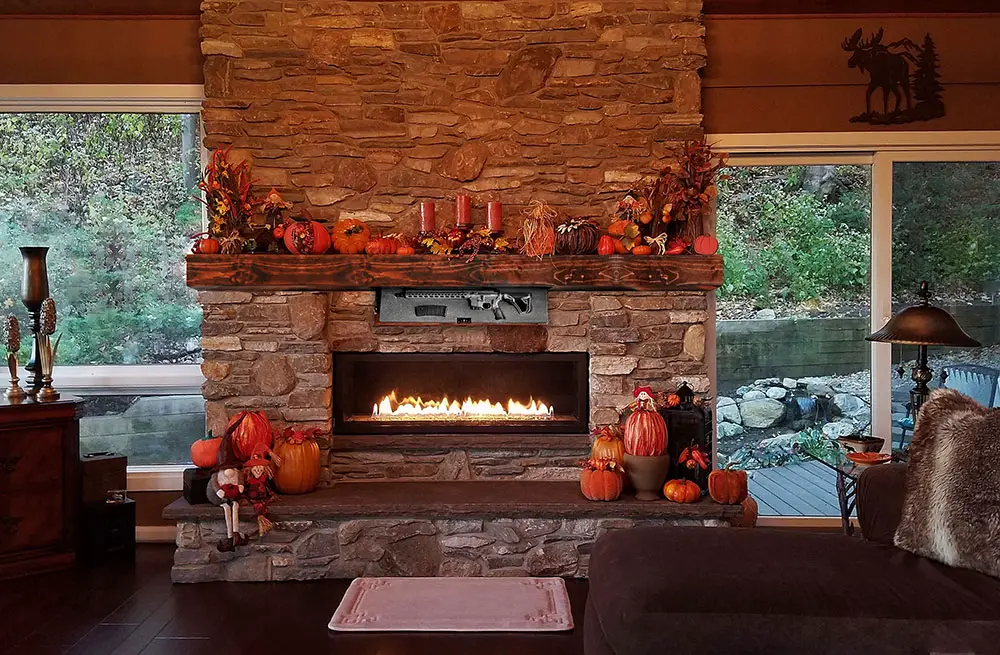 Most hidden gun storages offer limited space since a bulky design defeats its purpose, so don't expect large capacity.
If you're looking for a hidden gun storage that can accommodate multiple firearms, you'd love our pick from SecureIt. Check out the full review below.
Safety Features
Last but not least, what good is a secret hidden gun storage if it can be tampered with easily? We keep our guns in safes not only for quick home defense access but also to prevent unauthorized access. Whether you want a biometric, a mechanical, or an RFID lock, all our picks below offer those plus the coolest disguises!
The top spot goes to this concealment shelf by Tactical Traps. It looks like an ordinary (but nicely finished) piece of furniture but it actually comes with a hidden compartment.
The Tactical Traps Freedom 52R concealment shelf is available in ebony, cherry, dark walnut, and other finishes so you can choose the color to match your other furniture or your walls. 
It can hold a rifle and a handgun plus magazines and has a 1-inch thick foam lining to protect your weapons. It features an RFID locking system, giving you swift access to your guns when needed.
Pros
Sturdy
RFID locking system
Reasonable price
Classy design
What Customers Say
Love this shelf the ease of use and sturdiness when mounted is great! The color is what I expected.

NEFam
This shelf is amazing and classy, I love how it's a shelf and a hidden gun safe. This was a great buy and my husband loves it.

Eva Parker
Best Budget: PeaceKeeper Clock Gun Concealment Diversion Safe
Who would think that your home defense gun is hidden inside your fancy clock? Absolutely no one!
That's what makes the PeaceKeeper diversion safe and cost-efficient! It's a battery-operated clock with a spacious interior for one handgun. However, it only comes with a magnetic door instead of a locking mechanism. So, it's not a great choice for a house that will have children or those who are untrained around.
Pros
Very affordable
Solid build
Great concealment
What Customers Say
Solid construction. Great functional clock. Sits very sturdy and the magnet holds very well but not too much where it's difficult to open. Overall I'm very pleased with this purchase.

Calichef80
This is better than I expected. Real wood, felt lined, plenty of room, strong magnet , fast access. It doesn't have a lock but I wouldn't lock it if it did. That defeats the purpose. Very well made and I am totally impressed with it. Worth every penny!

Michael Wooten
Best In-Ground Storage: Hollon B1500 In-Floor Safe
Our list won't be complete without an entry for the classic in-ground hideout; and the Hollon B1500 in-floor safe is perfect for this purpose.
It features a ½ inches thick solid steel door with a spring-loaded locking device that's reinforced with a drill-resistant hard plate. The entire safe is powder-coated for long-lasting protection.
What Customers Say
A solid safe for home protection of your personal items. I could have gone cheaper, but I went with quality, and an American small company that actually answers emails. I haven't been disappointed.

J. Newell
This is a great safe, our contractor said it is one of the best in ground safes that he has installed. Great value..!

Cerise
The SecureIt Fast Box hidden gun safe comes with a modular design so you can easily customize it to fit either two long guns or one long gun, a handgun, and accessories. It's constructed from solid steel and weighs 33 pounds.
It features a digital keypad that provides easy access but prevents unauthorized access as well. It also comes with a hidden mechanical key that serves as backup for when the batteries run out.
Pros
Slim design
Large capacity
Offers easy access
Lightweight for its size
Cons
Expensive
Difficult to install
What Customers Say
Great vault. I've had mine for a couple of years. Quick easy access. I use the vertical kit. It is bolted to the wall behind my bedroom door, almost invisible to anyone just looking in.

Wade Barrineau
I bought this for a behind the seat gun case for my 2018 F-150. No one makes a case for this purpose. This case is perfect, I can still move my seat completely back without hitting the case it is easily accessible.

Rob
Best for Under-the-Bed Storage: GunVault SV500 SpeedVault
Aside from its affordability, the GunVault handgun safe is slim enough to slide into any narrow space so it's easy to hide.
The SpeedVault is packed with features. It's mountable, has a protective foam liner, a solid locking mechanism, and comes with audio/LED low battery warning, interior courtesy light, and tamper indicator. computer black access after repeated invalid entries and backup override key included.
Pros
Very affordable
Easy to install
Provides quick access
What Customers Say
I have 3 gun vaults in my home and they all [perform] excellent. I have had the first two for over 10 years. Still work like new.

Amazon Customer
Heavy duty gun safe. Good instructions make it simple to mount. Comes with all necessary hardware. Very easy access to my gun.

Char Bink
If you're looking to avoid purchasing and are handy with tools, building your own hidden gun storage will be a no-brainer. Here are two of our favorites:
This project will maximize the space under your stairs. It also provides extra storage for other stuff aside from your gun. Here's the how-to video:
You would just need to consider what sort of lock or tamper-prevention to add to keep others safe in your home.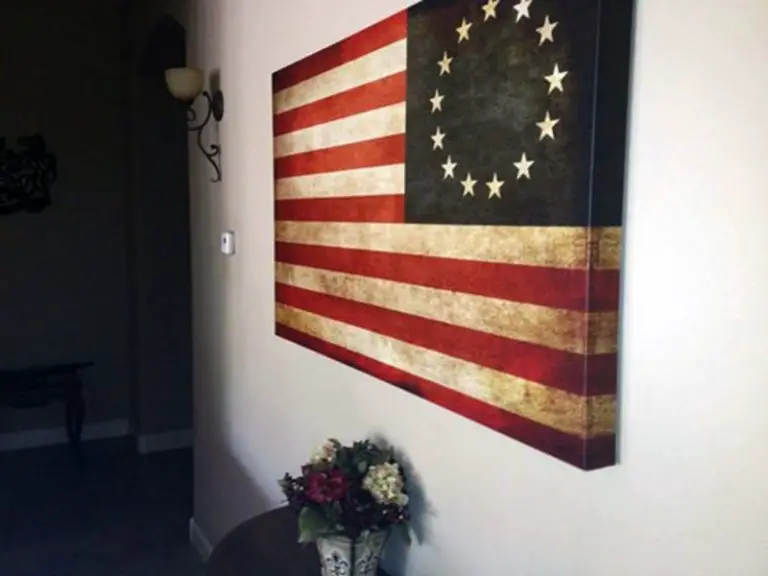 Yes, you read that right, you can turn your favorite picture frame into a secret gun hiding spot! With this gun storage method, you can hide all types of firearms, you just need the right frame size. To make your own, follow the steps at DIY Projects.
The only change I would consider is some type of alarm or safety when others have access to your home that aren't familiar with how to safely handle firearms!
Conclusion
That's it! We hope you had as much fun as we have going over our favorite secret hidden gun storages. Now that you can safely keep a gun at home, start looking for a car gun safe so you can bring your firearm anywhere and keep it secured.
Last update on 2023-11-12 / Images from Amazon Product API