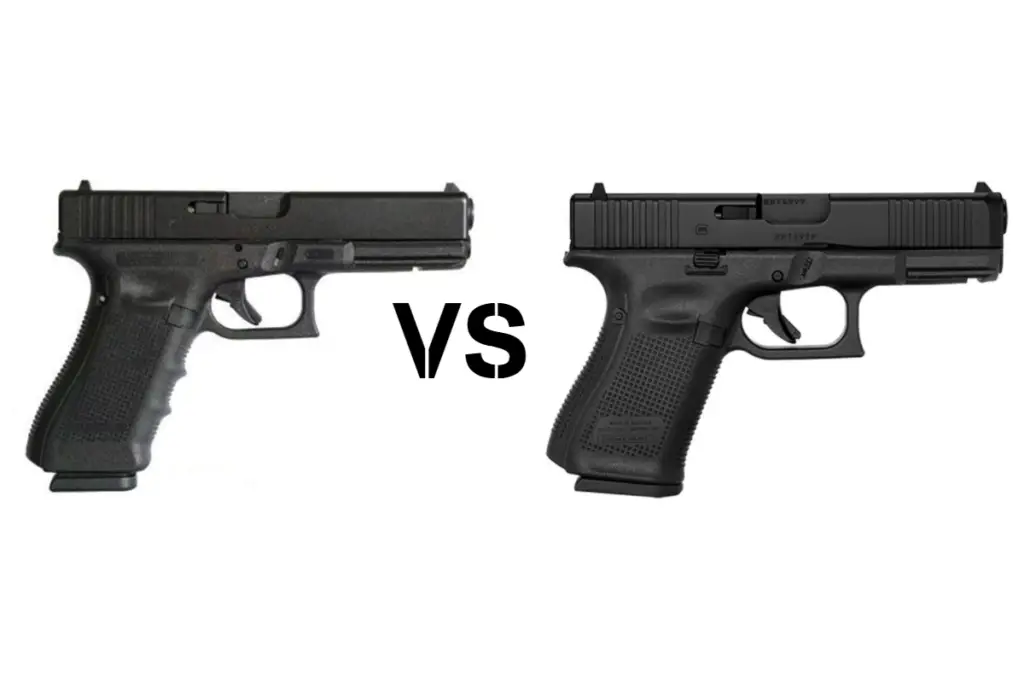 | Features | Glock 22 | Glock 23 |
| --- | --- | --- |
| Overall Length | 7.32″ | 6.85″ |
| Barrel Length | 4.49″ | 4.02″ |
| Width | 1.26″ | 1.26″ |
| Weight (loaded) | 34.4 oz | 31.2 oz |
| Magazine Capacity | 15+1 | 12+1 |
| MSRP | $649.99 | $549.99 |
We know why you're here – you're torn between the Glock 22 vs Glock 23 (or you just want to know which one's cooler).
And yes, in this article, we'll settle once and for all if there really is a difference between these two Glocks. Let's get started!
Both the Glock 22 and the Glock 23 are chambered in 40 S&W. Gen5 versions for both guns feature an nDLC finish, a flared magwell for better recoil mitigation, the enhanced Glock Marksman barrel for increased accuracy, and an ambidextrous slide stop lever.
Glock 22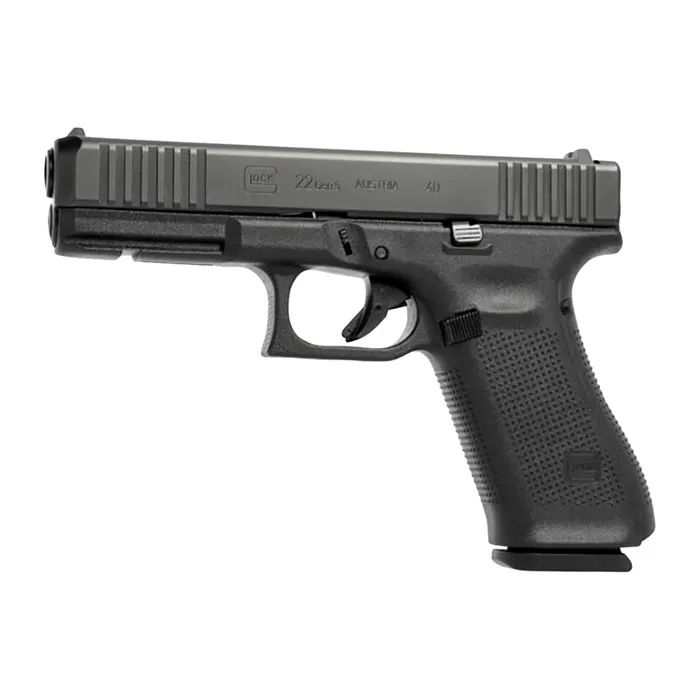 The Glock 22 comes in a Modular Optic System configuration that allows simplified installation of tactical lights and optics. It has an overall length of 8.03 inches. Its size will fit your hand perfectly without having to install the medium or large interchangeable backstrap. It also comes with a dual recoil spring for mitigating recoil and front slide serrations.
Pros
15-round mag capacity
MOS configuration
Cons
Not easily concealable
Heavier by 3 oz.
Costs a bit more
What Customers Say
I love my Glock 22 Gen 3. I've modified the gun a bit and I like the .40 cal cartridge. It's a bit snappy but it still does the job well.

WendzDarKnight08
I love my g4 22 ,I used to have a gen3 Sheriff's department trade I absolutely loved! My glock 40 cal pistols have never had a malfunction even with occasionally dropping in a 357sig barrel, now I've got my eye on a Gen 5 22.

@andyamysarizonaadventures5450
Glock 23
The Glock 23 is like Glock 22's compact version. It has an overall length of 7.36 inches and has a 13-round magazine capacity. Like the Glock 22, the Glock 23 Gen4 also comes with a rail for accessories.
Pros
More compact and concealable (1/2″ less height and length)
Lightweight
More affordable
What Customers Say
Great pistol for the money, with standard Glock reliability 10/10.

Robert A.
Glock solid. Love it. No issues.

Cecil W
Glock 22 vs 23
Concealability (Winner: Glock 23)
The obvious winner for concealability is the Glock 23. Its compact size makes it a popular concealed carry pistol, not to mention its magazine capacity which is more than other models in its class.
Weight (Winner: Glock 23)
The Glock 23 weighs 31.22 ounces when loaded while the Glock 22 weighs 34.39 ounces when loaded. Some may prefer the heavier Glock 22 for recoil management, but Glock 23 also offers reduced recoil because of the dual recoil spring which they both have.
Accuracy (Winner: Tie)
Both pistols are chambered for the 40 S&W cartridge, so they're similarly accurate with very similar site distances and triggers. Both are also really fun to shoot.
Magazine Capacity (Winner: Glock 22)
Its bigger magazine capacity is Glock 22's only advantage over its smaller version. It sports a 15-round mag capacity while the Glock 23's magazine can only hold 13 rounds of ammo. You can get optional 22 round magazines for both guns.
Price (Winner: Glock 23)
You can score the Glock 22 Gen 5 for $649.99, while the Glock 23 Gen 5 costs $599.99. The latter's value for money is mostly why it's a favorite among law enforcement personnel and civilians alike.
Conclusion
Since they're from the same manufacturer, both pistols have widely available aftermarket parts. So that's another feature you can cross off your list. 
That settles it! We hope we helped you choose the better Glock (at least according to your preference).