Our Top Picks
Best Overall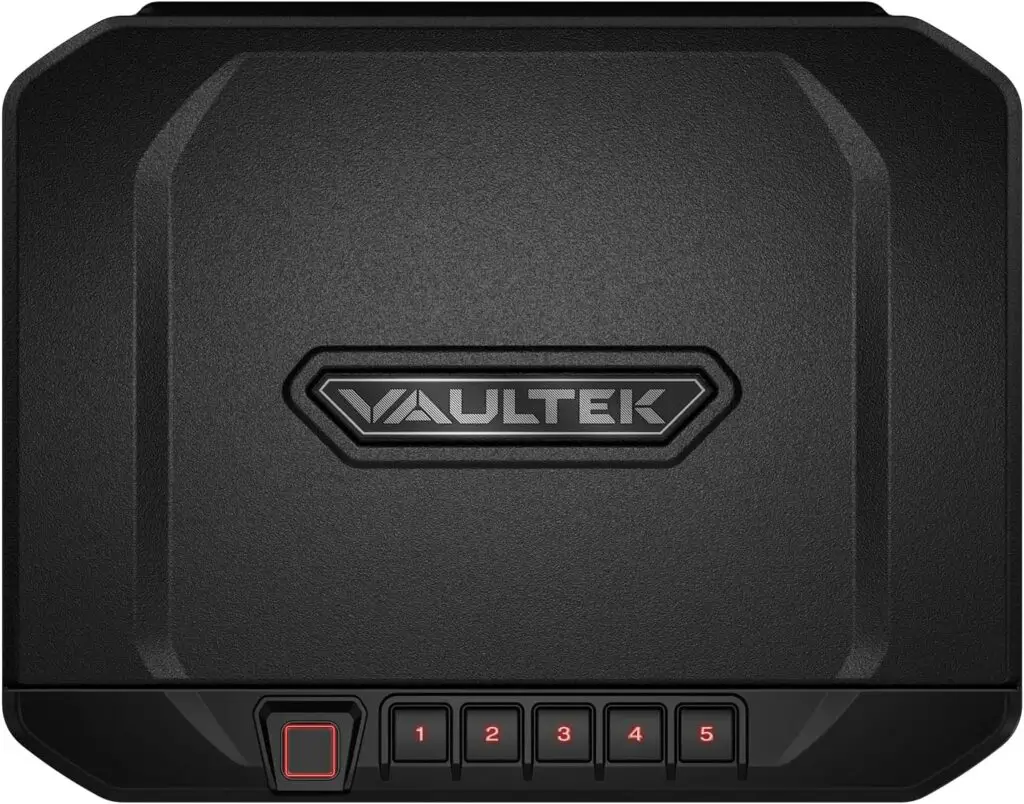 VAULTEK VS20i Biometric Handgun Safe
Sleek design and super responsive biometric funtion.
Value: 9.5/10
Performance: 9.5/10
Cost: 8.5/10
Best Budget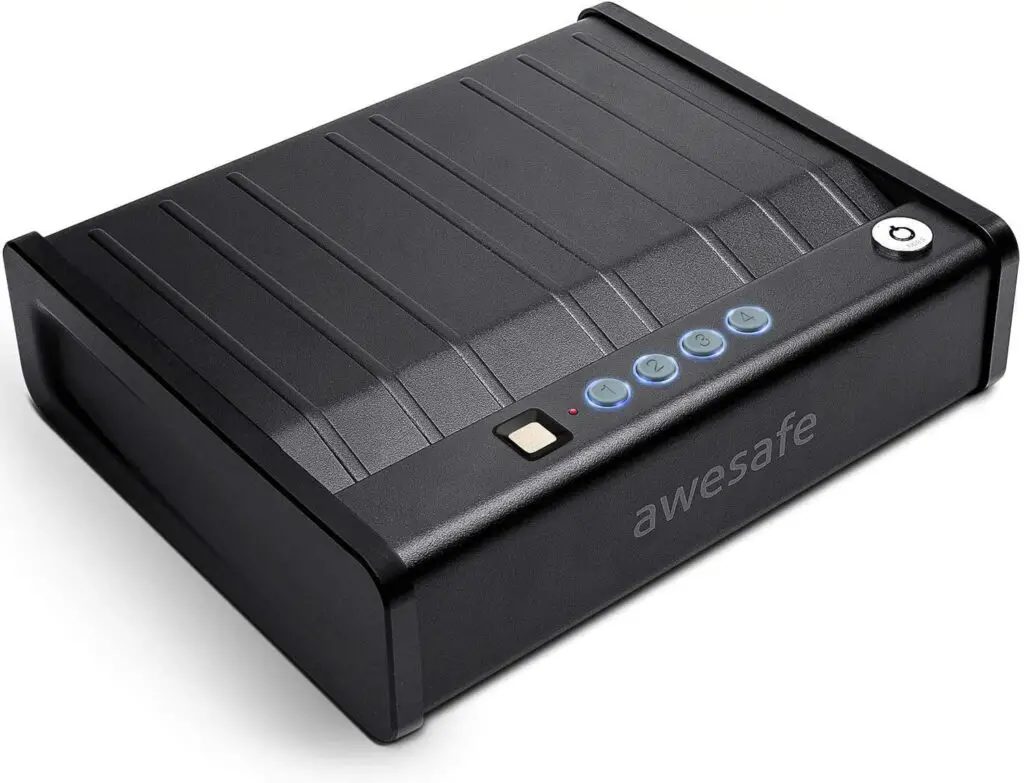 awesafe Gun Safe
This newcomer shows a lot of potential and value for money.
Value: 9/10
Performance: 8/10
Cost: 9/10
Best Heavy Duty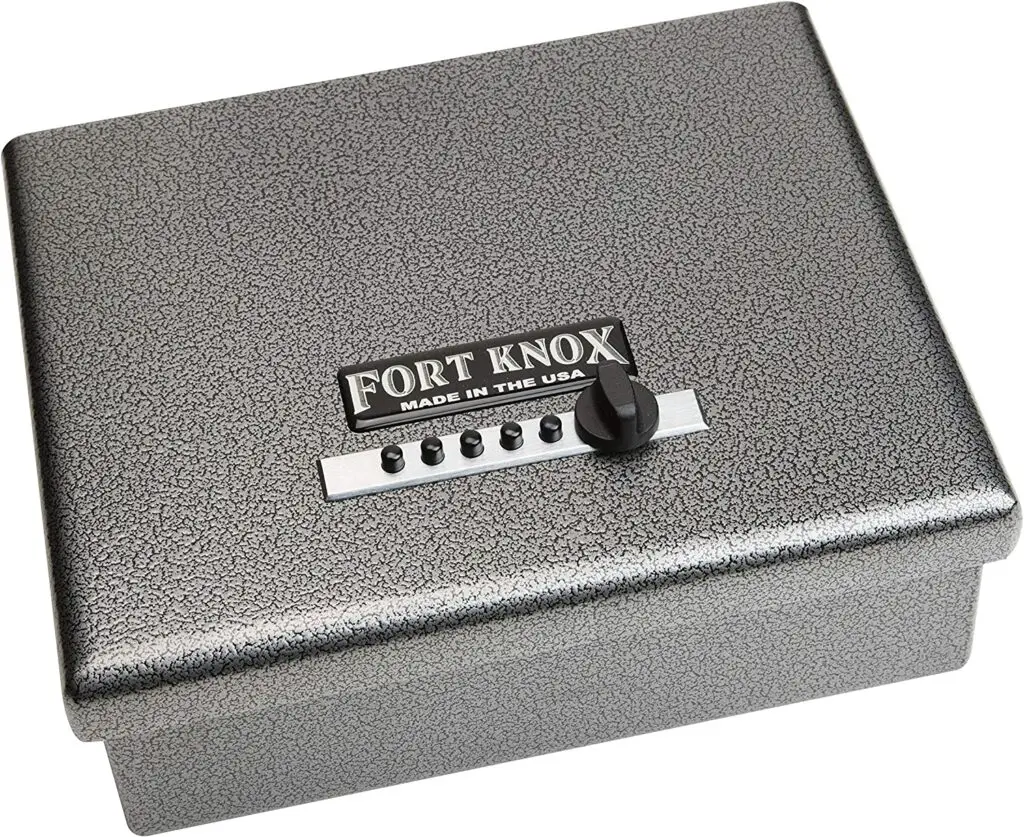 Fort Knox Original Pistol Box
Offers solid construction and tamper-resistant design.
Value: 8/10
Performance: 9/10
Cost: 7.5/10
Check Price
Nothing feels safer than having your home defense gun within arm's reach, especially in the middle of the night. That's just one benefit of having the best bedside gun safe. Read on to find out why you need one, plus a review of our most trusted brands!
Comparison of the Best Bedside Gun Safes
Model
Fort Knox Original Pistol Box (PB1), Security for pistols, handgun,...
GunVault MV1000 Microvault Xl, 3.5"H X 10.25"W X 12"D, Black
Dimensions
12.5 x 10.37 x 4.5 inches
Model
Fort Knox Original Pistol Box (PB1), Security for pistols, handgun,...
Dimensions
12.5 x 10.37 x 4.5 inches
Model
GunVault MV1000 Microvault Xl, 3.5"H X 10.25"W X 12"D, Black
How We Choose + Features to Consider
Security Features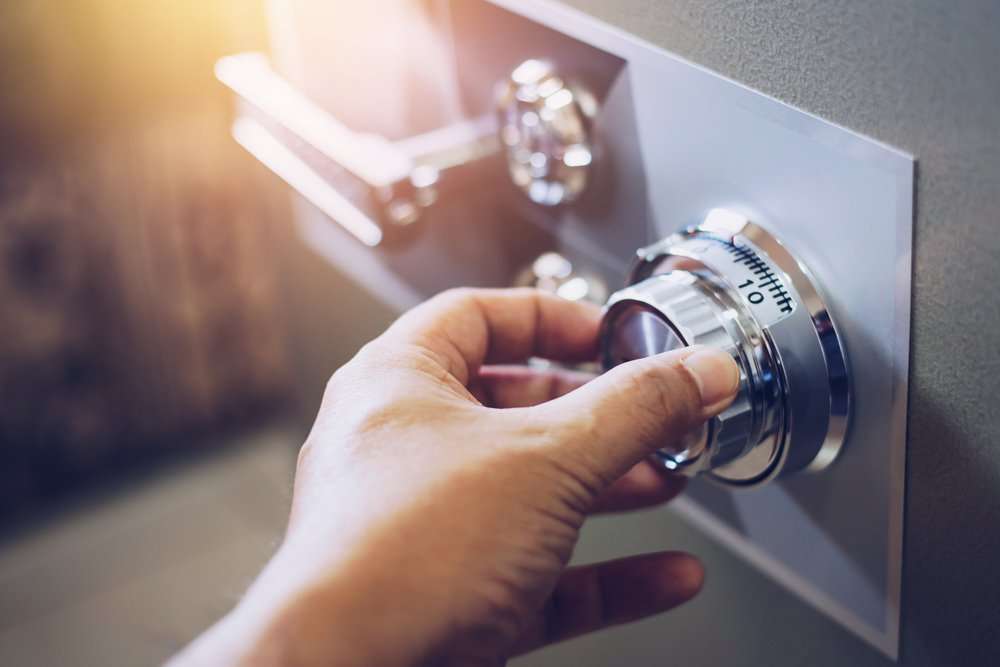 A bedside gun safe (or any gun safe) is worthless if it can be easily tampered with. Don't settle for a gun safe with poor security features just because it's cheap. Investing in a durable gun safe will benefit you in the long run.
Aside from having a responsive locking mechanism (or fingerprint reader for biometric safes), make sure that the safe's build and construction are solid enough to withstand any tampering attempt. A sturdy security cable is also an excellent additional support. 
Size and Weight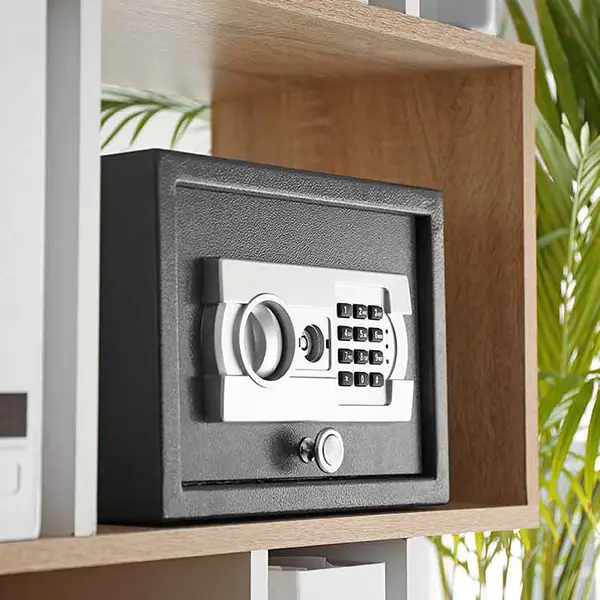 Even if you'd most likely be putting it on your bedside table, you'd want to store your gun in a portable safe for when you want to keep or hide it someplace else (like your cabinet, for example). 
Also, consider the safe's weight if you plan on using it while traveling or if you want to bolt it inside your car's trunk.
Material Quality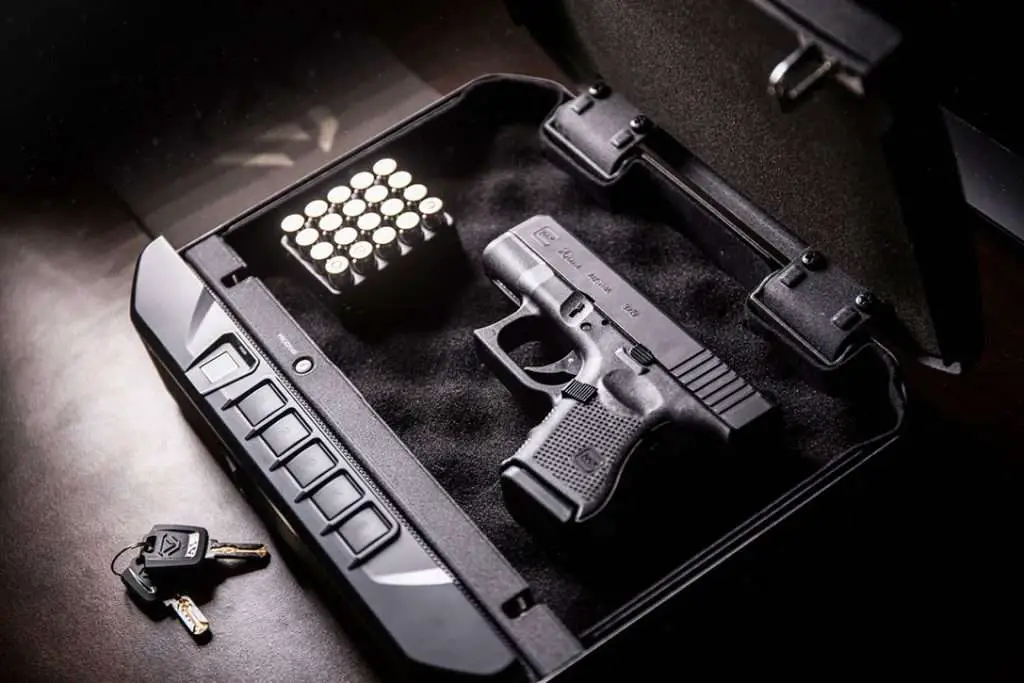 There's no such thing as a tamper-proof safe. But manufacturers made sure that these gun safes are durable enough so "smash-and-grab" thieves don't succeed. They'd need more than a rock to break the safe and steal your valuables. That means they have to spend more time picking your safe's locks or getting tools. And hopefully, you (or your alarm system) would have already called the police within that time frame.
Power Source
Most gun safes today need AA batteries for power. And we have options below that have low power consumption so you don't have to worry about fresh batteries constantly. A backup mechanical key would also be a great bonus for when the batteries run out.
5 Best Bedside Gun Safes
Best Overall: VAULTEK VS20i Biometric Handgun Safe
The Vaultek VT20i gun safe has a long-lasting powder-coat finish that serves as protection from corrosion and external impacts. 
This state-of-the-art safe can be connected to the Vaultek Bluetooth Smartphone App, so you can easily monitor your safe's contents, including its battery status, tamper detection, and interior LED adjustment. All that at the palm of your hand!
The Vaultek Smart Safe is equipped with anti-pry reinforcement bars and dual anti-impact latches for added security, so even the most determined thief can't open it easily.
Pros
Compact
Bluetooth-ready
Comes with anti-theft features
Comes with backup keys
Comes with a security cable
Cons
It's a little heavy
It can only store one handgun
What Customers Say
"Great safe and easy to set up. I like that it has a rechargeable battery (battery and cable included), long battery life (standby up to 6 months), easy setup, multiple ways to enter safe (should one method fail), BLUETOOTH (yeah, there's an App for that!), and updated safety features. Presentation/boxing alone was impressive and Vaultek customer service reached out to ensure my satisfaction a couple of days after I received it. Buying another for the upstairs!"

Amanda C. DePriest
"Bought this safe so I can be ready quickly. It does not disappoint! Very easy to program a 4 to 8 digit code, keys open easily, only reason I gave it 4 stars for the lock feature is I have not yet figured out how to program more than one fingerprint. It says I can but perhaps I need to read the directions more. The fingerprint reader has read my fingerprint every time so far without a problem. Opens every time."

Michael Kandolf
Best Budget: awesafe Gun Safe
The awesafe gun safe can accommodate two standard-sized handguns. It features solid steel construction, a locking mechanism that can't get tampered with easily, and a pry-resistant door, just the way we like our gun safe. This isn't a well-known brand, but you get a bit of a discount since it's an upstart.
This affordable safe also comes with LED lighting and a gas strut that guarantees silent but quick access to your gun. The awesafe gun safe's size is perfect for your bedside table or under your car seat.
Pros
Affordable
Comes with a backup numeric keypad and physical key
Responsive fingerprint scanner
What Customers Say
"Got this gift for my dad, his reply "Excellent product that safely stores a gun, and more importantly allows for quick access if needed. Highly recommend for safety, and convenience. Very portable, can travel with product, in car or luggage."

Megan O'Connor
"We thought the fingerprint thing didn't work. Until we read the book of instructions better. You hit the button inside, press #2 then scan your finger, lift and scan your finger a SECOND time . You then get 3 flashing green lights. That sets that specific finger to open the safe. It is still in factory mode until you do it this way and anyone can open the safe."

Holly
Best Heavy Duty: Fort Knox Original Pistol Box
Fort Knox produces some of the most solid gun safes today, one of which is the Original Pistol Box. 
It's built with solid 10-gauge steel and is designed to be tamper-proof. Its heavyweight 3/16″ wrap-around door comes with a gas-strut feature plus a push-button Simplex mechanical lock, providing you fast one-handed access and you don't have to worry about replenishing batteries from time to time. This pistol box is wide enough to store two full-sized handguns side-to-side.
Pros
Comes with a lifetime warranty
Spacious
Comes with a mechanical lock
Comes with protective foam liner
What Customers Say
Easy lock to program, heavy gauge metal and hinge.

Jmedl
The safe is great, very sturdy, solid. I decided to pay a little extra for this safe as many of the cheap electronic/fingerprint safes had hit-or-miss reviews. I like that it is all mechanical, no need to worry about batteries failing.

SMB
SentrySafe Biometric Gun Safe
The SentrySafe Biometric gun safe can store 2 standard-sized handguns or 1 large pistol plus ammo. It's equipped with interior lighting for increased visibility even in the dark.
This gun safe allows you to register 4 sets of fingerprints for multiple access, and you can also choose to add a security code. Quick and quiet access is also guaranteed with this gun safe, thanks to its gas strut feature. 
However, it can't be plugged directly into a power outlet and is only powered by four AA batteries.
Pros
Easy to set up
Solid construction
Bulletproof
What Customers Say
"This thing is perfect for mounting on the wall at the head of your bed. It reads my fingerprint just fine and the code pad responds instantly! The code pad needs one press to come out of sleep mode and will instantly be ready for your code entry. To help you be fast and smooth with your code dialing I suggest you act as if the first number is doubled. So if your code is "1212" you would want to tell yourself to dial "11212" then you won't miss a beat! The fingerprint recognition is high-quality and useful. It wakes up the second you touch it then you slide your finger towards yourself across the metal reader. Once you swipe your finger it takes about one full second for the safe to open."

Matt
"I've read some reviews about how someone could break into it. Well, maybe, but then look at its size. If you expect this to hold up to attack with big tools, perhaps you should look for another safe. In my case, this is used for my carry pistol. If I'm not home, neither is my gun. In fact, when the safe is empty, I leave the lid open. This safe was purchased to keep my children from getting hold of my gun. My six and four-year-olds will not defeat this safe. For my purpose, this safe is 100% effective. I use the fingerprint scanner as my only way in. The only times it has failed to open using the scanner, I knew it wouldn't open before I saw the flashing red light. I didn't have my finger lined up well at all. I "wake" it with the first code button, then scan. From the moment I press the button, I can scan, the lid opens, and I have made contact with my gun in 1.8 seconds. I love it and I'd buy it again."

Mustang
Gunvault MicroVault Safe
You might be pessimistic about our last pick because it costs less than a hundred bucks, and you're right to be, but let us tell you the reasons why the GunVault handgun safe is different from other cheap gun safes.
The Gunvault MicroVault is packed with features. It's mountable, has a protective foam liner, and comes with audio/LED low battery warning, interior courtesy light, and tamper indicator. computer black access after repeated invalid entries and backup override key included.
Pros
Very affordable
Easy to install
Provides quick access
What Customers Say
I have 3 gun vaults in my home and they all [perform] excellent. I have had the first two for over 10 years. Still work like new.

Amazon Customer
Heavy duty gun safe. Good instructions make it simple to mount. Comes with all necessary hardware. Very easy access to my gun.

Char Bink
Conclusion
Bedside gun safes not only provide quick access, but also keep your firearms safe and secure (especially if you have kids at home). If you want your gun hidden in plain sight, here are the best secret hidden gun storage ideas.
Last update on 2023-12-06 / Images from Amazon Product API