Best Overall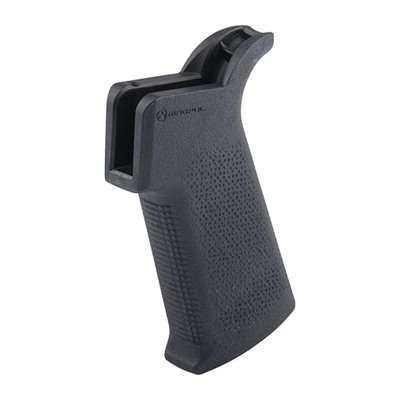 Magpul AR-15 MOE-SL GRIP
Perfect for competitive and tactical shooting.
Best on a Budget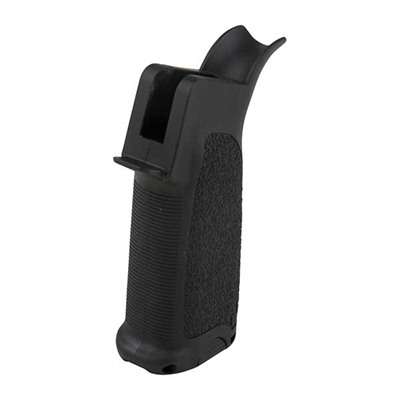 BCMGUNFIGHTER MOD 3 Grip
Reliable through all types of weather.
Best Ambidextrous Grip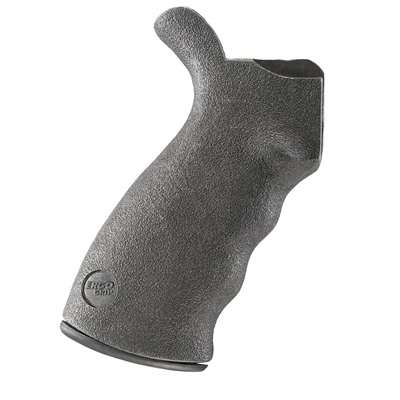 Ergo Grips AR-15 Ergo Grip Rigid Ambidextrous
Guarantees excellent trigger and recoil control.
Best for Large Hands
Hogue AR-15 Pistol Grip
Offers increased shooting comfort.
Buying the best AR-15 pistol grip doesn't have to be tedious. And we know you want to spend more time at the range instead of doing research on gun parts. So we evaluated the best AR-15 pistol grips and reviewed the most outstanding brands below. We promise to keep it short but informative!
A Quick Glance on our Top Picks
| Model | Our Rating | Price | Material |
| --- | --- | --- | --- |
| Magpul AR-15 MOE-SL Grip | 4.8 | $19.90 | Polymer |
| BCMGUNFIGHTER MOD 3 Grip | 4.7 | $18.99 | Polymer |
| Ergo Grips Ar-15 Ergo Grip Rigid Ambidextrous | 4.6 | $21.99 | Polymer |
| Hogue AR-15 Pistol Grip | 4.6 | $23.96 | Rubber |
| Daniel Defense AR-15 Pistol Grip | 4.6 | $33.00 | Polymer |
Features to Consider
Grip Angle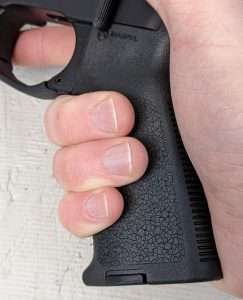 The first and most important feature you have to consider is the grip angle (obviously). And this mostly depends on your preference – get a grip with an angle you're most comfortable with. You can choose between the traditional more-angled grips or the vertical grips like the one from Daniel Defense below.
Material Quality and Durability
Building your AR lower means getting only the best and most durable parts, and that includes your pistol grip. There are a lot of low-cost pistol grip brands out there that may be flimsy and uncomfortable to use. You don't have to spend a fortune to get good stuff (Magpul is always reasonable), but don't buy junk either. 
Texture and Comfort
Most AR15 pistol grips are built textured. They provide additional grip and control especially when your palms get sweaty. Again, this is one of the features that can be an issue (or not) depending on your preference. Some shooters prefer a more textured grip, while others are fine with less aggressive texturing as long as it gives them a steady grip.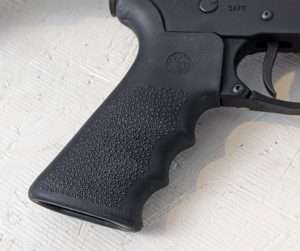 Finger Grooves and Palm Swells
Finger grooves and palm swells also provide additional support and improved grip so you can have more stable shots. The Hogue grip in the pictures above and below show that well.
Size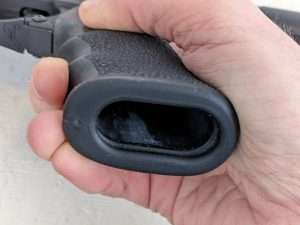 You should be able to wrap your hands comfortably around the grip. If not it defeats the entire purpose of the pistol grip. Pistol grips are built for different hand sizes, and we chose the best pistol grips for every hand size below. Check them out if you're not sure which will suit you.
Best Overall: Magpul AR-15 MOE-SL Grip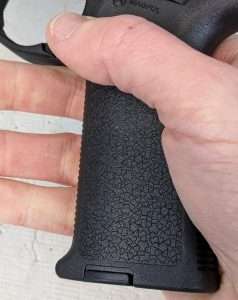 If you've got small hands, the Magpul MOE-SL Grip has got you covered. Despite its small circumference and overall size, it still offers a very comfortable and secure grip.
However, since the Magpul MOE-SL is smaller than other grip brands, it's too narrow to store many accessories inside. So if you prefer a pistol grip with a lot of storage space, you might want to take a look at other options. But unlike the Hogue grips, at least the MOE has storage ready to go out of the box.
The Magpul MOE-SL also accommodates most smooth-sided AR-15 rifles. The pistol grip's sides are equipped with a rough texture and lines to provide better weapon control even when shooting with wet hands. Finally, this pistol grip offers a slim feel and exceptional vertical grip angle.
Pros
Easy to install
Excellent ergonomics
Great for shooters with small hands
Cons
Not suitable for shooters with large hands
No mid-length handguard
No space for storage
What Customers Say
"Nice slim feel with an ideal grip angle for short LOP but think Magpul could have figured out a way to do storage, so only four stars. Wish the SL line also included a mid-length handguard too"

JD
"This is a big upgrade for anyone that wants to upgrade from an original A2 style grip on their AR. I have put this upgrade off for a number of years with so many different grip upgrades available from different manufacturers out there. I choose the Magpul MOE SL GRIP because it just felt better in my hand. The angle is better for holding and seems to give a better trigger pull. I have large hands and this grip may seem a little small for someone with extra-large hands."

J
Best Budget: BCMGUNFIGHTER MOD 3 Grip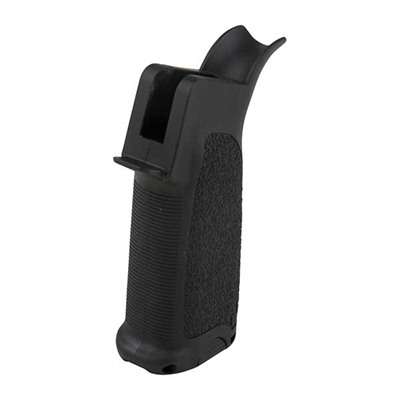 The Bravo Company Gunfighter MOD3 Grip is a reduced angle grip that promotes a more "squared-off" position, giving shooters better control. It features a waterproof, hinged compartment made from polymer that's great for storing small accessories such as spare batteries.
The BCM Gunfighter MOD3 is also equipped with a palm swell which provides a more solid and natural grip so it's efficient even if your hands get sweaty or wet.
Pros
Great ergonomics
Larger than other BCM grips
Affordable
Cons
Overall durability is compromised due to storage compartment
What Customers Say
"This grip provides a very nice grippy texture and a more comfortable angle for my wrist, allowing me to tuck my right elbow closer to my body. It's slightly larger than the typical pistol grip so it fills the palm of your hand a bit more but in a good way. My thumb and index finger still reach all the controls easily and I have medium-sized hands. The waterproof compartment is a nice feature."

Dr. Dave
"An absolute must for a pistol, will be adding one to my carbine. Vastly improves grip angle over standard A2 grips. Well made fits very snuggly (that's a good thing) and this one fits my hand better than a mil-spec one. For the price, this is an excellent value. I did need to polish the molding line, but that is common with molded products and took less than 5 minutes. Somebody needs to tell Uncle Sam about these. Would have loved this at the rifle range."

Jim Will Jr.
Best Ambidextrous Grip: Ergo Grips Ar-15 Ergo Grip Rigid Ambidextrous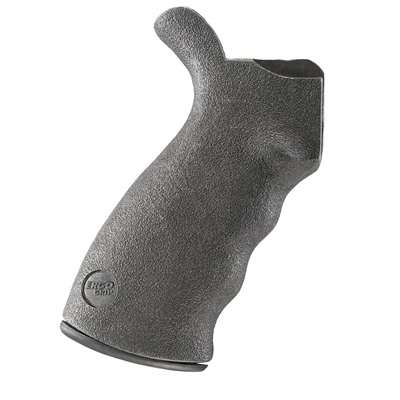 Ambidextrous shooters, rejoice! If you've been looking for a pistol grip that suits you, your search ends here because this rigid AR-15 grip from Ergo Grips is built especially for you. This pistol grip is equipped with a rubberized texture that promotes better control.
The Ergo Grips pistol grip features palm swells and finger grooves that guide the shooter's fingers when in a shooting stance. The palm swells are well-designed to absorb recoil efficiently. The finger grooves, however, aren't large enough to accommodate hands of all sizes.
Pros
Ambidextrous
Durable polymer body
Excellent recoil absorption
Cons
Not ideal for shooters with small hands
What Customers Say
"Install was a breeze, and fits my hand perfectly. I would describe my hands as medium size. Also looks very good"

Francis
"I started using this grip fifteen years ago on my builds. I find it comfortable and easy to keep a grip on my rifle. My wife uses the SureGrip on her rifle. The only grip I feel might be as good is the Houge."

Jeff
Best for Large Hands: Hogue AR-15 Pistol Grip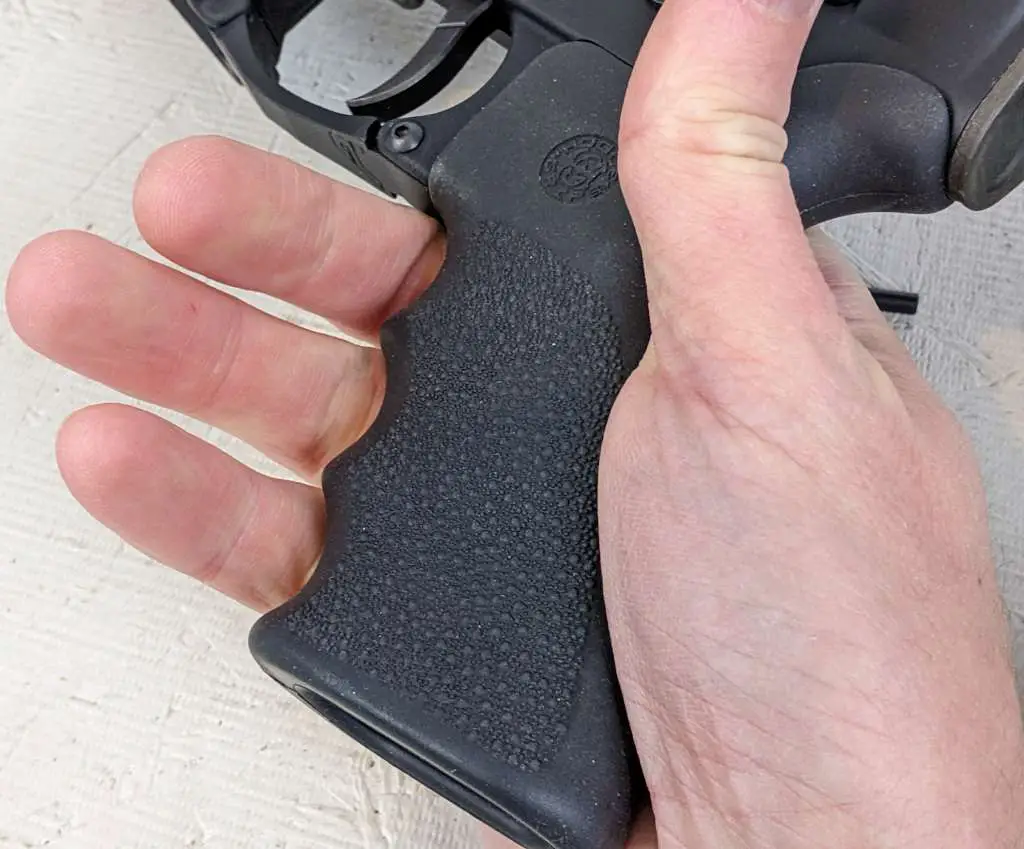 Our next pick is ultra-durable as its core is built from fiberglass and its shell is made from molded rubber. This combo offers excellent grip and recoil absorption like no other. Plus, this pistol grip is designed for those with large hands.
Aside from its durability and wear-resistance (thank you fiberglass inserts), the Hogue AR15 pistol grip is also very easy to install.
Pros
Deep finger grooves
Great recoil absorption
Solid grip
Cons
Lack of storage space inside the grip
What Customers Say
"Fit is great as always as I've used on several of my guns. Specifically wants this grip as I was using on a shotgun. Never experiences any sting."

Chucke W.
"Installed this on my AR15 6yrs ago and it is still soft and tactile as the day I bought it. Fills your hand more than a standard grip and the comfort is great. I will be putting this grip on all my further AR builds and I recommend you do too!"

Scout91
Daniel Defense AR-15 Pistol Grip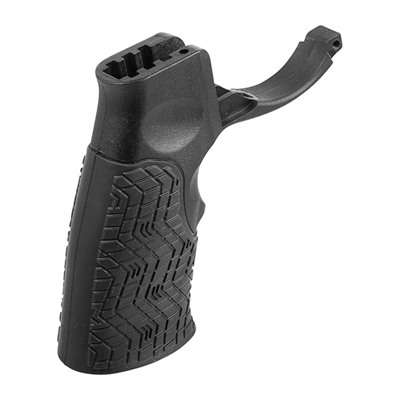 The Daniel Defense AR-15 pistol grip comes with an integrated trigger guard that provides a wider trigger area and easier trigger installation.
It also features a steeper angle than other brands so it's very comfortable to use even if you shoot a couple of hundred rounds every day from a bench rest. It offers a solid grip even under wet circumstances. That's a few advantages you get for paying a few extra bucks. Plus the built-in trigger guard we mentioned earlier.
One downside, however, is that shooters with large hands find grip too small.
Pros
Steep angle
Excellent retention
Cons
Expensive
Not as comfortable for shooters with large hands
What Customers Say
"Product is a great material for great stability. Easy installation and I'm a big fan of the enhanced trigger guard"

TK the AR Man
"Bought this for the AR15 pistol build. This thing is awesome. Looks and feels great. I will be getting another one for an AR9 build. Love the integrated trigger guard. Don't hesitate to buy this grip."

Joe
Conclusion
And that's a wrap! Pun intended, LOL. Once you've chosen a pistol grip, don't hesitate to make a purchase. Have fun building your AR15! 
If you need a refresher about all this, our ultimate guide to guns and shooting and beginner's guide to collecting guns have everything you need!