Best Overall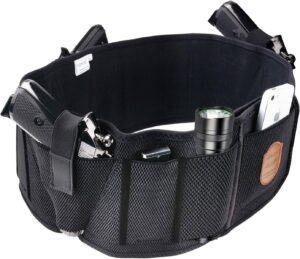 Fullmosa Mi Belly Band Holster
This comfortable belly band holster comes with extra pockets!
Value: 9/10
Performance: 9/10
Cost: 8.5/10
Check Price
Best Budget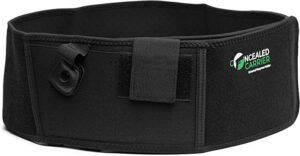 Concealed Carrier Belly Band Holster
This reliable holster costs less than $20!
Value: 9/10
Performance: 8/10
Cost: 9/10
Check Price
A concealed carry holster is essential self-defense gear. And having an above average build and weight shouldn't stop you from finding a holster that'll fit both your gun and body size. If you haven't found one yet, our picks for the best holsters for fat guys are at the tip of your fingers! 
How We Choose the Best Holster for Fat Guys
Take these three factors into consideration to know which holster is right for you.
Comfort
We're sure you already know this – an uncomfortable holster is a worthless holster. So check if the holster fits your waist snugly and make sure that it's compatible with your body type.
Material
A great holster (no matter what type it is) is made from stretchy, breathable materials so it won't pinch your skin or make you sweat. That way, it's comfortable even if it's worn the entire day on hot days. 
Price
While the price of most holsters doesn't go higher than $100, price is still a consideration, especially if you're saving up for more shooting gear and range time!
Best Holsters for Fat Guys
Best Overall: Fullmosa Mi Belly Band Holster
The Fullmosa Mi belly band holster fits most small, subcompact, compact pistols and revolvers with barrels 2 to 4.5 inches long. Compatible brands include Sig Sauer, Glock, Ruger, S&W M&P, Taurus, and Kel-Tec.
The Fullmosa Mi comes in Small (28 inches abdominal circumference) to XXL (58 inches abdominal circumference). It can be worn inside and outside the waistband, hip, back or chest. 
Pros
Made of elastic and breathable materials
Ambidextrous draw
Comes with 3 holsters and 4 mag pockets
Affordable
Cons
Pistols with barrels longer than 4.5 inches won't fit
Reinsertion requires 2 hands
What Customers Say
The Fullmosa is amazing. It's thoughtfully made for a variety of needs. The quality of construction is beyond impressive. I'd have gladly paid double given the quality and features. This is the read deal.

DJSTEVEZ
Excellent and fit for purpose. Very pleased with the belt.

Sally
Best Budget: Concealed Carrier Belly Band Holster
The Concealed Carrier belly band holster is made from neoprene material and stretches up to 44 inches. This holster fits 380, 9mm, 40 auto, 45 ACP, 38 special, 357, and 10mm pistols. It can be worn inside the waistband, outside the waistband, cross body, appendix position, behind the hip, small of back, and as a shoulder holster. It also features a spare magazine pocket where you can put your keys, cash, or cards.
Pros
Very affordable
Made from breathable material
Lightweight
Cons
Not ambidextrous
Reinsertion requires 2 hands
What Customers Say
Holds my 380 perfectly. It's comfortable and well made. The only thing I would change is the Velcro part. I wish it was a little smaller then the belt width. Because if it's not lined up just right the Velcro scratches my stomach.

Bridgette Lylyk
Overall, this belly band meets my needs. I can now wear shorts and a T-shirt and adequately conceal my pistol.

JMN
Alien Gear Low-Pro Belly Band Holster
The Alien Gear Low-Pro belly band holster comes in a variety of sizes. Its smallest size fits 28 inches belly and its largest size (XXXL) fits 57 inches belly. It's also made from Neoprene so it's comfortable to wear all day, everyday.
However, each variant is custom-molded for a specific make and model, limiting your options. This is an advantage if you only have one concealed carry weapon. It will fit snugly as it's designed specifically for that model.
Pros
Comfortable
Comes with a full trigger guard
Made from breathable material
Single-handed reinsertions
Cons
Expensive
Not ambidextrous
Size not universal
What Customers Say
This holster is comfortable and hold my handgun well with an easy draw.

Tracy
Conclusion
Now you don't have to worry about your gun printing and endure endless uncomfortable days with an ill-fitting holster. If you're a lady and want to explore other options, you can check out our picks for the best concealed carry purse.
Last update on 2023-11-12 / Images from Amazon Product API