Best Overall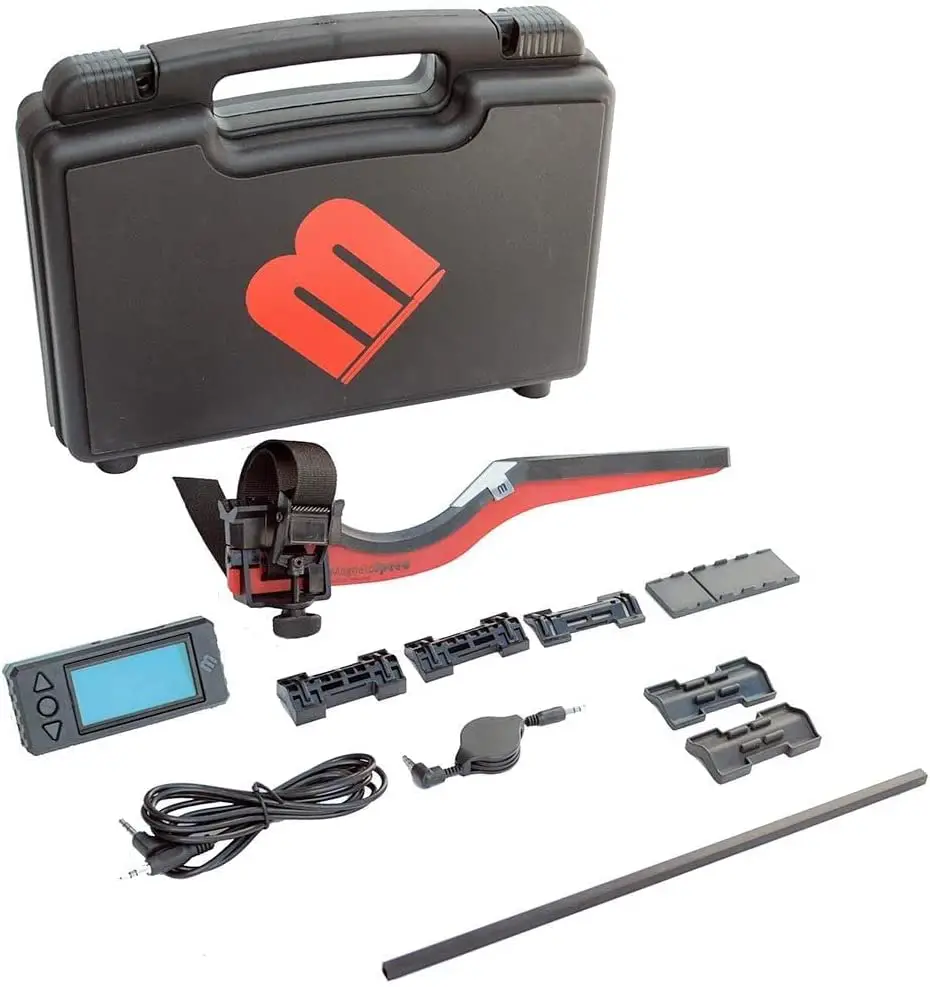 MagnetoSpeed V3 Barrel-Mounted Ballistics Chronograph Kit
The most complete chronograph kit on the market!
Value: 9/10
Performance: 9/10
Cost: 9/10
Check Price
Best on a Budget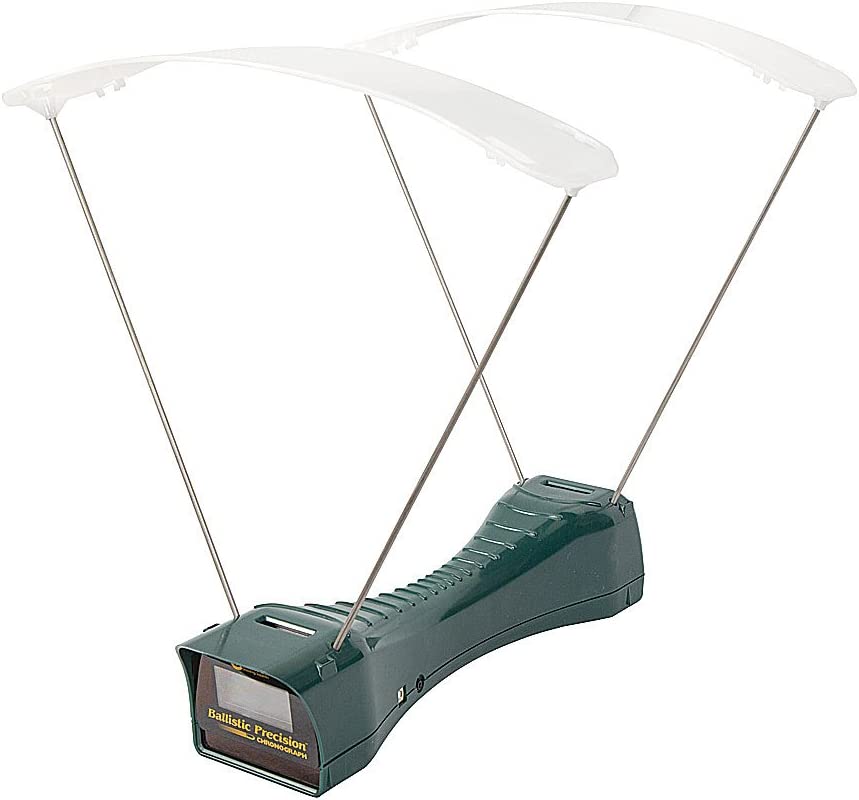 Caldwell Ballistic Precision Chronograph
Value and efficiency rolled into one!
Value: 8.5/10
Performance: 8/10
Cost: 9/10
Check Price
Best for Beginners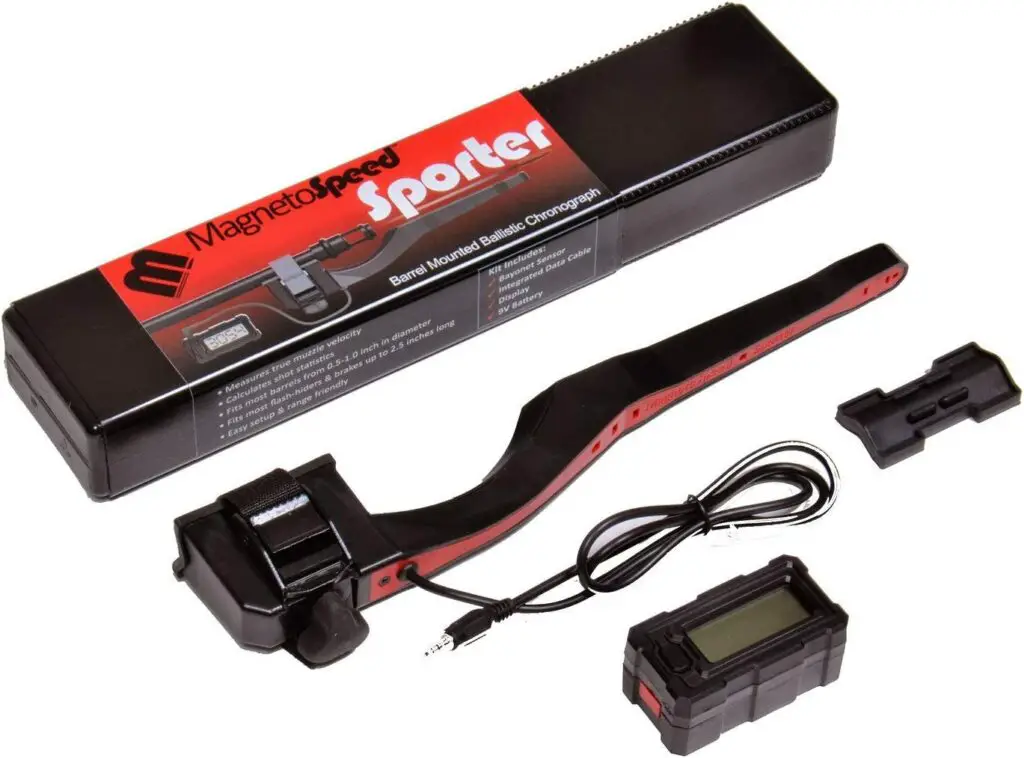 MagnetoSpeed Sporter Barrel-Mounted Ballistics Chronograph
Get ready to load more accurate rounds from now on!
Value: 8/10
Performance: 8/10
Cost: 8/10
Check Price
If you're getting ready for a shooting competition, having tons of practice is one way to improve your precision. But if you want to get more technical, the best shooting chronograph will help you get the most out of your loads. 
What is a Shooting Chronograph?
A shooting chronograph (also called a gun chronograph or ballistic chronograph) is "a measuring instrument used to measure the velocity of a projectile in flight, typically fired from a gun."
Features to Consider in the Best Shooting Chronograph 
We don't want you to waste your hard-earned money on mediocre gun chronographs, so we listed the features that are most vital in the selection process.
Accuracy
An accurate shooting chronograph should have consistent readings every time you perform tests. But with all the gun chronograph models circulating around, finding the most accurate one will be tricky. 
Not if you have us! We picked only the models that have been proven reliable and are from manufacturers with good reputations. This way you can reload more accurate and consistent ammo.
Features and Accessories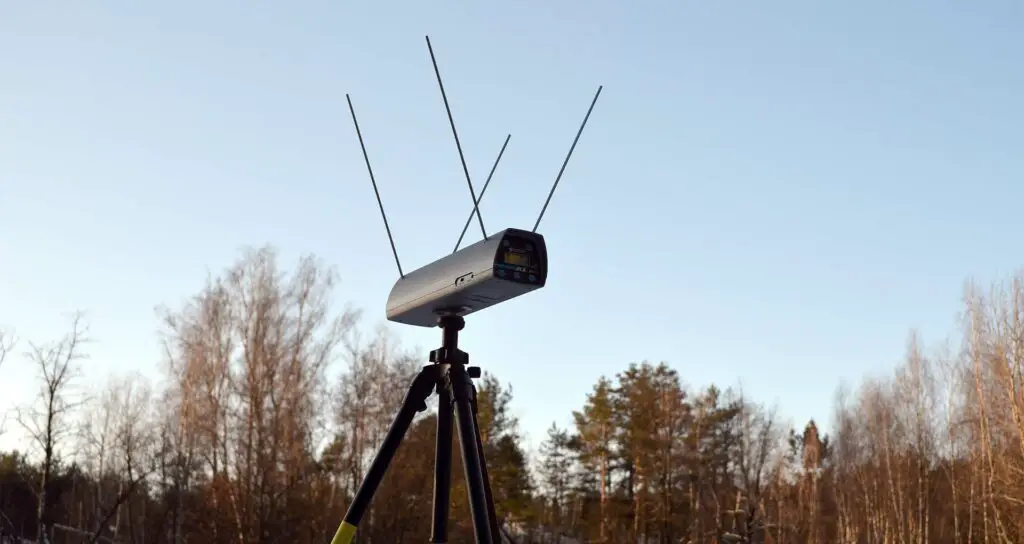 One of the best features of a shooting chronograph is its ability to monitor ballistics whether you're at the field or in an indoor range. Also, an application that lets you upload and store data to your phone or your computer will bring convenience as you can easily compare results.
Included accessories can be batteries, a hard case, necessary hardware for installation, and connection cables. Some brands have more or less accessories included depending on the make and model.
Power Source
Most shooting chronographs run on batteries – 9V or CR123 or both. But a chronograph with rechargeable batteries like the Caldwell G2 is more cost-efficient and will save you from the hassle of replacing batteries in the middle of shooting practice.
Weight and Durability
You'll definitely be moving your chronograph around for field and range tests so you want one that's easy to transport or as compact as possible. If you want a complete chronograph kit it'll be more convenient if it comes with a sturdy, waterproof case.
5 Best Shooting Chronographs
Best Overall: MagnetoSpeed V3 Barrel-Mounted Ballistics Chronograph
The MagnetoSpeed V3 ballistics chronograph is designed for barrels and suppressors with diameters from 0.5 to 2 inches. It comes with 3 inches clearance from the blast zone for use in guns with longer muzzle brakes and flash hiders It features a variety of shooting modes including one for air rifle operation.
The state-of-the-art display that comes with the kit is user-friendly and its battery compartment is easily accessible as well. The entire kit comes in a durable and portable hard case with foam cutouts inside that cushion all the accessories.
Pros
Ballistic data can be easily stored
Huge blast zone clearance
Plenty of included accessories
User-friendly
Cons
Expensive
Tricky to set up
What Customers Say
Setup takes only a few seconds and so far I have had Zero issues. My RPR load tests have been excellent and repeatable.

Michael James Chafe
Very happy with this chrony. Yes, it's a little pricey but you get what you pay for. Really the only option when you are using a public indoor range. Mounting can be a little tricky, but once you figure out the right combination of spacers and it's properly secured I've had no issues with it staying in position on my .308.

T.Vex
Best on a Budget: Caldwell Ballistic Precision Chronograph 
The Caldwell Ballistic Precision Chronograph isn't only tracking ballistic data for firearms but also for airguns as well as archery and paintball weapons. It's calibrated to obtain +/- 0.25% accuracy. Aside from shooting data, the Caldwell precision chronograph also measures weather and atmospheric conditions. It also comes with a free mobile app where you can upload and export test results through email or text.
Pros
Comes with a free mobile app
Affordable
Comes with a wide sunshade
Compatible with iPhones and most Android phones
Easy to use and set up
Cons
No battery included
Unreliable when indoors
What Customers Say
This runs on par with my professional ballistic chrono. Side by side I only see about a 1-2% variation from a $2000 pro ballistics chrono. Very pleased with this purchase.

Luc
Easy to use and I'd call it accurate. Three shots with my bow and each shot was within +- 2fps.

Allen Barber
Best for Beginners: MagnetoSpeed Sporter Barrel-Mounted Ballistics Chronograph Kit
Our second MagnetoSpeed pick is our top pick's entry-level version as it can only be used on barrels that are 0.5 to 1 inch in diameter. It's powered by a 9-volt battery from its easily accessible compartment. However its compatibility is limited to center-fire rifles and revolvers, so if you're shooting a rimfire rifle or an airgun, you'd have to use something else. For your chronograph's safety, the MagnetoSpeed Sporter is equipped with a built-in quick-attach heavy-duty strap with a thumb nut tightener.
Pros
Lightweight and compact
Simple operation
Easy to set up
Cons
Expensive
Limited firearms compatibility
What Customers Say
Relative easy to attach to the barrel, but make sure it's tight, as the recoil will want to make it move. I had to play with the sensitivity to get it to work with .22LR, but it did work when I had the settings right. I really like this product!

Couperi
I'm very happy with the MagnetoSpeed Sporter. Easy to set up, and if you loosen the knob almost all the way out before you tighten the strap, then tighten the knob, it will stay in place.

PawPaw
Caldwell G2 Ballistic Precision Chronograph
Like our Best on a Budget pick, this Caldwell chronograph is perfect for firearms, airguns, archery, and paintball use, may it be indoors or outdoors. One of the best things about the Caldwell G2 is that it's powered with a rechargeable battery and it comes with built-in LED lights.
But what we can't stress enough is how useful the mobile app is. It automatically calculates ballistic data, stores it, and you can choose to send it to your email or via text. 
Finally, the Caldwell G2 features a durable storage case for portability and hinged support bars for easy disassembly and storage.
Pros
Rechargeable battery
Compact
Comes with a sunscreen
Comes with a free mobile app
Compatible with several platforms
Compatible with iPhones and most Android phones
Cons
Expensive
Low-quality tripod
What Customers Say
Reading were repeatable!! I shot 6 arrows through it 3 times & I was able to repeat the reading. This gave me confidence in the reading I was getting. Highly recommend spending a little more money and buy this one.

Tom Fitzgerald
Works very well, great accuracy (the chronograph, not me!) and the app worked no problems at all.

JJ
Competition Electronics Pro Chrono LTD Chronograph
The Competition Electronics Pro Chrono LTD chronograph offers +/- 0.5% accuracy thanks to its reliable internal shot clock. Its built-in Bluetooth also reconnects automatically in case you step out of range. Plus it comes with a 2-year warranty against factory defects in material and workmanship, and you can ask for a repair for only half the price.
Pros
Easy to set up
Compatible with a wide selection of weapons
Comes with a mobile app
Comes with a built-in Bluetooth
Comes with a warranty
Cons
Made from low-quality material
What Customers Say
Does all standard calculations for each string of shots.

Bill930turbo
It calls out the fps for each shot. Super easy to setup and use…. didn't even need to read the manual as it's that simple. Also, the logging and graphing feature is pretty sweet.

Jackson
Our Key Takeaways
Now you can reload more accurate rounds and dominate every shooting competition. Take extra care of your chronograph and store it properly so it stays in mint condition and continues to produce precise readings for a long time.
Last update on 2023-09-23 / Images from Amazon Product API