Best Overall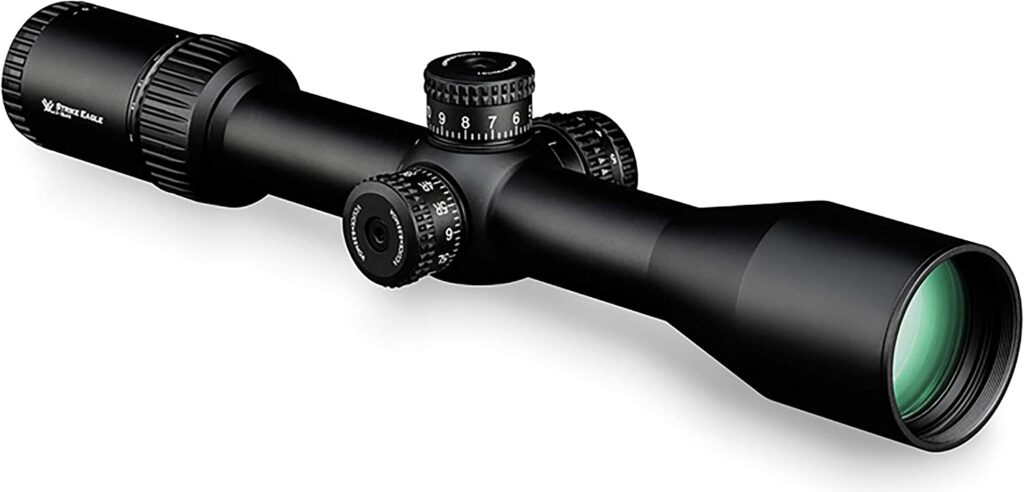 Vortex Optics Strike Eagle 4-24×50 Second Focal Plane Riflescope
One of our personal favorites!
Value: 9/10
Performance: 9/10
Cost: 9/10
Check Price
Runner-up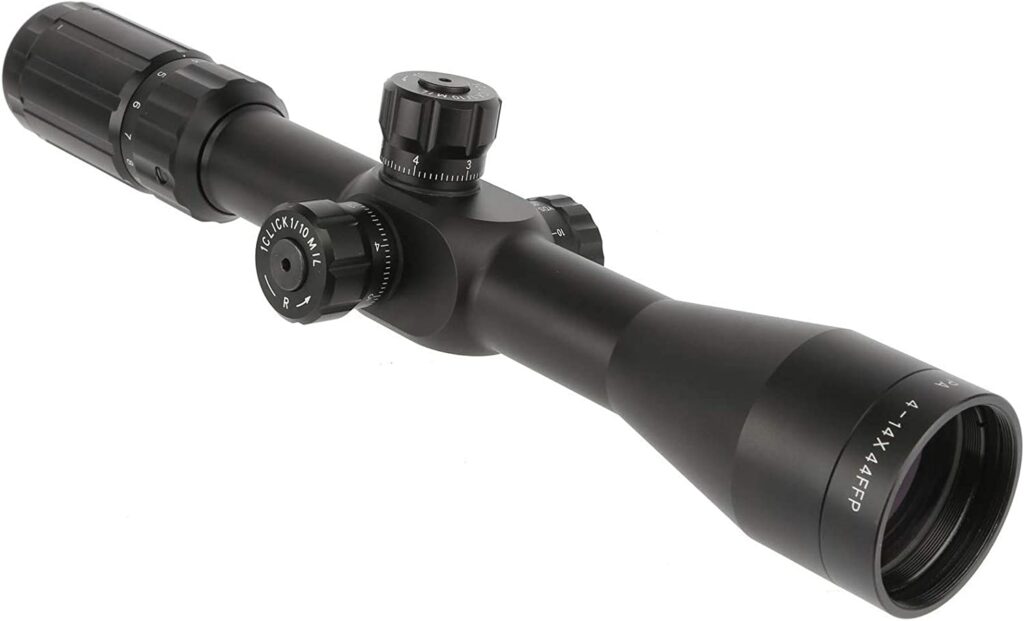 Primary Arms SLX 4-14x44mm FFP Rifle Scope
A reasonably priced but heavy-duty pick.
Value: 8.5/10
Performance: 9/10
Cost: 8.5/10
Check Price
Best on a Budget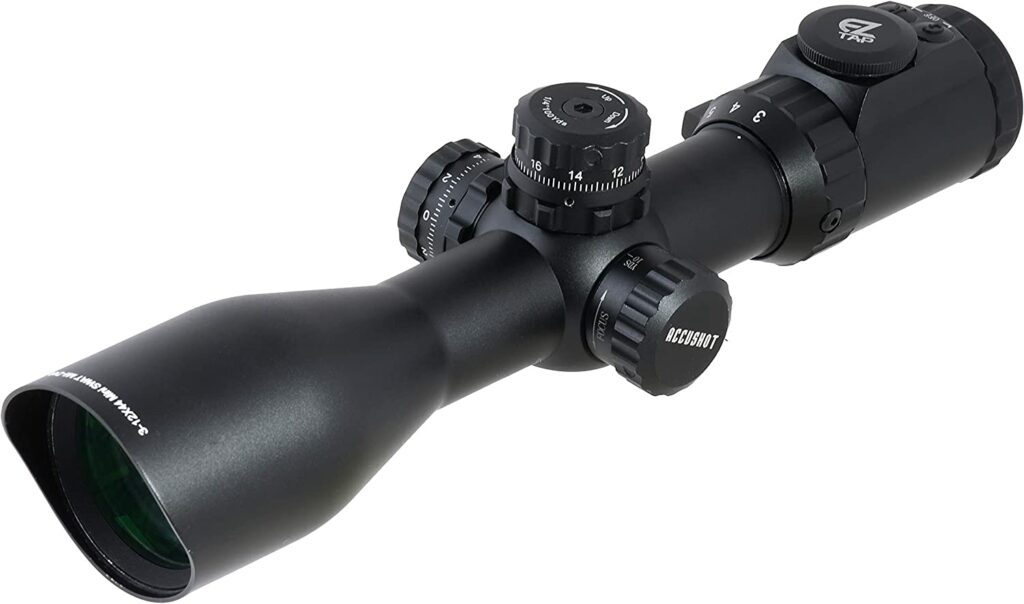 UTG 3-12X44 30mm Compact Scope
Perfect entry-level pick!
Value: 9/10
Performance: 7/10
Cost: 9/10
Check Price
The AR-10 needs an optic that can handle its power and remain reliable. Seems difficult, doesn't it? Not if you have the right resources! We're so glad you found us because our best scopes for AR-10 picks will blow you away!
Features to Consider in the Best Scope for AR-10
Focal Plane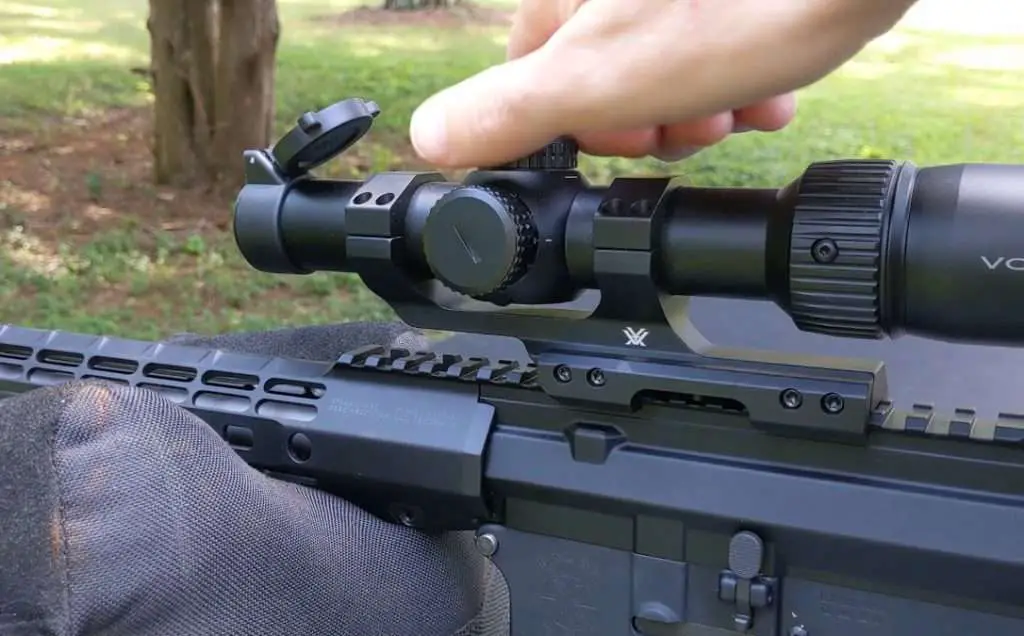 First Focal Plane scopes are best for quick-paced high-stress shooting scenarios with widely varying engagement ranges such as tactical shooting and PRS competitions.
Second Focal Plane scopes are excellent for taking long-range precision shots on very small targets because its reticle remains thin even at high magnifications. With a simple duplex and a limited range of engagements, it can be a great choice. Most hunters and serious shooters are familiar with SFPs since they're more common and more budget-friendly.
Magnification Range
Since the AR-10 works best at long distances, you'll need a riflescope with a wide magnification range like our recommendations below. This will give you shooting flexibility from medium to long ranges. 
Lens Quality
Optical clarity and powerful magnification always come hand-in-hand with the best scopes. So look for an optic with an objective lens of at least 40 mm, has fully multi-coated lenses made from high-density glass, and no image blurriness or distortion around the edges at max power.
Even the 308 of an AR-10 is susceptible to wind. So it helps if your scope has Mil-Dot or HMR-specific windage markings.
Overall Build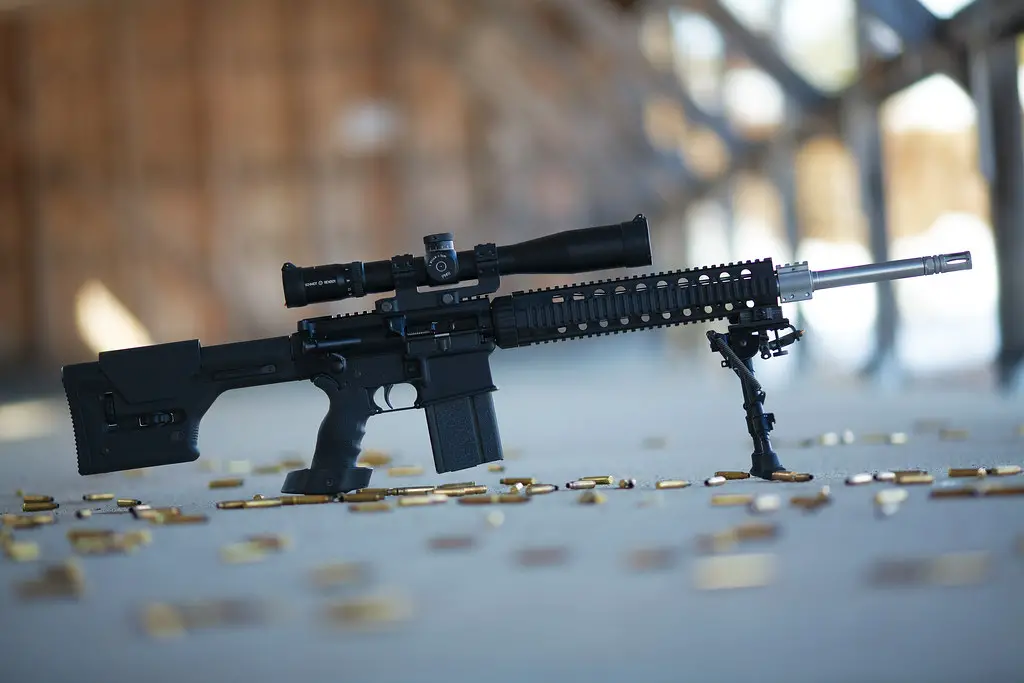 Temperature fluctuations or wet weather may cause internal fogging and mildew formation in your scope. So it's best to have one that's nitrogen-purged and O-ring sealed. This also allows your optic to have thermal shock resistance.
Price
You'll need an extra-durable scope for your AR-10, including all the features we mentioned above, so you'd need to allot at least a few hundred bucks. But since you'll most likely be using your scope for years, every single penny will be worth it.
5 Best Scopes for AR-10
Best Overall: Vortex Optics Strike Eagle 4-24×50 Second Focal Plane Riflescope
Our top pick excels in every criterion for the best AR-10 scope. It'll deliver all your short-to-long-range shooting needs. This variety of the Vortex Optics Strike Eagle features an EBR-4 MRAD reticle that determines ranges, holdovers, windage corrections, and moving target leads efficiently. The Strike Eagle comes with a sleek side parallax knob with built-in illumination that rotates smoothly through 11 brightness settings. Its tactical-style turrets are zero-resettable and have user-friendly rotation indicators that offer easier dialing and accurate adjustments.
We've had hands-on experience with this product line, and it's a really good value. 
Pros
Reasonably priced
Fully multi-coated lenses
Wide magnification range
Waterproof and fog proof
Comes with Vortex Lifetime Warranty
Cons
Mushy turrets
Tight eye box
What Customers Say
Clarity is very good, at all magnifications. The scope came close to centered, making the sighting in process very quick.

Vern Trent
This is clear, and works great. I love Vortex and this is one of the best bang for the buck scopes they have out there.

EricandTay
Runner-up: Primary Arms SLX 4-14x44mm FFP Rifle Scope
The Primary Arms SLX FFP riflescope guarantees smaller and more consistent groups despite its affordable price. Its controls, features, and performance are almost similar to its pricier rivals. It comes with a Mil-Dot reticle for quick and easy ranging and holdover search. Plus a fast-focus eyepiece that offers clear and crisp images, a side-adjustable parallax, and tactile windage and elevation turrets.
Pros
Reasonably priced
Shockproof, waterproof, and fog-resistant
Easy to Use
Comes with a lifetime warranty
Cons
Could be shorter
A bit heavy
What Customers Say
It was a little heavier than I expected but ot had alot of really good features that I haven't seen on most other scopes.

Stacy Mathis
The scope is of reasonably good quality. The optics have been clear enough at maximum magnification for my needs. The weather and lighting have mostly been good, so I can't make any comments about its low-light capabilities.

DrThunder88
Best on a Budget: UTG 3-12X44 30mm Compact Scope
Our best on a budget pick may be cheap, but it's surprisingly well-built and can take a regular beating at the range or in the field. The UTG 3-12×44 compact scope features exposed turrets for easy adjustments without the hassle of removing caps. Its eye relief is also just as good as its higher-priced rivals. The glass quality and illumination are both outstanding, you won't think this scope costs less than $200!
Pros
Very affordable
Exposed turrets
Ample eye relief
Excellent glass quality
Waterproof and fog proof
What Customers Say
100% satisfied with its performance considering my budget when I purchased it & my needs at the time. It's not a cheap scope, just not as refined as your 2000$ glass.

Lucas McElroy
The image is crisp and magnification works as expected. In addition, using the elevation and windage adjustments to zero the scope was a breeze. I haven't really used the illuminated reticle aspect, but it does seem to work as advertised.

Charlie
Vortex Optics Viper PST Gen II 5-25×50 FFP Riflescope
The Viper PST Gen II features an illumination dial that's been built into the side focus adjustment knob. This allows quick access and smooth operation, just what you'd expect from a Vortex riflescope. It also features the hash-marked EBR-4 reticle that uses MOA subtension lines and floating wind hold dots for effective ranging, holdover, and windage corrections. The Viper PST Gen II comes with 10 intensity settings with off positions between each level.
Pros
3.8 inches eye relief
Comes with lifetime warranty
Illuminated reticle
Exposed turrets
Fully multi-coated lenses
Waterproof, shockproof, and fog proof
What Customers Say
Works great and they have a great policy if you damage it. Easy to use and to set the zero stop. Easy to zero. Took a couple of minutes to sight in and lock the zero stop. Then once I had my elevation numbers I was easily hitting targets out to 600 yards and going back and forth between distances and dialing in the elevation. MOA reticle marks were easy to use for windage. Great scope.

Russ Lefebvre
This is an exceptional scope. Crystal clear and very easy to adjust. All adjustments are easy and crisp. Parallax, turret adjustment, scope power and adjustments on the personal focus are great.

Philip
Leupold VX-Freedom 3-9x40mm Riflescope
If you just want a scope for intermediate range shooting, you'll love our last pick.
Like most Leupold scopes, the VX-Freedom uses its manufacturer's proprietary Twilight Light Management System. This feature allows optimum light transmission and reduced glare. Thanks to several layers of proprietary lens coatings. So you can hunt in the evening and still get tack-sharp images.
It's made from 6061-T6 aircraft quality aluminum, is impact tested using Leupold's recoil simulation machine, and is tested to perform in the most extreme climate and pressure changes. So rest assured that the VX-Freedom can survive the strongest recoils and the harshest weather.
Pros
Lightweight
Excellent light transmission
Reasonably priced
Comes with a lifetime warranty
Comes with scratch-resistant lenses
Cons
No protective lens caps
Spongy turrets
What Customers Say
Scope was expected Leupold quality, great light gathering at dusk. Bought specific for a hunt. PM sit. Overcast and 530 pm. Couldnt see deer with naked eye, saw clearly with scope. Lightweight and very clear glass.

Andy C. 
This is my second scope of this brand. I have one on my 30/30 this new one is going on my 30/06.It's a great scope for the money.

Rick
Our Key Takeaways
We hope you had as much fun choosing your scope as we had putting together this article. Now you're ready to take on long-distance targets and get the most out of your AR-10.
Last update on 2023-12-06 / Images from Amazon Product API