Our Top Picks
Best Overall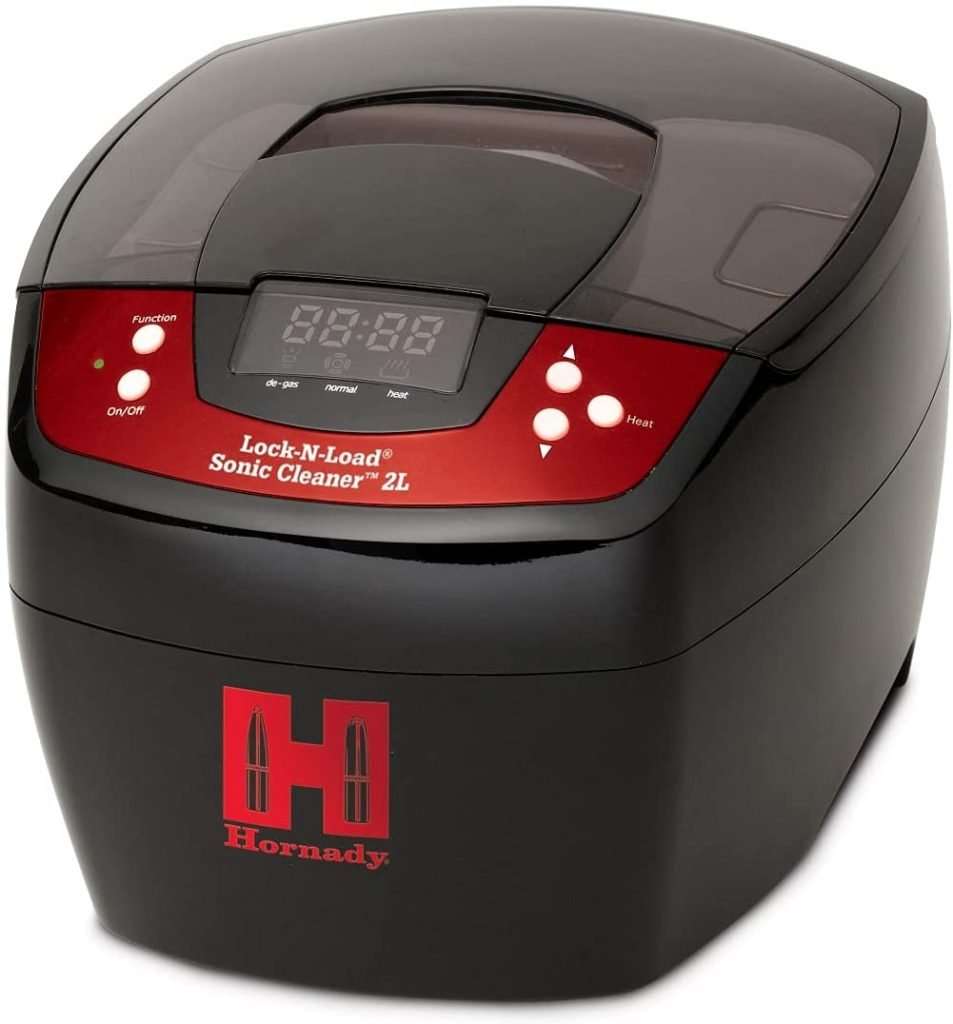 Hornady Lock-N-Load Sonic Cleaner
This versatile ultrasonic cleaner guaranteed to last.
Check Price
Best on a Budget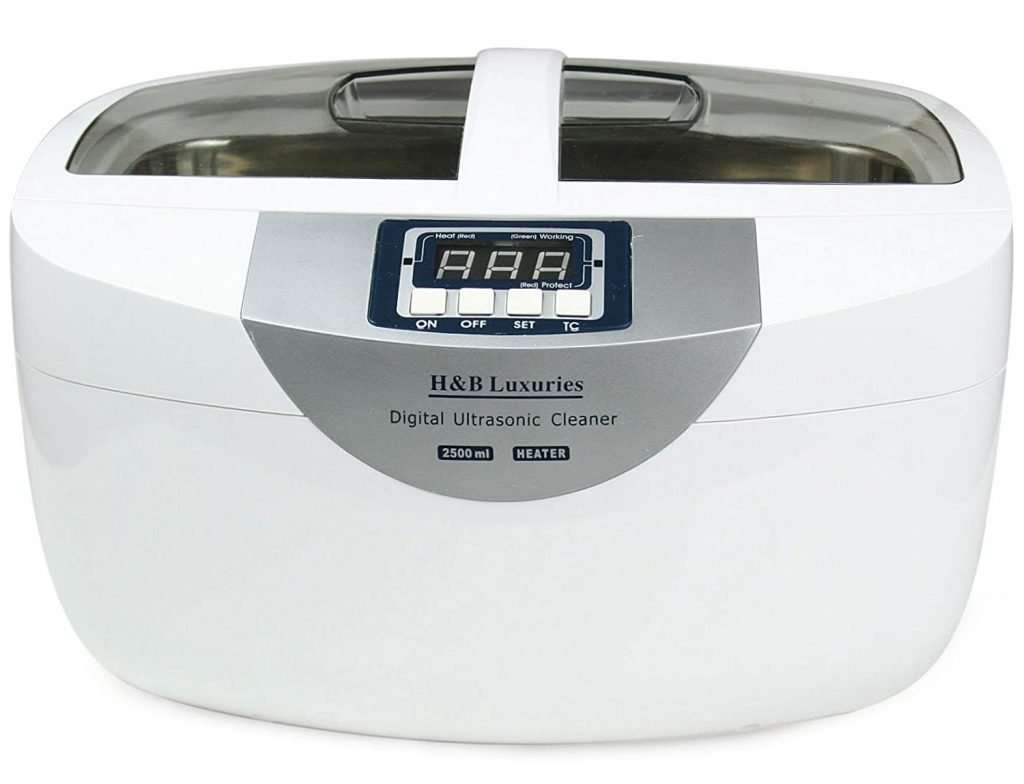 Industrial Grade 160 Watts 2.5 Liters Digital Heated Ultrasonic Cleaner
This ultrasonic cleaner is easy to use.
Check Price
Largest Capacity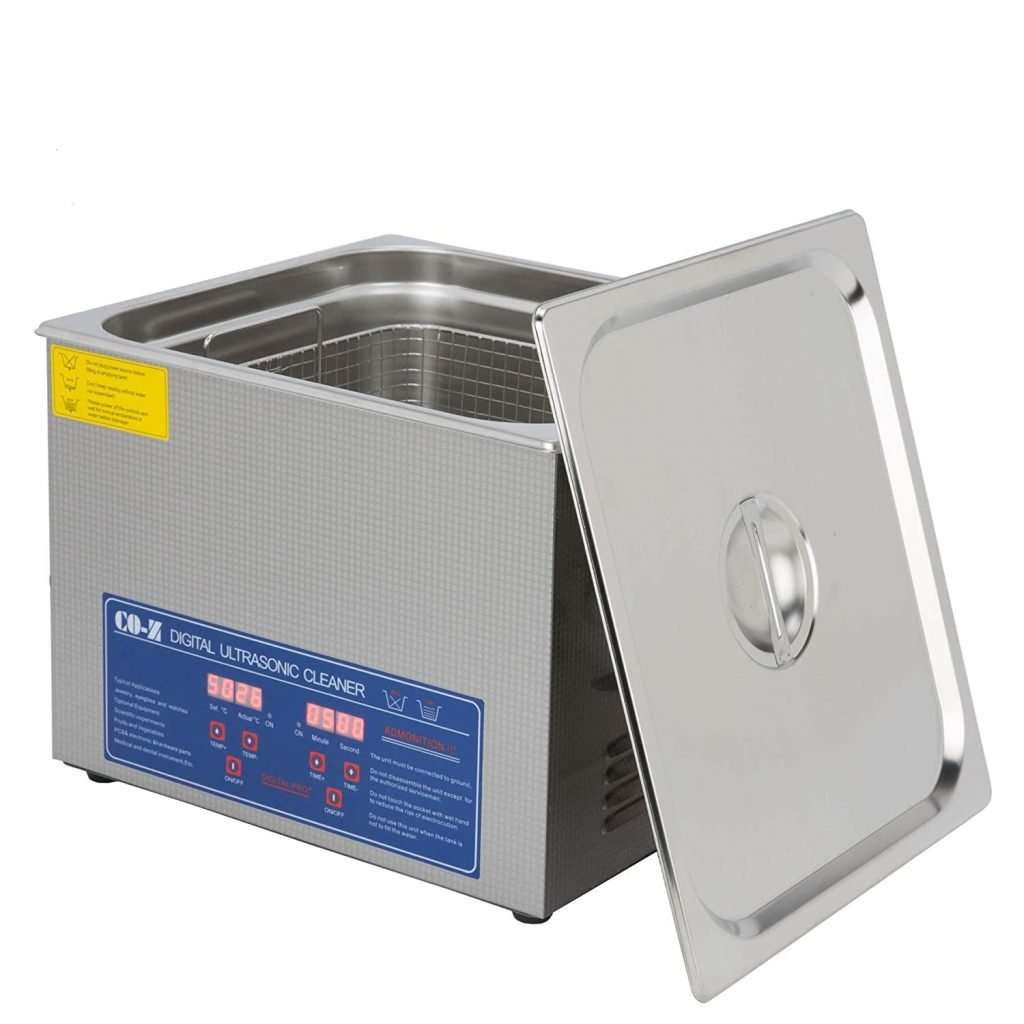 CO-Z 15L Professional Ultrasonic Cleaner
This ultrasonic cleaner features the latest cleaning technology.
Check Price
Thanks to modern technology, quicker and more thorough gun cleaning is now possible with ultrasonic cleaners. They'll clean your gun's every nook and cranny efficiently, even those areas that you can't reach with traditional cleaning tools! If you're new to this and want to learn more, hang tight as we explore everything about ultrasonic cleaners for guns.
Comparison Table of the Best Ultrasonic Cleaners for Guns
How We Choose + Our Must-Have Features
You can't just get any kind of ultrasonic cleaner for your gun, as there are ultrasonic cleaner brands that are designed for specific stuff. Want to make sure that what you're buying is safe for your guns? Follow our list of features to consider.
Tank Size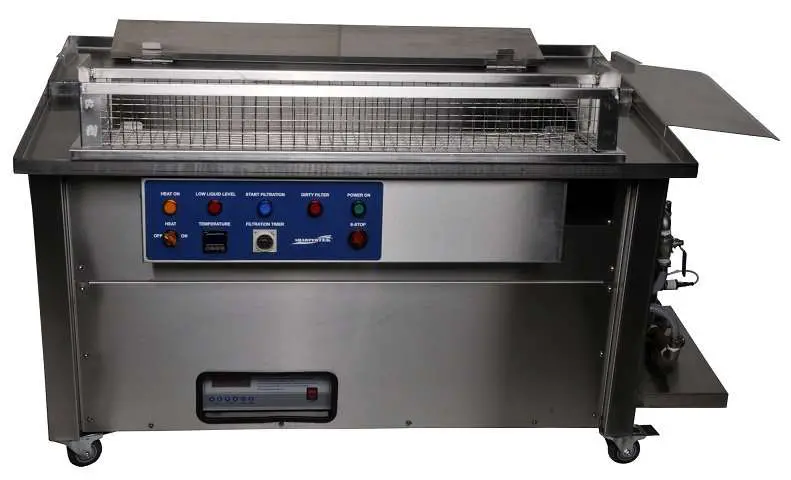 The first factor to consider is the ultrasonic cleaner's size. Get a cleaner that can accommodate your biggest gun. If you plan on using the cleaner on other equipment aside from your guns, consider those as well.
Timer
It's also best to get an ultrasonic cleaner with a user-friendly timer. Since you'd need to set it depending on how filthy those gun parts or brass cases are.
Frequency Range
The higher the cleaner's frequency, the more it produces small bubbles. These tiny bubbles are essential in reaching and cleaning the smallest parts of your gun.
Tank Heater
Heat is important in ultrasonic gun cleaning because a warm or heated solution cleans more effectively. Aside from dissolving carbon fouling, the heated liquid is great at removing oxidation, grease, and oils from your gun.
Best Overall: Hornady Lock-N-Load Sonic Cleaner
First on our list is manufactured by Hornady. And as a famous brand in the gun industry, Hornady guarantees safe and superior-quality cleaning for your guns and brass.
This 2-Liter cleaner can accommodate an entire Glock. It can clean guns, brass cases, and other metal equipment!
It can clean 100 heavily-tarnished .308 cases in an hour. The cleaning cycle is shorter if you load less brass. It cleans gun parts and other equipment that aren't extremely dirty in a few minutes!
Pros
Includes an 80-watt ceramic heater
Easy to use
No noise while running
Cons
Too small for large gun parts
Difficult to clean
What Customers Say
"This is a nice little cleaner, handles small revolver frames but nothing larger. I used Simple Green Industrial Cleaner and Degreaser" Non-Toxic Formula. I thought I did a pretty good job cleaning my pistols but 20 minutes in a 10% solution using hot water proved using this sonic cleaner was a good choice. The only downside I found so far was emptying the well. If you're just dumping it's not a problem but trying to save the contents, not so easy. Other than that I like this cleaner."
"Pick your time, drop in your parts, and walk away to do other things while it's cleaning. Nice, simple, and easy to use. Cleans brass very well, even some of my brass BlackPowder tools that had begun showing tarnish from handling. Clean out the primer pockets a bit before the clean, it has a little difficulty getting into those spaces without a little preparation work. Brass won't be as shiny as with a media tumbler, and you'll have to wait for the cases to dry for a little while after use, but other than those few drawbacks it's a nice machine and can also be used for things other than cartridge brass, pistol frames, barrels and the like as long as you use the right solvent."
Best on a Budget: Industrial Grade 160 Watts 2.5 Liters Digital Heated Ultrasonic Cleaner
The H&B Ultrasonic Cleaner provides efficient cleaning for less than $100!
This industrial-grade cleaner features a strengthened transducer that guarantees more powerful cleaning than other brands. It's also equipped with a radiator fan to prevent the heater from overheating.
One downside is that this ultrasonic cleaner's timer can only run for 8 minutes per cycle, so you'd have to reset it if you're cleaning really grimy gun parts.
Overall, the H&B Ultrasonic Cleaner works well for its price.
Pros
Waterproof and drop-proof
With heater and timer
Comes with one year warranty
Cons
It's a little loud while running
The heater takes 35 minutes to heat
What Customers Say
"I bought this for cleaning brass cases for reloading. That being said, I imagine different types of solutions would yield different results but I use water/vinegar/dawn soap. It works pretty well for this. Primer pockets were clean and brass looked good. It's quiet, especially with the lid on. The basket is nice as well. My only issue is you can only go up to an 8 minute cycle time, dirty brass usually takes 2 or 3 cycles depending on your OCD level."
"I just wish the timer was more flexible. The heating element takes a while to heat your cleaning fluid, but that's to be expected. Be aware that the heating element is NOT affected by the timer. Speaking of the timer, I would like to be able to set it for 30 or 60 minutes. The longest you can set it for is 8 minutes and then you have to keep setting it again before the timer runs out. Kind of a pain, but not a deal-breaker. It does do a good job. I use it for cleaning silencer baffles, AR bolt carriers, and pistol slide assemblies."
Largest Capacity: CO-Z 15L Professional Ultrasonic Cleaner
Our next pick is perfect for large gun parts and equipment because of its 15L capacity.
The CO-Z Ultrasonic Cleaner guarantees superior cleaning because it's equipped with 6 industrial-grade ultrasonic transducers. Its interior is also made from reinforced stainless steel for long-lasting performance and durability.
Its digital control panel is also very easy to operate and the timer settings are flexible. The tank's shape and construction also allow convenient draining after each use.
Pros
User-friendly
Comes with one year warranty
Large capacity
Cons
It's a little loud while running
What Customers Say
"I put my Z50 carb in a chemdip can for 24 hrs. Took it out and cleaned all passageways and surfaces with carb cleaner. Then I put it in the magic box and immediately saw much more crud come off! Made a 44-year-old carb look and work brand new!"
"Have cleaned appx 1,000 rounds of brass using this set on 50C temp for 30 minutes – comes out nice and clean. One thing to note is that the threads on the drain valve appear to be metric so good luck getting a fitting that will readily thread into it to attach a drain hose to. Instructions are poorly worded but it is easy enough to figure out. One the it does mention is a max full line in the tank and I could not find any particular marking and with not contact info in the instructions I just had to guess at it."
Hornady Lock-N-Load Hot Tub Sonic Cleaner
The Hornady Lock-N-Load Hot Tub Sonic Cleaner is next on our list. It has a capacity of 9L and is designed to handle long guns.
This cleaner can accommodate and clean an entire 16-inch AR-15 upper! It can also clean cartridge exteriors and interiors, as well as primer pockets, in minutes!
This machine is not only long but is also deep enough to fit several average-sized gun parts and other equipment.
Pros
Large capacity
Convenient timer settings
Removable basket drain trays
Cons
It's expensive
It's a little difficult to clean
What Customers Say
"I cleaned many of my weapons and this thing worked great! Some of my barrels are too long so I just put in the half that fit and then switched it around when it was done. There was a good amount of debris at the bottom from all the stuff it cleaned off. I then hung the parts up and let them dry. I had to do very little cleaning and the little I personally did was almost just wiping it off."
"All I can say is WOW! I have been cleaning all my firearms for 35 years the old fashion way. Dropped my AR bolt and carrier in the small pan with some Mpro 7 set the timer for 15 minutes. Pulled them out and was amazed! They look brand new. I'm just keeping plain tap water in the main unit to keep it clean and using the steel pans for my cleaning. I filtered the pro 7 through a coffee filter to save it, since I use it straight out of the bottle, this way theirs no water involved. Follow up with the pro 7 gun oil and its done. Well justified purchase"
iSonic P4820-WSB Commercial Ultrasonic Cleaner
The iSonic Commercial Ultrasonic Cleaner comes with a P4820 Safety Certificate, so you can rest assured that every unit passed the required quality qualifications.
This ultrasonic cleaner is equipped with a cooling fan and overheat protector to add to its safety features. The iSonic Commercial ultrasonic cleaner also features a stainless steel wire mesh basket so long-lasting durability is guaranteed.
However, the longest cycle only runs for 8 minutes so you have to run it several times if you haven't cleaned your gun in a while. Also, the heater can't be set to a specific temperature, you can only turn it on and off.
Pros
Easy to clean and use
Compact
Cons
The motor is noisy when running
The timer button is difficult to press
What Customers Say
"I decided to give it a try on my oldest gun; one that I had only done field stripping as it is just a range weapon. I added my gun, boiled the water, and added the cleaner. when the timer shut off, I pulled it out and was absolutely dumbfounded! my dirty old gun looked really good! All the oils, the dirt, the old powder was gone; I only had to take a paper towel and wipe it clean. I do suggest boiling the water yourself as that it will take a while to heat up; I used my tea kettle and distilled water."
"I have not owned it long enough to speak about durability, but just add some water and a little Simple Green or Ballistol and you will be on your way to the cleanest parts… like new. Sometimes you may have to run it through a few long cycles, but just set it and forget it."
Frequently Asked Questions
How do ultrasonic cleaners work?
Ultrasonic cleaners generate ultrasound waves that produce bubbles in the liquid. The rapid movement of these bubbles then results in the removal of dirt and debris from the substance submerged in the liquid. These bubbles are so small that they can clean parts that can't be reached by traditional gun cleaning tools.
Here's a more detailed video on how ultrasonic cleaners work.
Is ultrasonic cleaning safe for guns?
Yes, ultrasonic cleaning is safe for guns, as long as you buy a cleaner that's designed specifically for guns.
What can I put in my ultrasonic cleaner for gun parts?
Some gun enthusiasts use distilled water in their ultrasonic cleaner, and that's fine for gun parts that aren't too dirty. But if your gun's barrel has stubborn carbon fouling, then you'll need an ultrasonic cleaning solution. Some manufacturers recommend which cleaning solution brands work best with their machines, and this will give you the best results. If you have a trusted or preferred cleaning solution, that's great too.
What fluid do you use in an ultrasonic cleaner?
Some machines recommend specific brands of ultrasonic cleaning solutions, while some machines work with distilled water or any cleaning solution.
One cleaning solution recommended by most gun enthusiasts is the Simple Green Cleaning Solution. This cleaning solution removes grit and dirt from your brass and gun without using excessive chemicals.
Can you clean a Glock in an ultrasonic cleaner?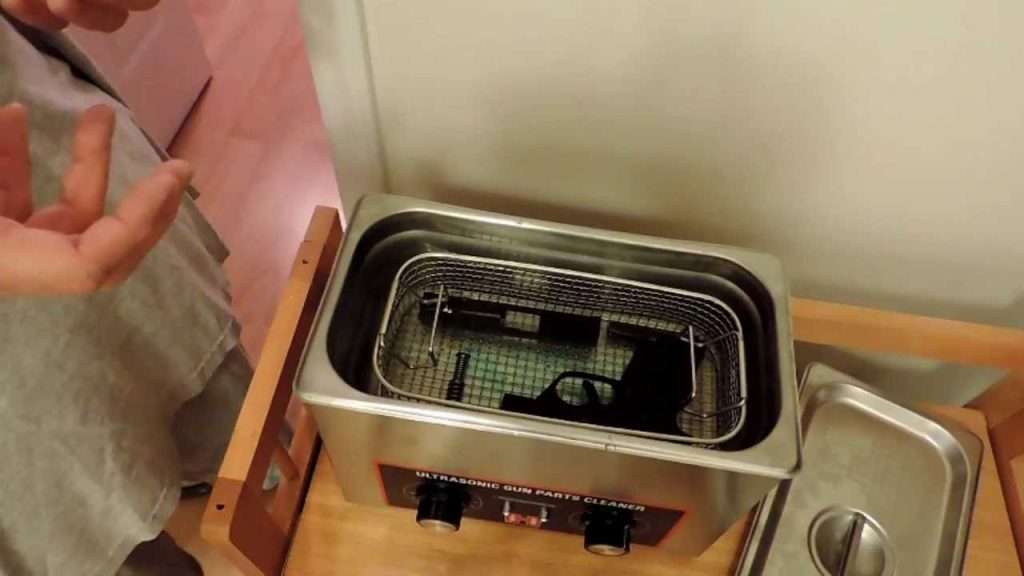 Definitely. But make sure to get a brand that's made specifically for guns or one that's safe for guns.
Conclusion
If you're looking to clean brass for reloading, a dry media tumbler is likely a better choice since you won't have to wait for the brass to dry inside or risk a squib load due to moisture in the case. But, if you're trying to clean stubborn grime or hard-to-reach places on guns, an ultrasonic cleaner is a great solution.
Do you still enjoy cleaning your gun the traditional way? Check our gun cleaning supplies article.
Last update on 2023-09-22 / Images from Amazon Product API