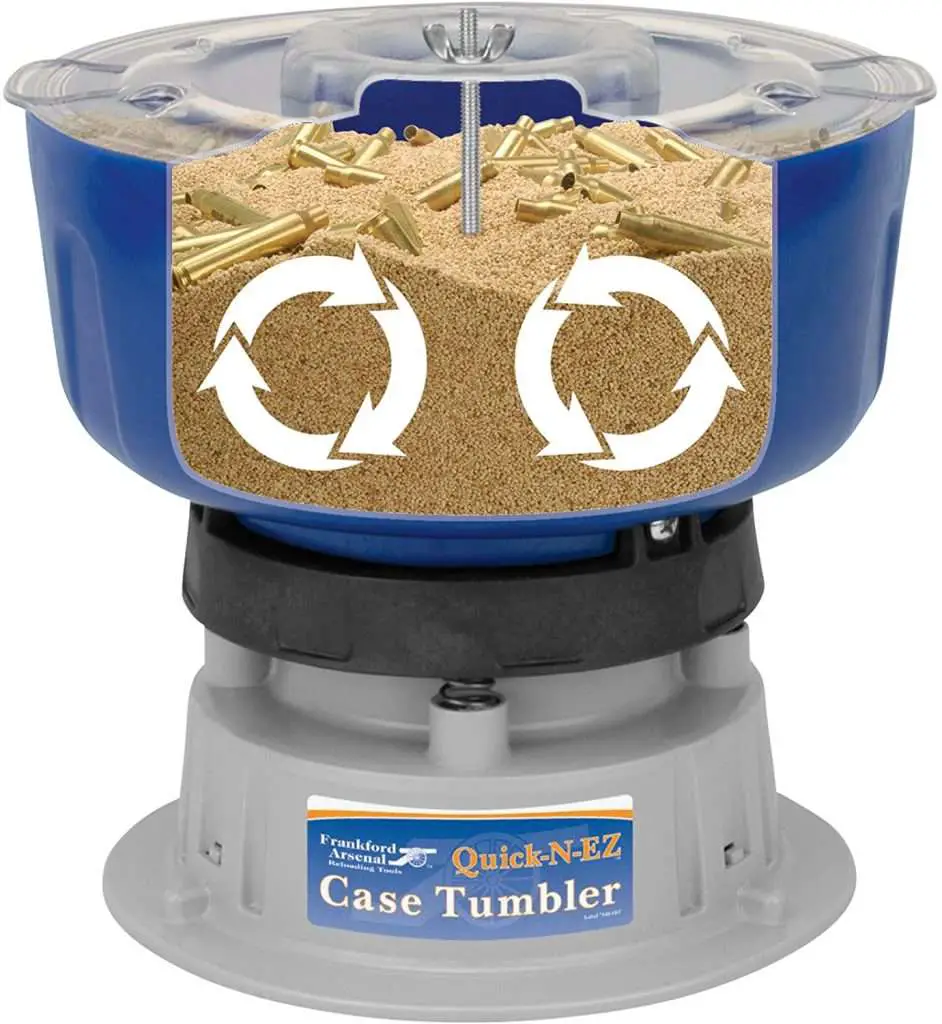 Frankford Arsenal Quick-N-EZ 110V Case Tumbler Kit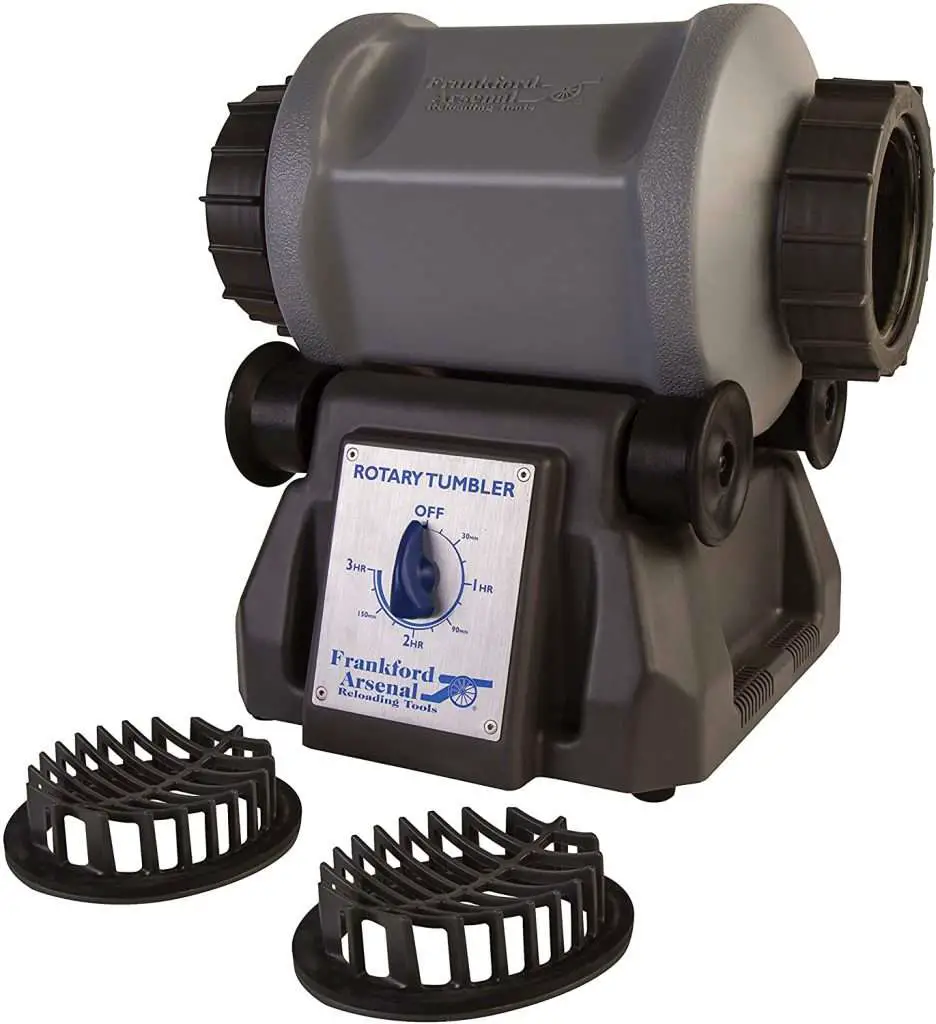 Frankford Arsenal Platinum Series Rotary Tumbler
If you've been reloading for a while, you probably noticed how much debris and dirt you have to remove from those cartridges before you can reload them. Cleaning used cartridges is as important as the reloading process because dirty and moist brass can be a safety hazard. Thanks to brass tumblers, we can now clean cases quickly and efficiently. In this article, we'll review the best brass tumblers for reloading. 
Comparison of the Best Brass Tumblers for Reloading
Dimensions
4.21 x 5.51 x 4.13 inches
12.75 x 12.5 x 11.75 inches
11.25 x 10.75 x 9.5 inches
Last update on 2021-04-22 / Images from Amazon Product Advertising API
How We Choose + Our Must-Have Features
If you're on a limited budget, you can choose a tumbler made of plastic instead of steel, since they're less expensive. However, steel brass tumblers are costly for a reason, because they guarantee years of high-quality results and performance.
You also need to decide on the tumbler type – vibratory or rotary. A vibratory tumbler cleans brass through the friction produced by its vibrating motion. It typically works with dry media such as walnut shells and corn cobs.
While a rotary tumbler polishes brass by a rotating motion. It usually works with wet and dry media and is more expensive than vibratory tumblers.
Both rotary and vibratory tumblers are efficient in polishing brass. Once you've decided on the tumbler type, choose the brand that's most efficient for your needs.
Another feature to consider is the brass tumbler's capacity. This would depend on how much you'll be reloading. There are tumblers that can handle as many as 1000 .223 cases per cycle. If you want your brass cleaned in no time, then choose a tumbler with that capacity. But if you don't have that many cartridge cases to polish, then you can go with a tumbler that can handle 350 to 600 cases of .223 brass per cycle and clean them over time if you have larger batches.
If you'll be doing high-volume reloading, make sure that your brass tumbler is of top quality and can last a long time. And we've listed only the best tumbler brands in this article so we got you covered.
While it's true that most brass tumblers can handle all case types, there are brands that handle some cases more efficiently; so make sure to look out for those.
When choosing which type of media to use, ensure its compatibility with your tumbler and consider to which extent your brass needs cleaning.
If your cases need extensive cleaning, then choose walnut media which works best with a vibrating tumbler. If your brass is just slightly tarnished, then the corn cob will do. Corn cob media is compatible with both tumbler types. If you prefer wet media, we suggest you get stainless steel pins.
Best Overall: Lyman Pro 1200 Tumbler
Last update on 2021-04-22 / Images from Amazon Product Advertising API
Lyman's most popular tumbler is first on our list. The Turbo Pro 1200 can hold up to 2 pounds of brass and can clean 350 cases per cycle.
It's equipped with a built-in sifter lid for quick media separation, so an additional media sifter is no longer needed.
The Turbo Pro 1200 removes fouling and oxidation from used cartridge cases. You may also use the machine as long as you want without worrying about overheating, thanks to its thermally-protected electric motor.
Best on a Budget: Frankford Arsenal Quick-N-EZ
Last update on 2021-04-22 / Images from Amazon Product Advertising API
We recommend the Frankford Arsenal Quick-N-EZ rotary tumbler if you're on a budget but still want top-quality brass cleaning. 
It can handle up to 350 cases of .223 caliber. It's also compatible with walnut and corn cob media.
The tumbler comes with a rotary media separator and a transparent lid so you can check your cases while they're being cleaned.
Most customers gave compliments about how reasonably priced the Frank Arsenal Quick-N-EZ tumbler is. However, some people complained about how loud the machine was. In the end, it depends on where you're going to keep the tumbler in your home if the volume is really important to you.
Highest Capacity Brass Tumbler: Frankford Arsenal Platinum Series
Last update on 2021-04-22 / Images from Amazon Product Advertising API
The Frankford Arsenal Platinum Series Rotary Tumbler takes brass cleaning to a whole new level. Aside from its capacity of 1000 cases of .223 brass per cycle, this incredible tumbler is equipped with noise-dampening rubber lining for noise-free cleaning.
We also love this wet rotary tumbler's clear end caps which make the brass visible while tumbling. That way, you can keep an eye on the progress as it runs!
It also comes with sifting end caps to quickly separate the media from the polished brass.
The Platinum Series Rotary Tumbler also allows you to set its built-in timer up to 3 hours and will automatically shut down once the cycle's done. This way you can do other tasks while getting your brass cleaned.
One downside that many customers complained about was that an additional ring seal is needed between the screw cap and the window to prevent leaks.
Last update on 2021-04-22 / Images from Amazon Product Advertising API
The Hornady M-1 Case Tumbler is specifically designed to handle large quantities of brass. It can hold up to 400 cases of .38 caliber.
It's also equipped with a sifter for quick and easy media separation. 
We also love how Hornady's One-Shot Metal Polish produces a shiny finish when paired with corn cob media. You may also set the running time based on how tarnished your brass cases are.
Hornady Rotary Brass Tumbler
Last update on 2021-04-22 / Images from Amazon Product Advertising API
The Hornady Rotary Case Tumbler is known for its capacity; as it can hold up to 5 pounds of brass in a single cycle.
This tumbler works perfectly with the One-Shot Cartridge Case Solution and stainless steel pin media, giving your brass casings a brilliant shine. 
It's also equipped with a digital timer that can run up to 8 hours, and a fan-cooled motor to reduce the risk of overheating.
Frequently Asked Questions
A brass tumbler is a machine that cleans and polishes tarnished brass cases so they can be reused.
How does a brass tumbler work?
A brass tumbler uses the friction produced by its vibrating or rotating motion to scrub off dirt and debris from your brass cartridge cases. Brass tumblers also use dry or wet polishing media for more extensive cleaning.
Do I need to tumble my brass?
Your cartridge performance won't be affected if you choose not to tumble your brass as long as they're free of dirt and water. However, tumbling your brass will save you a lot of time compared to cleaning them by hand. It will also make your cases look brand new. If you'd ask us, it's an investment worth making.
Can you tumble brass too long?
Tumbling for too long won't affect non-plated brass negatively, but it can cause damage to nickel-plated brass and media. To avoid this, we suggest you get a tumbler with a timer.