Best Overall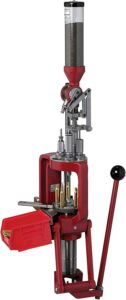 Hornady Lock-N-Load AP Press Loader – Ammunition Reloading Press
Quick and efficient reloading like no other!
Value: 9/10
Performance: 10/10
Cost: 8/10
Check Price
Best Reloading Starter Kit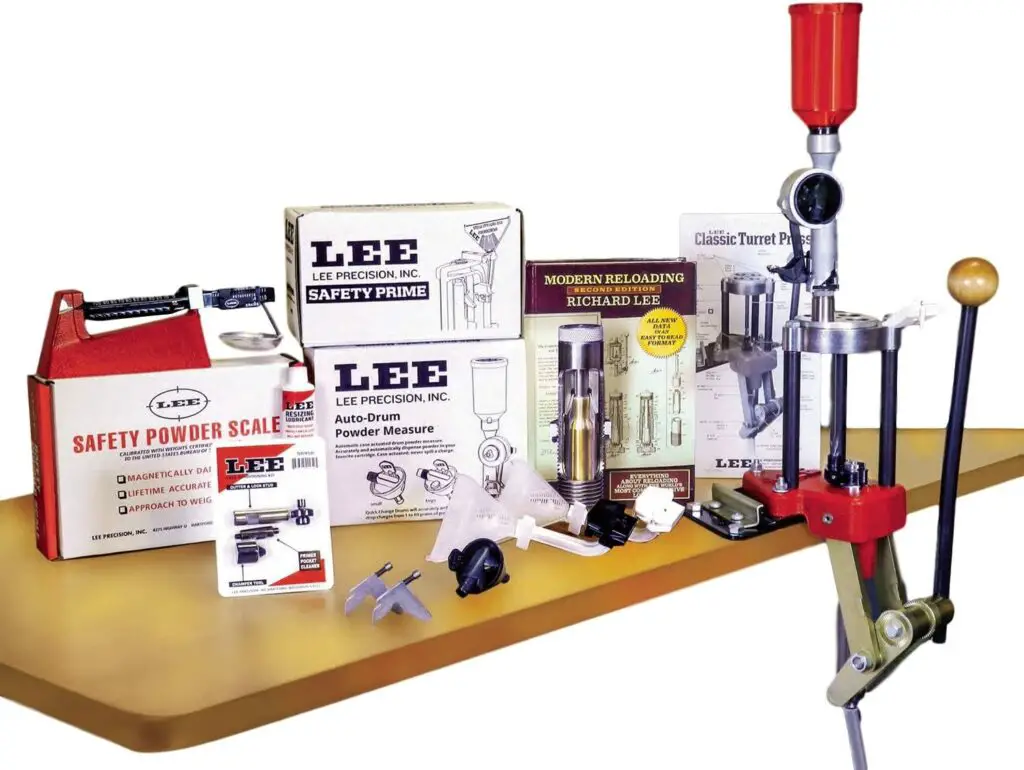 LEE PRECISION Classic Turret Press Kit
Complete reloading tools for every beginner.
Value: 8/10
Performance: 8/10
Cost: 8/10
Check Price
Best on a Budget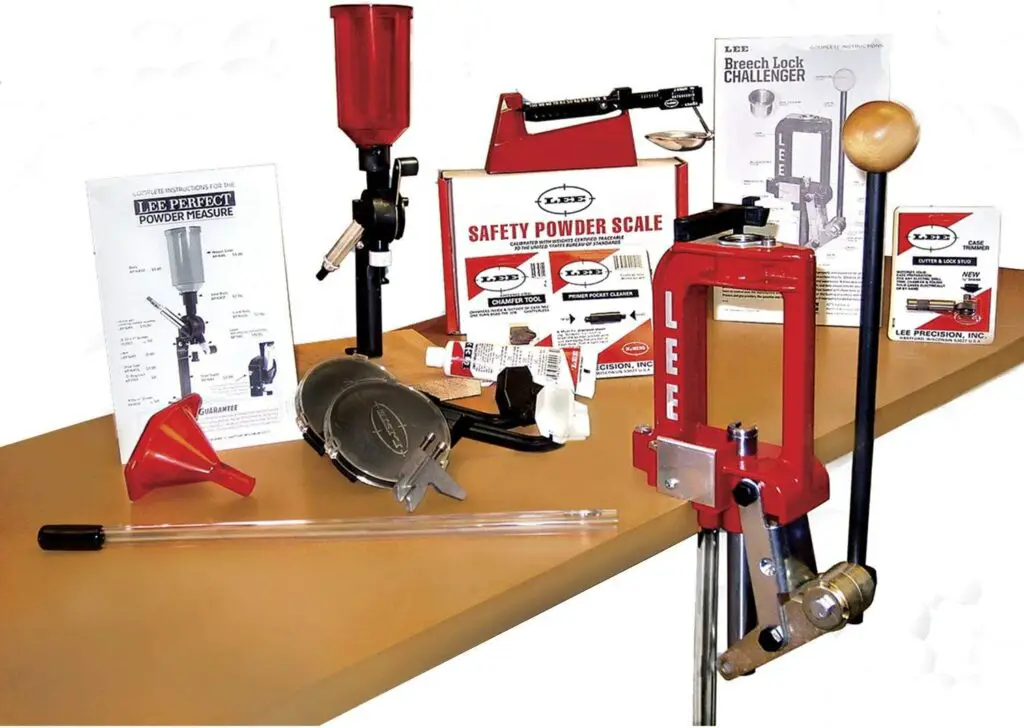 LEE PRECISION Anniversary Challenger Kit II
Incredible value for such an extensive kit.
Value: 9/10
Performance: 8/10
Cost: 10/10
Check Price
Aside from providing consistent and efficient ammo, reloading saves you a lot of money over buying fresh rounds. But you have to be smart in choosing your tools as you might end up spending more. Cost efficiency is one of our priorities so we picked only the best reloading kits in this article!
Comparison of the Best Reloading Kits
Model
Hornady Lock-N-Load AP Press Loader – Ammunition Reloading Press...
Lee Precision Anniversary Challenger Kit II
RCBS 9354 RC Supreme Master Kit
Lyman Brass Smith All-American 8 Reloading Press Kit
Reloading Rate (from manufacturer)
Model
Hornady Lock-N-Load AP Press Loader – Ammunition Reloading Press...
Reloading Rate (from manufacturer)
Model
Lee Precision Anniversary Challenger Kit II
Reloading Rate (from manufacturer)
Model
RCBS 9354 RC Supreme Master Kit
Reloading Rate (from manufacturer)
Model
Lyman Brass Smith All-American 8 Reloading Press Kit
Reloading Rate (from manufacturer)
Features to Consider
Type of Press
There are three types of press.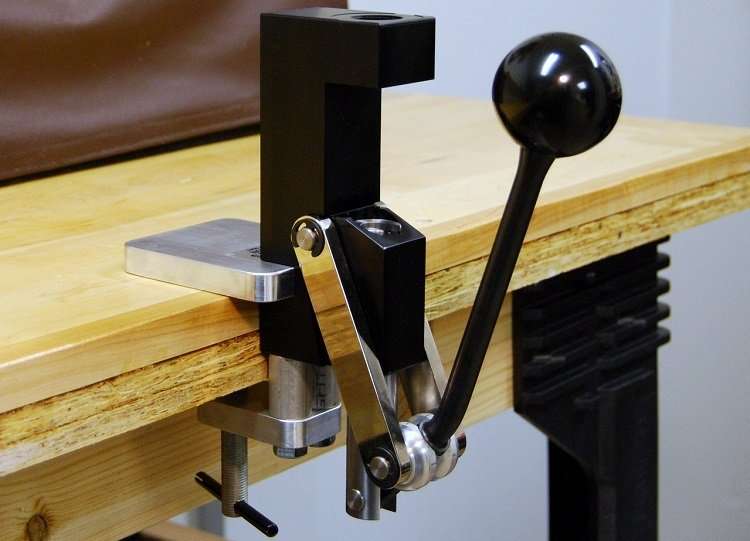 Single Stage – A single-stage reloading press lets you load one brass at a time, and it's great for beginners.
Turret – A turret press loads faster than a single-stage reloader but isn't as complex as a progressive reloader.
Progressive – Unlike single-stage reloaders, progressive reloading presses enable you to insert brass casings progressively and advance multiple steps with each action.
Components Included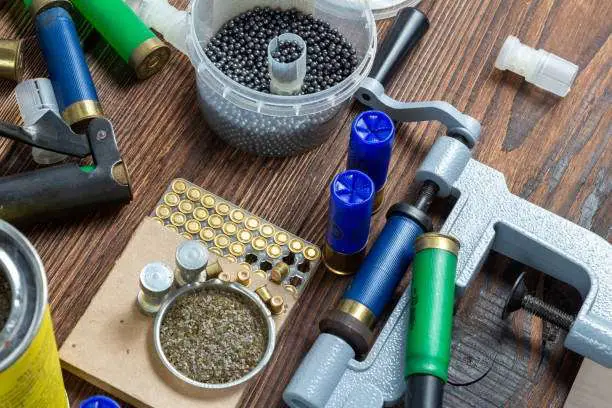 Most of the time, buying a reloading kit is cheaper than buying reloading tools individually. But never settle for less even if you're getting a bundle, or even if you think you managed to save a lot. You'd have to check the included components one by one and find reviews about their performance. This way you can choose the kit that really gets the most value out of your hard-earned money. 
Price
Aside from the kit itself, you'd need to buy "dies" for every caliber type that you'll be loading. That, plus additional accessories if you plan on upgrading your reloading press. All of these can really add up. So it's better to buy a kit because the cost is way less than buying the accessories and shipping them individually.
Type of Ammunition Used
If you plan on using different types of ammo, you need to purchase a progressive reloading press that can cater to all of your cartridge types, whether it's a pistol, rifle, or shotgun.
Ease of Use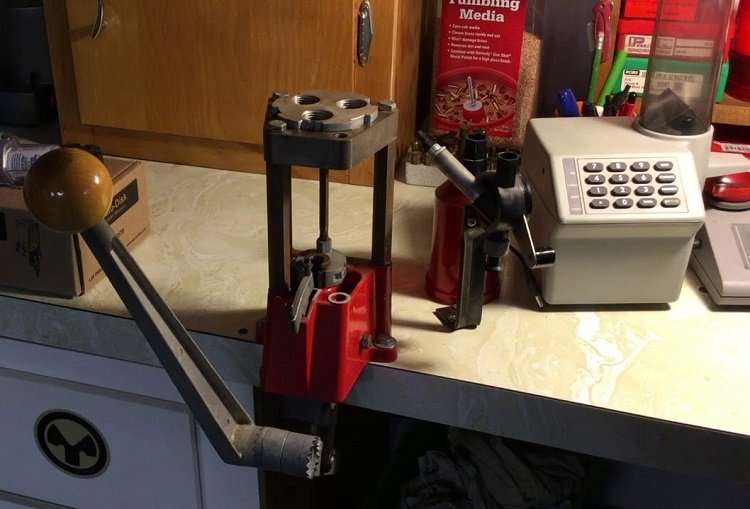 When choosing a reloading kit, make sure all the components are user-friendly and have plenty of resources to help you get started.
Reloading Speed
When reloading, you have to know your preferred speed. This way you can narrow down your options into those that fit your preference. Once you've purchased a machine and you want to upgrade its reloading speed, you could add automation to your press, but that would cost more than deciding that upfront. 
5 Best Reloading Kits
Best Overall: Hornady Lock-N-Load AP Press Loader 
If you want quick and easy reloading, the Hornady Lock n Load Auto Progressive Reloading Press is what you need. 
It's equipped with a Universal Case Retainer Spring that lets you easily insert or pull out a case at any point in the loading process 
This reliable press lets you switch dies with just a quick twist, thanks to its 5-station Quick Change Bushing System. You won't even have to change the entire tool head when switching. That means you can change from 223 to 45 in just a few minutes! We also love how the dies remain locked and perfectly aligned throughout the process.
Hornady also takes pride in its EZject system which features reliable cartridge ejection every time, with zero adjustments guaranteed.
Its Powder Drop feature is also equipped with a sensor that only dispenses powder when a case is detected. 
We've seen some users have had problems with the powder dispenser supplying powder less than the set charge weight. Aside from this minor drawback, we'd say that the Hornady Lock n Load is an outstanding reloading press.
Accessories included:
5 Lock-N-Load Die Bushings
1 large cartridge bin
Primer pickup tubes
Metering inserts and rotors
Lock-N-Load Powder Measure
Pros
Easy to set up
Great for high-volume reloading
Quick case loading
Easy ejection
Case-activated powder drop
Cons
Inconsistent powder dispenser
Expensive
No dies included
What Customers Say
"After setting up, this is a great press to make light work of reloading ammo. Adjustments hold true and the service provided by Hornady is the BEST ! This is a great investment and can be accessorized to suit. Shipped very fast by this seller and questions answered fast as well.highly recommend this seller for this product."

Jason
"I went from a single stage reloader to the Lock n Load. This is a great machine. You do have to pay attention and you do have to use common sense and understand every aspect of this awesome reloader. Problems will arise if you don't. It is not the machine's problem but with time and experience you will love it. I had an issue with setting up a new set of dies last weekend; end result was the indexing wheel broke. Hornady sent me a new one free of charge. You can't beat that."

J. Nunn
Best Reloading Starter Kit: LEE PRECISION Classic Turret Press Kit
The Lee Precision Classic Turret Press kit features a solid cast iron base and a large 1.125″ ram housing. Its pillar is designed to hold the four-hole turrets at the edges, not the center. This system is better than turrets with bolts at the center because it's less prone to flexing and the stress is distributed and not only focused on the center bolt.
We also love the auto drum powder drop feature hits the right weight on the money almost every time. And according to some users, whenever it's not dead on, the discrepancy is never more than +/- .1 grain.
Accessories included:
Cutter
Lock Stud
Chamfer Tool
Small and large Primer Pocket Cleaner that's user-friendly
Tube of Lee case sizing lube
Cartridge-specific Case Length Gauge
Lee Safety powder scale.
Pros
Affordable
Ideal for beginners
Consistent
Loads at 250 rounds per hour
Cons
Low-quality scale
Dies not included in the kit
Bench plate system not included in the kit
What Customers Say
"This press was easy to set up and seems to be very versatile in loading various calibers. It loads pistol rounds very quickly and easily. You can manage rifle rounds as well."

Brian S.
"It's a very sturdy and well made and functional press. I wish it had a little more detailed instructions. I got it for reloading 10 mm and after doing some research I found out the 40 SW is the same die."

Rlstuff
Best on a Budget: LEE PRECISION Anniversary Challenger Kit II
This kit's main attraction is the durable Challenger Press which features a huge opening that's angled at 30° for maximum hand clearance. It also comes with compound leverage that's very reliable in performing full-length sizing on any case size.
Lee Precision included a Breech Lock Quick Change Bushing in this kit. This tool lets you change dies in a breeze. After mounting it, you only have to adjust the die if needed. This system promotes more efficient reloading and produces more consistent rounds.
One thing that could be improved is this kit's priming tool. Because too much or too little pressure spills the primer onto the floor.
Accessories included:
Perfect Powder Measure
Cutter
Lock Stud
Lee Safety Scale
Inside/outside case mouth chamfer tool
Primer pocket cleaner
Tube of premium sizing lube
Power funnel
Pros
Very affordable
Comes with a quick-empty primer catcher
Easy to setup
Great for beginners
Cons
Priming tool is difficult to use
Score
What Customers Say
"Bought as my first reloading press because cost of factory ammo getting high. Easy to use. Recommend oiling press on regular basis."

Alex G.
"Form, fit, and function seems to be very good. Reloads need to be fired to test."

Ralph R.
Lyman Brass Smith All-American 8 Reloading Press Kit
Our next pick is one of the most extensive kits on the market, making it a great deal for only less than 600 bucks. You can save a whole lot from this kit over buying the tools individually.
The Lyman Brass Smith All-American 8 Reloading Press that comes with this kit offers fast and accurate reloading for pistol calibers and can handle the biggest rifle cartridges. Its 8-station turret can hold up to four two-die sets.
Accessories included:
Brass Smith All-American 8 Press
Brass Smith Powder Measure
Powder Measure Stand
50th Edition Reloading Handbook
Pocket Touch 1500 electronic scale
Funnel Pan and Dipper
Powder Dribbler
Universal Trimmer with pilot multi-pack
Case Prep Multi-Tool
Primer Tray
Magnum Bullet Puller
E-ZEE Powder Funnel
Case Lube Kit
Loading Block
Pros
Extensive kit
Made from a durable cast iron frame
Cons
Expensive
Issues encountered on leverage on the handle
What Customers Say
The Lyman All-American 8 Reloading Kit is an amazing set to purchase if you're just getting into reloading or looking to upgrade your current press and accessories. The set is quite extensive and provides the user with plenty of tools to properly reload ammunition. The kit has so many tools that you may forget you have them. Definitely a great value and I highly recommend this set especially for a beginner in reloading.

Amazon Customer
Reloading 308. This turret works great. It's the total package. Great product. Knocking out rounds.

Harley1
RCBS Rock Chucker Supreme Master Kit
Some of the components included in the RCBS Rock Chucker Supreme Master kit may not be of the highest quality but get the job done. We also love how the Rock Chucker Supreme Press runs accurately and consistently and can handle other manufacturers' dies as well. It also comes with a manual with all the basic info on reloading to help get you started if you're a newbie in this field.
However, the scale that comes with it can be extremely touchy to use, and a digital scale will be faster.
Accessories included:
Rock Chucker Supreme Press
M500 Mechanical Scale
Hand Priming Tool
Uniflow Powder Measure
Hand Priming Tool
Universal Case Load Block
.17-.60 Debur Tool
Hex Key Set
Case Lube Kit
Powder Funnel
Pros
Ambidextrous handle
Easy operation
Cons
Finicky hand primer
Sensitive scale
What Customers Say
Came with so much of what I needed to get started and made the start up so much easier with all the provided tools and parts in this kit. I just needed dies and some brass pocket cleaners and I was ready to get going.

MSG
The reloade[r] I learned on as a kid, still rocks, everything in the kit works. I bought a digital scale that is much easier to use though. Nothing wrong with the one that comes with it, the digital is just easier.

Jeffrey P.
FAQs
How Much Does a Decent Reloading Setup Cost?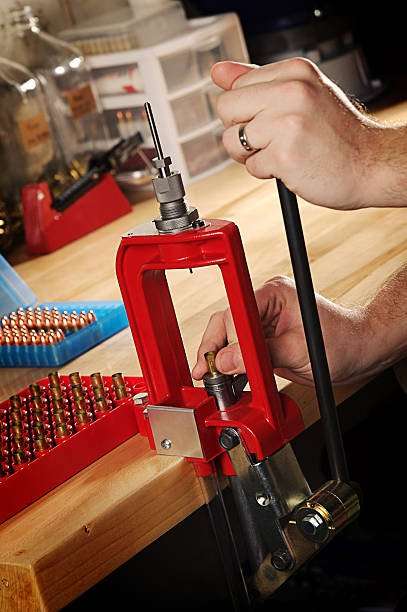 A decent reloading setup costs between $400 to $1000. Completing your reloading equipment isn't cheap but think of it as an investment that pays off in the long run.
Is Reloading Worth It?
Absolutely! All the effort and reloading tools cost are all worth it because you can produce consistent rounds your way. Plus, think of all the money you can save over time.
How much does it cost to reload a box of 12-gauge shells?
The total cost of reloading a box of 12-gauge shells is more or less $8, while a box of high-quality ammo costs as much as $15 from retailers.
Want to make sure your cases are cleaned professionally? Check out our picks for the best brass tumblers!
Last update on 2023-11-30 / Images from Amazon Product API