Editor's Rating: 9.0/10
Users' Rating (Click a star to rate this gun.)
Summary: Paul Markel's review of and rating for the DoubleStar Combat Pistol, including a range report, photo, pricing, specs and user ratings. (Click here to see all of Markel's pistol reviews.)
Editor's Review
The DoubleStar Corporation (DSC) has been operating under the popular radar for several years now making some very well made AR-type rifles. My first introduction to DSC came in the form of a 5.56mm carbine I tested a few years ago. The rifle performed admirably and the quality was obvious.
During the pre-show range day at the 2009 SHOT Show, I was able to put my hands on the newest offering from DSC—an M1911A1 pistol DSC calls the Combat Pistol. I fired a couple of magazines through the pistol just to get a feel for it and decided right then I needed to follow up after returning home.
The Details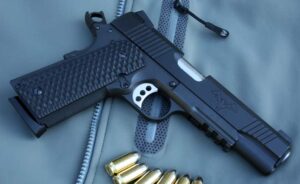 The Combat Pistol remains true to its Browning heritage and chambers the .45 ACP cartridge. This pistol uses a standard barrel bushing, recoil spring, plug and guide. The 5″ stainless steel barrel is machined from bar stock by Storm Lake and features 1 in 16 right-hand rifling.
Atop the forged 4140 steel slide DSC mounted a set of Novak front and rear sights using dovetail cuts. This is a nice feature because it allows shooters to install other sights if they choose. Both forward and rear cocking serrations are machined into the slide as well. The ejection port was cut open and flared to ensure that those big, fat cases get kicked out clear of the gun.
At the rear of the slide you'll find a skeletonized combat hammer. For manual controls and safeties, DSC provides an extended thumb safety, a high-beavertail grip safety with memory grooves to ensure positive operation, a customary slide stop and a slightly extended magazine release button.
Moving down to the full-sized, solid, forged 4140 steel frame, the mainspring housing and frontstrap sport 25 LPI checkering. A silver colored, serrated aluminum trigger has an over-travel stop and contrasts nicely with the black pistol frame I received (available finishes include black nitride, black nickel and satin nickel). And, my DSC had a 1913 picatinny rail milled into the dust cover (you can also get the DSC without a rail). This rail will accept all manner of light/laser combinations.
Finally, the gun carries black composite grips with deep scallops for a rock-solid purchase.
All full-size, single-stack M1911 magazines will fit in the gun in the funneled magwell. One Novak magazine was shipped with the pistol, so I supplemented it with mags from Wilson Combat and Chip McCormick.
Range Work
As I would with any semi-auto firearm, I secured several different loads for testing, including controlled-expansion rounds from Black Hills, Cor-Bon, Federal, Hornady and Winchester. I also picked up some full-metal-jacket rounds from the Winchester USA brand.
During my evaluation period I was able to get out to the range on several occasions and shoot the Combat Pistol. Here are my results from 20 yards:
Black Hills 185-grain JHP +P: 975 fps, 3″ group
CorBon 160-grain DPX: 1,108 fps, 3.15″ group
Federal 230-grain Hydra Shok: 856 fps, 2.87″ group
Hornady 200-grain XTP: 907 fps, 2.75″ group
Winchester 185-grain STHP: 941 fps, 3.1″ group
Winchester USA 230-grain FMJ: 810 fps, 2.87″ group
The gun consumed every round of .45 ACP I fed it—zero stoppages.
I did on occasion have an issue with the magazines dropping free after the last round. The magazine follower appeared to catch on the slide stop. This occurred with the Novak magazine and those from McCormick. The pistol seemed to like the Wilson Combat magazines best, which is a bit ironic because I acquired these mags from a friend because his Kimber pistol didn't like them. That, my friends, is why we get to the range and actually test our gear before we need it.
Accessories
I holstered the Combat Pistol with a SERPA holster from Blackhawk and matching single-stack magazine pouches. The current version of this holster was constructed with rail frame pistols in mind, and the gun fit perfectly in the coyote-tan holster. During my last range session I attached an Insight Tech weapons light and trained for an hour or so with the pistol/light combination.
Parting Shots
Unlike many high-dollar custom pistols, the Combat Pistol was not a finicky eater. The gun functioned well with all types of defensive and training ammunition.
Plus, as for quality and workmanship, the DSC gun gets high marks. The slide was tight on the frame, but this didn't hinder its operation in the slightest. The parts were fit together with obvious care and attention to detail.
Bottom line: I believe 1911 fans will appreciate the offering from DoubleStar.
Keep shooting straight and shooting safe.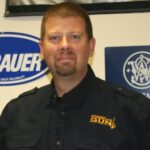 Paul G. Markel became a United States Marine in 1987 and served his nation honorably during peace time and at war. Among the many hats he has worn in his career, Markel has been a police officer, professional bodyguard, firearms instructor and gun writer. Markel is the creative director and host of "Student of the Gun," a weekly television show airing on the Sportsman Channel (www.studentofthegun.com).
The Specs
| | | | | | | |
| --- | --- | --- | --- | --- | --- | --- |
| Caliber | Capacity | BBL | OAL | Width | Height | Weight |
| .45 ACP | 8+1 | 5″ | 8.75″ | n/a | n/a | 39 oz. |
Pricing
MSRP: $1,449.99