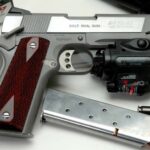 Editor's Rating: 8.0/10
Users' Rating (Click a star to rate this gun.)
Summary: Walt Rauch's review of and rating for the Colt Rail Gun pistol, including a range report, photos, pricing, specs, user ratings and user comments. (Click here to see all of Rauch's pistol reviews.)
Editor's Review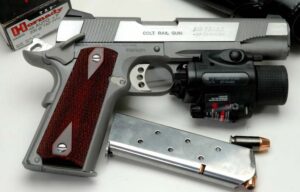 Back in 2000, Colt crafted the XSE Series 1911 with features desired by many 1911 buyers and users, including front and rear slide serrations, generally good tolerances, ambidextrous and extended thumb safeties, an elongated version of Colt's existing round hammer, a Smith & Alexander beavertail grip safety, a slightly beveled magazine well, a long skeletonized aluminum trigger with an overtravel screw, and a full-length guide rod. Also, Colt made an effort to bevel some of the gun's sharp edges.
Now, Colt has added to and modified the XSE pistol to create the Colt Rail Gun (Colt's official title), which was first announced in January 2010 at the SHOT Show in Las Vegas. Some of the guns began filtering out of Colt in the latter part of 2010, but its appearance in retail dealers' showcases has remained spotty.
I managed to get one from Colt, and in examining and shooting this sample Rail Gun (serial number CRG04XXX), I think it was worth the wait.
The Details
The Rail Gun, with slide and frame made from forged stainless steel, keeps, loses and changes some of the XSE features, with the obvious addition being the picatinny M1913 mil-spec accessory rail on its dust cover.
The slide is brush-finished, save for its sides, which are polished. The left side bears the inscription "Government Model Automatic COLT Caliber 45," with a Rampant Colt logo at its rear. The right side reads, "COLT RAIL GUN" and "100 YEARS OF SERVICE."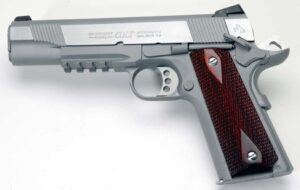 Front and rear diagonal grasping grooves—10 grooves front and 12 grooves rear—continue to be provided. The slide also holds part of the Series 80 passive firing pin safety system, with the remainder of the system in the frame. It operates when the grip safety is fully depressed. Some light beveling is noticeable on the lower edges of the slide, while the face and rear edges of the slide remain abrupt, as do the edges of the picatinny M1913 rail and grasping grooves.
Actually, I didn't find these edges bothersome. At first, I thought they were a bit sharp, but after a day at the range, where Ted Murphy and I fired a few hundred rounds, we did not find them so. The best way I can explain this is that on first examination I was being hyper-critical.
When mounting SureFire, Insight Technology and SIG Sauer rail lights or sight/laser units to the picatinny rail, I found all locked up quite solidly, and I suspect this rigidity was enhanced by full contact between light and rail due to the lack of beveling. If a user finds these edges a hindrance or simply annoying, however, a very light, fine polish will easily fix the situation.
A National Match barrel (so marked), coupled with what feels to me to be better barrel, slide and frame fit, contributes to the pistol's accuracy (as noted below). Colt employs a solid and finger-tight barrel bushing.
The feed ramp is well-throated and polished from 3:00–9:00 and also has a further inward relief channel at the 6:00 position—a ramp within a ramp, as it were—to further enhance cartridge feeding. To my knowledge, this feed ramp design is unique to Colt. (Indeed, the company may have a patent on it.)
A standard guide rod replaces the full-length guide rod package found in the XSE Series pistols. Its spring weight measured 16 lbs., per Colt's specification for a full-sized .45 ACP-caliber 1911. The checkered recoil spring cap has an often-not-included inward flange in its body, the purpose of which is to capture the open end of the recoil spring while assembling the pistol to secure the two together. Doing so helps not launching the cap to parts unknown if or when you accidentally lose contact with it when assembling or disassembling the pistol. A standard, horizontally-grooved slide stop marked "S1" is used and appears to be forged.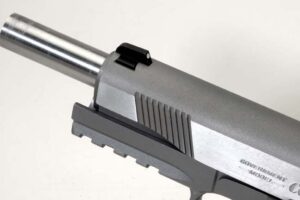 The now-almost-obligatory lowered and flared ejection port features a mill cut at the top rear of its right side. This slight flaring is done to minimize or eliminate the denting of empty cases as they are ejected and strike the slide in this area.
The cartridge-pick-up rail is slightly beveled on its forward edge. This rounding allows the slide to move more smoothly over that portion of the disconnector where it protrudes in the top of the frame. This usually-custom touch may appear to be minor, but does add to a more favorable feel when manipulating the pistol.
A three-white-dot sighting system is mounted on the round top of the slide. The slightly ramped, smooth-faced front sight and a Novak rear sight fit nicely in dovetail cuts, with the rear sight further secured with an Allen screw.
The rounded trigger guard shields a long (original 1911-length) aluminum and grooved three-hole trigger with a trigger overtravel screw in its lower portion. Initially, the clean-breaking (with slight take-up) trigger pull measured 5.5 lbs., which dropped to 5.0 lbs. after our shooting session.
Colt has made a mill cut at the top of the round and smooth-faced frontstrap, thus allowing a higher grip on the frame for better control of the gun's recoil. The standard-length magazine catch has a checkered head and operates smoothly. The two supplied eight-round, highly-polished magazines functioned smoothly for insertion and removal. The magazine well is slightly flared, aiding mag insertion.
One caution: There are really sharp corners where the magazine base plate abuts the bottom area of the frontstrap. For me this was of no concern, but others might find otherwise.
The nylon mainspring housing is vertically grooved. The Smith & Alexander beavertail grip safety with a palm swell fits the frame with no unsightly gaps. Colt's choice of the Smith & Alexander grip safety with its upswept tail in place of the long-used downward-sloping grip safety is a big plus for those of us who shoot using a high grip.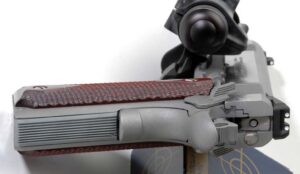 Note: For those who are inveterate parts changers, the upper area of the frame where the grip safety is pinned by the thumb safety is shorter; it doesn't extend rearward as much as does the standard full-size frame. As such, a grip safety made to Colt Commander specifications is the correct one. This modification also aids in allowing a higher grip on the gun.
The extended and grooved ambidextrous thumb safeties move firmly against the safety and slide-stop retaining spring unit into their on and off positions. The hammer sports high-polish sides and a bead-blast on its remainder, and it's longitudinally oval with its top surface grooved.
Also, the traditional half-cock notch in the hammer is not present. Here, the hammer has what Colt terms a "Safety Stop." Paraphrasing from the instruction manual: The Safety Stop is a flat, shelf-like surface that engages the sear and will prevent the hammer from falling fully forward. When in the Safety Stop, the hammer is almost, but not quite, fully down. Pulling the trigger while restricting free hammer movement allows the hammer to move fully forward as the sear slides over the flat section. It's not a manual safety.
The Colt Rail Gun features large, double-diamond-checkered rosewood grip panels, which are affixed using four highly-polished stainless steel screws.
Range Report
I looked forward to the range work but paused to find a holster to fit because none of my regular carry rigs will accept a rail 1911. Fortunately, I found the one I had from a long-ago article: a Model DOJ-S, along with two matching magazine pouches, sent to me by my friend and holster maker, the late Lou Alessi. (Lou's family is continuing the business. Visit the Web site here www.alessigunholsters.com.) Finally, I was good to go.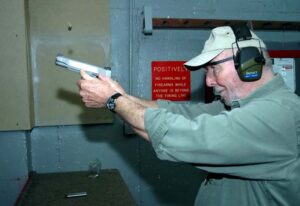 Once we got to the range, the Colt Rail Gun did not disappoint. I found what I'd hoped for—a gun that shoots better than the shooter! We used Black Hills 230grain FMJ, CCI Gold Dot 200-grain HP, CorBon 230-grain JRN Performance Match, Hornady 230-grain +P TAP FPD JHP and Winchester 230-grain "White Box" JRN. I shot at 17 yards, seated, over a gun bag rest. Murphy shot while kneeling, with the gun supported on the shooting bench. Five-shot groups ran from an amazing 1.75″ (Murphy's) to 2.5″ (mine).
Here are our results, obtained using a ProChrono Crony chronograph. We shot at 300 feet above sea level with ambient temperature 77 degrees F. I calculated five- shot averages for all data:
Black Hills 230-grain FMJ: 858 fps, 2″ group
CCI Gold Dot 200-grain HP: 949 fps, 2.5″ group
CorBon 230-grain JRN Performance Match: 757 fps, 1.75″ group
Hornady 230-grain FPD XTP +P: 915 fps, 2.25″ group
Winchester 230-grain JRN: 814 fps, 2.25″ group
We also re-verified that most new guns need a break-in. While holding at center of the Shoot-N-See bull, my first five shots impacted at 6:00. I then shifted to a 12:00 hold and watched as the next five hits marched upward from target center to point-of-aim. The CRG shot almost to point-of-aim thereafter—I say almost because the gun shoots slightly to the right for me. (Conversely, it shot slightly left for Murphy.) We both felt our results reflected more of how well or not we could break each shot rather what the Rail Gun can do.
I thought slide movement was smooth right out of the box, but after only this relatively small amount of shooting, it was even better. In fact, it's not an exaggeration to say this fit is equal to that of some custom 1911s I've shot.
Also, we shot with and without the Insight Technology M6X light/laser attached and found it didn't change bullet point-of-impact. In addition, I felt that with the tactical rail on the dust cover, the slight amount of weight it added seemed to decrease the amount of muzzle lift I had shooting fast multiple shots when I was doing some draw and fire work from the holster.
Final Thoughts
Were there any negatives or anything I'd change? Yes. I don't care for white dots in the rear sight because they draw my focus away from the white-dot-wearing front sight. For the accuracy work, I blacked out the rear dots; Murphy blacked out the front and rear.
I would also either remove, or have my gunsmith friend minimize, the right side ambidextrous safety, trimming it back and lowering its profile so it doesn't disengage without my active participation when carrying concealed.
I might add a Smith & Alexander magazine well, too, but not to get fast magazine changes. I just like the longer backstrap this particular magazine well creates, giving me an even better shooting grip.
Other than these few nits, the Colt Rail Gun is, for we unabashed devotees of the 1911, a Colt that could well find a home with one of us, finances permitting. The Colt Rail Gun is a quality-made 1911 properly wearing the Colt Rampant stallion!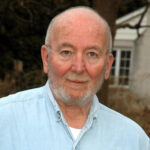 Walt Rauch received a BS degree from Carnegie Tech and completed service as a Special Agent in U.S. Army Intelligence. Rauch was a U.S. Secret Service Special Agent and a Philadelphia, Pa., Warrant Unit Investigator. He now operates a consulting company for defense-weapon and tactical training. Rauch & Company services include expert witness testimony on firearms use and tactics.
Rauch is also a writer and lecturer in the firearms field. He's published in national and international publications including InterMedia's Handguns, several Harris Publications specialty magazines, Police and Security News and Cibles (France). He is the author of a book on self-defense, Real-World Survival! What Has Worked For Me, as well as Practically Speaking, a comprehensive guide to IDPA defensive pistol shooting.
The Specs
| | | | | | | |
| --- | --- | --- | --- | --- | --- | --- |
| Caliber | Capacity | OAL | BBL | Height | Width | Weight |
| .45 ACP | 8+1 | 8.5″ | 5″ | 5.25″ | 1.25″ | 39 oz. with empty mag |
Pricing
MSRP: $1,087–$1,188