Editor's Rating: 7.5/10
Users' Rating (Click a star to rate this gun.)
Summary: Walt Rauch's review of and rating for the Para GI Expert pistol, including a range report, photos, pricing, specs and user ratings. (Click here to see all of Rauch's handgun reviews.)
Editor's Review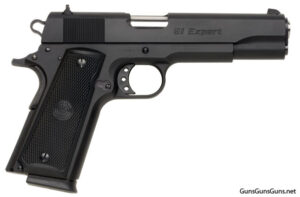 Para is well known for its large-capacity 1911s, innovative Light Double Action Trigger system and an improved (and patented) extractor for the 1911. Para makes a wide range of 1911s, with all having one or more features that were formerly custom modifications. But, what the company didn't make was a basic 1911—one that does not include many of these modifications, but is priced right while delivering a quality, basic 1911.
Now Para does: the GI Expert model, an affordable no-frills 1911 in .45 ACP minus what you normally found with such 1911s—e.g., a hard, heavy trigger pull, hard-to-see sights and pain when the web of the shooter's hand gets caught between the hammer and grip safety. Para now offers a quality but low-cost 1911, and I review it in this article.
The Details
To its credit, the GI Expert does not exactly duplicate a WWII GI pistol. The GI Expert follows the observations of Jeff Cooper, known as the father of modern pistolcraft, who opined that the 1911 was the best fighting handgun and all the pistol needed was a good set of sights and a decent trigger pull to be complete. (Reliability apparently was a given to him.) The GI Expert provides these features, including reliability.
The GI Expert is a full-sized 1911 in dull black over a fine bead-blast finish offering adequate protection from handling or the elements if the finish is given regular attention. I found no offending sharp edges on the pistol. The slide-top end is rounded. The stainless steel barrel, including the chamber, measures 5″. The barrel is not, as is normal for Para guns, ramped. An extended ejector of the type favored by many for more positive ejection is present. The slide features an enlarged ejection port window.
Amply-sized front and rear sights wearing the three white dot sighting system are dovetailed into the slide and allow windage adjustment. For quick sighting, the front sight's white dot is positioned between or just over the two rear white dots. Simply having the three dots so roughly positioned will provide enough alignment to make good close range (no more than 10 yards) hits.
A rounded, exposed and skeletonized hammer is grooved on its top side. The grip safety is of the shape first used in conjunction with the round hammer on the Colt Commander after WWII. The top of this grip safety, where the hammer abuts it in the cocking action, is concave to allow the full hammer design room enough to complete its cocking cycle. The benefit of combining the re-designed hammer and grip safety is to minimize hammer bite when firing, yet it doesn't increase the gun's overall footprint of the gun.

A minor point for some and great for others (me included) is that while this grip safety remains fully functional, you only need to slightly depress it to disengage it. I tend to grip 1911s high up on the backstrap, and sometimes I don't have enough pressure on the bottom of a standard grip safety to disengage it.
Speaking of the thumb safety, the GI Expert here, too, follows the excellent design of post WWII Colts: The grooved thumb safety ledge is tear-shaped, tapering inward at its rear. In my experience, this configuration remains the best compromise; it's wide enough that almost anyone can easily manipulate it even under great stress, but it doesn't protrude enough for its ledge to catch on the lip of a concealment holster, snag on clothing or, when manipulating the slide, stub a thumb on its forward edge. This part is well-fitted in the GI Expert, snapping solidly to its on and off positions. Para installed a grooved and flat mainspring housing that duplicates the original 1911 design. The magazine well is very slightly beveled.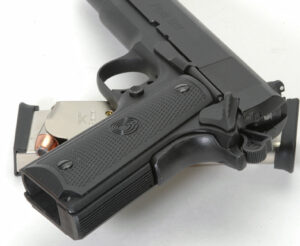 The GI Expert, having a full-sized frame, accepts any single-column full-size magazine. The gun ships with two eight-round nickeled and heat-treated metal magazines, which have a removable polymer base plate and a solid, formed polymer follower. Six cartridge witness holes run down either side of the magazine body. The vertically-grooved magazine catch is of normal size and is at the bottom left rear of the rounded trigger guard. The slide catch is grooved on its upper face and is in its standard location above the trigger guard on the frame's left side. The black polymer grips are checkered and retained with four slotted and blued screws.
Note: Para is the only 1911 manufacturer that places rubber O rings around the grip screws. These screws tend to come loose due to recoil, which for me is very annoying. The O ring stops this from occurring, and I put them on all my 1911s.
The polymer trigger is grooved on its face and has three holes in its body, further lightening the trigger's weight. On this gun, the trigger pull weighs 4.5 lbs. To the good, the trigger does not have a trigger overtravel adjustment screw. Bullseye target shooter like the screw because they want the least trigger movement possible so as to not disturb their sighting. However, not only is this not needed in a fighting handgun, having one can prove fatal in a fight because either by fiddling with it or the screw turning inward due to vibration, the gun can fail to re-cock.
The GI Expert also doesn't carry a full-length recoil spring guide rod.
Range Report
Having disassembled and wiped down the GI Expert for photographs , I lubricated it with MILTEC-1, contrary to my usual shoot-it-as-it-comes routine. (I do the latter simply to see how well or not the gun works when someone doesn't read the manufacturer's operating manual.)
To settle everything in place, I ran eight quick rounds of Winchester USA Personal Protection 230-grain JHP into an IDPA target 20 yards downrange. All hits were well centered, so I moved on to shooting for group.
Seated at a gun table and firing at a set of three, five-shot Dirty Bird targets, I shot a 2.5″ group. Then I managed to place four out of five rounds into 1.25″ using Hornady 185-grain XTP, but having wobbled my sights on the last shot, the group opened up to 2″. My last target had Cor-Bon 230-grain JRN Performance Match ammo going into a nice 2″ group.
My results:
CorBon 230-grain JRN Performance Match: 2″ group
Hornady 185-grain XTP: 2″ group
Winchester USA 230-grain JHP: 2.5″ group
Contrary to my normal practice, I didn't black out the two rear white dots. If I had, I think the groups would have been even better, but what I did get is what the buyer can expect if you still wants to employ the speed sighting system. (I've found that while the white dots are great for this, the rear dots distract me from focusing on the front sight for precision shooting.)
I finished up with some draw and fire work. Using a Galco Royal Guard inside-the-pants concealment holster, I emptied out some partial boxes of ammo, which included the following: 200-grain CCI Gold Dot, 230-grain JRN MagTech, 185-grain JHP Remington Golden Saber and a box of accidentally-water-soaked 230-grain JRN PMC ammo in to a brass bag. I shot this mixed lot with no problem.
Final Thoughts
All in all, the Para GI Expert is a better version of a basic 1911 and can well serve most any reasonable application, such as personal protection, informal shooting or action shooting competitions.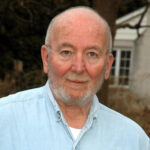 Walt Rauch received a BS degree from Carnegie Tech and completed service as a Special Agent in U.S. Army Intelligence. Rauch was a U.S. Secret Service Special Agent and a Philadelphia, Pa., Warrant Unit Investigator. He now operates a consulting company for defense-weapon and tactical training. Rauch & Company services include expert witness testimony on firearms use and tactics.
Rauch is also a writer and lecturer in the firearms field. He's published in national and international publications including InterMedia's Handguns, several Harris Publications specialty magazines, Police and Security News and Cibles (France). He is the author of a book on self-defense, Real-World Survival! What Has Worked For Me, as well as Practically Speaking, a comprehensive guide to IDPA defensive pistol shooting.
The Specs
| | | | | | | |
| --- | --- | --- | --- | --- | --- | --- |
| Caliber | Capacity | BBL | OAL | Width | Height | Weight |
| .45 ACP | 8+1 | 5″ | 8.5″ | n/a | 5.75″ | 39 oz. |
Pricing
MSRP: $599