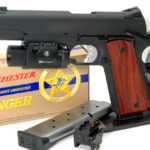 Editor's Rating: 9.5/10
Users' Rating (Click a star to rate this gun.)
Summary: Walt Rauch's review of and rating for the Ed Brown Special Forces pistol, including a range report, photos, pricing, specs, user ratings and user comments. (Click here to see all of Rauch's handgun reviews.)
Editor's Review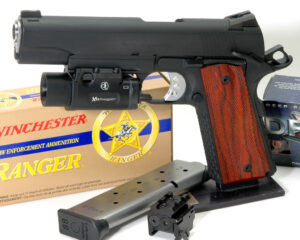 Two years ago I thoroughly enjoyed reviewing the Ed Brown Special Forces 1911, but there were two areas I would've changed. First, I would've liked to see an M1913 rail on the dust cover. The theme of this model is military or law enforcement, and many such users want to mount a light on their. (Of course, the concept and practice of covering people and places with both light and muzzle is certainly worthy of a stand-alone discussion.) I therefore wanted to see how Ed Brown handled the light rail addition and how it might affect reliable function and handling characteristics.
In addition, I would've replaced the ambidextrous thumb safeties with a single-side version. The ambidextrous thumb safety is one of a number of competition-based additions to handguns that have moved onto mainstream handguns. Competitors in the early days of practical shooting contests were often asked to do a weak-hand draw and, because they mostly used 1911s, they quickly figured out an off-side thumb safety was faster (and a whole lot safer!) when performing this drill.
The problem? Many who carry a 1911 find the outboard safety is easily and unknowingly wiped off by all sorts of things while the gun is holstered. Drawing a 1911 and thinking it's on safe when it's not can prove dangerous.
Fast forward to today: I've received another Ed Brown Special Forces to review. Not only do the core features remain on this model, it features an M1913 rail and a standard safety (non-railed models are still available, as is the ambi safety).
The Details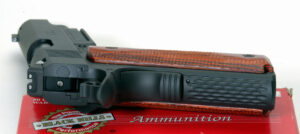 The Special Forces is a full-sized 1911 chambered for .45 ACP. The simple act of clearing the gun denotes craftsmanship. A smooth inward push of the 40-lpi checkered and rounded magazine catch ejects the Ed Brown 8-pac magazine. A grab onto the slide's eight diagonal rear grasping grooves moves the slide smoothly rearward against an 18-lb. recoil spring. The only hesitation occurs when the firing pin stop levers the grooved, rounded hammer back to full cock.
After noting the lack of any marks on the exposed barrel thanks to exacting dimensional controls used when crafting the barrel and barrel bushing, easing the slide closed reveals only one point of hesitation—when the barrel lugs lock, bank-vault style, into the slide.
ChainLink metal work on the frontstrap and flat mainspring housing provide a firm grip, which is further aided by the frame being machined to allow a higher and thus better grip beneath the trigger guard. (Note: Ed Brown now offers a new model, the Special Forces II, that features an evolved ChainLink III machining.) Looking down the rounded slide, Novak sights with tritium inserts, almost seamlessly installed in dovetail cuts (thus windage adjustable), ensure excellent sight acquisition and picture.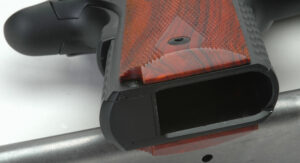 The ejection port is enlarged, but not so much as to encourage any debris from entering, and its edges are slightly rounded. Dry firing shows a match-grade trigger with little overtravel (and there's provision to adjust this), breaking cleanly at a measured 4 lbs.
Of course, all Ed Brown Hardcore parts are used: hammer, sear, disconnector, slide stop, thumb safety, wide beavertail grip safety, mainspring housing, trigger, frame and slide. The nicely-checkered, reddish-wood grips are attached with allen-head screws. All the controls are well-fitted and move without binding, including the rear of the trigger bow, which doesn't catch on the grip safety's internal arm. The well-designed thumb safety moves, as did the safeties on the earlier sample, with a satisfying sound and feel—a sharp, short, click.
The empty magazine went back in smoothly, hesitating only when the magazine catch notch met the internal portion of the catch. The magazine well has a very slight bevel to assist insertion. Speaking of the magazine, Brown now offers his own eight-round magazine named the 8-pac (mentioned above). Ed thoughtfully designed it to actually hold eight rounds of .45 ACP, not attempt to cram eight rounds into a seven-round magazine body. As such, the 8-pac extends below the frame .375″, and it sports an easily-removed polymer base pad. I suspect this eight-round magazine will have the same long and reliable life span as do top-quality seven-round magazines thanks to the additional length. The metal follower is closed on its front leg and looks to be long enough to ensure it won't tip or bind. Being metal, it should hold up quite well to slide stop engagement, too.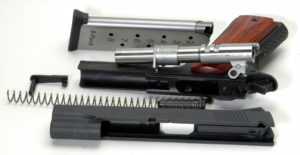 Some specific technical details include the following: The slide and frame are exclusively Ed Brown forged and hand-fitted. My gun is coated with Ed Brown's black Gen III firearm coating (OD green and stealth gray Gen III coatings are optional, as are blued, stainless and bronze finishes). The Hardcore components are hand-fitted where necessary. The feed ramp is polished, with a hand-fit extractor and ejector. An Ed Brown premium match-grade barrel and solid steel bushing are employed, and a standard recoil spring guide, recoil spring and spring lug are present. The Hardcore parts, save the trigger, are fully machined from the highest quality alloy bar stock steel.
The grips are exotic checkered cocobolo wood grips with a traditional double-diamond pattern (carbon fiber grips are also available). The Special Forces ships in an Ed Brown Products-branded deluxe Cordura pistol rug with internal magazine pockets and an external zippered accessory pocket, the Ed Brown Products 1911 Owner's Manual and a cable lock.
Finally, in the last part of my first inspection I run my hand over the gun, feeling for sharp edges. Two years ago, I found but two: the rear edge of the front sight, and the left edge of the grooved and skeletonized trigger face. Nitpicking to be sure. Well, this time there were none!
Range Report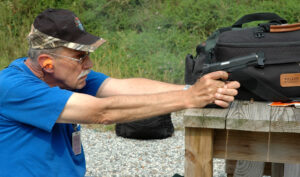 My friend John Lysak and I replicated our range work of two years ago with the first Special Forces, getting together once again at our gun club (the Lower Providence Rod & Gun Club in Oaks, Pa.). We shot the same way as well: with our shooting arms supported while seated at a bench, this time at a Caldwell 8″ bullseye placed 25 yards downrange.
The ammo we fired included Cor-Bon 230-grain Performance Match, Cor-Bon 185-grain DPX, Black Hills 185-grain JHP, Hornady 185-grain JHP and some Magtech 230-grain JRN loads. As before, the Special Forces shot all loads well, varying only by our abilities at the time. The gun shot about 3″ high this time (the last one shot dead on). Our groups were almost as good, but not quite.
In fairness, I didn't use my reading glasses and didn't black out the rear tritium inserts, both of which greatly improve my ability to shoot tight groups. Also, the rail reduces muzzle lift due to the increased weight toward the muzzle, allowing faster follow-up shots than the non-rail model. As a matter of fact, I got a bit carried away, hammering one round on top of another, so much so that I shot up most of the test ammo in a very short period of time. (I could claim this was done to thoroughly test the gun, but in reality it was more fun than anything else!)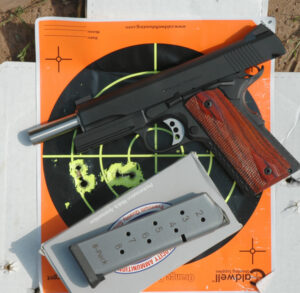 In performing this "work," I found the heavier dust cover didn't hinder me in swinging from my targets of opportunity (otherwise known as wood chips) because the gun didn't tend to overtravel them as I swung the gun in an arc across the berm, chasing the chips after they were hit. (I also reconfirmed I'm not a trick shot who regularly hits such moving targets.) This quick firing also re-verified the Special Forces didn't and wouldn't malfunction for me, with empty cases consistently hitting the ground 3 yards to my right rear. This demonstrated the gun's extractor, ejector and springs are set up exactly correct.
Finally, I had an Insight Technology XTI Procyon LED rail light and wanted to experiment with it, particularly because it now features a strobe light feature coupled with 125+ lumens of light along with the Laserlyte Mini Rail system. The two units easily installed on the SF 1913 rail.
Final Thoughts
This Special Forces pistol features the same quality I found on the model I reviewed two years ago, which is not at all surprising. Back then, I wrote that to better understand and appreciate what you pay for with an Ed Brown custom 1911, it very much helps to know something about the man who builds them. Knowing Ed since the earlier days of practical shooting in or about 1980, I've been able to observe his work over time with my interest, of course, in 1911s. He started with good work and has simply improved as the years went by.
Bottom line:I think I'll be carrying and using this pistol right up to the limit of Brown's T&E loan period.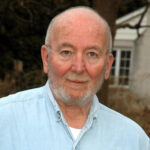 Walt Rauch received a BS degree from Carnegie Tech and completed service as a Special Agent in U.S. Army Intelligence. Rauch was a U.S. Secret Service Special Agent and a Philadelphia, Pa., Warrant Unit Investigator. He now operates a consulting company for defense-weapon and tactical training. Rauch & Company services include expert witness testimony on firearms use and tactics.
Rauch is also a writer and lecturer in the firearms field. He's published in national and international publications including InterMedia's Handguns, several Harris Publications specialty magazines, Police and Security News and Cibles (France). He is the author of a book on self-defense, Real-World Survival! What Has Worked For Me, as well as Practically Speaking, a comprehensive guide to IDPA defensive pistol shooting.
The Specs
| | | | | |
| --- | --- | --- | --- | --- |
| Caliber | Capacity | BBL | OAL | Weight |
| .45 ACP | 7+1, 8+1 | 5″ | 8.7″ | 38 oz., empty (40 oz. with Lightrail version) |
Pricing
MSRP: $2,195–$2,270
More Photos