Editor's Rating: 9.0/10
Users' Rating (Click a star to rate this gun.)
Summary:
 Jed Henson's review of and rating for the Heckler & Koch VP9 pistol, including a description, range report, photos, pricing, specs and user ratings. (Click
here
to see all of Henson's handgun reviews, handgun roundups and best-of articles.)
Editor's Review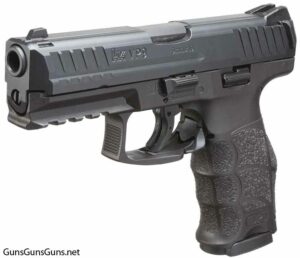 In mid-2014, Heckler & Koch (H&K) unveiled a new full-size, striker-fired pistol, the VP9. The gun received rave reviews among many in the United States, and I've been bummed I couldn't get my hands on one to check it out myself.
I'm happy to report that over the holidays, I lucked into a shooting session with a VP9 when my father-in-law brought his friend's VP9 for our day at a local indoor range. I was able to fire a bunch of rounds through this VP9, and my review follows.
The Details
The semi-auto VP9 is built on a polymer frame and chambered in 9mm (note: H&K now offers a .40 SW version as well, the VP40). It employs a Browning-type recoil-operated action with a captive flat recoil spring, and the aforementioned striker-fired trigger system with a safety bar in the trigger. H&K molds an extended picatinny MIL-STD-1913 accessory rail into the frame.
The pistol sports a cold hammer forged barrel (H&K says it's made from cannon-grade steel) with a polygonal bore, and a machined steel slide with diagonal grasping grooves front and rear, plus additional grip tabs (H&K calls them "charging supports") mounted on the slide's rear.
The ergonomic, finger-groove grip includes three changeable backstraps and six changeable side panels to allow you to really dial the gun into your specific hand. The VP9 also features ambidextrous controls, including paddle-style magazine releases located alongside the trigger guard.
The VP9 carries three-dot, luminous sights, and you can get it with 15-round or 10-round magazines.
Range Report
Reliability
The VP9's owner had reportedly fired a couple hundred rounds through it previously, and my father-in-law and I fired another 60 rounds with it. We used Freedom Munitions ammunition—specifically, 124-grain round nose (RN), a target/cheap full metal jacket round—and we suffered zero malfunctions. Every case ejected briskly away up and to the right.
Accuracy
I slow-fired the VP9 off-hand at roughly 7 yards with five rounds of the Freedom ammo, with the following results:
Freedom Munitions 124-grain RN: 1.375″ group
As you can see in the target photo, the VP9 shot slightly high and right for me. But a 1.375″ off-hand group is plenty good, in my opinion. If I don't count the flier, the group measures 1.0″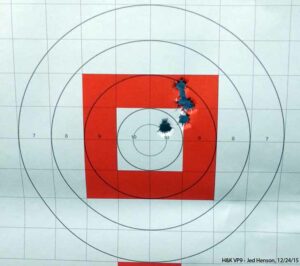 Shootability
During this shooting session, I also had my Glock 19 Gen3 and my father-in-law's SIG Sauer P226 MK25 on hand, so I was able to compare/contrast the three pistols. I really liked the VP9's trigger pull, which was smooth and not squashy (unlike my Glock's), with a crisp break. The gun felt good in my hand (better than my Glock) and pointed well for me. I picked the sights up well, significantly better than the factory sights on the P226 Navy (my Glock wears aftermarket sights because I disliked the factory sights). Recoil was a non-issue, allowing me to easily deliver follow-up shots.
The paddle-style magazine release lever took a little getting used to, but ultimately I liked it. With a little more experience with it, I could see myself possibly preferring it to button-style releases.
Final Thoughts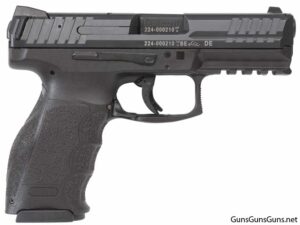 I couldn't find anything to dislike about the VP9, not even of the nit-pick variety. I think it's a fabulous pistol, and I don't say that lightly. I admit I don't have first-hand shooting range experience with a huge amount of pistols, but I do have lots of experience with my Glock 19 Gen3. I think the 19 Gen3 is a really good gun, and I'm pretty sure a majority of my fellow Americans would agree. So consider this: I like the VP9 better than my Glock.
Oh, and the kicker? H&K has managed to hold the VP9's price down to a level near that of other mainstream full-size striker-fired polymer pistols, such as the Glocks, Springfields, etc.
If I were in the market for a full-size pistol, the VP9 would be among my finalists. If you're in that market, I recommend taking a hard look at it.
---
Jed Henson is an author, editor and publisher.
The Specs
| | | | | | | |
| --- | --- | --- | --- | --- | --- | --- |
| Caliber | Capacity | BBL | OAL | Width | Height | Weight |
| 9mm | 15+1, 10+1 | 4.09″ | 7.34″ | 1.32″ | 5.41″ | 25.56 oz. w/empty mag |
Pricing
MSRP: $719