Users' Rating (Click a star to rate this gun.)
Summary:
The description, specs, photos, pricing and user ratings for the Heritage Rough Rider Small Bore revolvers.
Manufacturer's Description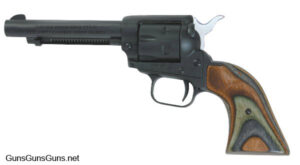 Heritage Mfg.'s Rough Rider Small Bore is an old West-style single-action revolver that maintains much of the look and feel of the venerable Colt Single Action Army revolver. It's built on an alloy frame (steel frame versions are available) and chambered in .22 LR, .22 WMR, .32 H&R Magnum, .32 SW Long and .32 SW. Six- or nine-shot .22 LR/.22 WMR models are available. A variety of barrel lengths are available, including 3.5″, 4.75″, 6.5″ and 9″.
Heritage says the machined barrel is micro-threaded and inserted into the frame for the optimal barrel/cylinder gap to give you maximum ammunition performance. A hammer block in the recoil shield provides extra protection and has a red dot indicator that lets you know when the gun is ready for action.
An authentic-looking flat-sided hammer paired with cocobolo grips are standard, but there are a variety of other grip materials available, including white mother of pearl, black mother of pearl and green camo laminate. A bird head grip is also available.
Fixed sights are standard, but a red fiber optic front sight and adjustable, green-dot rear sight are available. Finish options include silver satin, matte black, low gloss black satin and case hardened.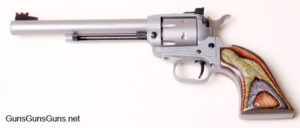 The Specs
| | | | | | | |
| --- | --- | --- | --- | --- | --- | --- |
| Caliber | Capacity | BBL | OAL | Width | Height | Weight |
| .22 LR, .22 WMR, .32 H&R Magnum, .32 SW Long, .32 SW | 6 | 3.5″ | n/a | n/a | n/a | n/a |
| .22 LR, .22 WMR, .32 H&R Magnum, .32 SW Long, .32 SW | 6, 9 | 4.75″ | n/a | n/a | n/a | n/a |
| .22 LR, .22 WMR, .32 H&R Magnum, .32 SW Long, .32 SW | 6, 9 | 6.5″ | n/a | n/a | n/a | n/a |
| .22 LR, .22 WMR | 6 | 9″ | n/a | n/a | n/a | n/a |
MSRP: $199–$359