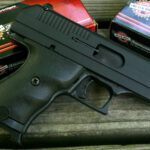 Editor's Rating: 7.0/10
Users' Rating (Click a star to rate this gun.)
Summary: Paul Markel's review of and rating for the Hi-Point 9mm pistol, including a range report, photos, pricing, specs, user ratings and user comments. (Click here to see all of Markel's pistol reviews.)
Editor's Review
If you spend much time at gun shops, gun shows or just hanging around the shooting range, you'll hear gun people offering their opinions. We all know what opinions are akin to and their olfactory quality.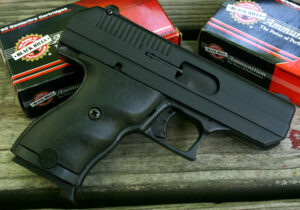 Should you truly desire to hear someone's thoughts on personal defense and handguns, bring up Hi-Point Firearms, or better yet, produce one. The attacks will start flying from all corners, and primarily they will be based on looks and price.
There's little doubt most any Hi-Point pistol has a face only a mother could love, and we really don't need to argue that fact. However, when it comes to fighting with arms, cosmetics are purely for the gratification of the owners and their peers. How physically attractive a gun is or isn't has no basis on how it performs. During my three decades of involvement in the firearms world, I've come across plenty of firearms that looked like pieces of art and functioned like pieces of something else.
After we've acknowledged the fact Hi-Point guns won't soon be winning any beauty contests, we must consider the price attack. That attack specifically hinges on the assumption that a gun so inexpensive must be a piece of junk. This is a prejudice not based upon experience but mere assumption. I don't hold stock in Hi-Point, but I'm also not so closed minded as to push them under the bus based upon price alone.
In days past, people with meager disposable income who wanted a gun for security at home had little choice other than a low-quality .22 LR or .25 ACP pistol. When I was a young man, I clearly remember the $60 .25 ACP pistols and how folks bought them to keep at home "just in case."
Hi-Point Firearms now offer such folks a larger handgun that chambers a genuine centerfire pistol cartridge, including .380 ACP, 9mm, .40 SW and even .45 ACP. I think we can all agree a 9mm or a .45 ACP handgun is more viable personal defense tool than a compact .22.
The question: Is the Hi-Point, specifically, a viable personal defense tool? In this review I evaluate the Hi-Point 9mm pistol, catalog model C-9.
The Specifics
The C-9 is an upgrade from older generation Hi-Point pistols. It's a semi-auto, striker-fired pistol with a single-action trigger press mated with a manual safety lever located on the left side of the frame.
Atop the pistol sits the monstrous slide that offends so many shooters; it features a black powder-coat finish. The frame is black polymer, and the pistol is fed by an eight-round single column magazine. You can purchase 10-round versions separately. The slide does indeed lock back on an empty magazine.
A 3.5″ barrel guides projectiles to their target. Hi-Point has installed their particular version of three-dot adjustable sights on the gun. They use a red/orange and yellow combination.
Other features include a +P rating, a free extra rear peep sight, a free trigger lock and an operations safety sheet. The pistol comes with a lifetime warranty, and it's 100% American made.
Range Time
For my range session I mixed in several FMJ practice loads with controlled expansion ammunition. Ammo makers included Black Hills, Federal's American Eagle brand, Hornady, Wolf and Winchester. Bullet weights varied from 115–147 grains.
Rather than bench the gun (that would be a bit optimistic), I stood straight, gripped the gun with two hands and slow-fired at a cardboard target 7 yards away (the established litmus test for defensive shootings). Here are the results:
Black Hills 115-gr. FMJ: 1,103 fps, 2.25″ group
Federal American Eagle 115-Gr. FMJ: 1,075, 2.37″ group
Hornady 124-gr. TAP: 1,058 fps, 2.74″ group
Winchester 147-gr. SXT: 934 fps, 1.59″ group
Wolf Brand 115-gr. FMJ: 1,067 fps, 3.05″ group
For fun, I moved on to some steel silhouette targets. Paper and cardboard and nice, but steel is real. You either hit it or you don't. No walking down range to check scores and, it helps eliminate that nasty habit folks have of turkey-necking over the gun to look for shot holes. The results? The pistol placed rounds into the preferred zone with little difficulty.
The Hi-Point is built to launch bullets at an economical price. The big question: Does it do so reliably? During this particular review, I fired somewhere in the neighborhood of 100 rounds through the gun. I've actually had the C-9 in my possession for a few years and would say it's consumed 500 rounds, give or take a few.
I have yet to have a problem with the pistol in regards to feeding, extracting or ejecting. The C-9 doesn't seem to care whether you feed it FMJ or JHP ammunition—it cycles it all. And tipping the scales at 29 oz. while empty, it packs plenty of heft to absorb the mild recoil from the 9mm cartridge, even the fast-moving loads.
Parting Thoughts
On numerous occasions I've encountered an almost unmasked arrogance or condescension toward anyone who might purchase a Hi-Point. I actually heard such an arrogant individual in a gun shop spout that he'd rather go without a gun than own a Hi-Point.
Hi-Point pistols are priced to own, period. Any person with a job, even minimum wage, can afford one.
In this YouTube video (click here), the author shoots a Hi-Point 9mm. The focus of the video is on go-bags or emergency bags, and what handguns you should pack in one. The Hi-Point footage starts at the 2:54 mark.
They aren't match-grade competition guns, they aren't for hunting and they certainly aren't for duty carry. Why not duty carry? First, they're too thick and cumbersome in the slide area for concealment. Second, the manual safety is small and rather awkward to engage from a drawstroke. Last, the sights are functional but not duty quality, and a duty quality set of tritium sights would cost nearly as much as a new Hi-Point. No, they're built to launch projectiles without fanfare and better left as a nightstand gun.
But before you get on your high horse, consider the young family just starting out with very little disposable income. Consider the single mom living in a not-so-great neighborhood who really wants a gun for the house but can't afford much. Don't poor people have a right to self-defense?
Most handgun reviews spend a lot of time discussing stainless finishes, exotic grip stocks, tritium or fiber-optic sights, match-grade barrels, etc. If that's what you're into, I seriously doubt you're shopping for a Hi-Point C-9.
Being completely honest, the C-9 would not be my choice for concealed carry or a duty pistol. That said, I wouldn't feel naked with one lying on the nightstand of my hotel room loaded with Hornady TAP ammunition.
I doubt the Hi-Point would make third runner up in a three gun beauty contest, but that's not its job or intended purpose. For its purpose—launching bullets reliably in the direction of bad people—I would say it hits the mark every time. Hi-Point firearms aren't for everyone, but I certainly wouldn't dissuade a person with little cash in need of a gun from purchasing one simply because it's ugly.
Keep shooting straight and shooting safe.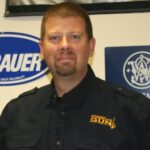 Paul G. Markel became a United States Marine in 1987 and served his nation honorably during peace time and at war. Among the many hats he has worn in his career, Markel has been a police officer, professional bodyguard, firearms instructor and gun writer. Markel is the creative director and host of "Student of the Gun," a weekly television show airing on the Sportsman Channel (www.studentofthegun.com). Visit his Web site at www.paulmarkel.com.
The Specs
| | | | | |
| --- | --- | --- | --- | --- |
| Caliber | Capacity | BBL | OAL | Weight |
| 9mm | 10+1, 8+1 | 3.5″ | 6.75″ | 29 oz. |
Pricing
MSRP: $165
More Reading
Here are links to info pages for Hi-Point's other pistols:
Hi-Point 380 ACP
Hi-Point 40 S&W
Hi-Point 45 ACP