Editor's Rating: 8.0/10
Users' Rating (Click a star to rate this gun.)
Summary: Walt Rauch's review of and rating for the SIG Sauer P239 Tactical pistol, including a range report, photos, pricing, specs and user ratings. (Click here to see all of Rauch's pistol reviews.)
Editor's Review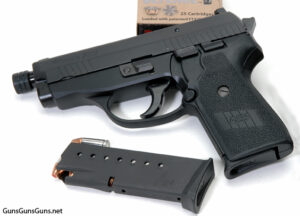 The SIG Sauer P239 pistol was introduced in 1996, and I think it's been somewhat overlooked by those shopping for a concealed-carry handgun. Current handgun buyers appear to be looking for light and small, at the lowest possible cost. This excellent pistol does not meet these requirements, nor was that ever its intention.
In this article, I review a P239 Tactical.
The Details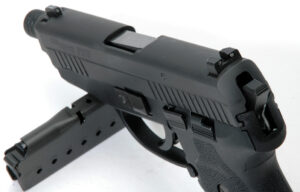 As described by SIG, the P239 is a mechanically-locked, short-recoil-operated pistol. The Browning-modified barrel locks up in the ample ejection port, which has a spring-powered external extractor in its right lower rear area. P239 base models are offered in well-regarded defense calibers of 9mm, .357 SIG and .40 SW. The Tactical model is chambered only in 9mm, however, probably because along with other added features, the P239 T has an extended and threaded barrel (a protective thread collar is included) for mounting a sound suppressor.
The P239 T is, like the base model, a DA/SA (double action first shot, single action for subsequent shots). It carries a 4″ barrel (the standard barrel length is 3.6″.)
It uses a single-column eight-round magazine with finger-rest base plate. One is provided. An optional 10-round extended magazine with spacer collar can be purchased separately.
Another feature: SIG's SRT system (Short Reset Trigger), which SIG claims reduces trigger reset by 60%. (Trigger reset refers to the distance a pulled trigger must be allowed to move forward to re-engage or re-set the sear.) The thinking is trigger-reset movement enhances the shooter's ability to fire multiple shots more quickly. This is widely regarded as an important skill to master. In comparing the action of this P239 T's SRT to that of my P225, which lacks the system, I found there is indeed a significant reduction in forward trigger movement.
Whether you're interested in this feature or not, the P239 T's smooth-faced trigger was fluid and without any hesitation in its movement in either DA or SA. The trigger pulls measure out at the factory specifications of DA at 10 lbs. and SA at 4.4 lbs. (A trivia note: A SIG 2005 instruction booklet lists the factory specs at 9.5 lbs. and 4 lbs., respectively.)
The slide is stainless steel with a Nitron finish, and the P239 T's alloy frame is anodized black. The P239 slide follows the classic SIG configuration with a round top and stepped vertical sides. Up front, on the lower and wider portion of the slide, five grasping serrations have been added, in addition to the 12 rear diagonal serrations.
Front and rear fixed sights are mounted in dovetail cuts, and you can move both sights for windage adjustments. However, in the past I found a very sturdy sight pusher was needed to do this. (SIG sells one, by the way.)
You can also perform elevation adjustments with both front and rear sights. Although they aren't in the currently-supplied instruction booklet, SIG's 2005 version lists both sights. The front sight has five heights, which are numbered 05–09. The sight height decreases in .05″ increments from 05 at .235" to 09 at 215″. Each changes the bullet point of impact approximately 1″ at 25 yards. Six rear sights are numbered from 05–10, beginning at .22″ with .1″ changes to .27″, for an approximate bullet shift of 2″ at 25 yards. Per the booklet: "Numbers up, groups up; numbers down, groups down."
The P239 T offers SIGLITE Tritium three-dot sights as part of the tactical package. These sights slope slightly forward and are quite easy to find quickly in bright or dim light. (The standard P239 uses a white-dot front and bar-dot rear sight).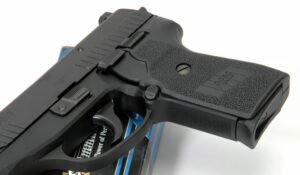 The slide carries the passive firing pin safety system along with the barrel and a semi-captive flat wire recoil spring around a polymer guide rod.
The P239 T pistol disassembles into the above units. To do so, after removing the magazine and ensuring the chamber is empty, lock back the slide using the left-side, frame-mounted slide catch, which is placed at the top and almost-centered area of the grip. Forward of the slide catch is the frame-mounted take-down lever, which must be rotated 45 degrees downward to allow the slide unit to move forward and off the full-length, frame-located slide rails. These controls, along with the hammer decocted, are grooved and feature a bump on their lower portions for easier manipulation.
Note: You must remove the barrel thread protector to take the barrel out of the slide. Also, to safely lower the hammer, you must use the decocking lever. When you do, the hammer drops into a safety notch in the hammer body where the hammer is held captive so it doesn't bear against the slightly rearward-protruding firing pin. To further encourage doing this, the hammer spur is but a nub, although it is slightly grooved. More pragmatically, using the decocker avoids accidently losing control of the hammer and firing the pistol negligently.
The P239 T's composite grips are lightly pebbled and encircle the rear of the frame and extend below the magazine well to form a slightly enlarged opening to aid in inserting a magazine. They attach to the frame with one slotted screw per panel. The frontstrap is lightly vertically grooved, and the frontstrap area extends upward slightly behind the curved trigger guard. The combination of all these allow you to establish and keep a good grip while handling and firing the pistol.
Both standard and extended magazines have removable floor plates for easier cleaning and have cartridge witness holes on either side, marked, respectively, "8" and "10." The non-reversible grooved and tapered magazine catch is located at the bottom left rear of the ample trigger guard.
Sound Suppression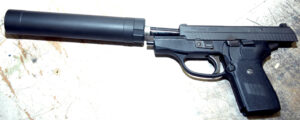 The Ti-RANT 9 sound suppressor fitted easily when installed and removed at King Shooters Supply in King of Prussia, Pa., a firearms and Class III-licensed outlet. I didn't fire the pistol with it installed because I didn't want to pay the transfer fees and do the necessary paperwork to obtain a Class III-restricted item just for this article. (And the owners of King's were not able to break away so they could maintain legal custody of the device.) Historically, though, when I've shot arms so-configured, function and accuracy were not affected if the arm was of good quality, and this P239 T certainly meets that parameter.
Range Report
Range work, along with wearing the gun for the better part of a week in a DeSantis strong-side scabbard (#019 B3), proved uneventful. I normally carry either a full-size or Commander-length 1911 or a full-size, standard-frame Glock, and the P239 T fit right in on my strong side hip because its size, shape and heft is very much like these other pistols.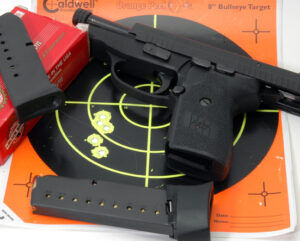 We used the optional 10-round extended magazine with spacer collar, and it functioned without a problem. Indeed, with the well-sculpted collar, the P239 T handled even better.
On the indoor range at the Lower Providence Rod and Gun Club in Oaks, Pa., I fired a variety of ammo brands and bullet weights through the P239 T. The results? No surprises. At 17 yards, groups ran from 1.5″–3″, with the variance due solely, I think, to how well or not I fired the shot. Classic SIG pistols are very unforgiving; the bullets will go exactly where you aim. (You can't wish the hits in tighter!)
Here are the results obtained using a Pro-Chrono Crony chronograph at 300 feet above sea level with ambient temperature of 60 degrees F. I compiled five-shot averages for all data.
Factory Ammo
Black Hills 115-grain FMJ: 1,042 fps, 1.5″ group
CCI Gold Dot (Short Barrel) 124-grain +P GDHP: 1,135 fps, 3″ group
Cor-Bon DPX 115-grain +P: 1,260 fps, 2.75″ group
Winchester Personal Protection 147-grain SXT JHP: 943 fps, 2″ group
Reloads
150-gr. LRN 3.5 grain Solo 1000: 847 fps, 2.75″ group
124-gr. JRN 4.X grain Solo 1000: 981 fps, 3″ group
Final Thoughts
According to SIG, the P239 "(w)as developed in response to demands from law enforcement and federal agents for a compact backup pistol ideal for off-duty concealed carry." In point of fact, this mission statement is now much more applicable to the legally-armed, non-sworn civilian what with 40 states (at last count) now having some form of concealed or open carry laws.
The P239 or the P239 T is actually a better fit for personal self defense than light, small and cheap, but only with the proviso that a user is willing to make the necessary accommodations in dress to conceal the larger pistol, and also willing to spend more on the gun. Of course, the P239 in any of its calibers or modifications is excellent for home or business self-defense as well.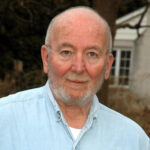 Walt Rauch received a BS degree from Carnegie Tech and completed service as a Special Agent in U.S. Army Intelligence. Rauch was a U.S. Secret Service Special Agent and a Philadelphia, Pa., Warrant Unit Investigator. He now operates a consulting company for defense-weapon and tactical training. Rauch & Company services include expert witness testimony on firearms use and tactics.
Rauch is also a writer and lecturer in the firearms field. He's published in national and international publications including InterMedia's Handguns, several Harris Publications specialty magazines, Police and Security News and Cibles (France). He is the author of a book on self-defense, Real-World Survival! What Has Worked For Me, as well as Practically Speaking, a comprehensive guide to IDPA defensive pistol shooting.
The Specs
| | | | | | | |
| --- | --- | --- | --- | --- | --- | --- |
| Caliber | Capacity | BBL | OAL | Height | Width | Weight |
| 9mm | 8+1 | 3.6″ | 7.6″ | 5.1″ | 1.2″ | 29.5 oz. |
Pricing
MSRP: $976
More Reading
Click these links to read about other SIG P239s: