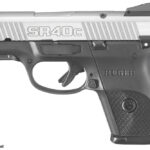 Editor's Rating: 8.5/10
Users' Rating (Click a star to rate this gun.)
Summary: Mike Boyle's review of rating for Ruger's SR40c pistol, including a range report, photos, MSRP, specs and user ratings. (Click here to see all Boyle's gun reviews.)
Editor's Review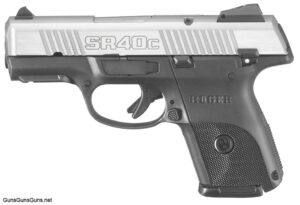 For years, Ruger's product line was squarely focused on traditional firearms for the sporting market. Of late, a slight change of course has occurred with Ruger developing a number of new firearms intended for law enforcement and self-defense, including the Ruger SR9, a striker-fired 9mm standout that embodies many features in demand by discriminating shooters.
Predictably, Ruger chopped and channeled the service-size SR9 to create the compact SR9c, which is ideal for discreet carry by responsible citizens and off-duty police officers. Then last summer, Ruger introduced the SR40, a full-size sibling to the SR9 chambered in .40 SW.
Would fate follow its established pattern with the SR40? Yes. The SR40c is now a reality, and it appears Ruger has another winner on its hands.
First Look
In December 2010, I attended a seminar sponsored by Ruger at the Gunsite Academy. At that time a couple of new products were introduced, including the Gunsite Scout Rifle, SR1911 and the SR40c. Suffice to say, the Scout Rifle and SR1911 captured the lion's share of attention from the writers in attendance, and although I, too, was intrigued by these fine firearms, from a practical standpoint, I was more drawn to the SR40c. It appeared ideally suited for concealed carry 24/7, dressed in any type of clothing.
Like the other SR9s and SR40s, the new SR40c is built on a black, glass-filled nylon frame. The pistols I fired sported stainless steel slides, but models with alloy steel slides with a Nitridex Pro Black finish will also be available. The careful eye will note fore and aft serrations for a positive grip and an external pivoting extractor on the SR40c's slide.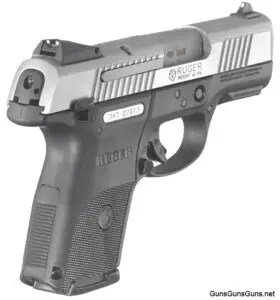 The SR40c measures 6.85″ long and 1.27″ wide. This clearly places the pistol well beyond pocket-pistol dimensions, but still not difficult to hide with the right holster. The slide is just a little beefier than the SR9c's in order to tame the snappier .40 SW cartridge.
Two magazines come with the gun, including one with a nine-round capacity that sits flush with the grip frame, and another holding 15 rounds complete with a grip adapter. With the nine-round magazine in place, total height measures 4.61″. The 3.5″ stainless steel barrel should push bullets fast enough for reliable expansion.
The SR40c incorporates multiple safety systems. First, unlike many striker-fired pistols, the SR40c is equipped with a frame-mounted, ambidextrous safety. Sweeping the safety down takes the pistol off safe, making it immediately ready to fire. A number of passive safety systems are also built into the SR40c, including a striker safety, magazine safety and trigger safety. Additionally, this pistol offers a loaded chamber indicator, which is essentially a small flag on the top of the slide. When a round is chambered, condition can be ascertained visually, or by feel.
The SR40c's trigger is very user friendly and trips when 6–8 lbs of rearward pressure is applied. Users of a certain popular Austrian pistol will immediately note the similarity. In my experience, new shooters can get up to speed faster on pistols with this type of trigger action than with traditional double-action or double-action-only self-loaders.
Sights consist of a two-dot rear, adjustable for windage and elevation, and a fixed dot front. The rear sight is angled and unlikely to snag on clothing, while the front is raked forward to facilitate a cleaner draw stroke. As an added bonus, the SR40c sports a molded-in accessory rail for lights or lasers, a feature not present on many compacts.
The SR40c is also equipped with an ambidextrous magazine release. This lefty has always found it easy to use the trigger finger to drop the depleted magazine, but others will welcome this feature.
Another desirable feature: the reversible backstrap. My sample pistol had the curved backstrap to the outside, but shooters with smaller hands would be better served with the flat side out to reduce grip circumference. That may not sound like much, but that feature often represents the line between success and failure for shooters with small hands.
Range Report
Initially, I found the thought of another compact .40 SW pistol pretty boring. What could this guy do that earlier pistols couldn't? But after shooting the SR40c, I came to the conclusion it has a leg up on many of its competitors. While my associates went off to squeeze in more trigger time with the SR1911 and Gunsite Scout, I took the opportunity to shake down the SR40c.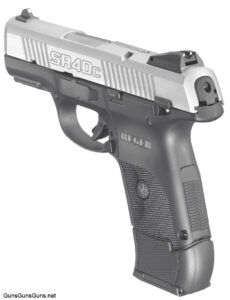 To get right to the point, this gun was totally reliable, accurate and a pleasure to shoot. I've often found the recoil sensation of many .40 SW pistols to be a bit snappy, but that wasn't the case with the SR40c. The dual recoil spring and polymer frame help dissipate felt recoil, and I was able to run through a couple hundred rounds in short order with no fatigue whatsoever.
I didn't perform formal accuracy testing, but I can report I was able to place just about all of my hits in the center of the Gunsite Option Target. Hammers at close range and more deliberate shots at longer distance yielded the same result. I admit the three-dot sight pattern isn't the best choice for my middle-age eyes, but that didn't seem to handicap my performance in any way.
I also tried my hand on a few man-on-man drills, facing opponents armed with the SR1911 in .45 ACP. Surprisingly, I was able to hold my own and even managed to win a few contests. Equally gratifying results were achieved on a falling plate rack.
Final Thoughts
Shooters in need of an ergonomically designed, good fitting pistol for discreet carry would do well to consider the Ruger SR40c. In my hands, this pistol proved reliable and comfortable while delivering more than enough accuracy for successful conflict resolution. At a MSRP of $525, this pistol is a best buy in the concealed carry sweepstakes.

Mike Boyle served as a captain with the New Jersey Division of Fish & Wildlife Bureau of Law Enforcement and recently retired after 27 years of service. Mike remains active, teaching recruit, in-service and instructor level classes at the police academy. He's also on the board of directors of the International Association of Law Enforcement Firearms Instructors.
The Specs
| | | | | | | |
| --- | --- | --- | --- | --- | --- | --- |
| Caliber | Capacity | BBL | OAL | Height | Width | Weight |
| .40 SW | 15+1, 9+1 | 3.5″ | 6.85″ | 4.61″ | 1.27″ | 24.2 oz. |
Related Articles
To read Dave Spaulding's review of the full-size SR40, click here.
To read Dave Spaulding's review of the full-size SR9, click here.
To read Dave Spaulding's review of the compact SR9c, click here.
Pricing
MSRP: $525