Editor's Rating: 8.0/10
Users' Rating (Click a star to rate this gun.)
Summary: Walt Rauch's review of and rating for the Kahr Arms CW9 pistol, including a range report, photos, pricing, specs, user ratings and user comments. (Click here to see all of Rauch's handgun reviews.)
Editor's Review
Historically, the Kahr Arms line of semi-autos has been, to put it bluntly, a bit pricey. The folks at Kahr took note of this when they developed the CW9, a compact semi-auto chambered in 9mm and built on a polymer frame. The CW9 is priced $254 less than its parent, the P9. The P9 carries an MSRP of $739 with two magazines, versus the CW9 at a suggested retail of $485 with one magazine (and it sells for less at most firearms dealers).
When I saw the CW9 at a trade show, my first question to Kahr Arms Vice President Frank Harris was, what was sacrificed to get this lower price? Harris took me on a detailed tour of the CW9, but it wasn't until I had a CW9 and a P9 side by side at home that I could truly appreciate what's been done.
The Details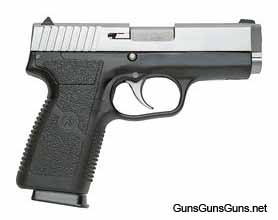 Without getting too far into how CNC cuts were or were not changed and the advantages of increased bearing surfaces for durability, suffice to say the savings came from the Kahr Arms engineers figuring out how to spend less machine time on each gun. In this modern world of CAD-CAM and CNC, and good wages for those who work at this stuff, eliminating any amount of time results in significant cost cutting.
In construction and operation, the CW9 mirrors the P9. The slide is stainless steel with a matte-stainless finish, and it's fed from an all-steel seven-round magazine with a removable finger-rest base plate. There are some differences between parent and offspring, done to cut manufacturing costs. The CW9 has not been cheapened, though. The savings were found by a thoughtful examination of what Kahr could do to lessen cost without losing quality.
The CW9 lacks the rounded edges found on my sample PM9, substituting angled but flat machine cuts to accomplish the same no-snag surfaces. For example, the muzzle features a series of inward sloping cuts to allow easy reholstering, and, rather than rounding the slide, Kahr gives the top edge an angle-flat machine cut. Also, the curved, artistic line on both sides of the slide are gone—all good examples of how small changes can affect cost but not function. In addition, the barrel is now conventionally rifled, not polygonally.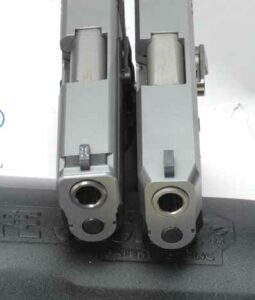 The low-profile, white bar-dot combat sights have been changed from metal to polymer and the front sight pinned in, not dovetailed to the slide. The rear sight remains dovetailed into the slide and is windage adjustable. It's well worth noting that, while the front sight is pinned in, Kahr uses two staking pins doubly ensure the sight stays put. The CW9 also uses the more flattened slide stop, which is also used on the subcompact Kahr. For me, this is a big plus because the wider slide stop always catches on something when I carry it.
The CW9 of course offers shooters the standard features found across the entire Kahr lineup. Kahr sights are fixed but windage adjustable, with Tritium night sights as an option. All magazines are steel, with witness holes in their sides.
The Kahr firing system is similar to that of the Glock; i.e., it's striker fired, with the double-action trigger drawing back the striker. (The Glock employs a Safe Action trigger, which provides a shorter overall movement.)
There is no external safety, but the Kahr (like the Glock system) has an internal firing pin safety. The magazine release is located at the bottom-rear of the ample and curved trigger guard that protects the curved, smooth-faced trigger. The trigger pull runs from 7–9 lbs.
Range Report
After picking up the CW9 from King Shooters Supply in King of Prussia, Pa., I did some range work at my club, the Lower Providence Rod and Gun Club in Oaks, Pa. My first drill: get a few rounds downrange to re-acquaint myself with the Kahr double-action-only (DAO) trigger.
Then I began accuracy and reactive firing work. Now, while the Kahr is more than able to cluster hits next to each other at 50 feet from a seated rest, most users won't take the time to carefully manipulate the DAO trigger to do so. The difficulty in doing this "trick" is in controlling trigger overtravel, because the trigger must both retract and release its striker, and therefore it must have some rearward movement afterwards.
I had a so-so day. I'd manage three nice hits, and then two would slip out of the group. Regardless, the results generally came in under 3″.
Reliability
The CW9 liked:
Remington Golden Saber 115-grain and 124-grain JHP
Cor-Bon Performance Match 140-grain and 147-grain JRN
CorBon DPX 100-grain
It also shot well with:
Hornady XTP 115-grain and 124-grain JHP
Winchester "white box" 124-grain JRN
Winchester Partition Gold 124-grain JHP
Winchester SXT Personal Protection 147-grain
Federal 105-grain Personal Defense EFMJ
The CW9 did not like any of the brands of so-called green or frangible ammunition; this is curious because it's run well in other 9mm handguns.
I had three other shooters on the gun, and combined we suffered only two malfunctions. In both instances, the round failed to chamber: one when loading from slide lock, and the other when loading with the slide forward. Both times, the subject cartridge was successfully re-chambered in the same manner.
Because these occurred after shooting more than 100 rounds, the cause might well have simply been a dirty chamber. (When I cleaned the gun afterward, it was filthy.)
Also worth noting: I brought along a P9 and a PK9 (subcompact) in addition to the CW9, and both worked well with all of the above ammunition, with no malfunctions.
Final Thoughts
With the CW9, Kahr Arms has well addressed the most often voiced complaint about its pistols—they cost too much. No one said you didn't get value for your money, just that they didn't want to spend that much. With the CW9s modifications, now they don't have to!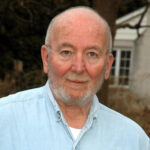 Walt Rauch received a BS degree from Carnegie Tech and completed service as a Special Agent in U.S. Army Intelligence. Rauch was a U.S. Secret Service Special Agent and a Philadelphia, Pa., Warrant Unit Investigator. He now operates a consulting company for defense-weapon and tactical training. Rauch & Company services include expert witness testimony on firearms use and tactics.
Rauch is also a writer and lecturer in the firearms field. He's published in national and international publications including InterMedia's Handguns, several Harris Publications specialty magazines, Police and Security News and Cibles (France). He is the author of a book on self-defense, Real-World Survival! What Has Worked For Me, as well as Practically Speaking, a comprehensive guide to IDPA defensive pistol shooting.
The Specs
| | | | | | | |
| --- | --- | --- | --- | --- | --- | --- |
| Caliber | Capacity | OAL | BBL | Width | Height | Weight |
| 9mm | 7+1 | 5.9″ | 3.5″ | .9″ | 4.5″ | 15.8 oz. unloaded |
Pricing & Shopping
MSRP: $485
---
Retail: $369 (standard sights) @ Brownells—


Retail: $389 (night sights) @ Brownells—


Retail: $428 (carbon fiber frame (finish only?) @ Brownells—