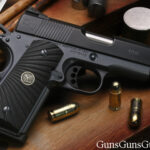 Editor's Rating: 10.0/10
Users' Rating (Click a star to rate this gun.)
Summary: Paul Markel's review of and rating for the Wilson Combat Bill Wilson Carry pistol, including a description, range report, photos, pricing, specs, user ratings and user comments. (Click here to see all of Markel's handgun reviews.)
Editor's Review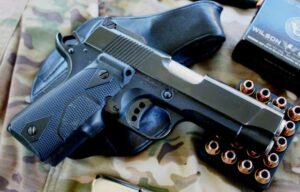 What do you carry when you can carry anything you want? When you're Bill Wilson, the legendary gunsmith and founder of Wilson Combat, you can pretty much carry any pistol in any configuration. What does Wilson carry, day in day out, for personal defense? The aptly named Bill Wilson Carry (BWC) pistol, a compact-size M1911.
When considering all that the current Wilson Combat catalog has to offer, readers might be surprised Wilson doesn't carry a full-sized M1911A1 pistol even when concealment isn't an issue. Like all choices in life, he chooses to carry a compact M1911 based on personal preference. "I've simply found that as I grown older I shoot a compact 1911 much better than I do a full-size gun. That might not make sense to some folks, but it's what works for me." That of course is what it all boils down to: what works for you based on your training and experience.
When I asked Wilson about his every day carry, he surprised me a bit by stating he actually has two. That is, the pistol he carries on daily basis depends on what his day has in store. Many of Wilson's days are consumed on his Texas property, the Circle WC Ranch. "I have my ranch gun and my away-from-the-ranch gun," he says. Both BWC pistols look nearly identical and their function is exactly the same, but they have slight variances in their makeup (see below).
I recently spent some time with Wilson talking guns, killing wild hogs and discussing his preferred pistol.
The Details
The base BWC pistol is chambered in .45ACP and holds seven rounds in the magazine and one in the chamber. The barrel length measures 4″ with an overall length of 7.6″. Empty weight is 35 oz.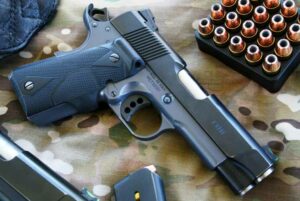 The slide and frame are made from carbon steel and finished with an Armor Tuff rust-proof coating. Checkering on the front strap is 30 LPI, as are the serrations machined into the top of the slide. Custom features include a rounded frame butt, a high-ride beavertail safety and a tactical thumb safety. The thumb safety is single-sided. As expected, the barrel is a stainless steel match grade component hand fit into the gun.
Both of Bill's EDC pistols sport a three-hole trigger with a serrated face, and a skeletonized, combat-type hammer. The slide locks offer a slight ledge but aren't too large or cumbersome. Naturally, all the pistols are fed with Wilson Combat magazines.
Other standard features include:
An extended ejector;
A handfit and contoured magazine well;
a polished feed ramp and throated barrel;
an extended tactical magazine release;
a polished and Adjust Bullet Proof extractor;
a lowered and flared back ejection port;
a full length guide rod with a reverse plug; and
a heavy, flanged cone match-grade barrel.
And that's not all. If you go to the Wilson Combat Web site you'll find a listing for the "Bill Wilson Carry Pistol" in the Compacts section. This is a base gun, not the finished product. Like all Wilson Combat firearms, the buyer has a number of options from which to choose with the BWC.
So what ammunition does Wilson carry in his personal defense pistols? He's been a fan of Barnes X bullets since they were introduced, and both pistols he showed me were loaded with these. The ranch gun is loaded with either 185-grain Barnes or 200-grain Hornady controlled expansion bullets because it may be needed to put down big game. The away gun contains 160-grain Barnes TAC X bullets. All the .45 ACP ammunition is loaded to +P velocities.
For example, numerous grip panels are available. Wilson prefers Crimson Trace (CT) LaserGrips on his carry guns. Both the ranch gun and away gun carry CT grips.
The WC catalog offers numerous sight configurations for M1911 style pistols, including tritium, fiber-optic or gold bead for the front, and Combat Pyramid or Lo-Mount adjustable sights for the rear. Wilson's ranch pistol is equipped with a Lo-Mount adjustable rear sight and a green fiber optic front sight with a squared steel housing because in addition to personal defense concerns, Wilson's ranch pistol is often called upon to finish a downed but still kicking wild hog or even a slithering, venomous threat. In both cases deliberate precision is preferred. The away gun features the Combat Pyramid rear sight with a serrated back, and the same green fiber optic front sight.
Range Report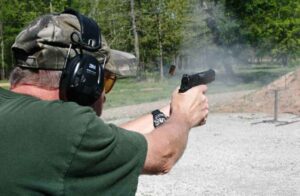 During my visit, we hit the range with the BWC pistols. These guns are hand-fitted for both superior function and reliability, and they didn't disappoint. During our shoot, we fired somewhere in the neighborhood of 300 rounds of Wilson's reloaded 230-grain FMJ and encountered zero issues.
Also, the pistols provided consistently tight groups and hit steel targets out to 50 yards no problem. Wilson Combat guarantees in writing they'll shoot 1.5″ groups at 25 yards.
Final Thoughts
These aren't production guns—they're built one at a time. And they offer absolutely complete craftsmanship, reliability and accuracy.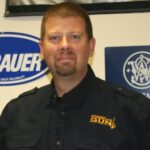 Paul G. Markel became a United States Marine in 1987 and served his nation honorably during peace time and at war. Among the many hats he has worn in his career, Markel has been a police officer, professional bodyguard, firearms instructor and gun writer. Markel is the creative director and host of "Student of the Gun," a weekly television show airing on the Sportsman Channel (www.studentofthegun.com). Visit his Web site at www.paulmarkel.com.
The Specs
| | | | | | | |
| --- | --- | --- | --- | --- | --- | --- |
| Caliber | Capacity | BBL | OAL | Height | Width | Weight |
| .45 ACP | 7+1 | 4″ | 7.6″ | 4.9″ | 1.3″ | 35 oz (empty) |
Pricing
MSRP: $3,205 (base price)
More on Bill Wilson, a Real Shooter
Younger readers might not be old enough to remember the Bill Wilson competition days. During the 1980s and 1990s, you could hardly pick up a copy of American Handgunner and not find a picture of Bill Wilson competing in a handgun match.
Wilson's personal trophy room contains dozens and dozens of top shooter awards from notable competitions such as the Bianchi Cup, Second Chance, IPSC and, of course, IDPA later on. This fact is something that has always made Wilson stand out from other gunsmiths and firearms makers. He doesn't just build top-quality guns; he shoots them, and very well. He carries a pistol every day, and keeps a carbine close at hand, too.
Today, Wilson leaves the day-to-day operation of Wilson Combat to his son Ryan. Wilson's passions include hunting and shooting. On a any given day there are three places you are most likely to find him: in his shop working on a new pistol or rifle project, out in the woods hunting for big boars, or on the shooting range with a rifle or pistol in hand.