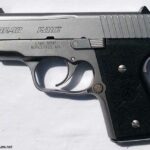 Editor's Rating: 7.0/10
Users' Rating (Click a star to rate this gun.)
Summary: Jed Henson's review of and rating for the Kahr Arms MK40 pistol, including a description, range report, photos, pricing, specs and user ratings. (Click here to see all of Henson's handgun reviews, handgun roundups and best-of articles.)
Editor's Review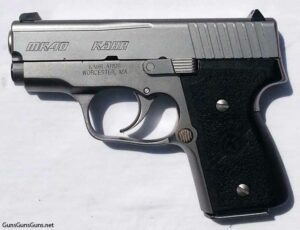 Today's world is awash in pocketguns, but many are chambered in relatively weak calibers ranging all the way down to .22 Short. Personally, I want at least .380 ACP in a self-defense gun, and thankfully a number of manufacturers produce pocketguns chambered in .380 and 9mm.
But what if even 9mm isn't enough for you? I know of only four semi-auto pocketguns chambered in .40 SW and two in .45 ACP, and nothing stouter than that. Kahr Arms produces three of those .40 SW pocketguns, including the steel-framed MK40 and two polymer-framed models, the CM40 and the PM40.
I recently found myself back in the market for a pocketgun due to the unreliability of my Diamondback Firearms DB380, and I'd read good things about the MK40. I took the plunge and bought one from Hyatt Gun Store, and my review follows.
The Details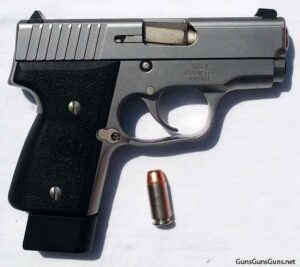 The MK40 is a semi-auto pistol built on a stainless steel frame with a stainless steel slide. The slide features rear, angled grip serrations.
It's a striker-fired gun with a double-action-only style trigger. It functions via a locked breech mechanism with a Browning-type recoil lug. The gun features a 3″ barrel with polygonal rifling, and an external, spring-powered extractor.
It also includes a passive striker block safety, but no magazine disconnect or other safety. A small slot between the ejection port's rear and the barrel's rear serves as a visual loaded chamber indicator by allowing you to see a cartridge rim, if present. Kahr reportedly offers California-friendly model(s) with a frame-mounted manual thumb safety.
The MK40 wears black hard nylon grips with light texturing on the sides. The grips wrap around the backstrap and feature no backstrap texturing. The frontstrap and trigger are also smooth. The left-side, non-reversible magazine release is grooved, as is the slide stop.
The MK40 features a large trigger guard, easily large enough to allow you to shoot the gun with gloves on. The trigger guard also includes a slight dip or curve on the bottom, and I found this feature provided a natural spot for my support hand's index finger to nestle into.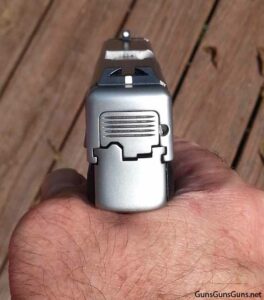 My MK40 model came with low-profile, white bar-dot combat sights in which the ramped front sight features a white dot and the rear sight a centered vertical white line (think lollipop). Kahr also offers tritium night sights. Both types of sights are drift adjustable.
My gun came with a flush-fit five-round steel magazine and two extended grip, six-round steel magazines. All feature five inspection holes on both sides.
You can get this pistol with either a matte stainless steel finish (like mine) or a polished stainless steel finish with laser engraved markings.
Disassembly
Disassembling my MK40 the first time proved a little difficult, even after I'd studied the owner's manual instructions. Once you've removed the magazine and verified the weapon is unloaded, you pull the slide back slightly until the relief cut in the slide aligns with the slide stop pin. Then, while holding the slide in this position with one hand, you tap the slide stop out from the right side with a non-marring tool such as a plastic screwdriver handle.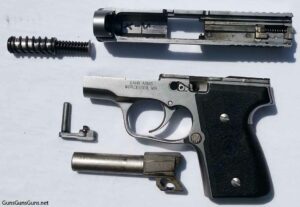 I had a little trouble holding the slide perfectly in position one-handed long enough to get the slide stop out. And this trouble was magnified by the fact the owner's manual photo showing the correct slide position actually shows an incorrect position! After many aggravating tries, I stumbled into the correct position and removed the slide stop.
After that, it was a piece of cake: I carefully allowed the slide to ease back forward, pulled the trigger to release the striker, relaxed the pressure on the trigger and pushed the slide forward off the gun.
Disassembling the slide also proved easy and involved only two steps. First I removed the recoil spring assembly by pressing its rear forward slightly with my thumb and then lifting it out. To remove the barrel, I simply grasped the recoil lug, pushed it slightly forward and lifted it out.
To reassemble, you reverse the process.
Range Report
Reliability
Kahr recommends a 200 round break-in period with the MK40 (and my sales guy 400 rounds!), but I will report my MK40 experiences from round one. I took the MK40 straight from the sales counter to the range without cleaning or lubing, though it was already well oiled. I loaded the five-round, flush-fit mag full of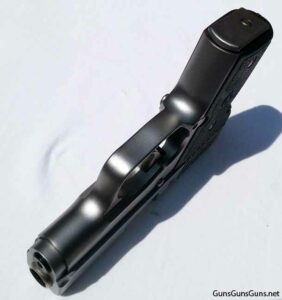 Blazer 165-grain full metal jacket (FMJ), a cheap target/hardball round. I racked a round into the pipe, topped off and reinserted the magazine, and sent the six rounds downrange without a hitch. I filled each six-round extended mag with the Blazer and fired them just fine, too. Then I switched to a primo self-defense round, Speer Gold Dot 165-grain jacketed hollow point (JHP) bonded. With five in the flush-fit mag and one chambered, the six Gold Dots also functioned flawlessly.
The rest of this first shooting session proceeded the same, with all 110 rounds (98 Blazer, 12 Speer) loading, firing and ejecting as designed. The MK40 briskly ejected the vast majority of rounds at roughly a 45% angle, 7′ away. Three cases pinged me on top of my head.
I can't say the gun functioned flawlessly, though. In the middle of the first session, the slide failed to lock back twice on the flush-fit magazine when empty, though it did resume locking back on that mag later. Toward the end of the first session, the top right grip screw fell out of the gun. After reinserting it, I checked the other grip screws, and the top left was loose, too.
In the second session a couple months later without cleaning the gun, I first finished off the Blazer and Speer ammo I had on hand (two and 16 rounds, respectively) with zero malfunctions. I then switched to Federal 165-grain FMJ for 100 rounds. All functioned fine, though again the flush-fit magazine didn't lock back twice. Two cases pinged the top of my head, and the grip screws loosened up again.
Grand total: 228 rounds, zero failures.
Accuracy
I slow-fired the MK40 off-hand at roughly 5 yards with six rounds each of both the Blazer and Speer ammo in the flush-fit magazine, with the following results: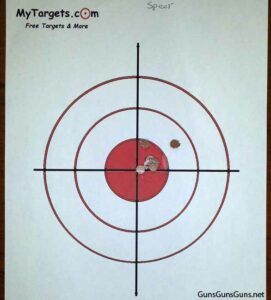 Speer Gold Dot 165-grain JHP bonded: 1.375″ group
Blazer 165-grain FMJ: 1.375″ group
As you can see in the target photo, the MK40 shot slightly high and right for me. However, I think those groups are plenty accurate for close-in self-defense work. If I don't count the flier in the Speer group, it measures 0.8125″!
Shootability
When I bought the gun, I had a major concern: that shooting .40 SW in such a small gun would prove excessively unpleasant. I'm happy to report it wasn't over the top. Yes, the MK40 is loud, and it produces a fierce muzzle blast—at one point I realized I was tucking my face down low behind the gun to avoid it. It kicks vigorously, so vigorously that when shooting with the flush-fit magazine, I needed to focus on maintaining a strong grip. I also had to re-focus on my trigger stroke mid-session to avoid flinching.
Shooting the MK40 wasn't crazy extreme, though, like shooting .357 Magnum in a short-barrelled derringer. I brought shooting gloves just in case (OK, an old pair of batting gloves), but I didn't need them. Not only does the grip not feature the rasp-like checkering found on many of today's guns, but the recoil simply didn't hurt my hand as I'd feared it might. In fact, with a two-hand grip the recoil was fairly manageable with the flush-fit magazine, and after a little practice, I was able to place follow-up shots OK. With the extended mags I was able to get my pinky on the gun and shoot it much better.
I will say, however, that while I appreciated the lack of uber-aggressive grip checkering, I think Kahr could add at least a little something on the front and back straps, which, as noted above, remain completely smooth. A little grip enhancement should allow me to focus less on my grip and more on trigger control.
I really liked the MK40's trigger pull, which, like other Kahrs I've handled, was smooth and not squashy, with a clean break. The gun felt pretty good in my hand, though maybe a little nose heavy. I rate the sights OK—I picked them up OK, but I wouldn't say easily. Once I found them, I did like the bar-dot picture. I also liked the magazine release button.
Finally, loading the mags wasn't fun. Pushing rounds down was fine, but it proved a little difficult pushing them back into the mag, which I haven't experienced with other guns. My main loading thumb (not the helper thumb on the hand holding the magazine) got pretty sore in both sessions.
Concealed Carry
I carried the MK40 in a Remora IWB holster. I wanted to carry it in the front right pocket of my cargo shorts and pants, and although it fit fine in those pockets, it was too heavy. With an unloaded magazine, the MK40 weighs 24.6 oz., roughly three times the weight of some similarly sized guns built on polymer frames. And once you load it up with six rounds of .40 SW, the weight climbs to 27.8 oz., or 1.74 lbs.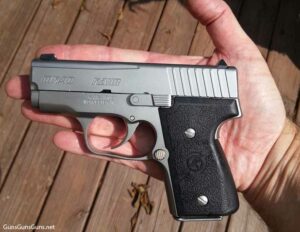 And therein lies the tradeoff with the MK40's steel frame: It soaks up some recoil, but it's an anchor in a cargo pocket, tugging down noticeably, creating an obvious lump and swinging and thumping around while walking. When I included my wallet, keys and sunglasses, forget about it—I had to cinch my belt up uncomfortably tight to avoid a public de-pantsing.
I also tried it in a rear pocket (jeans and khakis), and it fit so-so in all but my Wranglers, which feature a fairly shallow rear pocket. It was definitely visible in the Wranglers, and with 5.35″x4.0″x.94″ dimensions, it was pushing it in other rear pockets. I was able to carry it in the front pocket of a pair of khakis and shorts that feature relatively wide, deep front pockets; that wouldn't fly in my jeans.
The good news? The MK40 worked great inside the waistband. I imagine it would also ride well in an ankle holster (though I didn't try this). It easily fits into my vehicle's console.
Note: For reference, I'm 6'2″ and 175 lbs., and I generally wear 33″x34″ pants and 33″ waist shorts.
Final Thoughts
The MK40 isn't perfect, of course. As noted above, I experienced a couple issues with mine and would like to see some improvements. These issues were relatively minor, however, and when it came to the big three—reliability, accuracy and shootability—my MK40 performed well.
My quandary? This pocket gun didn't work for me the way I wanted to use it: as a concealed carry piece in a cargo pocket. I therefore am in the peculiar position of rating the MK40 above average, but still shopping for a pocket gun.
Obviously, my preferences aren't universal—you may like the MK40 just fine in a cargo pocket. As noted, it rode well inside the waistband, and I can imagine it working well on an ankle, in a purse, in a winter coat pocket, etc.
Bottom line: If you're looking for a sub-subcompact chambered in a significant caliber, the MK40 is worth consideration.
---
Jed Henson is an author, editor and publisher.
The Specs
| | | | | | | |
| --- | --- | --- | --- | --- | --- | --- |
| Caliber | Capacity | OAL | BBL | Width | Height | Weight |
| .40 SW | 5+1, 6+1 | 5.35″ | 3.0″ | .94″ | 4.0″ | 25 oz. w/empty mag |
Pricing
MSRP: $880 (matte stainless with combat sights)
MSRP: $950 (matte stainless with night sights)
MSRP: $930 (polished stainless with combat sights)
MSRP: $1,050 (polished stainless with night sights)
More Photos