Editor's Rating: 8.0/10
Users' Rating (Click a star to rate this gun.)
Summary: Walt Rauch's review, photos and rating of the Kel-Tec PMR-30 pistol, plus user ratings, user comments, specs and a range report. (Click here to see all of Rauch's handgun reviews.)
Editor's Review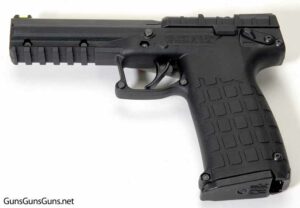 I've reviewed a number of Kel-Tec firearms and found them both functional and inexpensive, but somewhat lacking in overall finish. However, Kel-Tec's PMR-30, a handgun chambered in .22 WMR, is both well made and an attention-getter if for no other reason than it looks (to me) like an artist's conception of what was, back in the day, a futuristic space gun.
I think the PMR-30 design succeeds that of the Grendel P30 pistol, which was also chambered in .22 WMR. Both were designed by George Kellgren, head of Kel-Tec. I've had no exposure to the Grendel P30, but from what I've read there were feeding problems due to difficulties getting .22 WMR cartridges to reliably cycle the pistol. The .22 WMR is a rimfire round created for rifle use, and it's loaded to various velocities using differing powders and bullet weights.
The PMR in the gun's name stands for Pistol Magnum Rimfire, and the 30 refers to its magazine capacity. I obtained a PMR-30 to review, curious how Kellgren's second .22 WMR pistol turned out.
The Details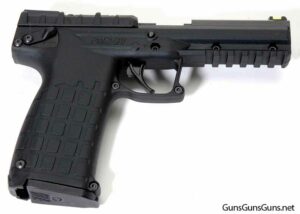 Kel-Tec says it constructs the PMR-30's slide and barrel with 4140 steel, and the chassis/insert with 7075 aluminum. The grip frame, slide cover, trigger, magazine release and safety levers are glass-reinforced nylon (Zytel), much like other Kel-Tec pistols. The magazine is also Zytel, with round-count ports.
The PMR-30 weighs 13.6 oz. unloaded, and the empty 30-round magazine weighs 6 oz. The gun measures 7.9″ long overall, 5.8″ tall and 1.3″ wide. The barrel measures 4.3″ long, the sight radius 6.9″ and trigger pull 4–6 lbs.
The PMR-30's operating system is based on a design by John N. Pedersen, which Remington employed in its model 51 pistol in the early 20th century (a modern version of which Remington is bringing back). It's been described as a hybrid auto-adjusting, blowback/locked-breech system that's claimed to moderate felt recoil and ensure reliability.
The barrel block is hardened steel (this block is part of the recoil control system). To the rear of an ample ejection port is an injection-molded nylon cover attached to the top of the slide by four allen screws. Beneath the cover are dual extractors (designed to provide reliability) and the firing pin. This cover extends rearward beyond the metal insert that holds these parts.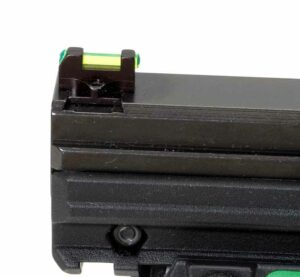 The slide's front sports a dovetailed, aluminum/fiber-optic (green) front sight you can adjust for windage. At the rear, an orange fiber-optic, non-adjustable, square-notch rear sight is part of the cover, which also features seven prominent grasping grooves on either side.
Dual, coaxial recoil springs are captive on a guide rod. Most important: the urethane recoil buffer, which must remain on the inside face of the muzzle flange. The instruction book warns to never fire the pistol without this buffer in place.
The slide assembly is held on the frame by one cross pin above the trigger guard. The slide moves on frame rails inside the frame. Eight allen screws hold the two-piece Zytel grip frame together. The aluminum chassis or sub-assembly—i.e., the "gun" portion of the pistol—is located in the frame's rear, and, as such, carries the serial number on its rear exposed area.
The dust cover includes a picatinny rail on which I had no difficulty installing a LaserMax Uni-Max ES green laser with a pulsing beam and a Streamlight TLR-2 tactical light/laser unit.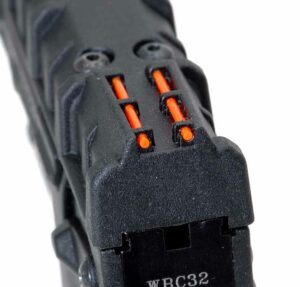 The hooked trigger guard is ample, and the smooth-faced, curved, pivoting trigger with a non-adjustable overtravel stop features a trigger-pull weight of 3 lbs. on this sample. Trigger let-off was a rolling 3-lb. trigger break.
The slide lever above the trigger has a long, smooth-faced, protruding operating shelf. Kel-Tec cautions not to use this lever to release a locked-back slide. Instead, release the slide by pulling it back slightly (which disengages the lever), and only then let the slide move forward. The lever also locks the slide back after you fire the last round.
The ambidextrous manual safety is at the top rear of the frame. Move it up for on-safe, down for off-safe. When off safe, a red dot appears on the frame. The safety levers feature raised, smooth-faced rectangular shelves and move positively to both positions.
The magazine release is at the grip's lower rear, or heel. To remove the magazine, press inward on the horizontally-grooved release. The 30-round magazine, follower and removable base plate are made of Zytel. The magazine body tapers inward from back to front, and there are six cartridge witness holes on its right forward side.
The owner's manual provides very clear written instructions on loading the magazine, supported with excellent how-to photos. Not following the instructions guarantees malfunctions. The method combines how you load an AR-rifle magazine with how you load a .22 rimfire magazine. The method ensures cartridge case rims do not interlock with each other, a condition often referred to as rim-lock.
The sides of the gripping area feature large squares, which are only sightly raised, with some of them bleeding over onto the otherwise-smooth backstrap. The frontstrap is smooth. Kel-Tec has buffed the pistol's external surfaces overall, so much so it took a close look to find the joint between of the frame's two halves.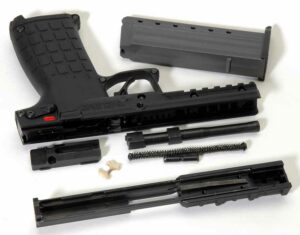 You disassemble the PMR-30 by removing a single pin. Disassembly and reassembly are easy, but only after you've read, re-read and followed the instructions for doing both—word for word—as they appear in the owner's manual. There's simply no getting around reading and precisely following instructions for both actions. The excellent photos and clear writing helped me greatly, because the only intuitive acts for me were clearing the pistol and removing the retaining pin. The only pressure (not force!) you might need to employ is when you remove and re-install the pin because the dual recoil spring also holds the pin in place. Don't breeze past how to install the buffer—the rounded edges go muzzle forward. Note: After I read, complied with and was successful with the other steps, I have the impression this too must be followed!
The PMR-30 ships with two magazines and a key-operated trigger lock in a lockable, hard-sided polymer case. Spare mags cost $31.
Range Report
The gun is simply plain fun to shoot, as was confirmed by my shooting buddies Irv Gill, Joe Mulligan and AJ Stewart, along with my son, Walter M., who all helped with this test and evaluation. Stewart started off. I was not at the line for a few minutes, which was more than enough time for Stewart to work his way half-way through a 100-round box of ammo! I had to ask him to stop because we had only a limited supply of ammo. He did stop, saying with a grin the gun was just fun to shoot. As the session progressed, "fun" was most often the first comment everyone made, followed by surprise at seeing the fireball at the muzzle while shooting (caused by unburned powder igniting, which usually only occurs in the PMR-30 with .22 WMR rifle loads.)
At first the PMR-30's grip angle and longer-than-usual length is a bit off putting, but none of my associates made any comments about them. Both features are necessary to accommodate the .22 WMR round's length, and to ensure correct cartridge feeding.
The five of us shot a few hundred rounds of .22 WMR through the gun with no feeding problems at all. I see this as an engineering feat in itself; i.e., getting 30 rimfire rounds to function correctly. But again—and this is a big "but"—this remains possible only if you follow the magazine loading instructions in the manual to the letter.
Back at the range, Stewart paid for his enthusiasm as I asked him to do the honors with the chrono with Walt M. assisting. They discovered there's a significant amount of muzzle blast that rocked the chrono such that we shot up a fair amount of ammo just to get correct readings.
I shot the groups, and once again I experienced difficulty using fiber-optic sights in precision shooting. They're quick to pick up, but the bright colors on both didn't allow me to fine tune a sight picture. Kel-Tec does offer a solution to this, though. The company sells an optional optical sight base plate that attaches to the rear sight cover, priced from $25. With an optic, I know I could do better, and the optional threaded barrel with a flash-hider (price: $118) would take care of the fireball effect.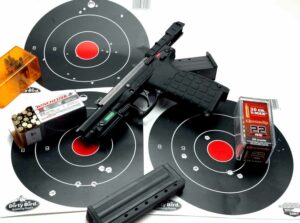 I fired five-shot groups at 15 yards while seated, using a shooting bench for a rest. For the chrono work, we used a Pro‑Chrony Shooting Master chronograph. The temperature measured 50 degrees F, and the range is 300 feet above sea level. Our results:
CCI Maxi-Mag 40-grain JHP: 1,328.2 fps, 2.5″ group
Winchester Super X 40-grain FMJ: 1,289 fps, and four shots into 2.25″ with one flier, making this group 3″
Hornady V- MAX 30-grain JHP: 1,436.2 fps, 3″ group.
I also fired two rounds of CCI shot loads at the same distance, and the tiny shot pattern covered the 8″-diameter target. Those cases did not extract.
Final Thoughts
In review, the PMR-30 is a good fit for pest control and such. To be sure, it wouldn't be anywhere near my first choice for a defensive arm. However, the .22 WMR round, when loaded with power and a bullet designed for efficacy from a medium-length barrel, can prove lethal, albeit in limited circumstances. And with 30 rounds at your fingertip, it would deliver more than an inconvenience to a threat. Not a bad choice for a gun that lists for just $415. And it's fun to shoot, too!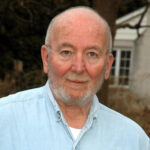 Walt Rauch received a BS degree from Carnegie Tech and completed service as a Special Agent in U.S. Army Intelligence. Rauch was a U.S. Secret Service Special Agent and a Philadelphia, Pa., Warrant Unit Investigator. He now operates a consulting company for defense-weapon and tactical training. Rauch & Company services include expert witness testimony on firearms use and tactics.
Rauch is also a writer and lecturer in the firearms field. He's published in national and international publications including InterMedia's Handguns, several Harris Publications specialty magazines, Police and Security News and Cibles (France). He is the author of a book on self-defense, Real-World Survival! What Has Worked For Me, as well as Practically Speaking, a comprehensive guide to IDPA defensive pistol shooting.
The Specs
| | | | | | | |
| --- | --- | --- | --- | --- | --- | --- |
| Caliber | Capacity | BBL | OAL | Height | Width | Weight |
| .22 WMR | 30+1 | 4.3″ | 7.9″ | 5.8″ | 1.3″ | 13.6 oz., unloaded |
Pricing
MSRP: $415
MSRP: $575 (threaded barrel)