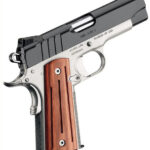 Editor's Rating: 9.0/10
Users' Rating (Click a star to rate this gun.)
Summary: Mike Boyle's review of and rating for the Kimber Pro Aegis II pistol, plus specs, a photo, pricing, user ratings and user comments. (Click here to see all of Boyle's gun reviews.)
Editor's Review
For more than a decade, Kimber has been building high-quality 1911s in a mind-boggling number of variations, including the introduction of Aegis II family of pistols in 2007. Built in the Kimber Custom Shop, the Aegis II pistols are designed to address the needs of the defensive minded shooter.
Kimber offers three different variants, including full size, mid size, and subcompact models. Perhaps the most unique quality is that these pistols are chambered for the 9mm cartridge rather instead of the .45 ACP.
When an opportunity came up to check out the Aegis II, I jumped at the chance.  My sample Aegis II was the mid-size variant, the external dimensions of which mirror those of the classic Commander.
Pistol Particulars
To optimize carry qualities, the Aegis II pistols utilize an aluminum alloy frame mated to a steel slide. Mine weighed 28 oz., well within the limits of comfortable, all day wear.
The slide of the pistol is finished in black KimPro II. KimPro II is a non-reflective, self-lubricating coating that is also resistive to the elements. The slide also features wide serrations in the rear for a positive grip during manual manipulation.
A number of touches from the Kimber Custom Shop are readily apparent. The front strap is checkered 30 lines per inch (LPI). Both the slide and frame are given a carry melt and are devoid of sharp edges. The flat mainspring housing is also checkered. To facilitate better control, the frame has been given a relief cut under the trigger guard.
Slide configuration of the Aegis II also differs from other Kimber 1911s. Rather than the usual rounded contour, the Aegis II carries a flat-top slide. Three-dot Tactical Wedge Tritium Night Sights help get the Aegis II on target in any light condition.
A match grade, ramped barrel is standard on the Aegis II. Rate of twist is one turn in 16″. The Aegis II utilizes a full-length guide rod and 14 lb. recoil spring. Its match grade trigger is designed to trip between 4-5 lbs.
A readily apparent deviation between the Aegis II and other 1911 pistols is a spurless hammer. The thumb safety and magazine release button are also given the bobbed treatment.
To ensure positive operation, Kimber equips the Aegis II with a palm swell, bumped grip safety. As long as you get something close to a proper shooting grip, the safety will disengage and the gun will fire every time. I find this to be a very important quality when shooting in cold weather with gloves.
Thin rosewood grip panels help complete the Aegis II package. The grips sport vertical ball milled flutes to enhance control and are held in place with a set of hex head screws.
The Aegis II comes in a black, lockable case complete with a lock and instruction manual. Three nine-round magazines were included with the Aegis II.
Risky Business?
As much as I like the 1911, I still need a lot of convincing before carrying one for self defense. On the upside, I can shoot a 1911 better than just about any other type of handgun. It has been my observation however, that 1911 reliability is often inferior to that of the popular double-action semi-autos. In the not-so-distant past, total system reliability with a 1911 often required the services of a skilled pistolsmith. Fortunately, many of the contemporary 1911 offerings from reputable manufacturers are now extremely reliable. Obviously, any piece you might use to protect your hide has to work each and every time the trigger is pressed.
Self loading pistols tend to be at their best in the original chambering. Setting that same pistol up with a different cartridge can create reliability or durability issues.  In the 1911, the original .45 ACP chambering has been the most bug free, with the 9mm posting a somewhat spotty second. Along similar lines, full-size steel frame 1911s tend to be very reliable machines. Once we start trimming back slide and barrel length, there is a risk of upsetting that formula for success.
That said, I can report that the slightly abbreviated, lightweight 9mm Pro Aegis II received for testing ran like a top. Quite frankly, if it didn't run that way, there would be no point in considering it as a defensive pistol. Apparently, the engineers at Kimber have solved the riddle because my sample missed nary a beat.
For self defense, I would still recommend you carry the most powerful gun you can effectively manage. But for many of us, a full-size, steel frame .45 ACP is beyond the limits of practicality. I still have a spot for that big gun, but on a day-to-day basis, a lighter, easier to conceal gun like the Pro Aegis II is a better choice.
Although the .45 ACP may still hold a slight edge over the 9mm in terminal performance, that gap is a lot smaller than many people think. One thing for sure is that the 9mm is far easier to control, especially in a lightweight gun. This will help shooters of every skill level perform to a higher standard and get their hits on target.
Shots Fired
I fired the Pro Aegis II extensively over several different range sessions, and performance was top shelf. Save for a single failure to lock back on an empty magazine, function was picture perfect.
Ammo
Avg. Muzzle Velocity

Avg. Group Size

Black Hills EXP
115 gr JHP
1,157 fps
2.5″
CorBon
125 gr JHP +P
1,224 fps
3.25″
CorBon
147 gr FMJ
874 fps
2.5″
Federal HST
124 gr JHP
1,132 fps
3″
Remington Golden Saber
124 gr JHP +P
1,138 fps
2.875″
Winchester Ranger SXT
127 gr JHP +P+
1,207 fps
2.75″
Winchester SXT
147 gr JHP
925 fps
3.5″
From a stable rest, the Pro Aegis II turned in some very impressive results. Most five-shot groups ran between 2-3″ with a few tighter clusters recorded. CorBon's 147 grain FMJ Match load and Black Hills EXP 115 grain JHP turned in top honors, both averaging 2.5″ at 25 yards.
In 9mm, I remain partial to the hot 124-127 grain loads, and the Pro Aegis II handled them in style. With a muzzle velocity of approximately 1,200 fps, these loads approach .357 Magnum level performance, yet are easily managed. Penetration and expansion in ballistic gelatin is excellent, and credible feedback from the street is encouraging as well.
Felt recoil is a subjective quality and perception will vary from one individual to the next. But let there be no doubt, the 28 oz., 4″, Pro Aegis II bucks considerably less than my LW Commander in .45 ACP. A short session with the Commander isn't at all punishing, but once that round count moves into the triple digits, it starts to wear me out in a hurry. With the Pro Aegis II, I only quit when I run out of ammunition. Predictably, split times between shots are considerably faster with the 9mm Pro Aegis II.
I really didn't have a strong opinion one way or another on the spurless hammer of the Pro Aegis II. From an operational standpoint, it wasn't a big deal, but I do like to thumb back the hammer of my 1911s prior to takedown. I would probably prefer a hammer with a spur, but it just wasn't that big of a deal for me.
The one quality I did have an issue with was the abbreviated bobbed thumb safety. I like to ride the safety with the thumb while shooting. As a southpaw, the single side lever forced me to switch hands during much of the evaluation and shoot from my starboard side.
Initially, I thought the bobbed safety had just caught the attention of my less often used right thumb. Its shelf seemed a tad too sharp for my tender digit and I would have preferred something larger with a more rounded contour. Truth be told, I would have to retrofit the Pro Aegis II with an ambidextrous safety anyway. But my capable assistants concurred with my opinion. They, too, felt this was one area in need of attention.
Final Thoughts
At one time, the Commander variant of the 1911 was widely regarded as the ultimate martial artist's pistol. With the right clothing, this lightweight autoloader concealed very well and could be carried in all day comfort. A user friendly trigger also enabled most shooters to hit, particularly with that first critical shot.
The Kimber Pro Aegis II in 9mm fills a somewhat similar niche. This highly refined 1911 is ideally suited for self-defense and incorporates features that would cost a pretty penny from a custom pistolsmith. True, the Pro Aegis II does cost a bit more than a basic 1911, but it is still a bargain when compared to a true custom number. Pistoleros who prefer a pistol for the international standard 9mm would do well to consider it.
A recent health crisis has given me a whole new perspective on the 9mm cartridge. I'm currently dealing with a serious depletion in both grip strength and stamina. Hopefully, I will turn the corner soon and be back up to form, but for the time being, a 9mm is about all the fun I can handle in a lightweight package.
Upon reflection, I don't feel my situation is that unique. The moderate recoil of the 9mm can help any number of shooters stay in the game, yet have a reasonably powerful cartridge at their disposal.
I would also submit that the Pro Aegis II would be an ideal choice for shooters with small hands. The single-stack grip frame, slim rosewood grips and reduced trigger reach can make for a better fit and better performance. Small hands often mean small stature, and once again, the 9mm chambering of the Pro Aegis II will prove easer to control than a similar pistol in .45 ACP.
The Pro Aegis II may very well be the most handsome factory pistol to come my way in quite some time. The two-tone Pro Aegis II is truly an eye catcher and refinements such as 30 LPI and sexy grip panels really put it over the edge. But the bottom line is that the Pro Aegis II is an accurate superbly reliable pistol that performs as good as it looks. Its full length grip frame felt very good in my medium size hand and served to enhance natural pointing qualities.
With the Pro Aegis II, Kimber has cracked the code and broken the 9mm jinx. When it's all said and done, the Aegis concept makes tremendous sense for users who fancy the 1911 for self defense.

Mike Boyle served as a captain with the New Jersey Division of Fish & Wildlife Bureau of Law Enforcement and recently retired after 27 years of service. Mike remains active, teaching recruit, in-service and instructor level classes at the police academy. He's also on the board of directors of the International Association of Law Enforcement Firearms Instructors.
The Specs
Height (inches) 90° to barrel: 5.25
Weight (ounces) with empty magazine: 28
Length (inches): 7.7
Magazine capacity: 9
Bobbed hammer, thumb safety and magazine release
Carry Melt
Recoil spring (pounds): 14.0
Full length guide rod
Frame
Material: Aluminum
Finish: Satin Silver
KimPro II frame finish
Width (inches): 1.15
Front strap checkering
Frame Serrations
High cut under trigger guard
Slide
Material: Steel
Finish: Matte black
KimPro II slide finish
Flat top
Barrel
Length (inches): 4
Material: Steel, match grade
Twist rate (left hand): 16
Ramped
Sights
Tactical Wedge Tritium night sights, fixed
Radius (inches): 5.7
Grips
Rosewood
Thin, fluted
Kimber logo
Trigger
Solid Aluminum Match Grade
Factory setting (appx. pounds): 4.0 – 5.0
Pricing
MSRP: $1,277