Editor's Rating: 7.0/10
Users' Rating (Click a star to rate this gun.)
Summary: Dave Spaulding's review and rating of Kimber's Solo Carry pistol, including a range report and Kimber's MSRP and photos, and user ratings and comments. (Click here to see all Spaulding's pistol reviews.)
Editor's Review
Ruger's Lightweight Compact Pistol (LCP) created an interest in thin, light, compact pistols with hundreds of thousands of LCPs and similar .380 ACP pistols flying off dealer shelves. This was due to an increasing number of states passing shall-issue carry laws, and guns directed at this market remain the fastest-growing segment of the gun industry.
However, while pocket pistols are all the rage, many folks just don't feel comfortable with the .380 ACP cartridge. While the .380 can do the job with proper shot placement, such precise shooting can prove challenging with a pocket rocket, so many competent pistoleros are looking for a bit more oomph in their carry gun; namely, the single-column 9mm. Which brings us to Kimber's entry into this market, the 9mm Solo Carry.
The Design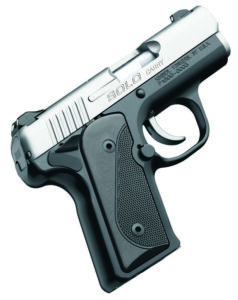 A number of manufacturers interested in capitalizing on the popularity of subcompact carry guns rushed models to market that just weren't very good. Kimber, which is best known for its line of high-end 1911 pistols, also wanted in, but it didn't want to get caught up in the frenzy and introduce a dog that would be the subject of recalls and upgrades. Company reps say Kimber took its time, started with a blank piece of paper and decided to come up with a subcompact 9mm pistol that was accurate, reliable, ergonomic and, most importantly, controllable. Kimber also wanted to maintain its accuracy and reliability standards with a minimum amount of hand fitting because that adds to the cost of the pistol while making the gun more difficult to maintain.
The problem: designing a small pistol chambered for a high-pressure cartridge such as the 9mm. The short slide plus high-velocity rounds offers a very narrow time frame in which to extract, eject and feed the next round. Factory springs are often jobbed out to sub-vendors, so making sure the springs would work with a wide variety of ammo weights, styles and velocities proved challenging. Thus, Kimber designed the gun around specific loads in the 124–147 grain range, which are popular choices for personal security and law enforcement.
Kimber designed the Solo around the 1911, which keeps the bore axis low over the hand to minimize muzzle flip and enhance ergonomics. Its small frame is machined from a solid block of 7075 T7 aluminum, devoid of sharp edges. Available finishes include Kimber's matte black, corrosion-resistant Kim Pro II finish, a stainless steel-like look (don't be confused—the frame is still aluminum alloy), and a self-lubricating DLC finish on the Solo Carry DC model.
The slide is machined from a solid chunk of stainless steel bar stock and it contains the Solo's stainless steel, 2.7″-inch barrel, which has a 1:10 twist rate and a witness hole that serves as a loaded chamber indicator. The barrel has a unique look that provides extra engagement surfaces and should enhance reliability.
Despite its compact size, the Solo features a set of useful, high-visibility sights. The sleek, snag-free, three-dot sights are dovetailed into the front and rear of the slide and are a welcome addition on such a gun. (The Solo Carry DC model features night sights.)
The slide has deep cocking serrations at the rear, and because there is no hammer on this striker-fired pistol, the back of the slide is smooth and rounded—a look I really like! The ejection port is lowered and flared, front and back, for additional reliability. A robust extractor is recessed into the slide beneath the rear ejection port relief, and in my experience, it smartly ejected the brass.
There is an unusual bump on the bottom of the breech Kimber won't talk about, but it appears to enhance the moving slide's ability to pick up the next round in the magazine. While some on the Internet have expressed concern about this, I really don't care as long as it makes the gun more reliable.
The Solo magazine well is nicely beveled for a fast reload, which normally can prove difficult with trim, single-column magazines. It accommodates a flush-fitting, six-round magazine. An optional extended eight-round version is also available. An ambidextrous magazine release is located at the base of the trigger guard, making the gun more user-friendly for "wrong hand" people.
Other controls include a slide lock/disassembly lever similar to a 1911 and an ambidextrous safety. While both are small, they remain usable. The pistol's thin, polymer grips are half smooth and half checkered and held in place by two allen screws. Crimson Trace laser grips are also available.
A large, nicely shaped trigger guard houses the Solo's smooth, polished, stainless steel trigger. The trigger action is short and easy to operate with a weight of just over 7 lbs.
Finally, the Solo Carry DC model includes front-strap horizontal serrations and a carry melt treatment to prevent snagging.
Range Report
Kimber suggests a 24-round break-in period for the Solo, which I performed with 25 rounds of 124-grain NATO-equivalent FMJ. The gun functioned flawless except for the very first round, which failed to feed. Let's be honest: This is really not a concern because many semi-auto pistols must be worked out before they are totally reliable.
I used those 25 rounds to get acquainted with the gun's sights and trigger. You've got to really hang on to the Solo due to its small size, but did anyone really expect anything different? With just a bit of practice, I was able to put some very respectable .24–.27 second double taps on an 8″ circle at 20 feet with the 124-grain ball ammo.
Although the Solo's trigger reset was longer than I like or am used to, it was still smooth and certainly shorter than other similar firearms.
The short 2.7″ barrel certainly affects velocity. I measured several loads across a Shooting Chrony and found the velocity for some of the heavier 9mm loads was lower than I felt comfortable with. The very popular Federal 147-grain HST hollow point, which offers 1,050 fps from my 4″ Glock 19, dropped to 817 fps in the Solo. If I employed the Solo, I therefore would opt for hot 124-grain loads, with either the Speer 124 +P Gold Dot or Federal 124 grain +P HST leading the pack.
Final Thoughts
Certainly manageable for every hand size and strength, the Kimber Solo appears to be a rugged, well-designed subcompact 9. I think it would make a fine personal security handgun.
Move over compact .380s, the subcompact 9s are coming!

Dave Spaulding is a 28-year law-enforcement veteran, retiring at the rank of lieutenant. He's worked in all facets of law enforcement—corrections, communications, patrol, evidence collection, investigations, undercover operations, training and SWAT. He currently operates Handgun Combatives, a handgun-combat training program, and he's authored more than 800 articles for various firearm and law enforcement periodicals. In 2010 Spaulding received the Law Officer Trainer of the Year award, and he's also the author of the best-selling books Defensive Living and Handgun Combatives.
The Specs
| | | | | | | |
| --- | --- | --- | --- | --- | --- | --- |
| Caliber | Capacity | OAL | BBL | Height | Width | Weight |
| 9mm | 6+1, 8+1 | 5.5″ | 2.7″ | 3.9″ | 1.2″ | 17 oz. w/empty magazine |
Pricing
MSRP: $725