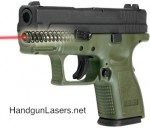 Users' Rating (Click a star to rate this laser.)
Summary:
The description, photo, pricing and user ratings for the LaserMax Guide Rod Laser Springfield XD laser sight.
Manufacturer's Description
The LaserMax Guide Rod Laser Springfield XD is a drop-in, internal laser sight that replaces the factory guide rod in Springfield XD pistols with 3″ barrels. It also replaces the factory take-down lever; the new lever serves as the laser's ambidextrous activation switch. Other features include: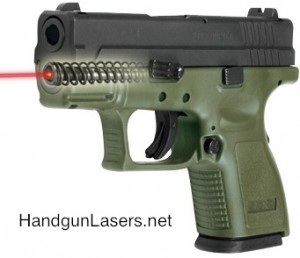 A captive recoil spring integrated into a spring-guide rod unit with end caps to retain the spring on the rod;

a pulsating red beam that provides a .75″ dot at 25 yards and is visible at up to 1,000 feet (an infrared beam is optional); and

a silver oxide/alkaline battery that provides 1–3 hours of continuous use.
LaserMax says this laser is self-aligning and can't be knocked out of alignment. It doesn't require any permanent modifications to your gun, and installing it is as easy as field-stripping your gun—no gunsmith required. And because it's internal, you won't need to change holsters, grips or other accessories. LaserMax also says its Guide Rod Lasers meet or exceed both mil-spec and U.S. Homeland Security durability test standards. Each laser undergoes live test firing, and is backed by a three-year warranty.
More reading: Check out Jed Henson's in-depth review of this laser's sibling, the Lasermax Glock Gen3 guide rod laser.
Pricing & Shopping
MSRP: $349